During my graduation trip to Italy last June, I binged on gelato every single day of the eleven days I was there. Gelato was the single thing that I missed the most from Italy. Normal ice cream just doesn't taste the same.
While I was at Orchardgateway last July, I chanced upon Alfero Artisan Gelato. By 'chanced upon' I really mean so–we were just walking back to the MRT after dinner and came across the place, at Basement 2 just opposite OCBC Bank.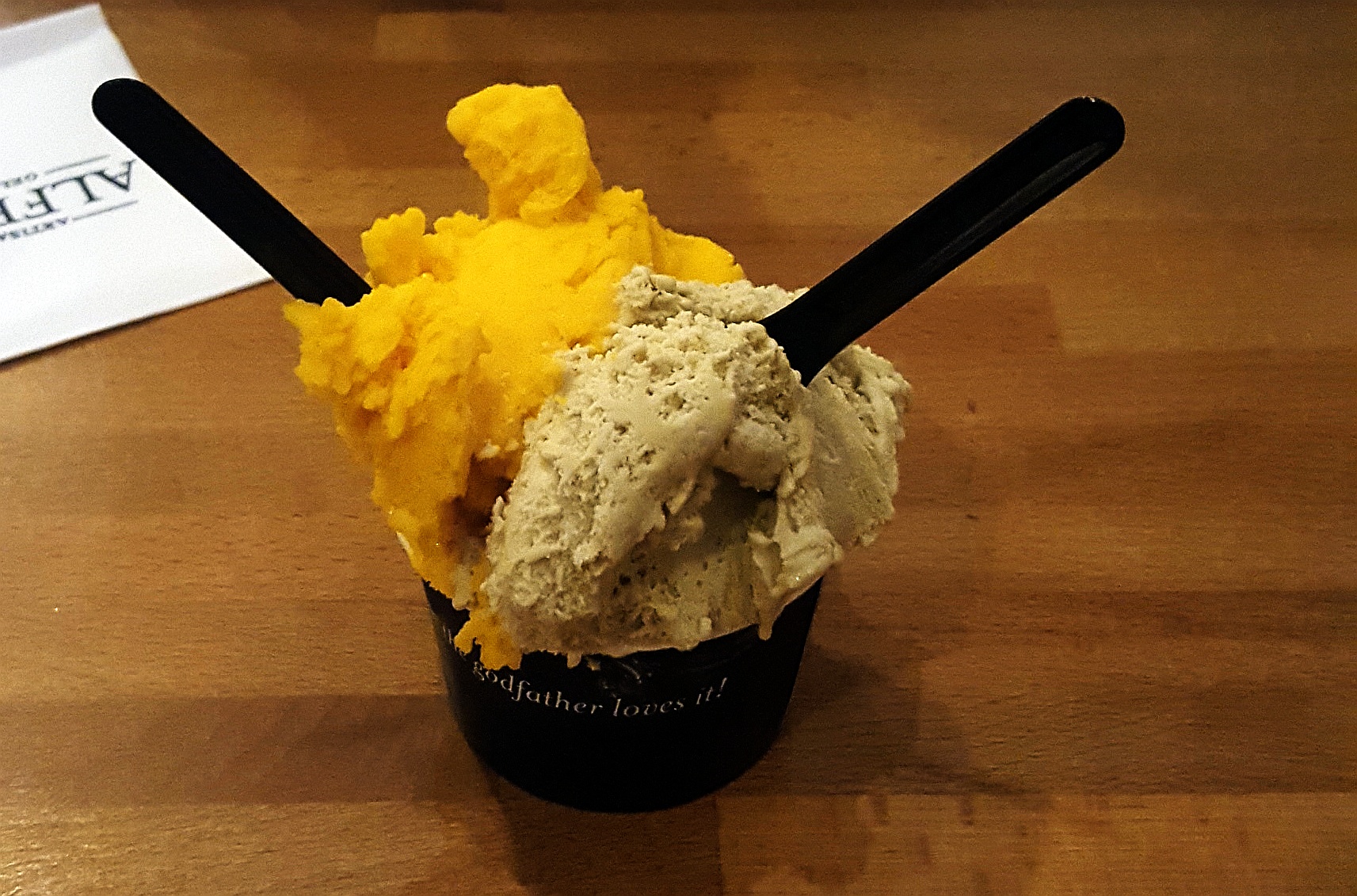 Pistachio gelato is something that's uniquely Italian, and something you won't find in most self-proclaimed gelato shops. It's found at Alfero, though, and it tastes every much the same as the better ones I tried in Italy.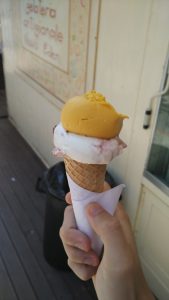 And the mango was every bit as authentic. Immediately, I was brought back to eight weeks ago, where I tasted the most heavenly mango gelato ever, at a gelato stand at Monterosso Al Mare in Cinque Terre. Alfero's rendition was close enough.
Unfortunately, at a recent visit to Alfero, I was told that the mango was no longer being sold. In its place are more localised flavours like yuzu, green apple and matcha. If you're from Alfero and are reading this, PLEASE BRING BACK MANGO!!!
During my most recent visit, we tried dark chocolate in combination with pistachio (as pictured in the image at the top of the page). The dark chocolate was more sweet than bitter (thankfully), and made for a great complement to pistachio. You might also want to try hazelnut with pistachio. Heck, anything with pistachio and you probably won't go wrong 🙂
Pricing
Alfero isn't that expensive. It sits in roughly the same tier as Udders or Salted Caramel, though a pricier. I think a single scoop is about $5, with an additional scoop costing $2 more. The serving is generous, just like how the Italians do it. As you can see from the photos above, they fill it up to the brim, and then more.
It's well worth the money unless you're Italian (the best gelato I ate cost less than 2 Euros).
Location
As mentioned earlier, Alfero is located at #B2-06 of Orchardgateway. It's tucked nicely at one corner of the mall, near OCBC Bank and further up from Gong Cha.
If you're an Eastie, they also have another outlet at 81 MacPherson Lane, #01-37.
P.S. I was not paid or sponsored or asked to do this review; it's out of my own free will. 🙂