For a country of its size, Singapore has a thriving photography community. Walk down Orchard Road over the weekend and it's easy to spot the latest DSLR or mirrorless camera slung around someone's neck.
Less obvious is how these people acquire their cameras. Unlike the US where most savvy shoppers head to either B&H Photo or Adorama (both being online stores) to make their purchases and return them if they don't like it, buying a camera in Singapore is still pretty much a hands-on experience. It's not that Singapore is behind the times. Rather, it's a combination of Singapore being a small city and the lack of a buyer's remorse clause that makes shopping at a brick-and-mortar store the preferred choice for big-ticket items. Particularly for second-hand cameras, while a sale may be negotiated through the myriad online platforms, the actual deal is almost always done through a meet-up.
A note on Singapore's shopping culture…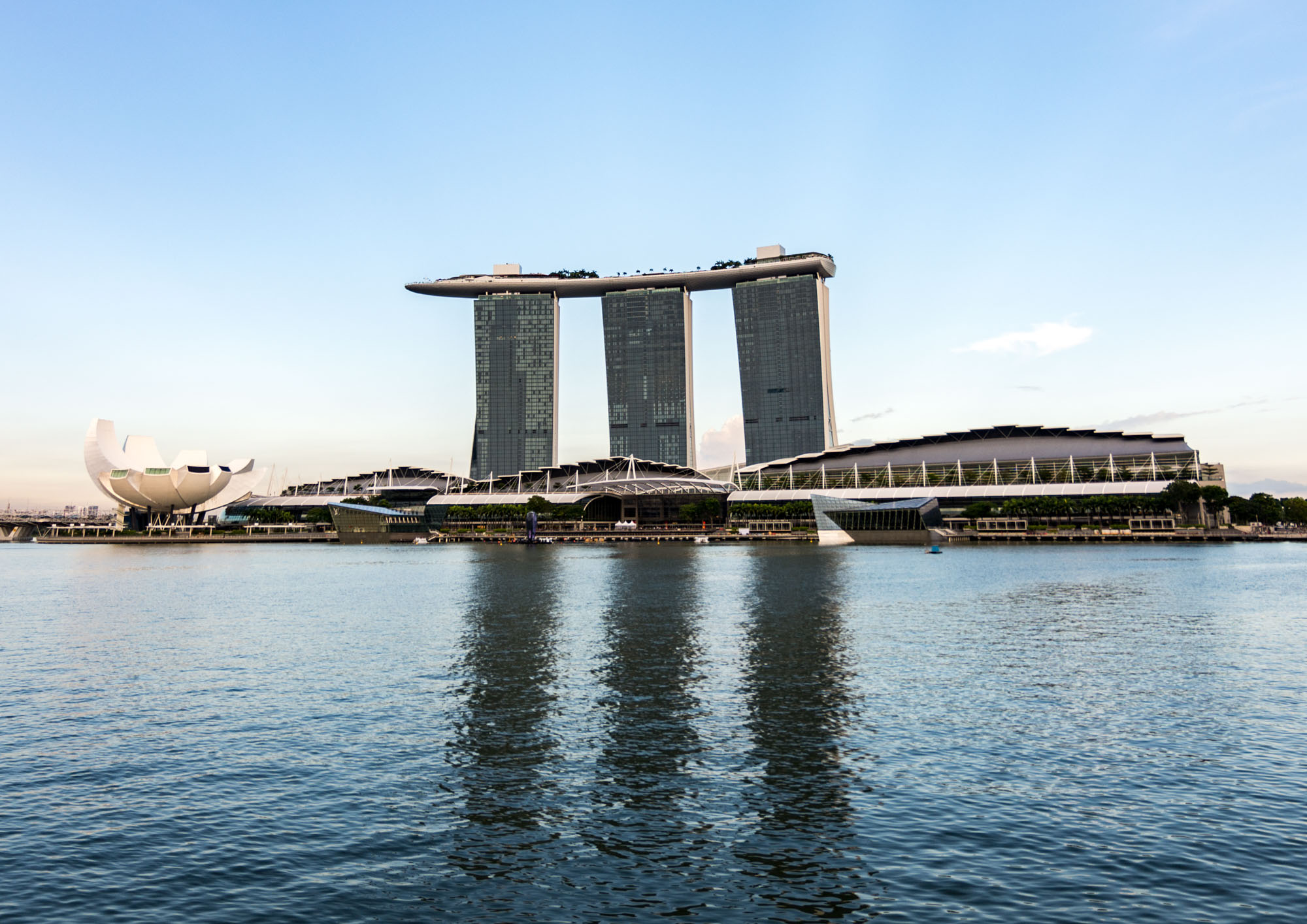 If you're a tourist, or otherwise just new to Singapore, it's helpful to know a little bit about the shopping culture here.
Unlike many Western countries, Singapore has rather poor consumer protection laws. There is a Consumers Association, but it serves more of an advisory role and is pretty much a toothless tiger when it comes to actual consumer protection. The 'lemon law' act was legislated a few years back, but pursuing a claim under this act would be a long and arduous process.
Refund policies are almost universally absent. Instead, what we have here is typically a seven-day exchange period and the item must be returned in brand-new (or sealed, where applicable) condition in exchange for another item of equal or higher value. Even so, such exchange policies are not universal.
Compounding the issue is that some shops here are simply not trustworthy. This is even more so if you're a foreigner; shops will try to take advantage of your unfamiliarity with local prices and try to rip you off or even engage in blatant bait-and-switch tactics. Even when the police intervenes, it's often a case of 'your words against mine'.
As such, if you're hoping to get the best camera deal in town, it's best that you do your homework beforehand. As it is, I've been buying and selling photography gear for a few years now, so I thought it would be helpful to share some of the experiences and knowledge I've accumulated over the years.
Doing Research
This section is intended for those who are new to photography. If you already have what you want in mind, feel free to skip to the next section.
Before going down to the camera store, it's best to do your own research beforehand. At the store, you may be pressured into buying something that may not necessarily suit you. Even among reputable shops, they may be inclined to recommend a particular brand or model just because they receive a higher commission, or because they're trying to clear slow-moving inventory.
While research on camera choices are not within the scope of this article, there are various online resources that will aid you in your research, such as DPreview and Imaging Resource. In particular, DPreview has an active discussion board where you can ask other users for recommendations based on your requirements. For those who care about numbers, DXOMark and Photons to Photos regularly test the latest camera sensors to give you an idea on how they perform.
One thing to note is that there's no one-size-fits-all approach. For example, if you wish to go small, a large, bulky DSLR camera may not be suitable for you. However, if shooting sports and wildlife is your interest, DSLRs may be your only choice. If your budget is limited, so will your options, too. At the end of the day, you have to balance what you need versus what you want and reach a compromise.
With that out of the way, let's take a look at the various avenues in which I use in order to buy a camera.
Buying Second-hand
With digital camera technology maturing over the past few years, it's likely that you won't miss out on much by opting for an older model. If you're on a budget and don't mind buying "preloved" goods, a second-hand camera may be the best option.
Online
Over the internet, Carousell is one place worth considering to shop for second-hand cameras. There's often room for negotiation (though, be reasonable; everyone hates lowballers), and it's easy to approximate the seller's trustworthiness based on his feedback from other buyers/ sellers. Be sure to arrange for a meet-up to inspect the camera (more on that later) before handing your cash over.
My preferred place, though, remains ClubSNAP. ClubSNAP is Singapore's largest photography community and they have a Personal Classifieds section where you can scour for the best deals. Users have to declare their name and contact number before posting their listing, helping to keep the bad eggs out. Once again, arrange for a meet-up for inspection before handing your cash over.
Of course, there are also other online avenues you may wish to explore, such as Gumtree, Craigslist or eBay, which all have a Singapore presence. However, it all boils down to this: Make sure you test it before buying.
Offline
If you prefer to shop offline, Peninsula Plaza and Peninsula Shopping Centre (which are not the same malls), situated opposite each other around the City Hall area, may be a good place to start.
At Peninsula Plaza, check out Alex Photo, which, judging from their Facebook page, seems to offer a respectable selection of second-hand items, especially more recent models.
Over at Peninsula Shopping Centre, there's Black Market Camera over at level 3. A collection of cameras and lenses of various makes and vintage are displayed along the perimeter of their store, which is worth a look even if you do not intend to buy anything. Do note, though, that recent Google reviews of this shop has not been very positive, especially in regard to customer service.
At Peninsula Shopping Centre you can also find BenPhoto Trading and Riceball Photography Bookstore at Level 1. Both are rather reputable stores judging from online reviews.
As always, no matter the shop, be careful. Some unscrupulous shops may apply pressure tactics to get you to buy something. Perhaps it would be wise to not bring your cash and cards with you on your first visit. No money, no temptation, right?
A note about testing…
Buying second-hand has its risk, especially since it's difficult to do comprehensive evaluation before purchasing the camera.
Like mileage on a car, shutter count is generally used as a gauge as to the remaining useful life of a camera. It also gives you an indication as to how much the camera has been used. The shutter mechanism (which actuates each time you take a shot) wears out over time and may cost a few hundred dollars to replace. Shutters are generally rated up to 100,000 actuations on an entry-level camera and roughly 200,000 on higher-end models. Shutter counts in the four-digit range are typically regarded as pristine and are able to command a higher price, all else being equal. You often have to use a special software in order to retrieve the shutter count on a camera. Usually, you have to rely on the seller's representation. Otherwise, ask the seller to send you an image from the camera, which you can use to find the shutter count through websites such as CameraShutterCount.
Of course, you can't tell whether the camera has been abused by its owner just by the shutter count alone. That's where physical inspection comes in. Some things to check off the top of my list: Check the exterior for any signs of physical damage, or god forbid, dents. Make sure the screen and/ or viewfinder works as intended, with touchscreen, flip and swivel (where applicable) functionality intact. Do a few test shots to ensure that the shutter (and mirror, for DSLR) doesn't get stuck. Inspect the sensor for any signs of damage or scratches. For camera lenses, do a quick check with a flashlight to ensure there is no fungus.
Buying New
When buying new, testing is less of a concern since you have warranty to fall back on most of the time. That said, there are retailers that sell 'grey import items', or what we commonly refer to in Singapore as parallel imports. Such sets, imported from other countries, will not qualify for manufacturer warranty in Singapore. There's nothing wrong in getting a parallel imported item (especially when it's cheap), but make sure you are aware of the risks.
Online
Apart from being a platform for people to sell used goods, Carousell has also been used as an avenue for smaller retailers to make their name known.
Some more reputable sellers on Carousell (that I have personally dealt with not for cameras, but for camera accessories and lenses) include 7daydeal and yologuy. 7daydeal has a physical store at Parklane Shopping Centre and generally brings in parallel imported items at affordable prices. Thus, don't expect official warranty from the likes of Nikon or Canon. That said, they do offer 'shop warranty' of 12 months for an additional premium. yologuy has a store at Concorde Shopping Centre and sells both parallel imported items as well as official local sets.
TechnoGadget sells exclusively parallel import sets backed by their own warranty. However, it's rare that the price difference on cameras is substantial
Qoo10 also has good deals from time to time for specific models, especially when paired with a discount coupon. For example, a Sony Alpha A5000 with 16-50mm lens kit imported from Korea can go for as cheap as $359 after coupon discounts. That's almost half the retail price in Singapore and the most value-for-money mirrorless camera you can get today.
Meanwhile, the prices on other online shopping platforms such as Lazada and even Amazon Prime Now are usually rather non-competitive and as such do not deserve a recommendation.
Offline
As of 2017, the best way to buy a new camera is still by walking into a camera store and buying them.
For the best prices in town (where local, manufacturer-warranted sets are sold below Recommended Retail Prices), check out the following retailers:
SLR Revolution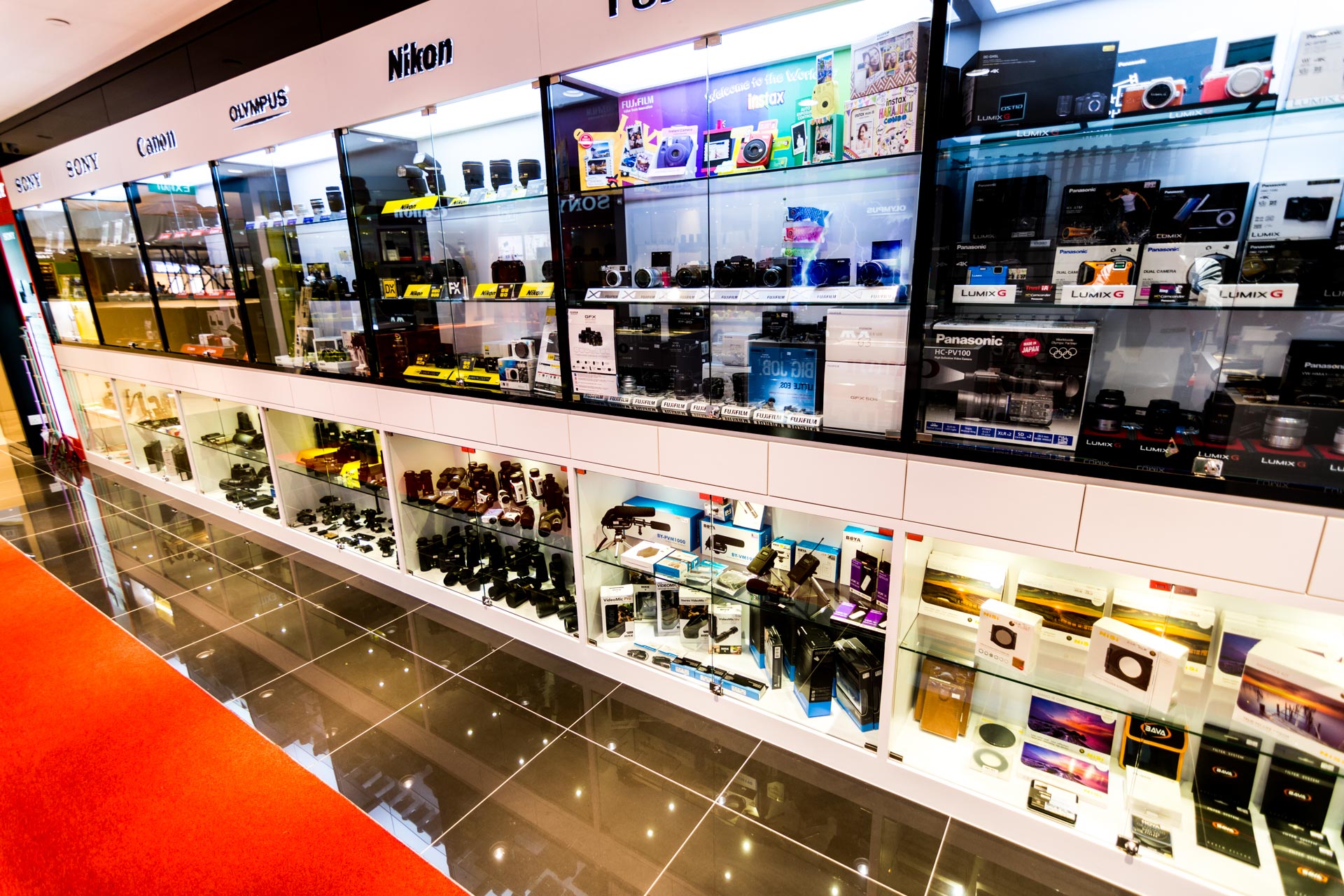 Located at either #03-19 Raffles City or #01-02A of Excelsior Shopping Centre, SLR Revolution is my personal favourite. I have bought a few cameras from them before, and their service is top notch. Prices are competitive and usually among the cheapest. Cash and NETS prices are the same; a surcharge may apply for credit card purchases. You can walk in to request for a price quote; otherwise, call them at 6250 9412 / 6336 2416 or message them on Facebook.
Of their two outlets, I would recommend the one at Raffles City, simply because you can use CapitaLand vouchers to offset your purchase. In fact, you can hunt for CapitaLand vouchers on Carousell, where they can often be had for a 5 to 7% discount off the list value.
T K Foto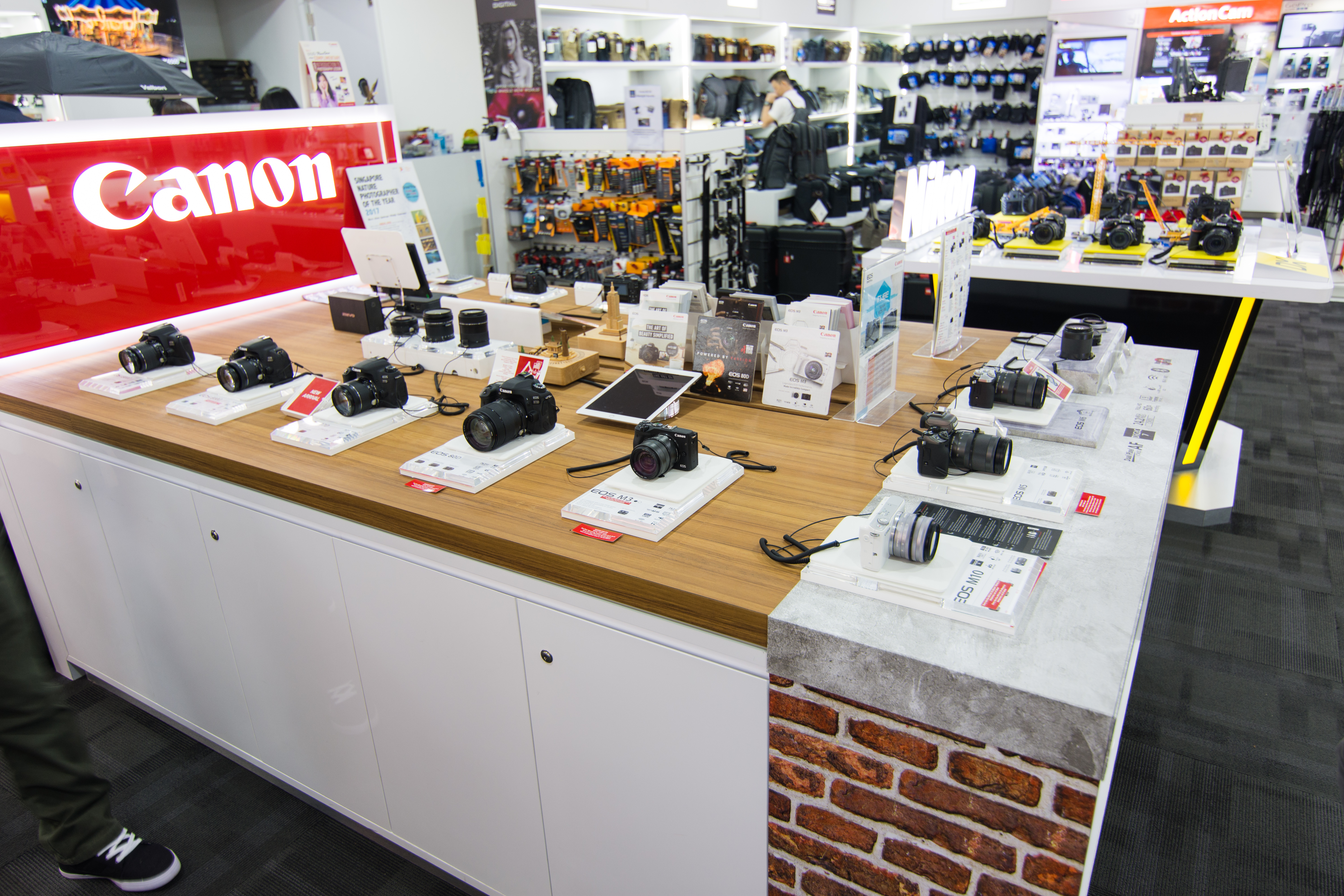 T K Foto is another of my favourites. Located at the new annex of Plaza Singapura (where you can, similar to Raffles City, also use CapitaLand Mall vouchers), T K Foto has a rather expansive shop space with dedicated display areas for several brands. You are free to try out any of the Canon, Sony or Nikon cameras on display; for other brands like Fujifilm, they have demo units available as well upon request. T K Foto also has a small, fenced-up area for you to experiment with drones. Price-wise, T K Foto is generally about a couple of dollars more expensive than SLR Revolution. You can request for a quote in-store, via phone at 6338 5905 or through Facebook.
M S Color
If you live around Ang Mo Kio, be sure to check out M S Color. Their main outlet is located at #01-3501C, Blk 711 Ang Mo Kio Central Ave 8 (near Jubilee Square) whereas their branch outlet is at Level 2 of the nearby Ang Mo Kio Hub. Service-wise, always go to the main branch, where many regulars look for a certain Ms Florence Goh, who is a director of the company. In contrast, I never liked the service provided at their branch outlet and would avoid it where possible. Prices are about on par with SLR Revolution and T K Foto and once again, you can either go down for a quote, call them at 6564 5763 or visit their Facebook page. Unfortunately, you can't use your CapitaLand vouchers here.
Alan Photo
Alan Photo currently has four outlets islandwide, two of which are branded REC (at 114 Lavendar Street) and Lumen (at Marina Bay Sands). REC is unique in the sense that it offers photo printing services and a pantry cafe. The other two outlets are located at Raffles City (where you can use CapitaLand vouchers) and Sim Lim Square respectively. Service-wise, stepping into their Raffles City and Sim Lim Square stores feels, for some reason, a little less welcoming than the other three stores named above. I have had no experience with the REC and Lumen outlets so I cannot comment.
Notwithstanding this, prices are very competitive (sometimes cheaper than SLR Revolution) and I have never been short-changed at the Raffles City outlet or their former outlet at Funan (where most of the staff have migrated to the Sim Lim Square outlet). In fact, I was pleasantly surprised by their after-sales service (at the old Funan outlet) when they let me exchange a faulty camera within seven days instead of referring me to the manufacturer directly.
Walk-in, phone and Facebook price quotes are similarly available.
Cathay Photo
Founded in 1959, Cathay Photo is the granddaddy of camera stores. Apart from selling cameras, Cathay Photo is also the exclusive distributor of several brands such as Arca-Swiss and Kenko Tokina in Singapore. They have two outlets–one at Peninsula Plaza and the other at Marina Square with longer opening hours. While service is generally excellent, prices (at least for cameras and lenses) are a little on the high side. Though, there may be a noble reason behind it. Once, when asking for a price match on a Tokina lens, I was told that they could not reduce the price as, being the exclusive distributor, they had to protect the sales opportunity of their retailers.
While I have never bought a camera or lens from Cathay Photo, I have dealt with their service centre before with regard to a slightly defective Tokina lens bought from another retailer, and the service provided was nothing short of exceptional.
Price quotes are similarly available via walk-in, phone and Facebook. Their price quotes are usually before Goods and Services Tax (GST), so you'll need to factor in an additional 7% on the price quote.
GST rebate
The aforementioned shops are all GST registered. If you're a visitor to Singapore, you can claim 7% GST rebate on your purchase before you fly home. Detailed steps are available on this website.
eGadget mini at Changi Airport
If you're around the Changi area, check out eGadget mini, which has outlets in the public area of Terminals 2, 3 and 4 of Changi Airport.
Why go all the way there? It's because your purchase can potentially be GST-free, as long as you sign up for the Changi Rewards card (which you can do so online for free). You don't even need to travel overseas.
So far, I've noted that eGadget mini has the best prices for Sony cameras.
Electronic Chain Stores
Apart from dedicated camera shops, you can also buy cameras from the major electronic chain stores here. The major chain stores here are Harvey Norman, Best Denki, COURTS, Challenger and Gain City.
These stores sell cameras at or close to recommended retail prices most of the time. Occasionally, though, they may choose to clear old or slow moving inventory and offer cameras at a lower price. As at September 2017, Best Denki seems to have a couple of attractive deals for Panasonic Micro Four-Thirds cameras starting from just $499.
Best Denki is also notable for having a Canon camera try-out area at their Ngee Ann City and VivoCity outlets.
These electronic chain store also offer in-house extended warranty for an extra fee. Personally, I wouldn't bother.
Fujifilm and Sony stores
Fujifilm has a showroom at #02-410 Suntec City Mall, which also sells cameras. Meanwhile, Sony has a number of stores islandwide, with their Alpha and RX range of cameras featuring prominently in them. If you wish to try your hands or get to know more about Fujifilm or Sony cameras, these places are your best bet.
Price-wise, they are sold strictly at recommended retail price, so look elsewhere (i.e. the stores named above) if you're looking to score a bargain. For Nikon, Canon, Panasonic, Olympus and Pentax, they do not have an official showroom or flagship store for you to make purchases from. If you wish to try out these cameras, it's best to head down to a store like T K Foto, visit their respective service centres, or rent one for a few days from platforms such as Lendor.