December. It's a month of nostalgia, of reflection, where you look back at the past eleven months, and marvel at how much you've progressed (or regressed?) since. It's the Friday of the months, the season of giving, and a month of school holidays (and clearing leave, now that I'm an adult). And in the absence of snow in Singapore, at least we have the annual Christmas light-up along Orchard Road, a staple since 1984.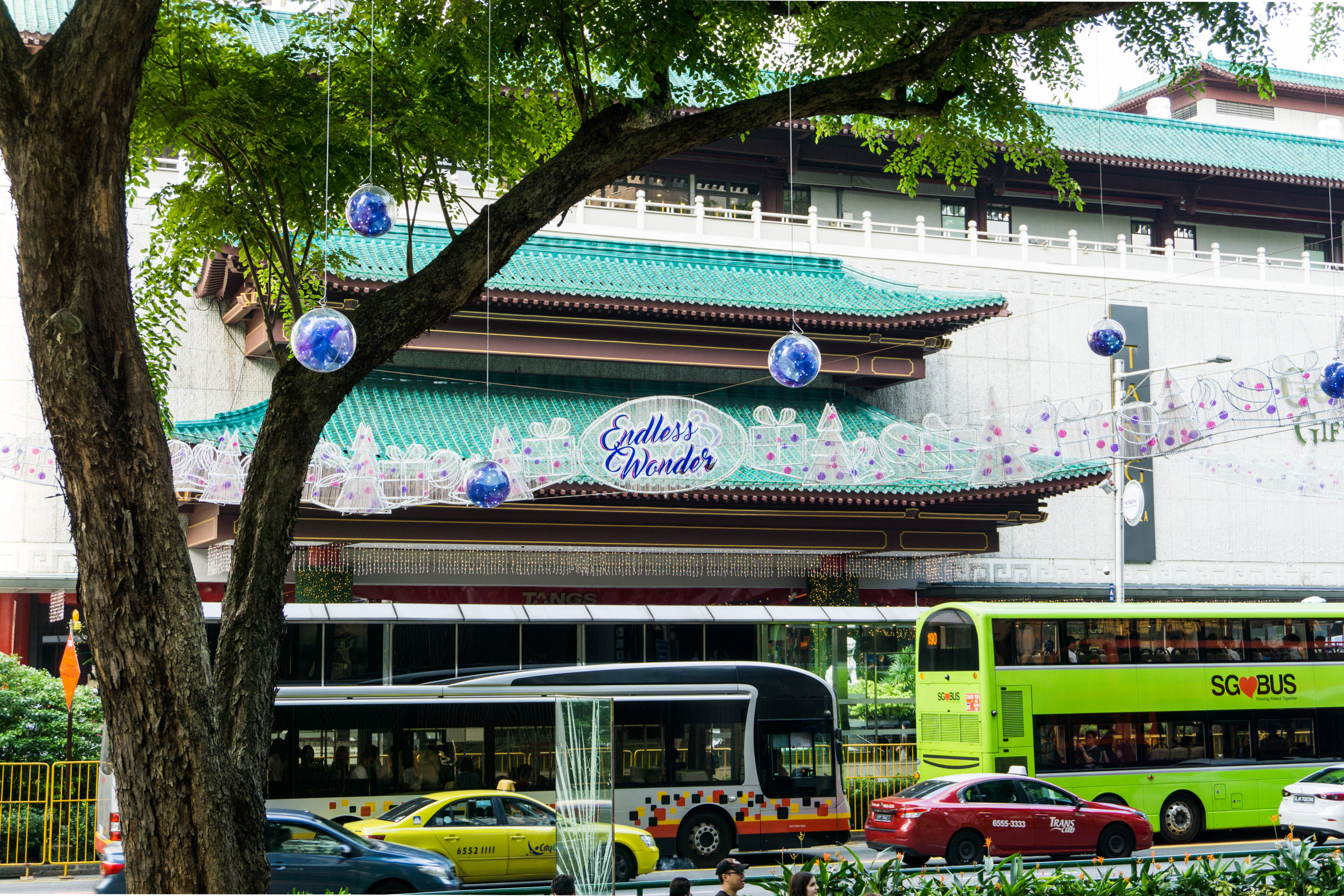 Perhaps due to falling footfall along Orchard Road, the Orchard Road Business Association (ORBA) has decided to mix things up a little this year. For example, the lights will switch on at 3pm each afternoon for the first time. With the use of energy-efficient LED lights, ORBA seems to suggest that the additional energy consumption resulting therefrom would be minimal.
While this may be true, one might think this is still a waste of electricity, since it's rather difficult to discern the difference with the lights on (as you can see above) under the harsh afternoon sun.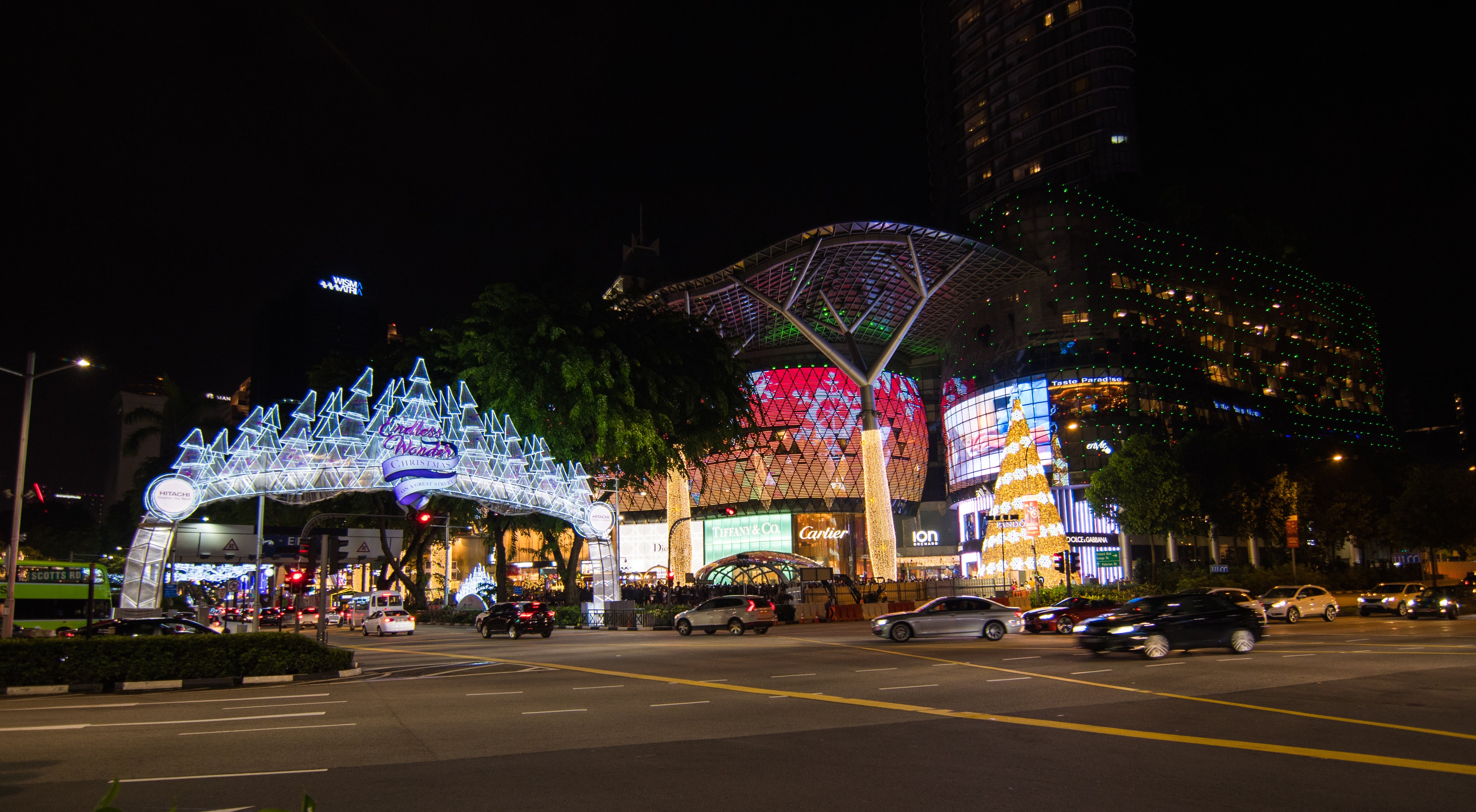 This year's theme is "Endless Wonder". Looking at the nondescript overhanging set pieces, though, it's difficult to see how they fit in with the theme. The overhanging set pieces are simply lit with white LED lights at night. The ornamental balls filling the spaces between the pieces do not light up at all. While there are four alternating motifs–"Endless Wonder", Christmas trees, ornamental balls and bells–they look rather similar with little to distinguish them from one another.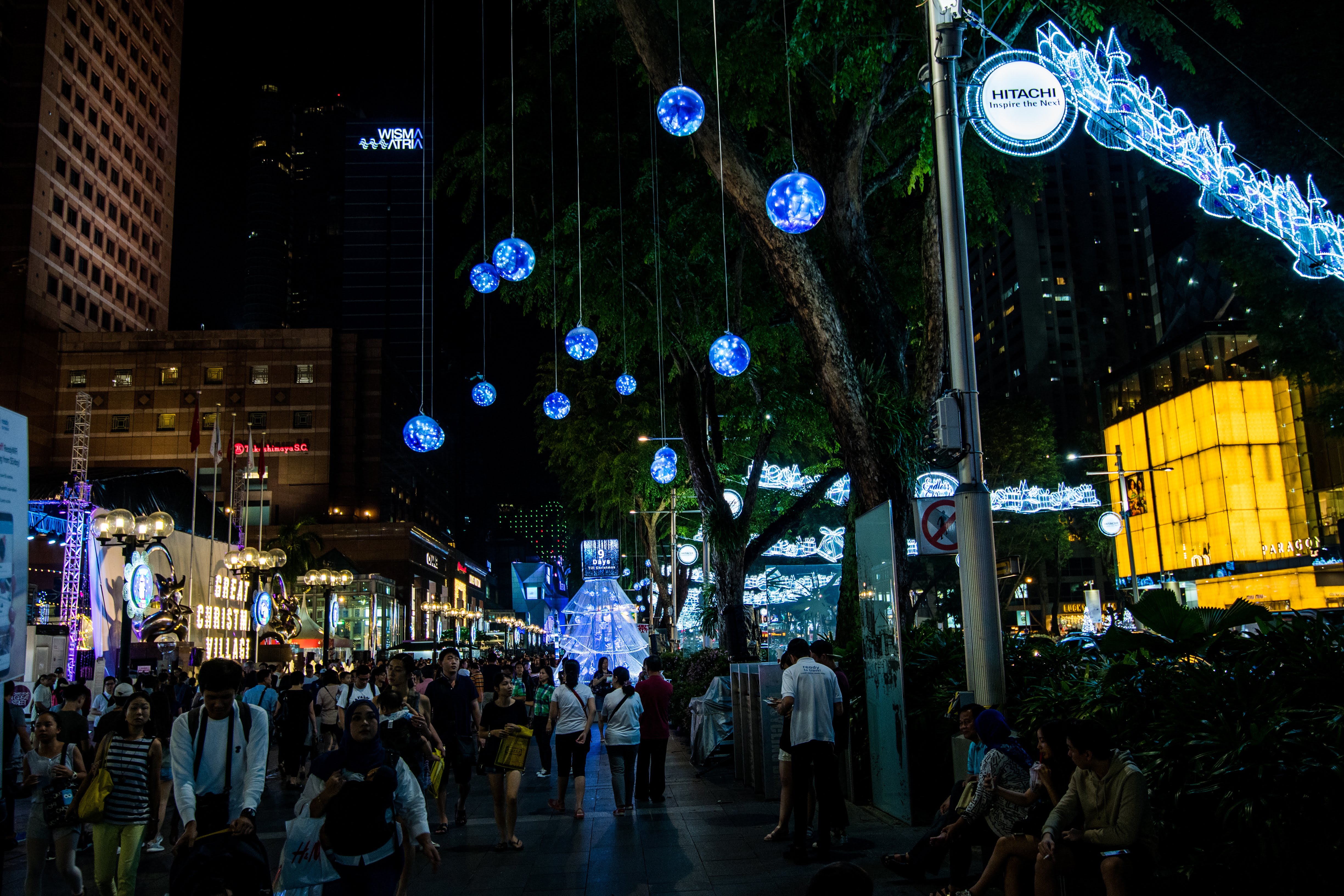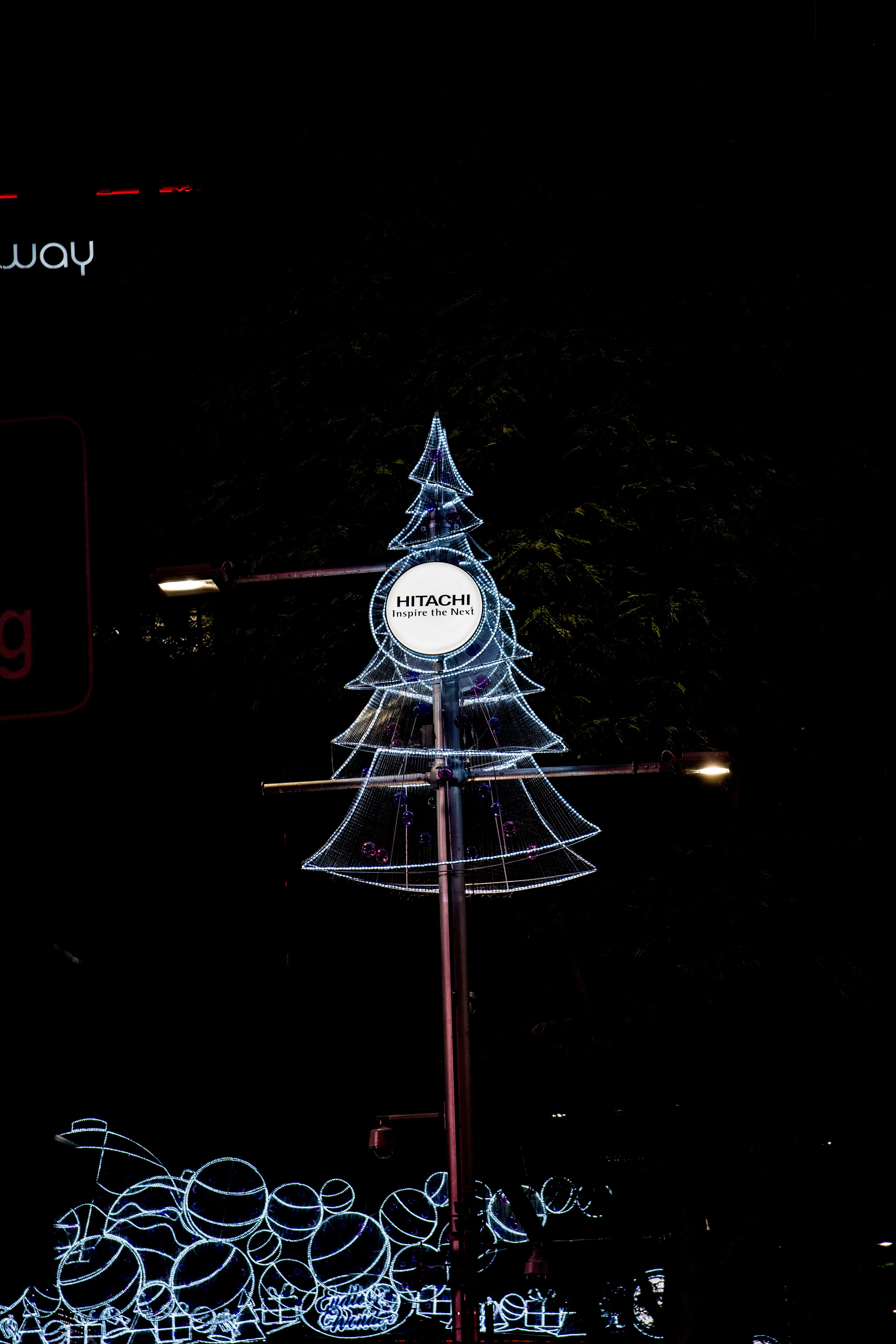 Breaking the monotony of these overhanging set pieces are the flanking plastic baubles and the Christmas tree-shaped ornament surrounding the sponsor's logo, similarly lit up with white LED lights. These baubles are hung from nearby trees and are found along the entire stretch. Taken together, they still don't look as impressive as the decorations from last year.
Set Pieces
Perhaps the minimalistic design is intentional, so that more attention can be drawn to the five fixed set pieces. These set pieces similarly fit into the overarching theme–white LEDs and blue/ white decorations.
One of these set pieces is the "Tree of Time", which has an OLED screen counting down the number of days to Christmas. It looks nothing like the artist's impression, but looks pretty well done nevertheless.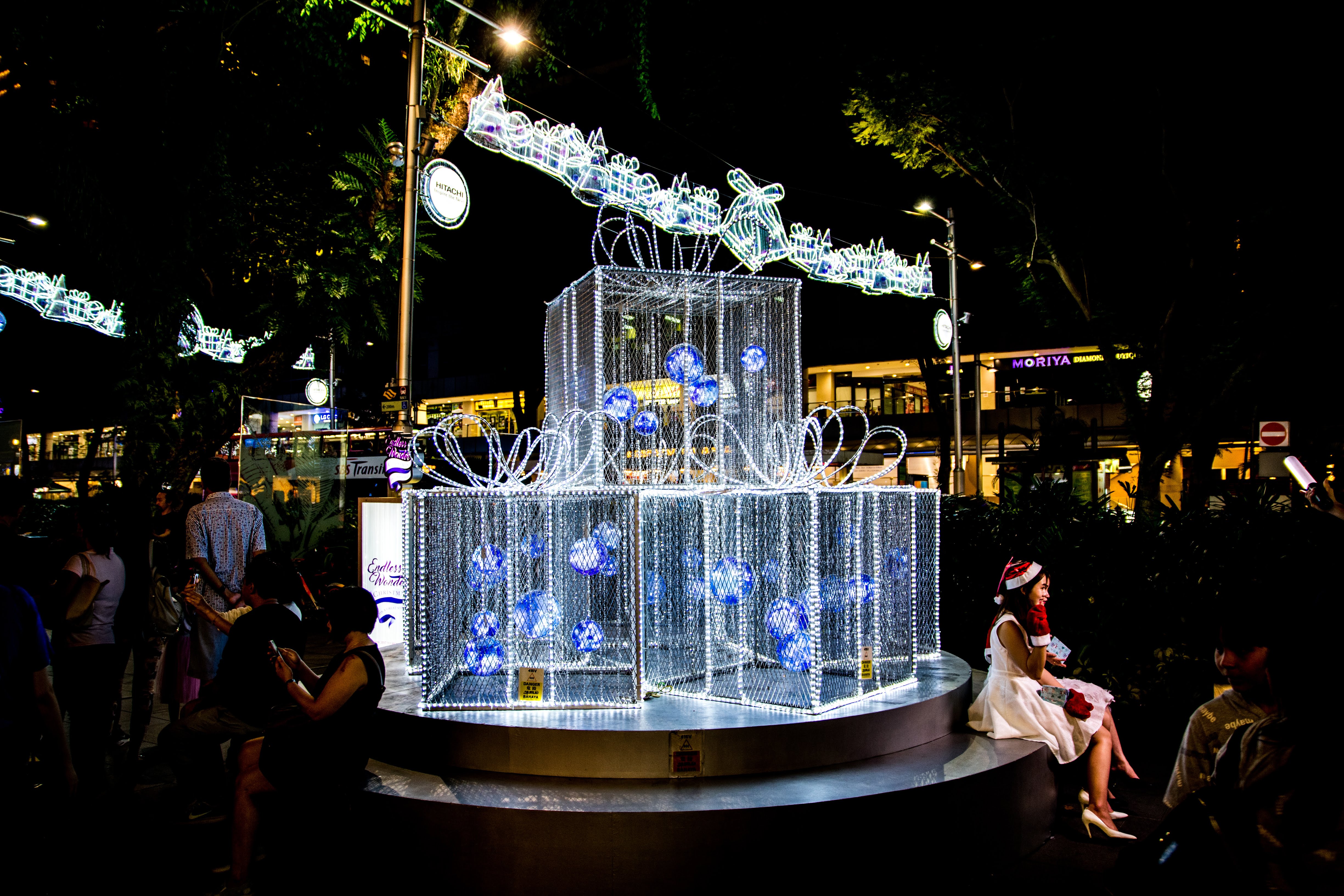 Moving along Ngee Ann City, there is also this unnamed fixture representing presents. When I snapped this picture, there were two Santa hat-wearing ladies (on the right of the image) who rather gladly posed for other photographers. I'm not sure if they're there just for fun or if they are paid to pose next to the fixtures.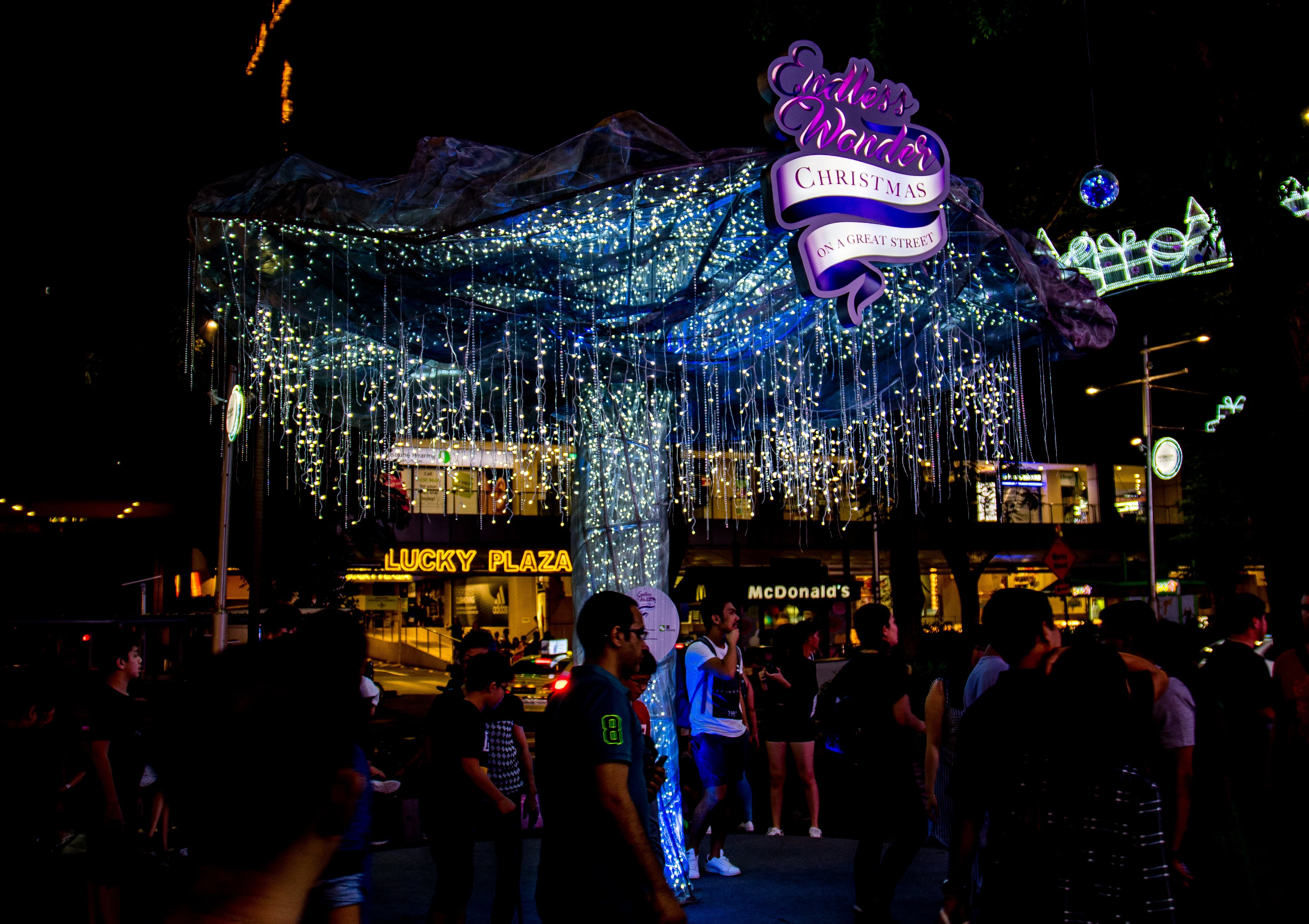 There is also this "Enchanted Tree" which is supposed to look way more enchanting based on the artist's impression. But here, it looks more like an oversized umbrella (arguably more useful in this rainy season), or a cauliflower.
Moving towards the more sleazy end of Orchard Road (where the infamous Orchard Towers is situated), we have arguably the most Insta-worthy fixture of them all–the "The Walk of Wonder". Somehow I did not export images of this set piece from Lightroom–so pictures to follow later.
Christmas Village
Apart from the fixed set pieces and the early light-up, another much-hyped aspect of this Christmas season is the Great Christmas Village (no emphasis added) at the foyer outside Ngee Ann City.
Compared to events like Artbox or even the Christmas Wonderland at Gardens by the Bay, the Christmas Village is disappointing and far from great. It's simply a row of shops, selling an uninspiring assortment of food with a small concert stage at the 'village centre'. Footfall was pretty sparse as compared to the rest of Orchard Road. Perhaps Singaporeans are getting tired of overpriced artisanal food. Maybe for a change they should get famous hawkers to hawk authentic local delights, like nyonya laksa, char kway teow and chicken rice, instead.
Thankfully (for the ORBA), despite the lacklustre Christmas Village, Orchard Road has many other attractions to draw in the crowds nevertheless.
Scramble Walk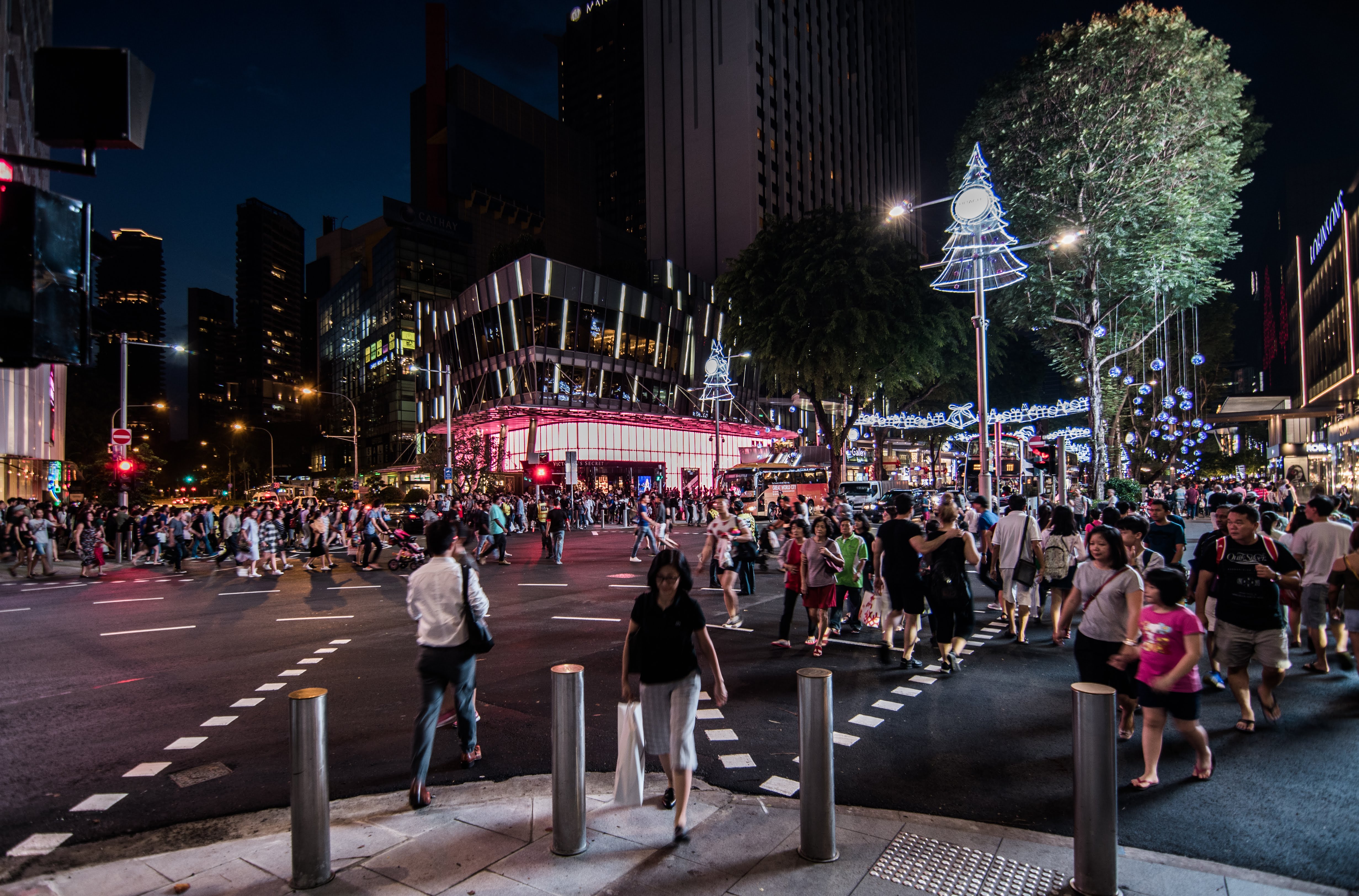 Another new initiative this year is the introduction of the Shibuya-style scramble walk between Cairnhill Road and Orchard Road. This is actually not the first scramble walk in Singapore–there's another one in the heart of the Central Business District behind Lao Pa Sat, though that crossing is way smaller and open only during certain hours.
Hopefully this scramble walk marks just the beginning of other pedestrian-friendly initiatives along Orchard Road. At the present moment, Orchard Road is rather difficult to navigate if you wish to go from one side to another without resorting to underpasses, especially around the Scotts Road junction.
Street Performances
In particular, people seem especially enamored by street performances, even though the street performers themselves seem to be performing the same routine week after week (or perhaps it's just because I've walked along Orchard Road far too often this year…). Though, it's rather discouraging that most are simply keen to watch but not to contribute money to these buskers.
Soaking in the Crowds
A new fad this year are these balloons with embedded LED lights. Curiously, while I see these balloons everywhere, I can't find their sellers. In contrast, in Bangkok, I see dozens of sellers but no one carrying them.
There's also a pop-up installation along Orchard Road by the Christian organisation "Celebrate Christmas in Singapore" aiming to "bring the message of peace and joy of Christmas back into an otherwise commercial festive occasion".
ION Orchard, as usual, has its own spectacular Christmas decorations, curiously with a large balloon that looks reminiscent of Lindt's Lindor chocolate. There's also the customary Pandora Christmas tree.
Wisma Atria is all-in on the White Christmas thing. If I remember correctly they had something similar last year.
View outside the entrance of Ngee Ann City and the four-storey high Christmas tree courtesy of Tiffany & Co.
The stretch near Somerset MRT is also a little different this year, with the opening of the flagship Apple store. The warm lighting on the trees stand in contrast to the cold Christmas lighting this year.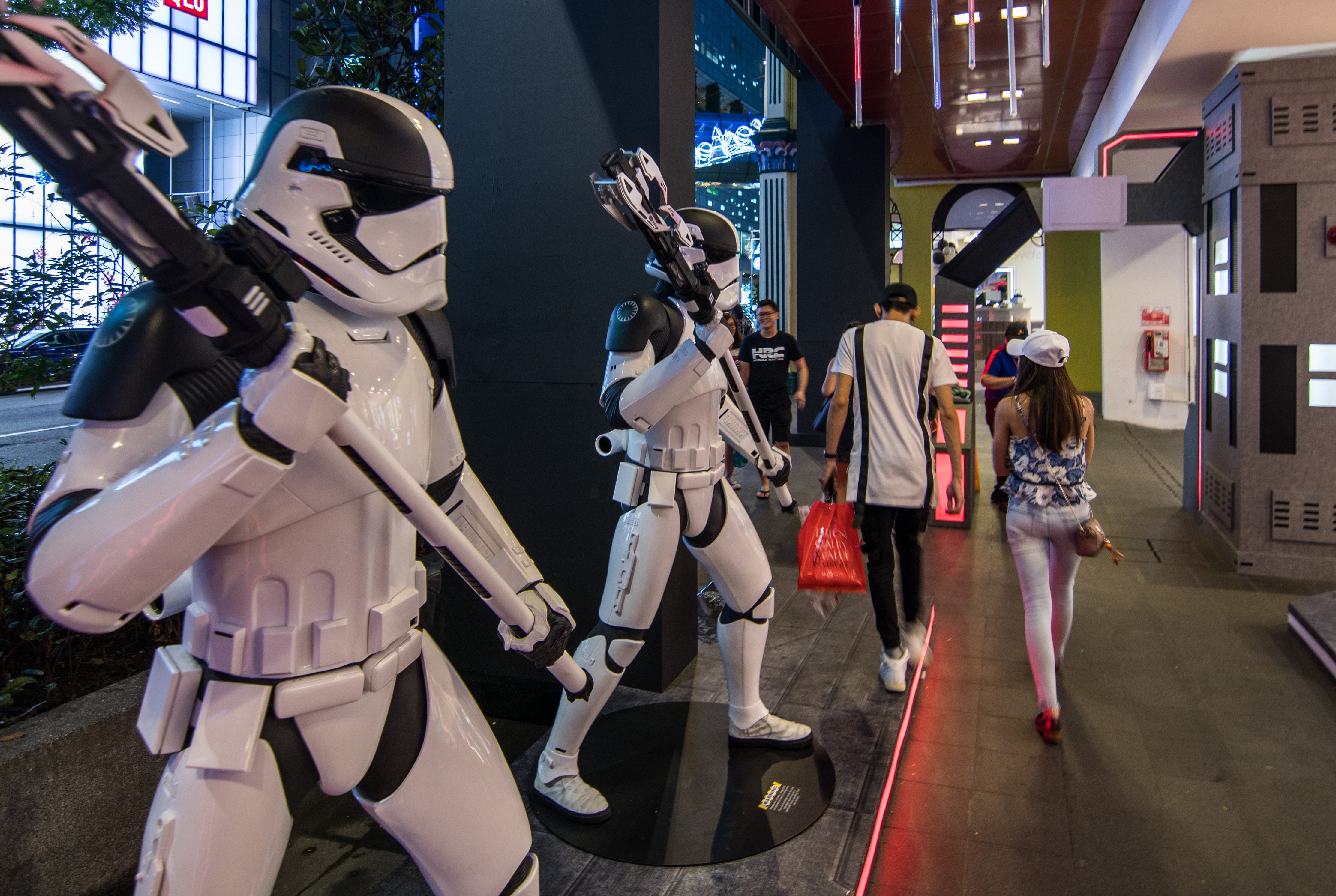 CentrePoint is going full Star Wars this year.
Walking further along the Somerset stretch, and the Christmas tree outside 313@Somerset.
Meanwhile, Orchard Gateway is all-in on the space theme this year.
Walking further along, past Orchard Central and towards Plaza Singapura. Orchard Central is really crowded this year–thanks to the recent opening of Don Don Donki. Plaza Singapura seems to have reused its Christmas decorations from last year for its exterior facade.
Lastly, a random assortment of pictures showing the human and vehicular crowds along Orchard Road. Falling spending? Perhaps. But I don't think the footfall has actually fallen along Orchard Road.