I woke up the morning of August 6th, habitually reaching out for my phone. I had intended to go back to sleep after that, but I needed to get out of bed and download Pokemon GO!, which finally reached Singapore's shores exactly a month after its initial release.
For those unaware of the game, the next few days would seem rather queer. People would pause momentarily at a dustbin (yes, it's a Pokestop) while looking down at their phones; parks and certain void decks would suddenly be teeming with people even in the middle of the night, notwithstanding that it was in the middle of the lunar seventh month. Soon, it was easy to tell the Pokemon GO! players from the non-players even without peeking at their screens–the players would almost always have their phones tethered to a power bank.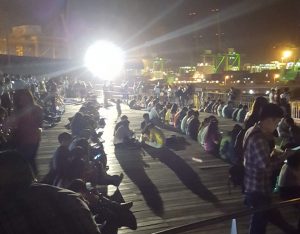 For me, it meant reconnecting with old friends. The second day after its release, my secondary school clique spontaneously decided to head down to Serangoon Gardens and then Bishan Park just to catch some Pokemon and to get some first-hand gym experience. Before, we hadn't met since the end of last year. Then, on National Day, some of us decided to head down to Botanic Gardens and VivoCity to expand our collection, together with thousands of other people. To be honest, I had never seen the rooftop of VivoCity so crowded before. I'm sure many others have had similar experiences too. Perhaps it was a convenient excuse to meet up again with old friends.
By the end of the first week, I had reached a level high enough that it was starting to get a little daunting. Still, with a new Pokemon discovery roughly every day, it was enough to keep me going. At that point I was also starting to learn all about IVs and playing smarter and more efficiently by using tools like PokeAlerts and checking out nests and all.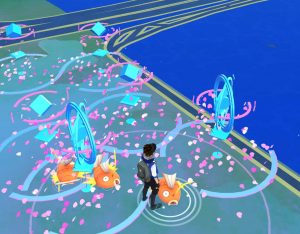 Of course, it also helped that I was still trying to obtain a Gyarados with sufficiently good IV. Many nights were spent around the Raffles Place and HarbourFront areas trying to acquire not only sufficient Magikarp, but quality ones. Much like you would choose only the freshest sashimi, you would want to only evolve the Magikarps with the highest IVs.
Two weeks in, I had finally evolved a Gyarados. Realising that I was never going to be lucky enough to chance upon a wild Dragonite, I found myself having difficulties maintaining interest in the game. I thought many felt so as well, especially as they approached levels 20 and beyond. But on the third weekend at East Coast Park, there were still throngs of players, as evident by the many "family bikes" hoarding the pathways. I'm sure bicycle rental shops are having a field time these days.
As I write this, it has been four weeks since I first started my journey as a Pokemon master. Instead of going out of the way just to catch Pokemon, I launch Pokemon GO! only occassionally, to swipe at random Pokestops and to catch the occassional (rare'ish) Pokemon. Pidgeys and Weedles? I'm long past farming them. While going to a new place meant being exposed to new types of Pokemon initially, my Pokedex has reached a stage where I'm hard-pressed to find any new Pokemon types. Gone were the (few) days I spent with colleagues walking from my office at Raffles Quay to Marina Bay Sands and back.
I guess this would eventually be the steady state of Pokemon GO! Compared to two weeks back, I'm seeing far less lures nowadays, except at busy shopping belts. As I went past Bishan Park today (a Sunday), it was back to its usual, less crowded self. I no longer see people sitting along steps outside Wisma Atria. The crowd at Block 401 in Hougang seems to have dissipated somewhat as well, judging from recent Instagram posts. But many of us would be ready to whip out their phones at moment's notice, especially when a friend, or maybe GoRadar, informs them of a rare Pokemon sighting nearby.
That happened to me just on Thursday. I was just done checking out the new Compass One, and I decided to pop by Hougang Mall for a while to grab a small bite from Old Chang Kee. I saw a teeming crowd outside the entrance (as seen in the header image above). I wonder what was the commotion. Then I peeked into someone's phone and realised he was trying to catch a Snorlax. I already had one, but its CP was just 100ish. So I excitedly whipped out my phone, thanking God that I still had 10% of battery left and thanking myself for being wise enough to save a little bit of juice for 'emergency moments' like these, and caught it after four tries. CP1644!
Niantic is said to be launching an update soon, one that will allow you to farm candies for a selected Pokemon by just walking. Let's see if we start seeing people walking and walking and walking once again when the update is released…