While searching for a good standing fan review recently, I came to the realisation that, unless you're looking at one of those snazzy offerings from Dyson, it's pretty hard to come across a review of a standing fan, much less one that has a direct current (DC) motor as opposed to one powered by a conventional, alternating current (AC) motor. So here's a quick primer from the research I've done recently, as well as a quick review of the Mistral MIF400RI, the 16″ DC standing fan which I eventually settled on.
A DC standing fan?
While direct current (DC) motors are common among ceiling fan selections these days, a DC standing fan is still relatively hard to come by. Compared to conventional fans with alternating current (AC) motors, a DC fan purportedly uses less energy, is quieter, and offers more speed selections. I do not particularly care about the first two factors (although I admit that noise is a good thing not to have, coming from my prior experience with the anemic Dyson Air Multiplier), but the ability to have more than three or four speed selections is an important feature for me as a sufferer of dry eyes. Oftentimes, even the lowest speed selection causes my eyes to dry out, especially at night.
Unfortunately, the market for DC standing fans (or even standing fans in general) is not a particularly lucrative one for manufacturers and therefore there hasn't been much innovation in this space. If you look at KDK, perhaps the most reputable brand name in Singapore when it comes to fans, their designs for their standing fans have pretty much remained the same since the 1990s. All their standing fans (none of them are DC, by the way) have only three speed selections, with the sole addition in recent years being that of a "1/f yuragi" function, or KDK's take on a breeze mode.
All we're left with are a bunch of Singapore brands, such as Mistral, Sona, EuropAce and Toyomi. There's also a Xiaomi fan that has 100 speed selections but unfortunately, is available in only a single 12″ size.
Options
My focus was on 16″ fans, which is a typical size for a standing fan. Anything below that seemed a little too underpowered for my needs. As it turns out, there are pretty much only three models to consider from. All three models seem to be equally reliable in the sense that the manufacturers are each offering an 8 year motor warranty and 2 year parts warranty.
Brand
Mistral
Sona
EuropAce
Model
MIF400RI
SFS 1186
ESF 9135W
Features
– 5 blades
– 26 speeds
– Normal, natural, sleep, comfort and silent modes
– 12 hour timer
– 5 blades
– 12 speeds
– Normal, sleep, natural and silent modes
– 12 hour timer
– 14 blades
– 22 speeds
– Normal, natural, sleep and silent modes
– 12 hour timer
Price
$168 (Courts)
$142 (Best Denki)
$109 (Courts Tampines Megastore)
Pros
– Comfort mode which supposedly intelligently adjusts the fan speed based on room temperature
– Most number of speeds
– Most value for money option right now
– Four speed options available for the natural mode, and full 22 speed options available for sleep mode
Cons
– Expensive
– Automatically switches off after 12 hours of no input
– Only one single speed option for natural, sleep, comfort and silent modes
– Automatically switches off after 12 hours of no input
– Neither the cheapest nor the most value for money option
– Automatically switches off after 15 hours of no input
Of the three, the SFS 1186 appeared to be the weakest choice, as it had "only" 12 speed selections and wasn't the cheapest option available. The EuropAce was the cheapest option (apparently, it is on clearance sale at the moment) but the effectiveness of the 14 blades was a little questionable — in a direct comparison with the Mistral, it did not seem to project air as far as the Mistral — although it could have also been that I'd been taken for a ride by the salesperson who kept recommending the Mistral over the EuropAce…
In the end, I settled for the MIF400RI, which forms the basis of my review below.
Review of the Mistral MIF400RI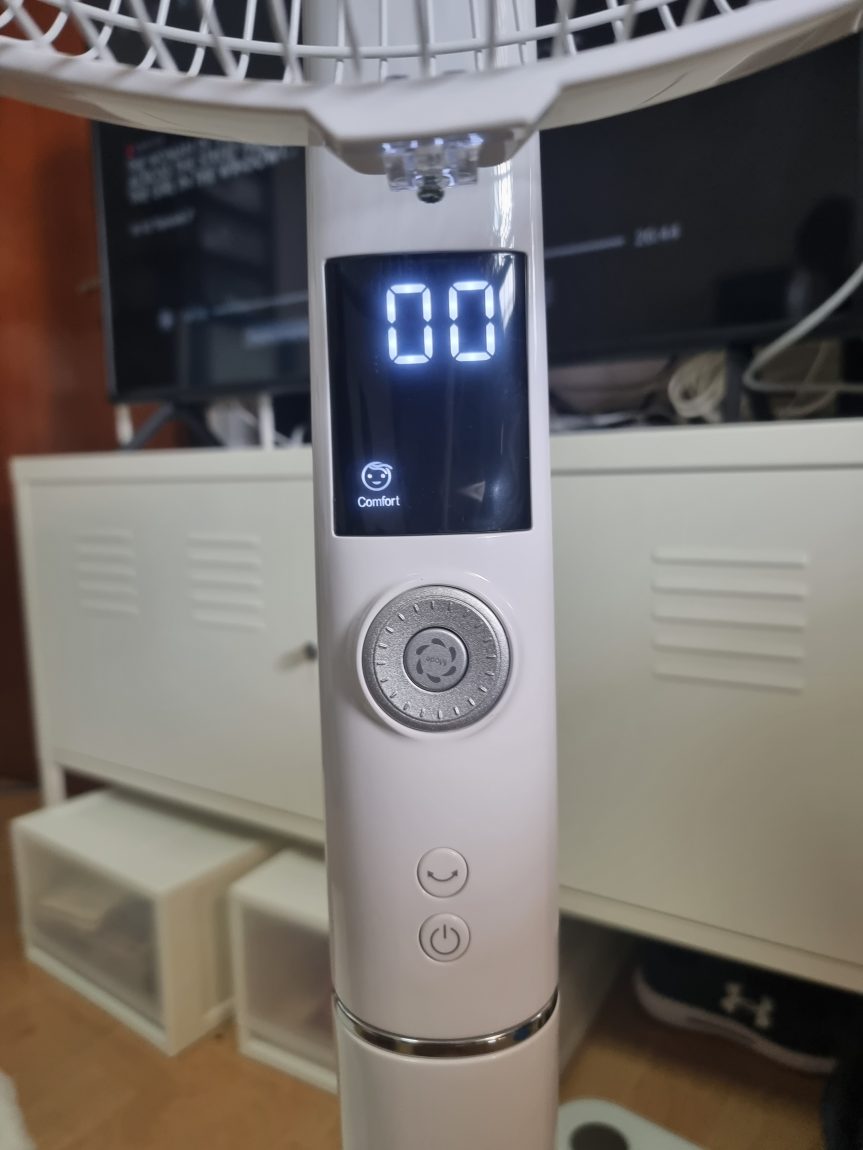 The design of the MIF400RI is pretty modern and clean looking, with just three buttons and a jog wheel somewhat reminiscent of the first generation iPod. Assembly of the fan is really easy — first, you have to plug the stand into the base, screw it in using the provided large knob screw (note: the instruction manual mentions three butterfly screws which were not supplied; these were probably replaced by the single large knob screw), and then attach the rest of the fan. A screwdriver is (annoyingly) required for the last step.
Next, you simply affix the back panel, plastic blades and front panel (which, once again, requires a screwdriver, to remove and replace the 'safety' screw) and you're good to go.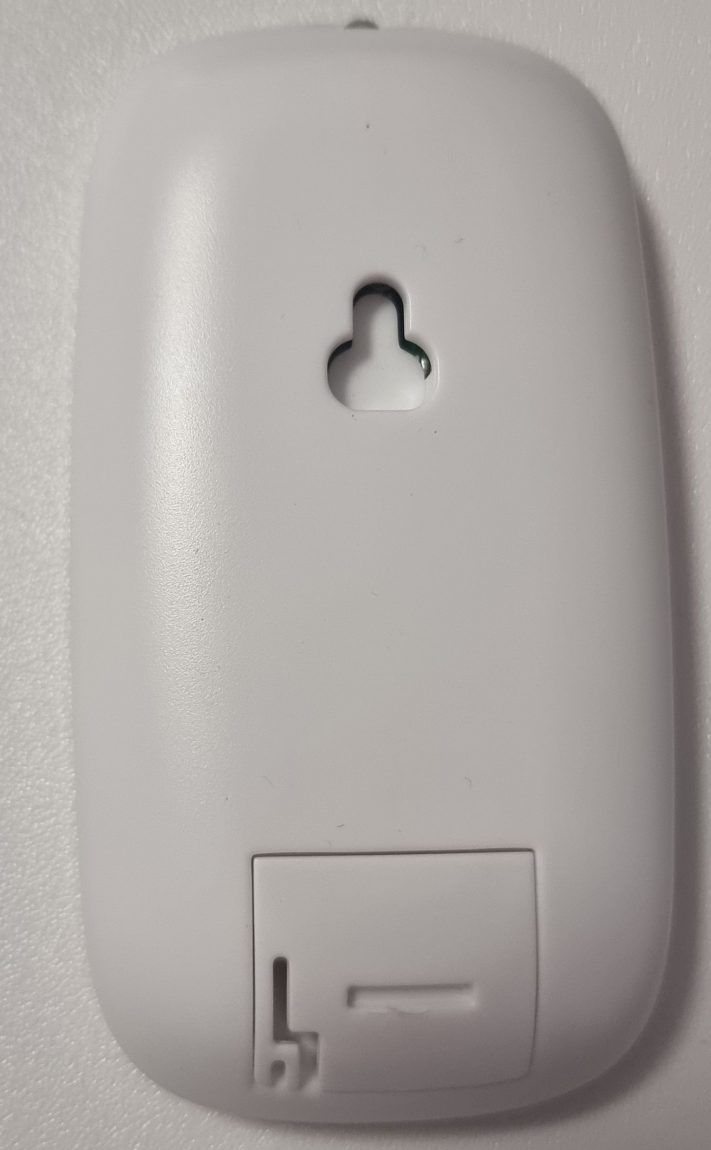 The remote control runs on a single CR2032 coin cell (thankfully included), which is a surprising choice. More surprising was how convoluted the battery compartment was designed. It took me about five minutes to figure out that I had to first depress the little catch on the left, then use a coin or lever to slide the compartment out.
On the other hand, the remote has the same jog wheel as on the fan itself, which is a nice touch, and has a circular indent so that you can wall mount the remote easily. Unfortunately, the remote seems to run on the same frequency as the remote of my ceiling light–I have to be careful not to point the remote upwards to avoid sending a command to my light.
The interface has a little bit of 'lag' in the sense that the fan speeds on the display do not keep up with the spin of the jogwheel, and the actual fan speed also takes a little bit of time to adjust. The fan display also turns off automatically after a couple of seconds of inactivity, which I find a little annoying.
As you would expect, the fan can oscilliate horizontally automatically, and this can also be controlled via the remote. The oscillation range is fixed at about 90 degrees or so. Do note that there's a short period of lag (maybe 0.5s to 1s) between the time you press the oscillation button and when the fan reacts, so you may experience some difficulty when trying to point the fan at the optimum angle.
Where the fan excels is its versatility — it offers a total of 26 speeds so it is versatile enough to act as a supplementary air circulator when the air conditioner is on, or a fan to cool you down on the hottest of days. The fan is also very quiet on the lower speeds, although there is a distinguishable, low-pitch hum at around speed 15 and above. At maximum velocity, the fan is noisy (as expected), but not offensively so. The top speed option is good enough for me, even at a distance of about 2.5m away. Generally, I use the fan either in "Comfort" mode or at speed 13.
Speaking of modes, the MIF400RI offers five selectable modes–Normal, Natural, Sleep, Comfort and Silent. These modes are not elaborated anywhere on the internet; thankfully, the user manual (not available online) offers some explanation.
Normal mode is as you would expect — set it to one of the 26 speed options and the fan will be stuck at that speed perpetually.
Natural mode is similar to breeze mode or the "1/f yuragi" mode found on KDK fans. According to the user manual, in natural mode, the "fan will simulate natural wind according to pre-programmed manner, the wind speed changes in accordance with the program, which makes people feeling idle, naturally and it likes to be in the nature".
Then there is sleep mode, where "the wind weakens step by step during the preset time until stop" and then, "the fan switches automatically off so that man can drop asleep".
Silent mode is pretty much a low noise mode where the fan speed drops to a minimum.
Last but not least, and most interestingly, there is a "Comfort" mode, which purportedly adjusts the fan speed with the room temperature intelligently, and is supposed to turn off automatically when the temperature is lower than 20 degrees Celsius.
Unfortunately, there is no selectable speed options for anything else apart from the Normal mode. For one, I would have preferred there to be selectable speed options for the natural and sleep modes.
In practice, I find myself using the "Comfort" mode most often — it works reasonably well for sleeping as well and doesn't dry my eyes as much. I use Natural mode sometimes when I'm in front of the television with the fan next to me. While Natural is probably my preferred mode, not having adjustable speed options makes it less useful when using the fan at a distance.
There is this one "feature" which I absolutely hate on the MIF400RI — it automatically turns off after twelve hours if you do not interact with the fan. Supposedly, this is supposed to help in situations where you forget to turn off the fan, but with my fan pretty much turned on 24/7 (thanks to work from home), this is more of an inconvenience than anything else. Unfortunately, the other two DC fan options have similar "features" as well, so it's something you cannot run away from.
Overall, despite its minor flaws, I find the MIF400RI to be quite a competent fan. Compared to the Tefal Turbo Silence fan which I was using before, the MIF400RI is a definite step up, if you can deal with the price.