Here we are once again. Another year come and gone, another post about the Christmas decorations on Orchard Road.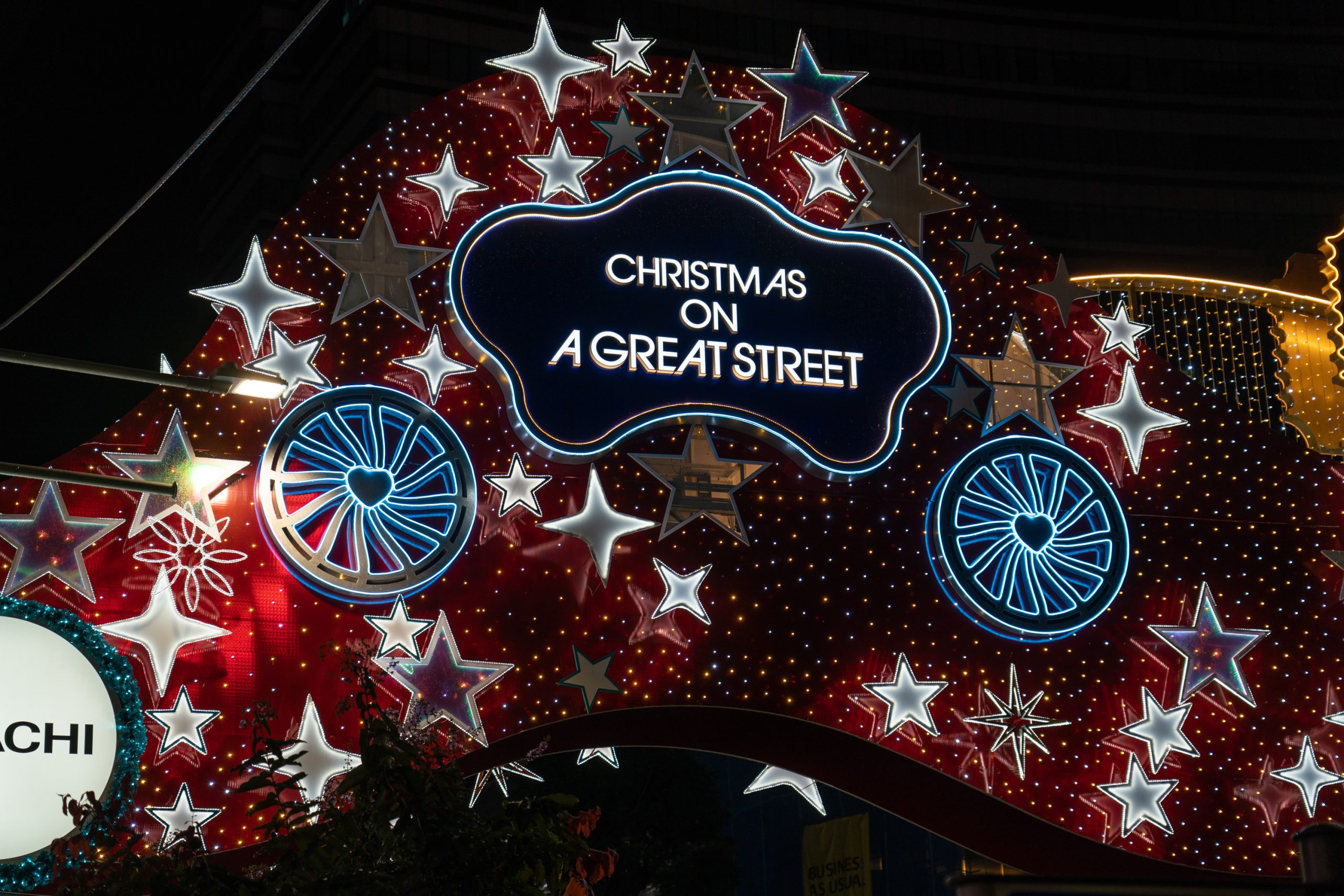 This year, the mood is markedly more optimistic. While COVID-19 continues to rage on, with it (finally) claiming me as a victim in October, the days of Circuit Breaker, Heightened Alert, 5 pax and 8 pax seem to be firmly behind us. Mask wearing is now optional (save for public transport) and you no longer need to whip out your phone or token when entering a mall, which is perhaps the greatest relief of them all.
Perhaps this is just the calm before the next storm, as people are starting to feel the pinch from increased inflation and rising interest rates, and there are talks of an impending recession… That said, for now, I'm content to live in the present and soak in the festivities of the moment.
As with last year, I started my walk from Dhoby Ghaut on a Tuesday evening (13 December), after the rain cleared. With this December being wetter than usual (or rather, the past few Decembers have been uncharacteristically dry), I was thankful that the rain cleared for I had deliberately brought my camera to work that day, and had I missed the chance, I would probably have had to wait till after Christmas to get another chance.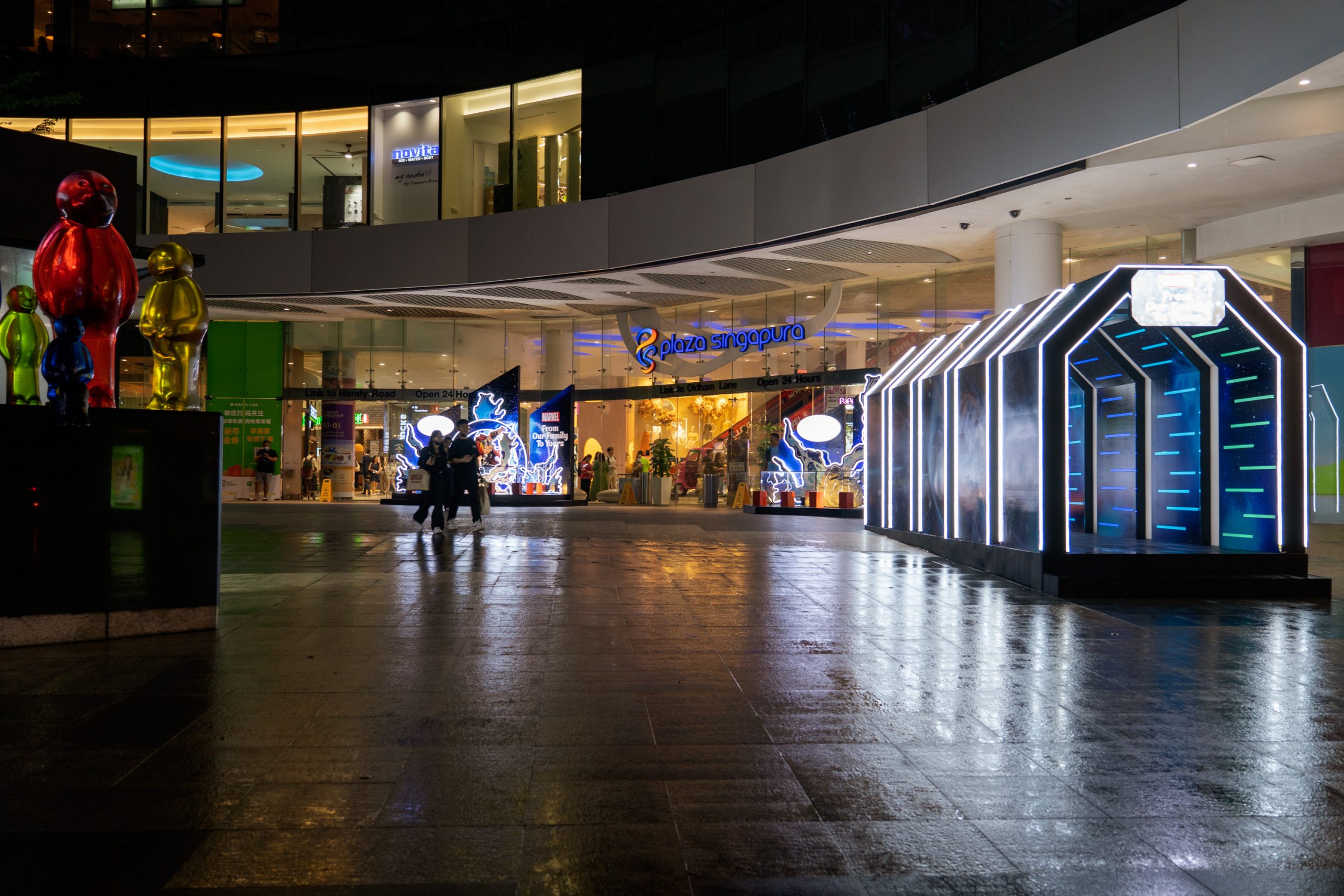 This year, Plaza Singapura is uncharacteriscally naked. While I would've complained in prior years that the LED lights are a little too flickery for my liking (I am quite sensitive to light flicker), there are no Christmas decorations to be found within the mall itself, save for a lone Christmas tree near the Basement 1 escaltor which seems like an afterthought.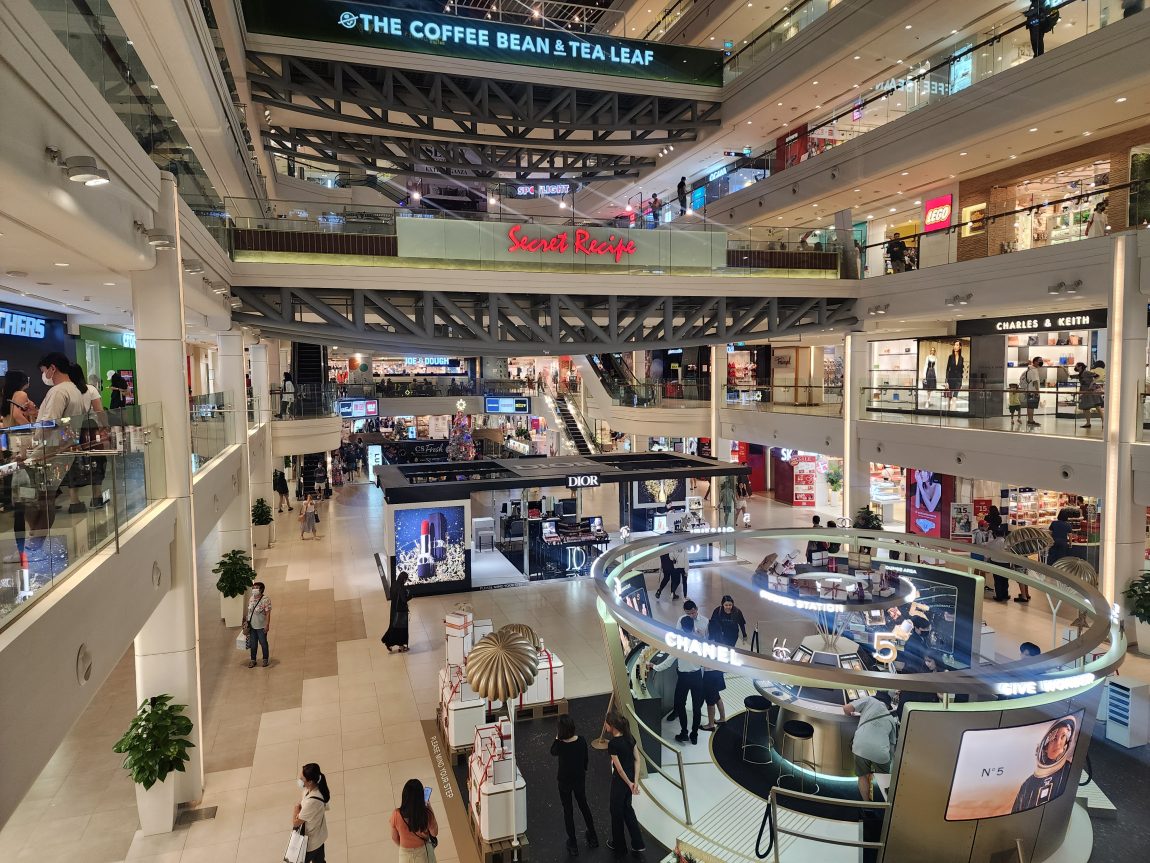 Outside the mall, you used to have the trees adorned with LED lights but now, there are none. Thankfully, the street decorations make up for it, with rows of pink LED light strips decorating the Orchard Road stretch.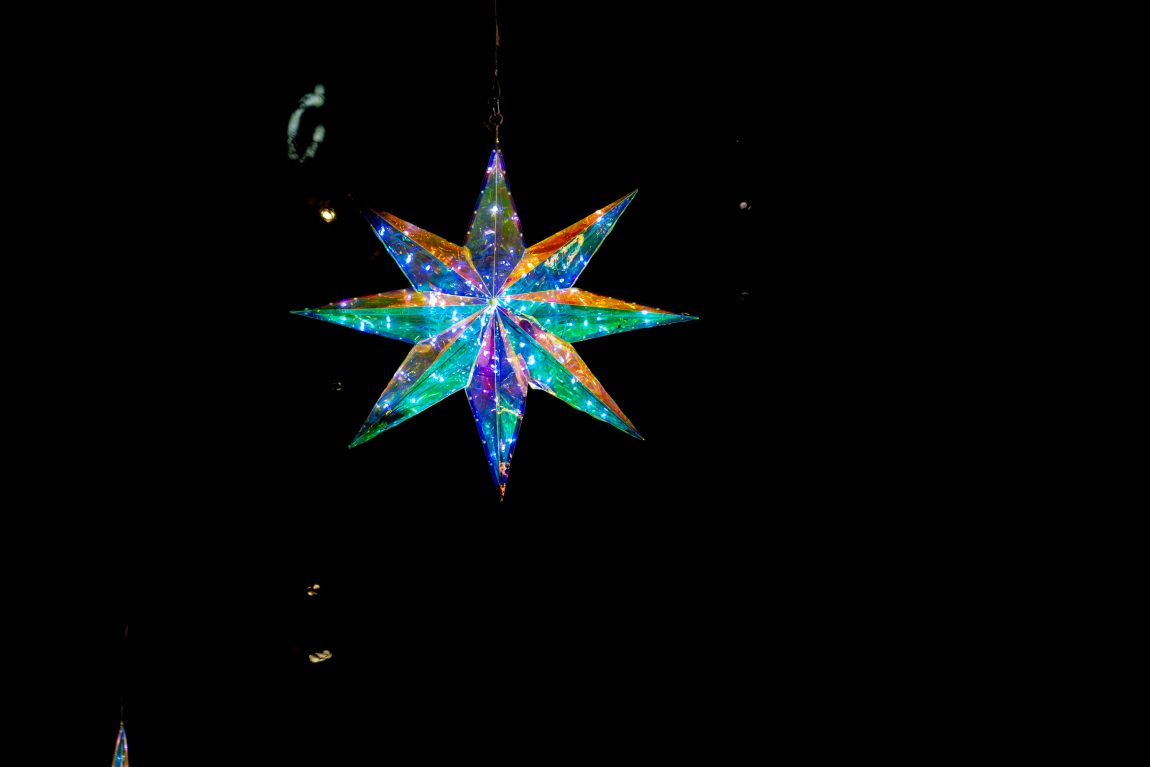 Unlike previous years, there are no ornamental Christmas baubles; in its place we get something that's a little more… star-studded. There's supposed to be a carnival theme this year, so the reindeers which you see along the lamp posts probably represent a carousel and the triangular structures probably represent carnival tents or something. It's definitely a step up from last year's flower-themed decorations.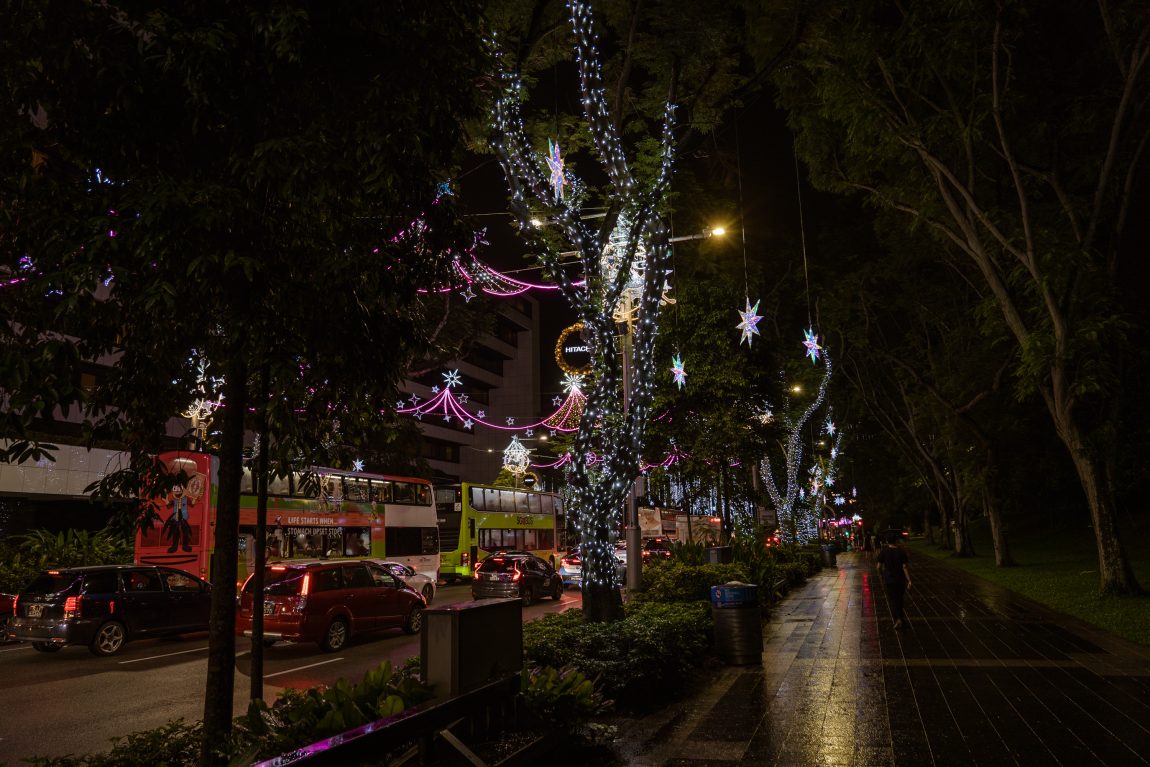 Along the Concorde stretch, we see entire trees being enveloped in LED lights, which is a first. It looks magnificent in person and better than what my camera could capture. Looking closely, you can't help but feel a sense of amazement as to how they managed to cover each tree in their entirety with Christmas lights.
Moving on to the Somerset stretch, you catch a glimpse of 2022's departmental store casualty — OG Orchard Point.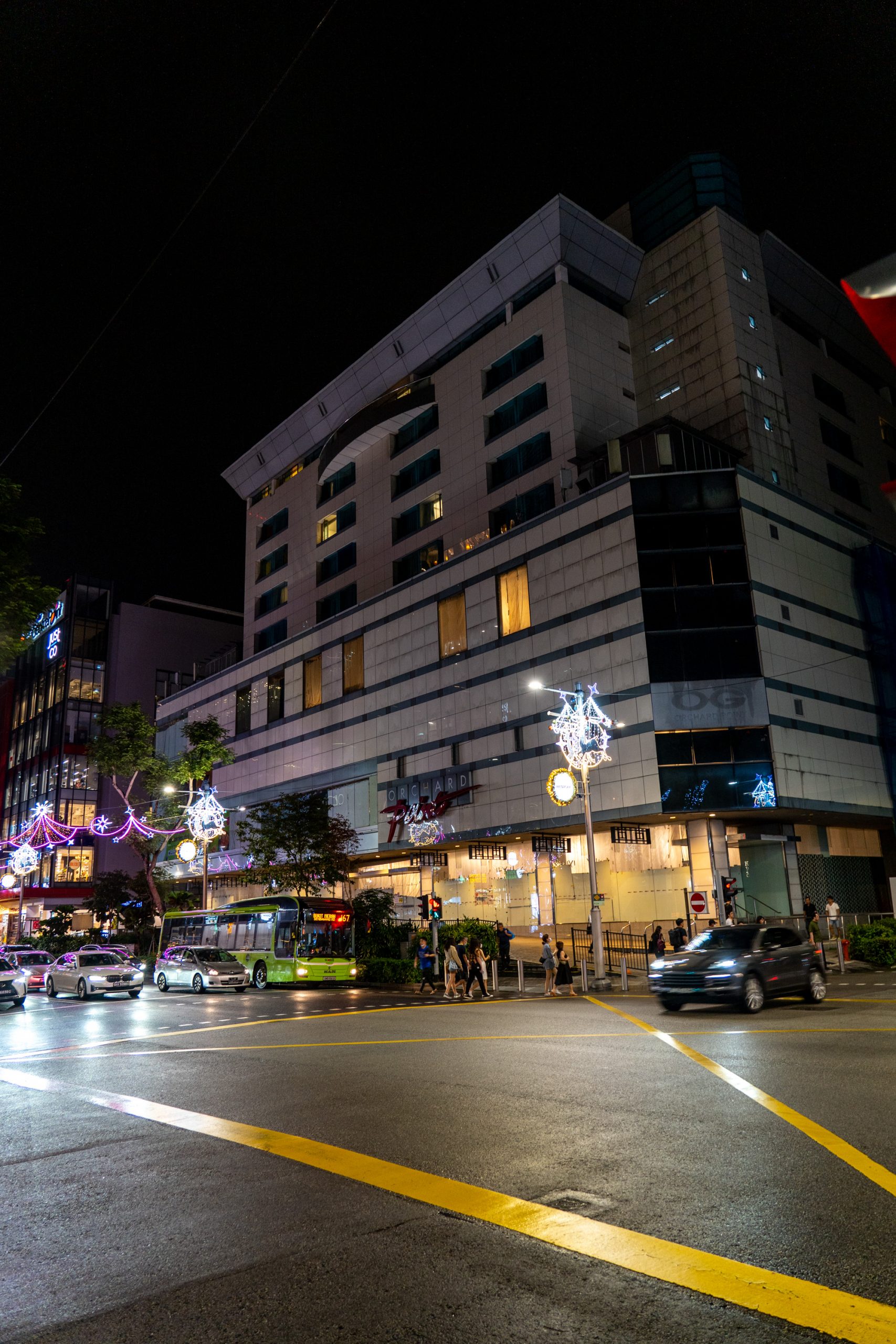 Having been there for the past eighteen years, the building is slated to be taken over by a "local business dealing in fresh food and grocery". Over the years, we've seen the number of departmental stores within the Orchard Road stretch dwindling. John Little and Robinson's have disappeared, and so has the Isetan at Wisma Atria. We've now left with Takashimaya at Ngee Ann City, Isetan at Shaw Tower and Metro at Paragon. On the other hand, electronics stores seem to have experienced somewhat of a resurgence along Orchard Road, with Courts Nojima opening its flagship store last year, Harvey Norman opening its CentrePoint outlet the previous year and Best Denki having ostensibly renovated its Ngee Ann City store earlier this year (I say ostensibly as it doesn't look very much different on the inside).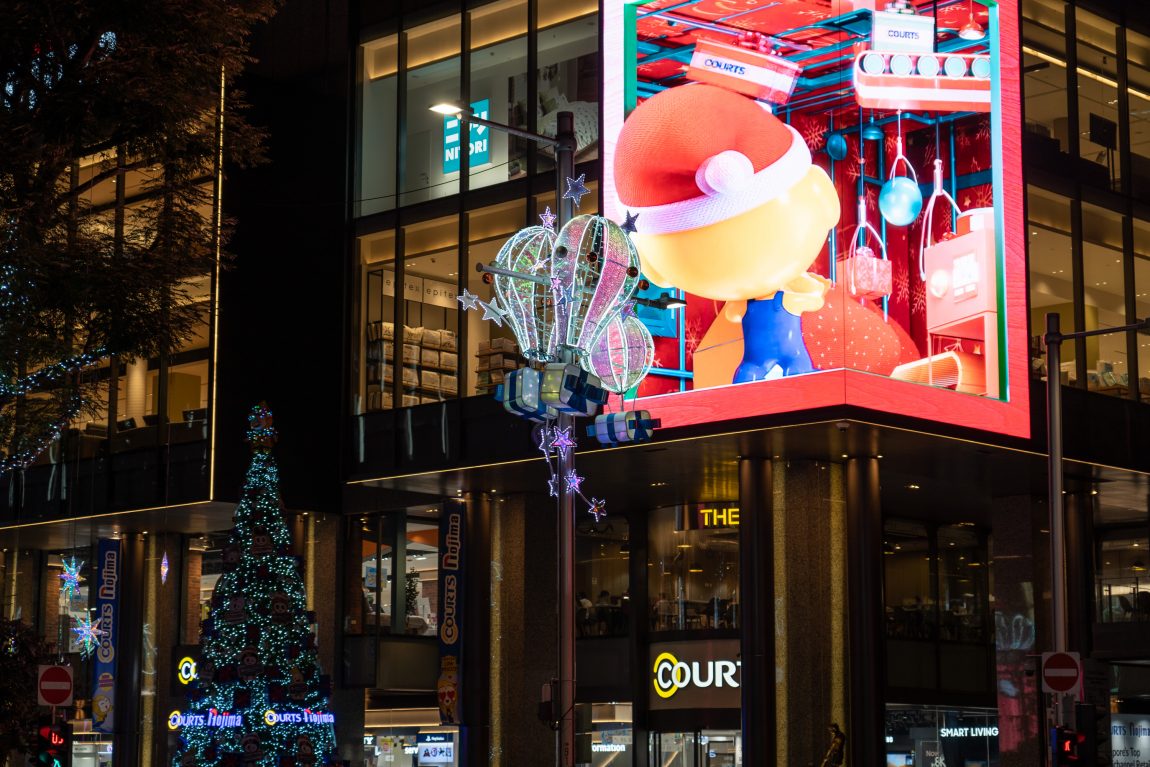 The Somerset malls seem to be pretty low-effort this year as well. Both Orchard Gateway and 313@somerset have been taken over by Museum of Ice Cream installations, for some weird reason (the "museum" isn't even situated on Orchard Road, and is perhaps one of the most disappointing museums I've ever visited). Consequently, neither mall has a proper Christmas tree (apart from a pseudo-tree within 313@somserset). Orchard Central has some Christmas set pieces, but they were not lighted up during the time I visited. CentrePoint is also same-old, same-old; the last time it put in some effort was probably in 2016. I guess that's because there's no longer any contest for the "best dressed mall" along Orchard Road.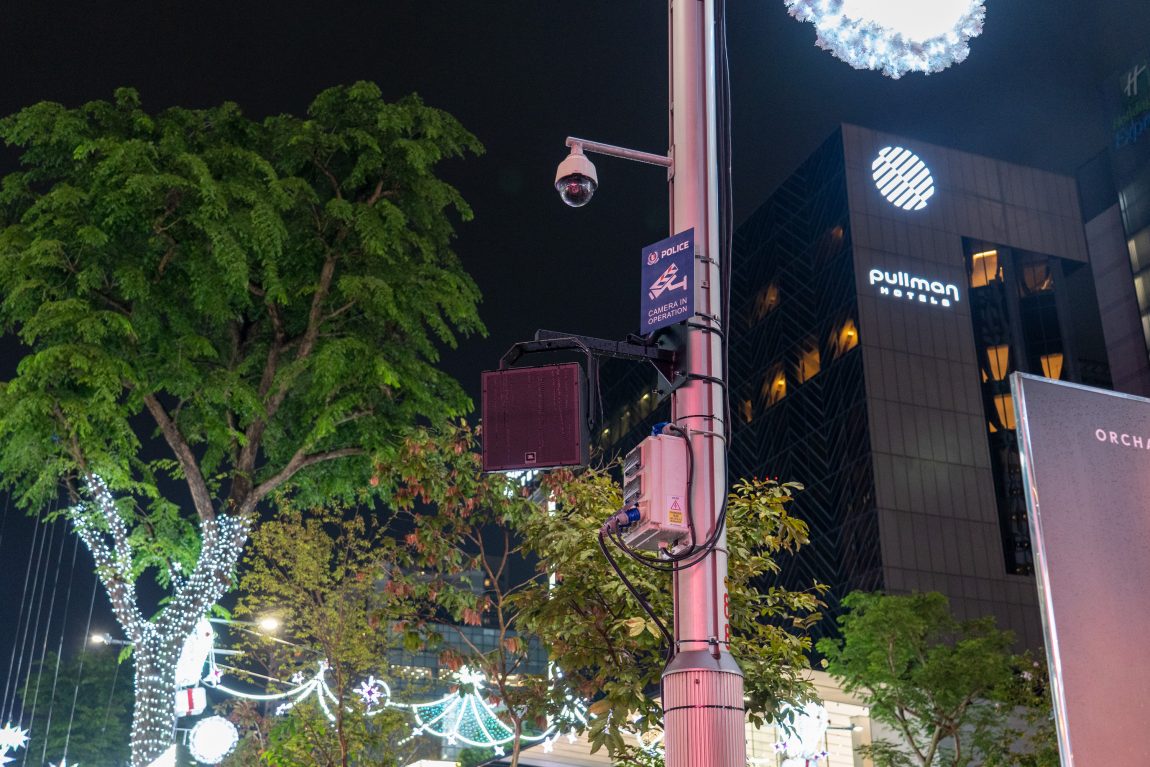 While busking is somewhat restricted this year (probably as a reaction to the recent Itaewon crush rather than COVID-19), there are a number of speakers blasting out Christmas melodies which in a way makes up for it. There are still buskers, however, at select stretches.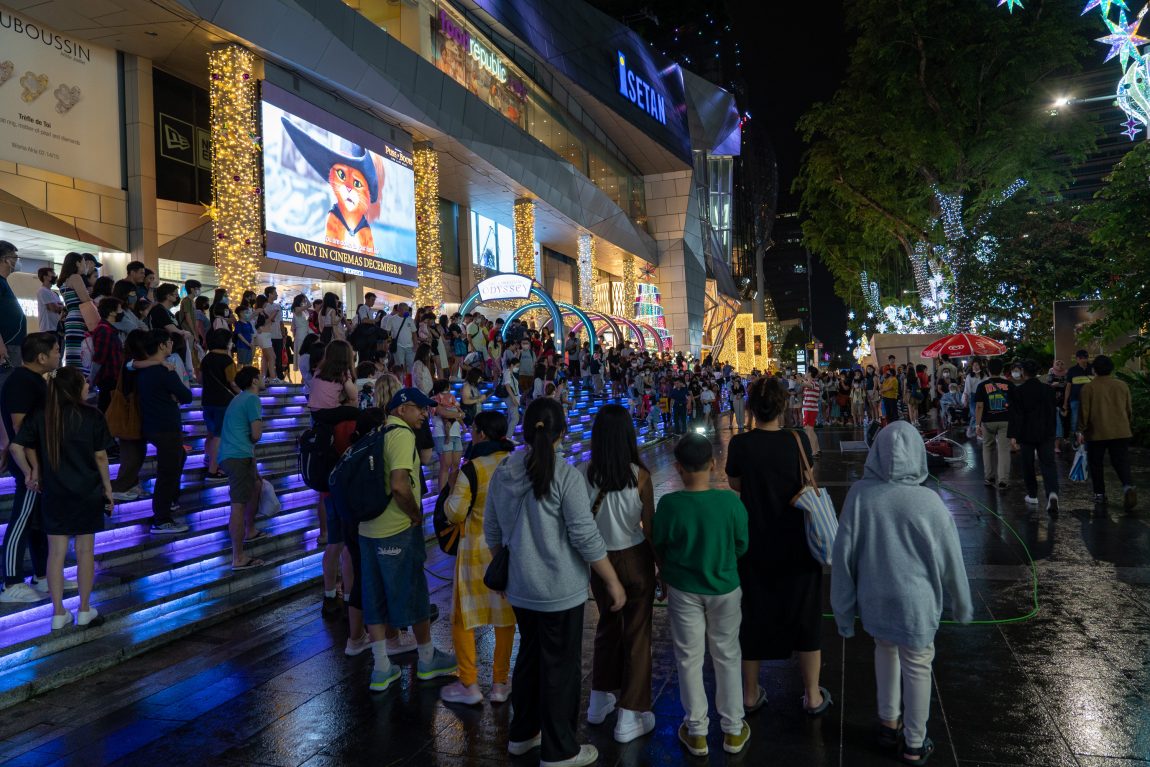 Along the Somerset stretch, Mandarin Gallery seems to have put in a bit more effort, with its "swaying grass" deco.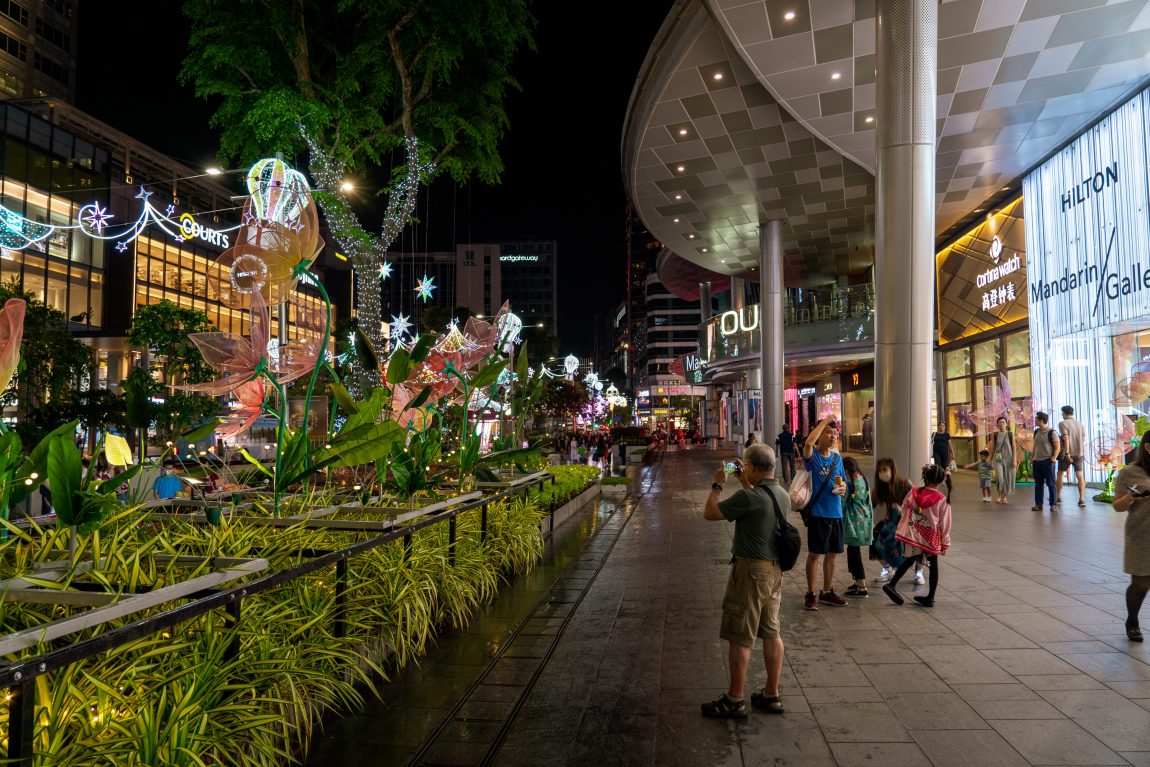 Speaking of the Mandarin Gallery, the name itself is a little out of place now that its namesake hotel, the Mandarin Orchard, was rechristened Hilton Singapore Orchard earlier this year. However, it seems like the name is here to stay. What's conspicuously missing, however, is the "Happy Chanukah" sign which had previously made an appearance for as long as I've been snapping Christmas photos along Orchard Road.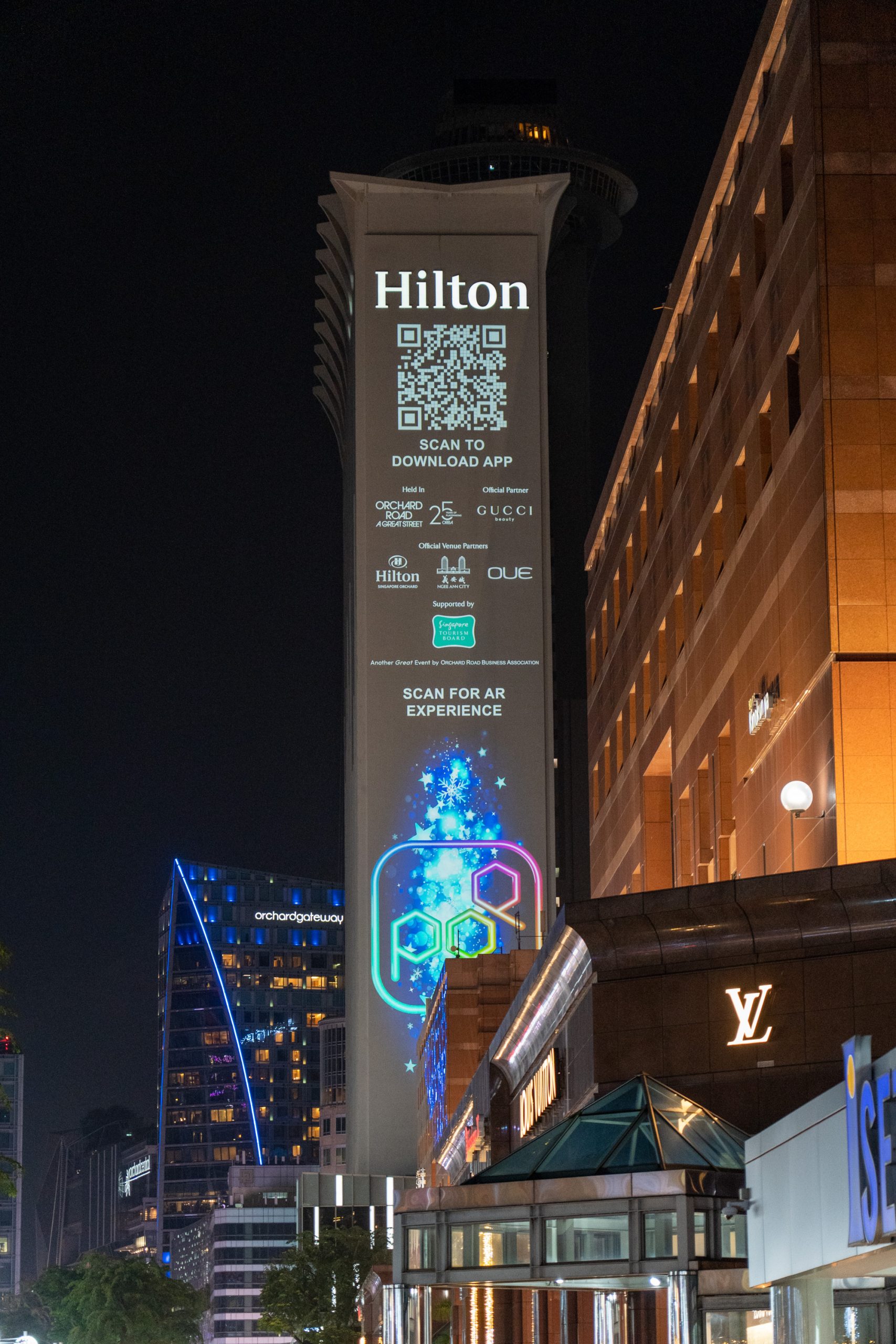 And Hilton Singapore Orchard has cleverly transformed itself into a tall vertical billboard…
Also, as a reminder as to which year we're in, this year's the year of the iPhone 14 (no Pro models displayed, though). This year, the Park Hotel logo has been replaced with "Pullman Hotels".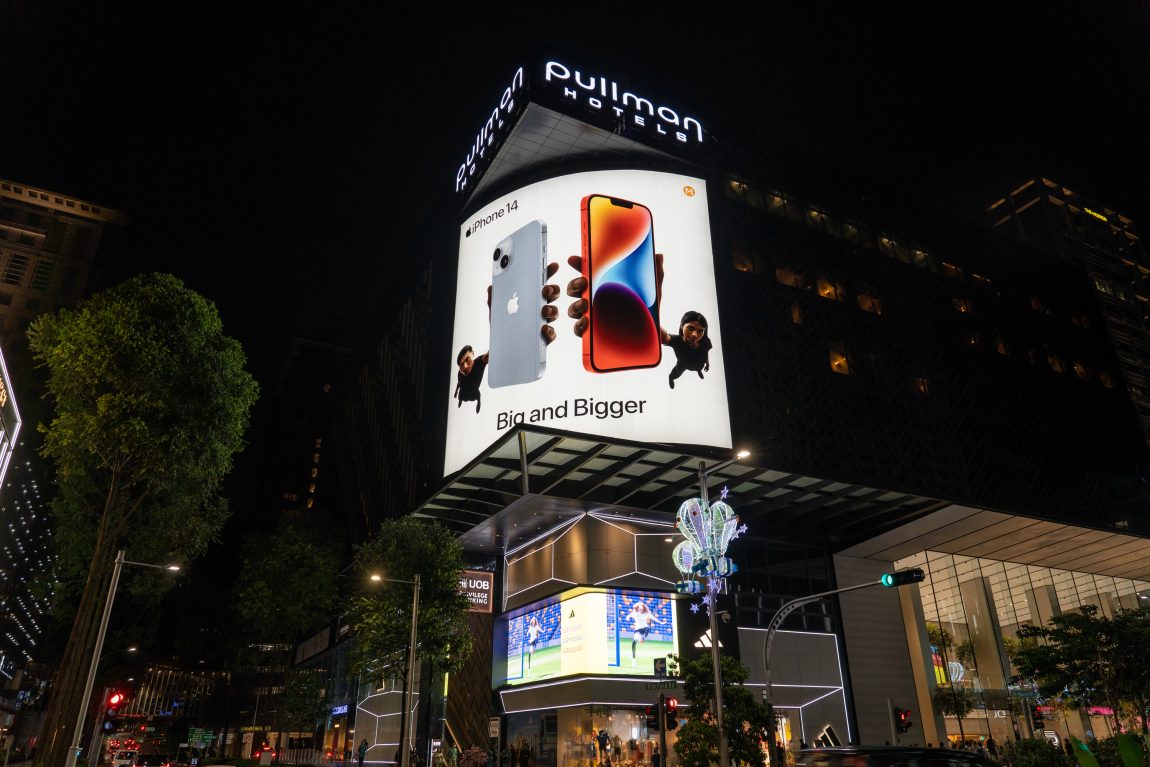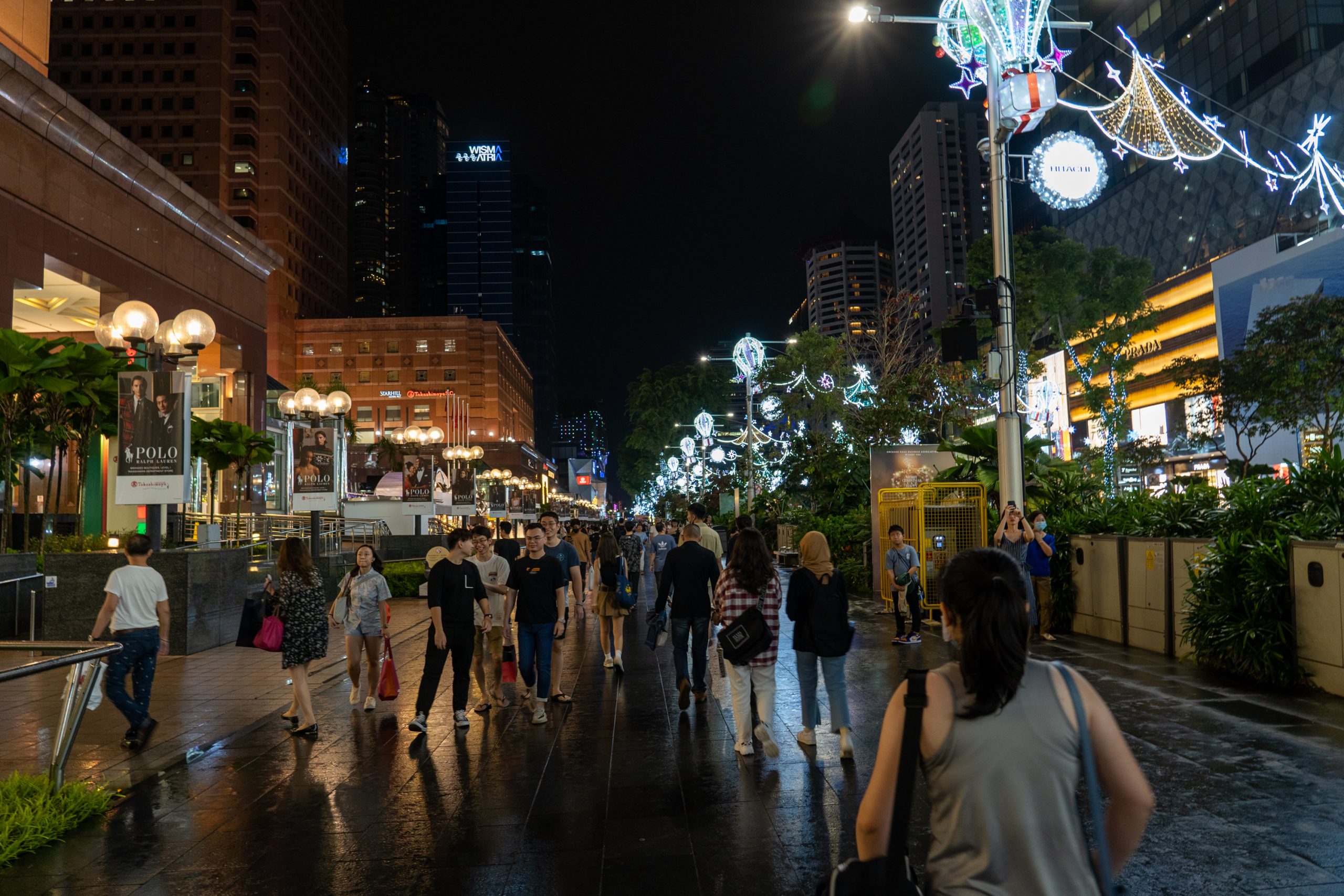 As we move towards Ngee Ann City, Wisma Atria and ION Orchard, the overhead lights now take a white tint (as opposed to pink previously). The reindeer have also been replaced with Christmas presents being parachuted down from above. I quite like the lamp post decorations, I must say.
Making a return from 2018 is the Christmas Village hosted at Ngee Ann City. I'm not sure if it's because it's a weekday, the weather, or that the rides are presumably overpriced, but there was barely any crowd at 8.30pm in the evening.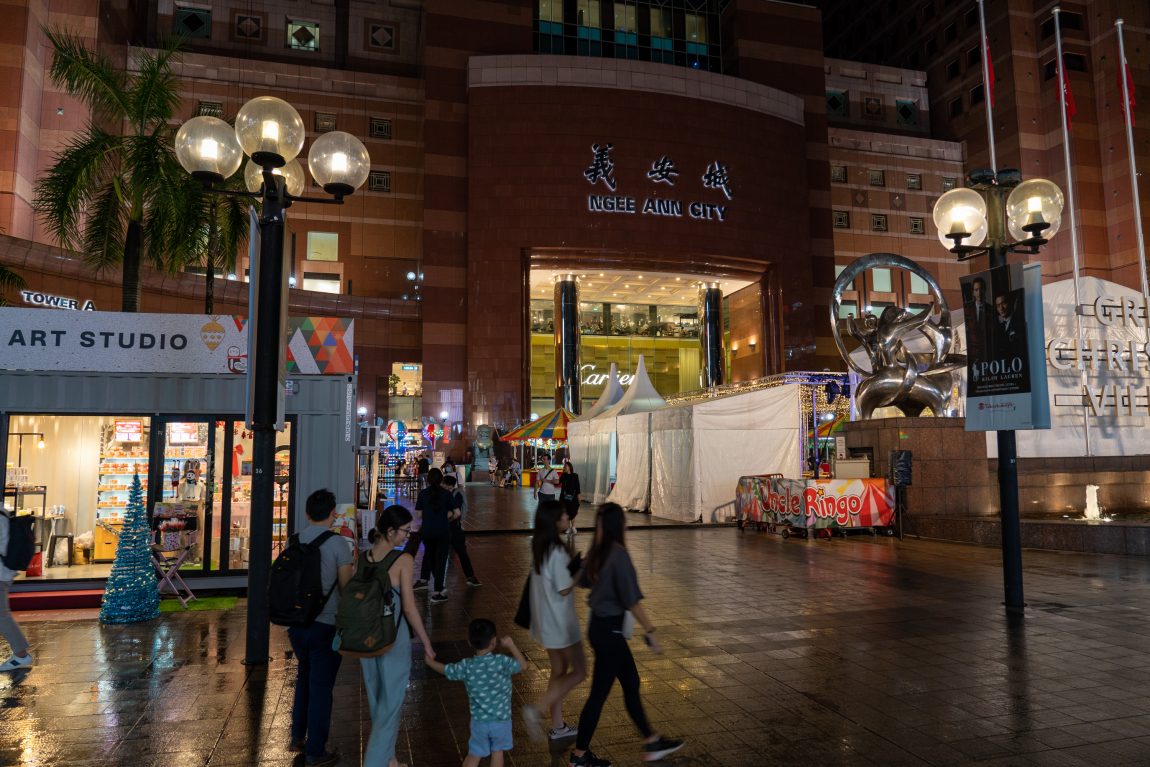 Apart from the Christmas Village (and the customary huge tree within Ngee Ann City itself), the decorations along Ngee Ann City and Wisma Atria are pretty bare as well, though Paragon has brought out its customary tree as usual. There are a few set pieces and pop-up installations along Orchard Road, though, some of which were still under construction as at 13 December.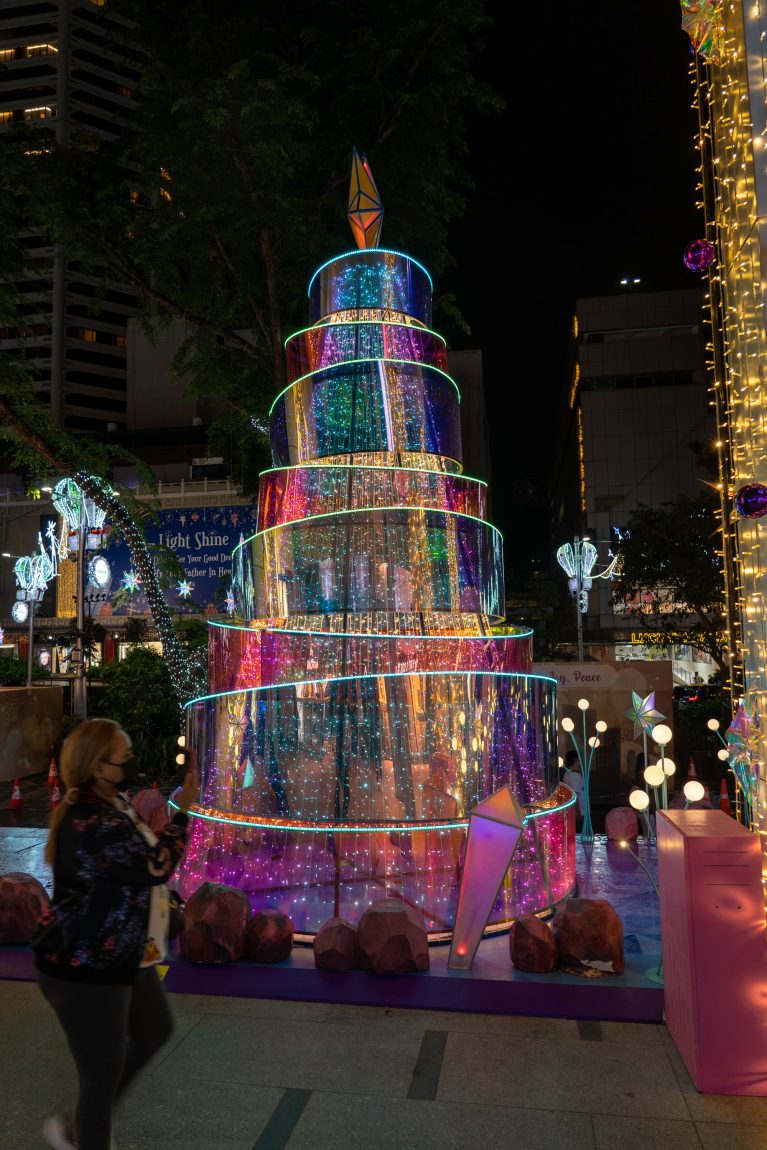 You may remember that there was a large Crypto.com advertisement outside Wisma Atria last year and I commented that cryptocurrency was finally becoming more mainstream… well there's none of those this year due to new advertising rules which were implemented earlier this year, as well as the spectacular collapse of many cryptocurrencies over the course of the year. A Crypto.com coin which was worth about S$1 last year is now worth less than S$0.10.
TANGS this year has gone back to its roots, with another Christmas quote (last year, it was an iPhone and Piaget advertisement).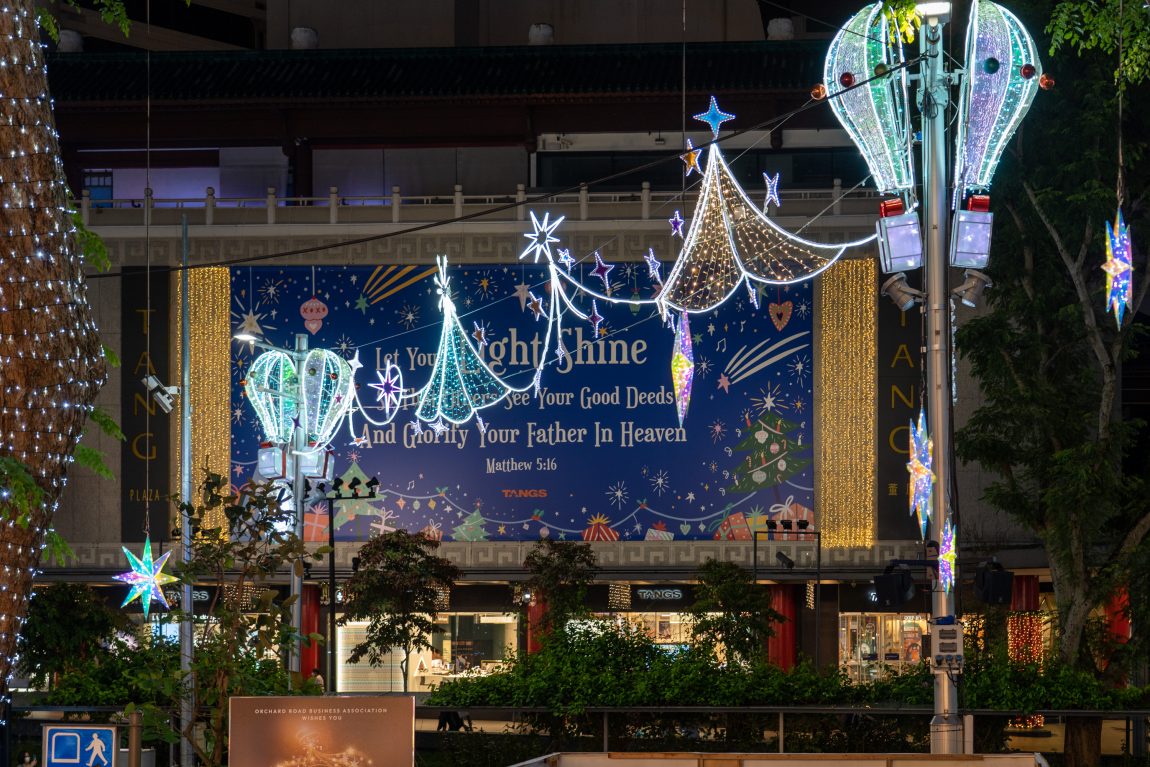 Over at ION Orchard, the Dior display is pretty magnificent, to say the least.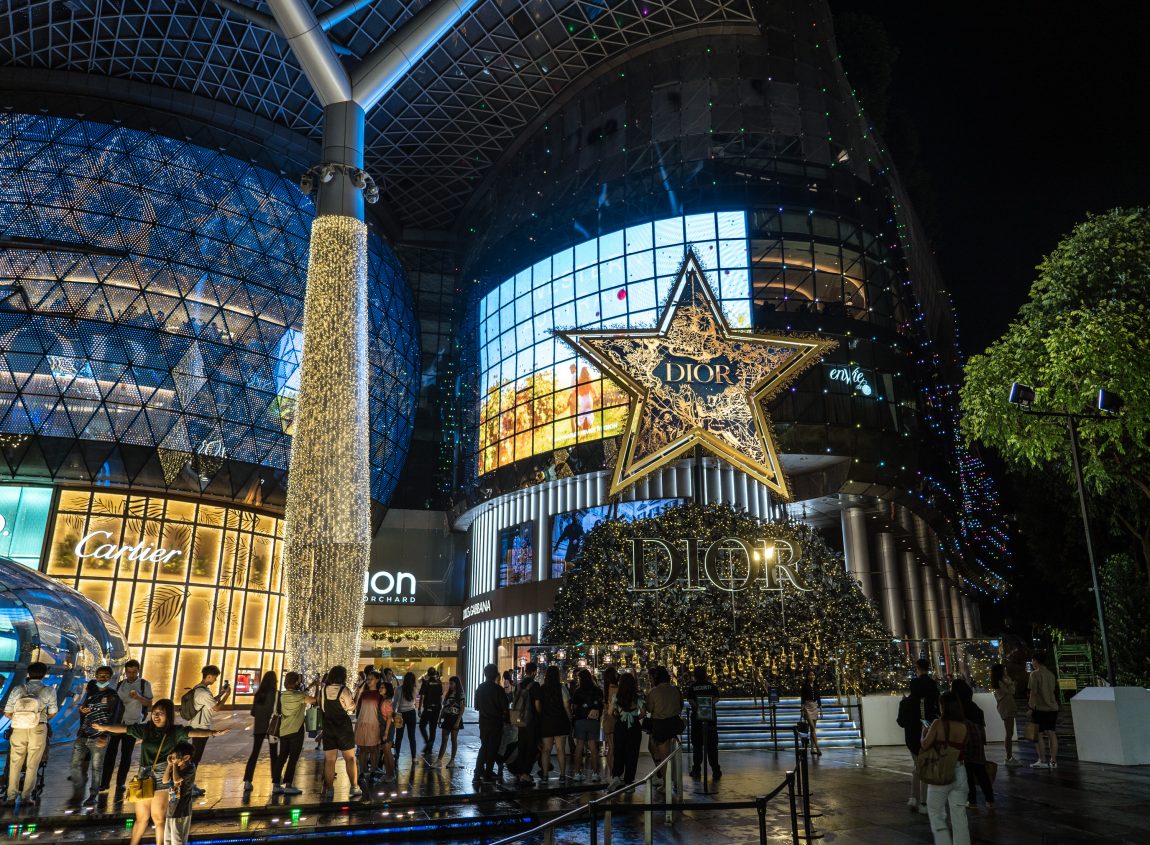 The main centrepiece this year is pretty elaborate and definitely a step up from last year.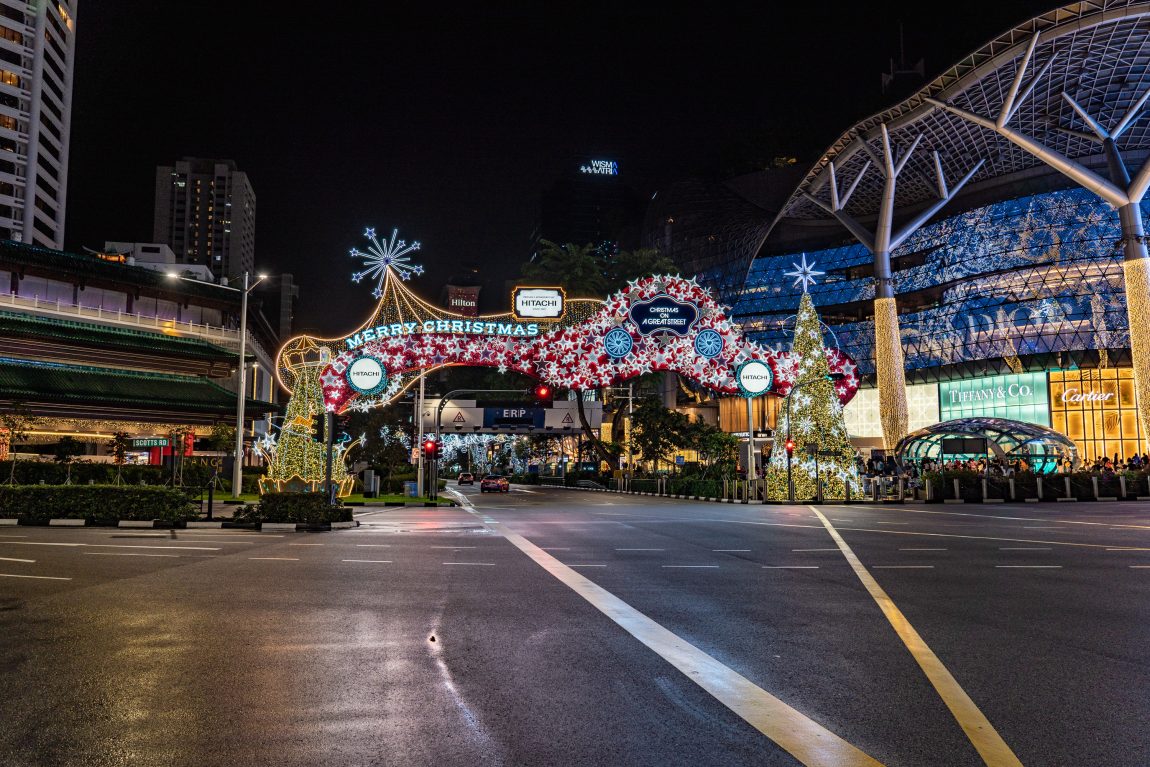 Lastly, along the quieter Paterson Road stretch, the LED strips take on a blue tint. The lamp post decorations become that of a ferris wheel, which looks really interesting, and a slight pity given that most people will not be able to see it. The "tree-within-a-tree" concept in Wheelock Place is pretty on point this year, too.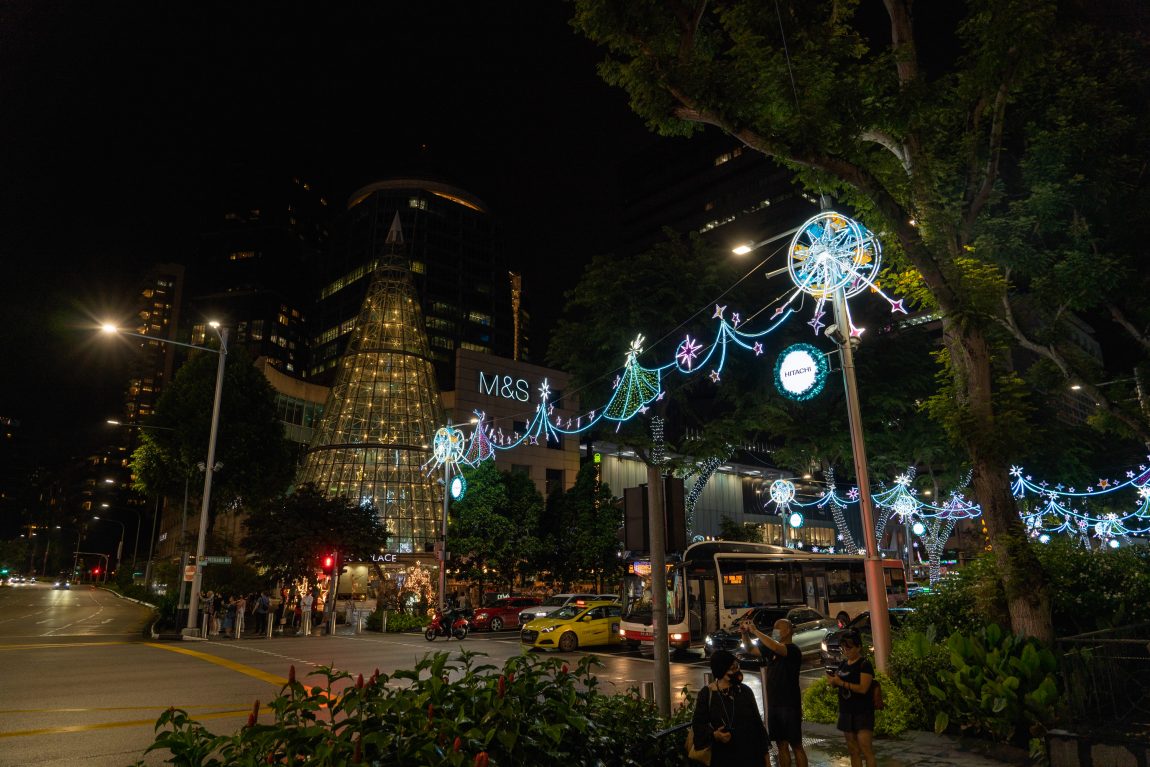 There is supposed to be a "welcome arch" near Tanglin Road as well, though I did not manage to capture a shot of it (my legs were feeling pretty tired by then!).
Overall, I thought the street decorations this year were pretty nice. It's a pity, though, that most malls didn't bother putting up their best effort this year (even with possibly increased traffic from the opening of the Thomson-East Coast Line).
Till next year.