For a long time, I have not wanted to eat at McDonald's. Don't get me wrong–I'm not a McDonald's snob–it's something I still eat if it's convenient or if I'm desparate for food (where else can you find a burger that can fill your tummy for two dollars?), but not something I'd go out of the way for (unless there's twister fries). The reason? The menu has become boring.
If you've noticed, the McDonald's menu was streamlined about two years ago. The Chicken McGrill burger is gone. So is the Sausage McGriddles on the breakfast menu, which I used to love once upon a time. Apart from the seasonal items, all that's left are the usual staples. It's not that they aren't tasty, it's just that I've been eating them since my secondary school days that there's nothing exciting anymore. Sure, there are some things one can never get sick of (such as KFC's 2 piece chicken meal for me), but McDonald's burgers weren't one of them.

Perhaps McDonald's realised this as well, which is probably one of the reasons why they introduced 'Create Your Taste' in its Raffles City outlet back in late March 2015.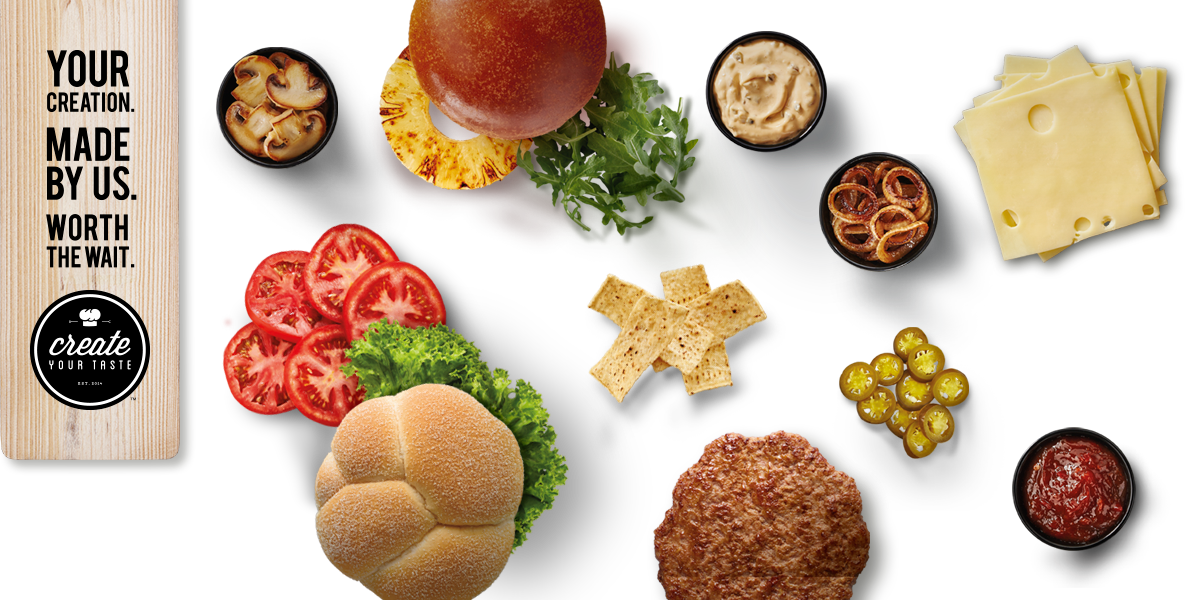 When I first heard of this concept, I thought it was a pretty lame attempt by McDonald's and that it would never take of. After all, it seemed to go against everything that McDonald's stood for–convenient, acceptable tasting food for a decent price. If I wanted to pay top dollar for a gourmet burger, there's so many other places I could go, right?
Well, I was wrong. The concept was apparently well-received enough for them to expand it to several more outlets–including Ang Mo Kio, where I first stumbled across it back in November.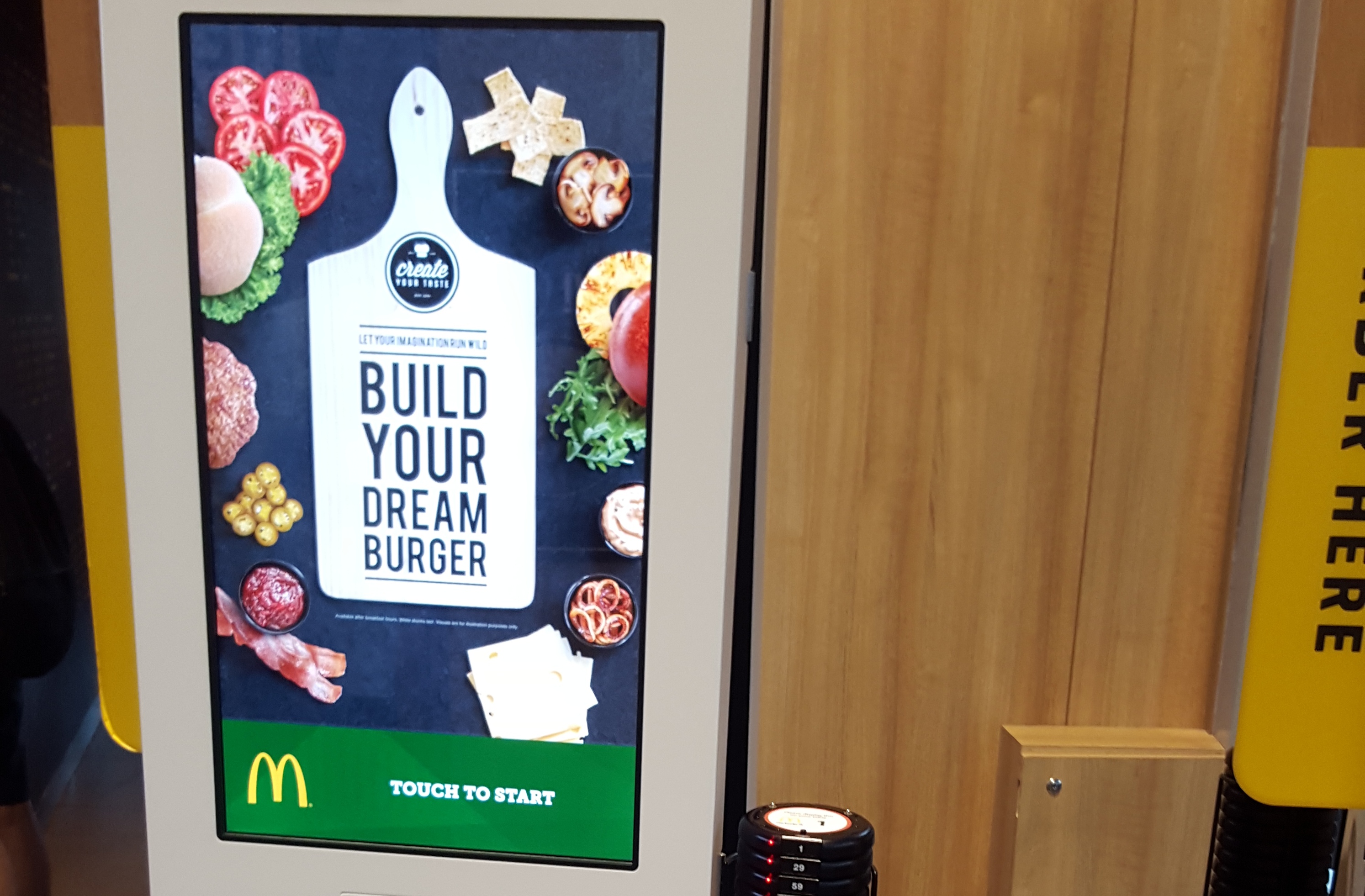 My (Accidental) Experience
I wasn't planning to ever try Create Your Taste. But one night, while I was on the way home after working overtime, I decided to drop by Ang Mo Kio Central to grab my dinner before heading home. As it was rather late, I decided to enter McDonald's, planning to buy a Quarter Pounder or something. Then, I saw that I could create my own burger there.
I've a penchant of trying new things, so without much hesitation, I ordered. The order process was pretty simple. You just have to tap on the ingredients you want, add your meal (if you want to), and make payment. The price? About S$13, twice the price of a typical McDonald's meal, but acceptable for a gourmet burger. The waiting time was about five to ten minutes–long for a fast food restaurant, but pretty reasonable otherwise.
As I ordered it to-go, I only managed to consume it about thirty minutes later. When you order it to-go, the burger is placed in a paper box that's rather refined-looking, much unlike the typical paper box your McSpicy or Fillet-O-Fish comes in. The top bun is placed separately from the ingredients, the patty and the bottom bun, as an added presentational touch.
Immediately after opening the box, the smell of mushrooms (which I had added as an extra for 60 cents) filled the air. I bit in. I was hooked.
I'm lovin' it.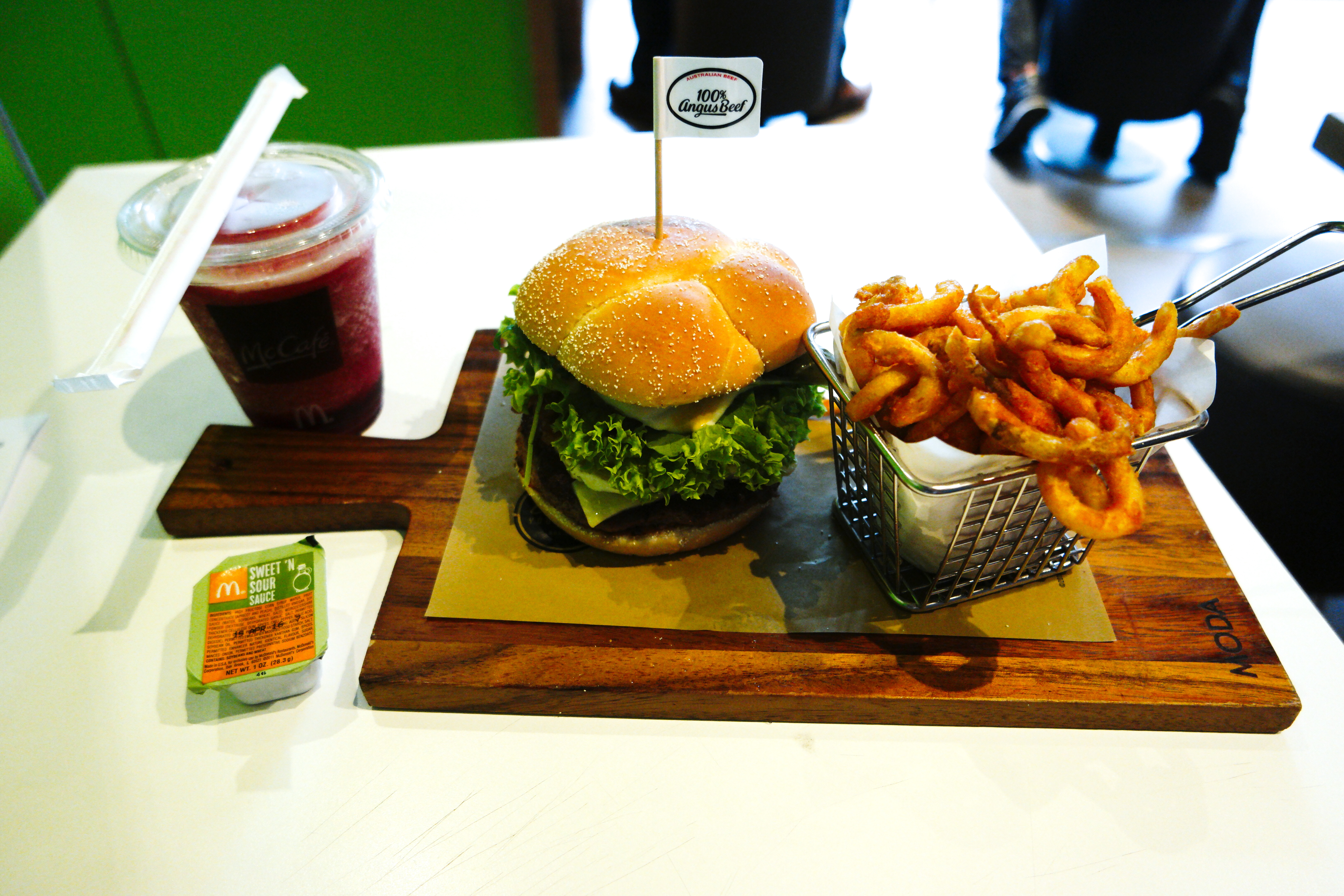 Since then, I've been coming back to McDonald's every one or two weeks to mix-and-match. My latest visit was just yesterday and dine-in, because there was an added incentive: twister fries!
When you eat-in, the experience is even better. Your burger gets served right to your table, on a wooden platter. The burger looks springy, unlike the squished mess you often find in fast-food restaurants.
The Angus beef patty is the same as the one found in the quarter pounder, and is probably the best beef patty that McDonald's serves. You can replace the classic Kraft cheese with another kind of cheese, such as Swiss cheese, for no extra charge. I love onions, and McDonald's allows you to put both caramelised onions and red onion rings on the burger for free.
With the numerous permutations available, there's always something new you can try.
Remember me mentioning earlier that I thought this concept went against what McDonald's stood for? Well, on hindsight, I realised that it fits in with the entire McDonald's concept. It is convenient–the concept is now available at many McDonald's outlets, and the ordering process is really easy. The Angus beef patty, together with the fine selection of quality ingredients, made for a savoury burger and I think most would find the price acceptable for the convenience and quality.
Chicken or fish, perhaps?
Perhaps the only Achilles' heel of this burger is that you're restricted to only a beef patty right now. Not everyone eats beef, so it would be nice if McDonald's could look into widening the patty selection. A McSpicy version, with varying levels of spiciness, would probably be a bestseller.