After a long wait, Netflix has finally made its way to our shores (and 129 others). From $10.98/month (or $13.98 for HD, which should be the no-brainer option for most), it's about the cost of an additional entertainment package from StarHub or Singtel.
With the option of a one-month free trial, I decided to check it out. Before, you could only access Netflix via a VPN or Smart DNS, which I felt was too much hassle.
Registration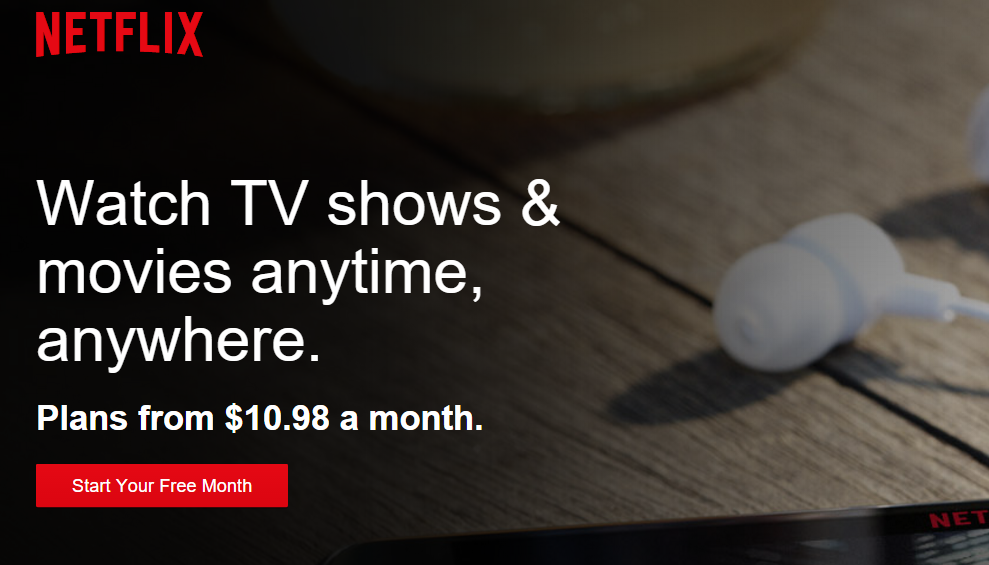 On the Netflix home page, you simply have to click the big fat red "Start Your Free Month" button, which will bring you to the next page. On that page, simply choose between the three plans (basically Standard Definition, HD and Ultra HD (4K) with varying number of screens), and enter your email address and desired password below.
For a service that needs you to pay month after month, I was amazed at the simplicity of the whole signing up process. Perhaps this is coming from someone who had just tried to sign up for the Apple Music free trial–I had to wade through numerous screens, some of them filled with weird error messages, just to make it through.
After pressing "Register", you're brought to another screen where you can choose to pay by credit card or via PayPal. Netflix makes it clear that they're not charging you until the end of the free trial (should you choose to continue). I guess they're just trying to sift out freeloaders (or those without the ability to pay) from those who are genuinely interested in Netflix.
I chose to sign up using PayPal, which was even more painless, as it didn't require me to verify my credit card details. I'm not sure if using PayPal requires you to have an existing credit card on hand; for me, my debit card was already tagged to PayPal long ago.
Ta-da! The next thing I knew, I was brought to Netflix's catalogue.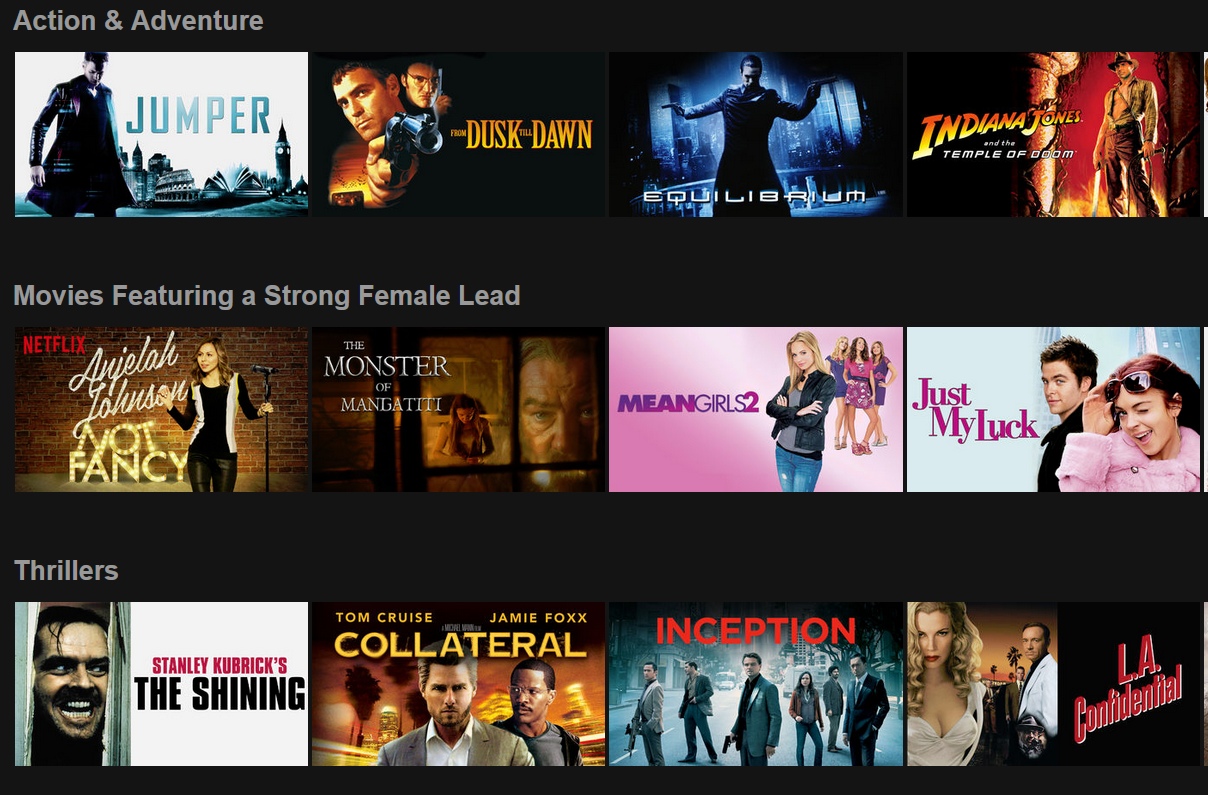 The Singapore Catalogue
Depending on your expectations, the catalogue of shows available for the Singapore market can come across as either a (pleasant) surprise or a disappointment.
As a movie rental service, there's a lot on offer. There are big titles such as the Lord of the Rings series, Inception, Forrest Gump, Shawshank Redemption, Man of Steel and The Dark Knight Rises. There's no Star Wars saga or the Harry Potter series, though. It's also not a place to go if you're looking for the absolute latest movies, as the newer titles on Netflix are all around two years old. This is where traditional cable channels like HBO and a la carte rental providers like iTunes and Google Play still have a distinct advantage.
However, from just $10.98 a month, can we complain? It's a good avenue to catch up on shows you've missed out on over the years, and to discover new classics. Discovery is really easy because when you first sign up, it asks you to choose your favourite shows and movies, and from there, it identifies content that you may like. If you search for a particular title, Netflix is also able to provide recommendations for similar titles. So far, I think the algorithm is pretty good because I'm liking what I'm seeing.
On the other hand, if you're planning on bingeing on TV series, you might go away pretty disappointed. Of the Netflix exclusives, House of Cards isn't available for streaming. More prominent US TV series such as Breaking Bad, The Big Bang Theory, How I Met Your Mother, Friends, The Vampire Diaries, Marvel's Agent of Shields, Agent Carter, Gossip Girl and Two and a Half Men are not available. In fact, of the US series I've watched elsewhere before, only The 70s Show is available.
While some exclusions are due to censorship by the local Media Development Authority (MDA), the bulk of the exclusions are due to content rights that Netflix hasn't figured its way about in Singapore yet. If you like looking forward to new episodes each week for your favourite dramas, Netflix is not it. At least, not yet.
How about a VPN?
I subscribed for my first VPN at FrostVPN during a recent Black Friday offer where a 3-year subscription was sold for just US$19.99. After connecting to a VPN server located in the USA, I was able to successfully access US-exclusive content over Netflix.
Adding an overseas VPN slows down your internet connection somewhat, though, so you may not be able to stream HD content all the time. There's a better alternative, Smart DNS, and one particular plan by UnoTelly sells for just US$4.95.
Or, one trick I've discovered is to connect to the show using a VPN, and once you're in, disconnect from the VPN. Though, you'll have to repeat the same trick for every episode.
In any case, the US version of Netflix is the real deal. How I Met Your Mother, The Office, Family Guy, Lost, Supernatural and Prison Break are all present. There's also Friends, if you wish to catch up on the entire series without paying $400 for a complete box set.
Unfortunately, for those shows still on air in the US, they're a season or two behind. It's great for binge watching, but not great if you're the type who likes to catch up on new episodes every week.
There's also no Game of Thrones, a dealbreaker for some.
Legally, using a VPN to access geoblocked content lie in a grey area. Some may argue that it's no different from piracy, since you're trying to access something that you don't have the right to access. There's also no guarantee that Netflix will continue to allow you access via a VPN–there were reports in the past that Netflix was cracking down on VPNs and Smart DNS services.
Disruption
This word has been used so often that it's becoming cliche (think Uber and GrabCar), but I can't find a more suitable word. Just as Netflix disrupted the traditional DVD rental business and cable companies in the US, it may possibly do the same in Singapore.
In its current state, StarHub and Singtel probably have little to worry about, but Netflix isn't sitting on its laurels. In its press release, Netflix affirmed its commitment to "listen" and "learn", gradually adding new content along the way. In a few years' time, we may all be streaming the latest Hong Kong and Korean dramas, or watching BPL football from Netflix. It's hard to imagine a world in which we can do all that for just $10.98/month, but with these new players, you sometimes never know what's coming.
Should You Subscribe Now?
The lingering question remains–is Netflix Singapore good enough in its current state to warrant a subscription to?
For me, I'm undecided. It costs about the equivalent of an additional package on StarHub or Singtel, so you could view it as an additional channel rather than a replacement. Getting the content to show up on your television is pretty easy, given that I already own a Chromecast (I'll talk more about this amazing little gadget in a separate article).
However, one joy of watching television is the ability to catch up on the latest episodes. With Netflix, you can only do so for Netflix-exclusive content, which is obviously something they've been putting their focus on. I haven't been hooked on to any Netflix-exclusive shows yet, so there's little incentive for me to subscribe yet. Perhaps I'll just adopt a wait-and-see approach and see if Netflix adds more exciting content along the way. Or I'll just bite the bullet, since I can catch up on the hundreds of movies available in the Netflix catalogue.
As for you, I highly recommend you sign up for the trial. It's risk-free, anyway. You can cancel your membership immediately after signing up to avoid the recurring subscription fee, as I have, and you'll still be able to enjoy the whole 30 days of the trial. If you don't like what you see, just move along. But be warned, you may be hooked to the point of no return.