Since my family doesn't own a car, when it comes to personal transport, the next best thing I have is my bicycle. When I was younger, I used to cycle to nearby places to run errands, or just to see how far my legs could take me.
The farthest I have ever gone was from my house in Serangoon North to Pasir Ris. It was dangerous, though–I had to cut through Old Tampines Road, which had only a single lane in each direction and with no footpath. There were also many heavy vehicles prowling that route, given that it is situated near an industrial area. The safer alternative was via Kaki Bukit Road, but that would add a considerable distance to my journey.
Add to the fact that cycling on footpaths was (and still is, for now) technically illegal, I realised that being able to cycle from point to point outside your neighbourhood remained a far-fetched dream.
Where do cyclists belong?
That's an age-old question that has sparked considerable debate in the past, especially on the ST Forum pages. Pedestrians would write in saying that cyclists belong on roads. Road users claim that cyclists are essentially road hoggers and should belong on pavements instead.
As a pedestrian and a regular bus commuter, I agree with both sides of the argument. I hate cyclists who ring their bell from half a mile away, thinking that they own the road. Pedestrians should never need to give way to cyclists. Meanwhile, I silently curse when my bus has to slow down because there's a cyclist in front occupying the whole lane.
In a country where land use is a premium, Singapore can't afford the luxury of having dedicated cycling lanes in all places. Sure, there's the park connector network, but there's only so many places you can go within the network.
Putting emotions aside, it seems more logical that cyclists belong on pavements. Perhaps if one cycles for sport, one would prefer riding on the roads instead; what I'm referring here, though, is people who cycle because they need to go from point to point.
Imagine if you do your weekly grocery shopping with your bicycle. On the way back, you'll probably be chugging a few kilograms extra and a lot of extra bulk, which may affect your handling of the bicycle. Add to that the stresses of riding on the road, it's not hard to see why riding on the roads is not a good idea for the average cyclist.
A Long Time Coming
About seven years back, Tampines Town Council announced that Tampines GRC would be a 'cycling town', where you can legally ride a bicycle on pavements. In the same news article that contained the announcement, it was also stated that there were no plans to extend this scheme to other towns at the moment. This meant that nothing had changed for me–I still could not cycle from my house to Pasir Ris legally.
So idealist 18-year-old me decided to write in to PM Lee, wondering if such a scheme could be implemented in Ang Mo Kio GRC, where I live (how convenient, right? ;))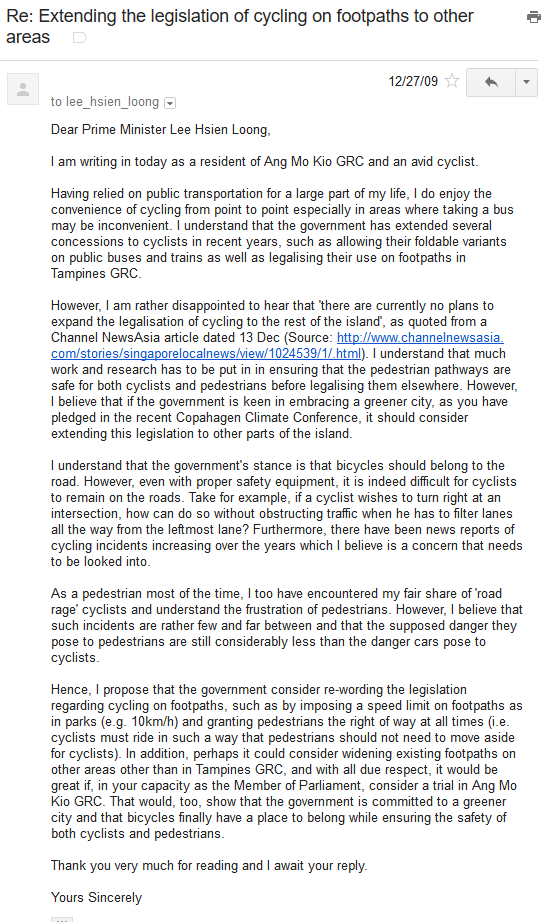 Obviously, my issue was too unimportant for the Prime Minister of Singapore himself to reply, but I got a reply from someone in the LTA (with someone in the Traffic Police also kept in the CC loop):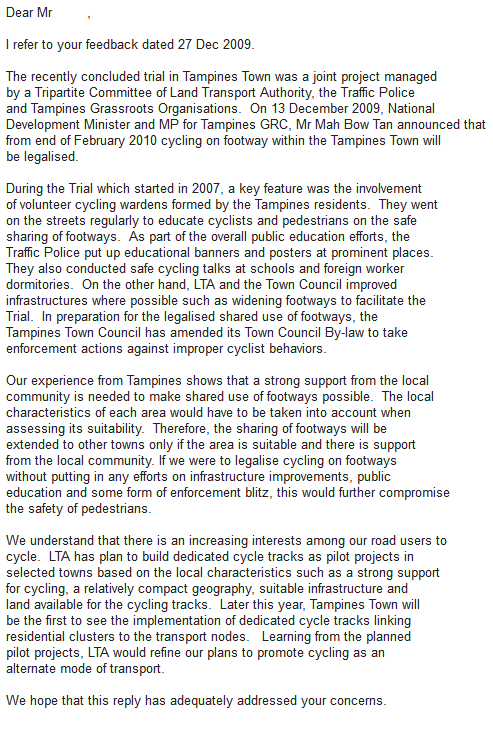 While the explanation was detailed enough and sufficient to shut me up, I felt a little disappointed. It was not going to happen anytime soon.
It took them six years and nearly two elections later before the Land Transport Authority formed the Active Mobility Advisory Panel in July 2015 and invited members of the public to participate in a survey. I completed the survey, outlining roughly the same suggestions that I had made six years ago. I opined that the main issue is education–if everyone learns to give way, there shouldn't be any issue in allowing cyclists on pavements.
I was subsequently invited to participate in the focus group discussion, but was unable to RSVP due to work commitments.
The results of the focus group and subsequent recommendations were released by the Panel in a report to the Minister of Transport in March 2016. In its report, the Panel highlighted the general consensus of the public:
"The Panel also considered the results of an online survey conducted by the Land Transport Authority from 30 July to 31 August 2015. The survey received more than 5,000 responses from a diverse group of respondents which included pedestrians, cyclists, users of personal mobility devices and motorists.

There was a general openness to sharing paths, if everyone behaved in a safe and considerate manner.

Respondents indicated thatthey expected faster-moving devices to give way to slower-moving pedestrians, and also for users to keep to their respective designated paths. Respondents also felt that pedestrians had to play their part by paying attention to their surroundings."
Those, I wholeheartedly agree with. Now, I wonder what took them so long to come to this realisation? This was my stand all along, and I believe that of many others. It seems that only when electric unicycles, 'hoverboards' and scooters started flooding the streets did the LTA realise it needed to do something…
Well, better late than never, I guess.