The 4th edition of i Light Marina Bay (iLBM), held once every two years since 2010 (and slated to be an annual event starting from 2016), is currently underway until 27th March. Billed as Asia's leading sustainable light art festival, you'll find some pretty interesting light art pieces as well as a carnival area, featuring bumper car rides and the like.
Perfect after-office getaway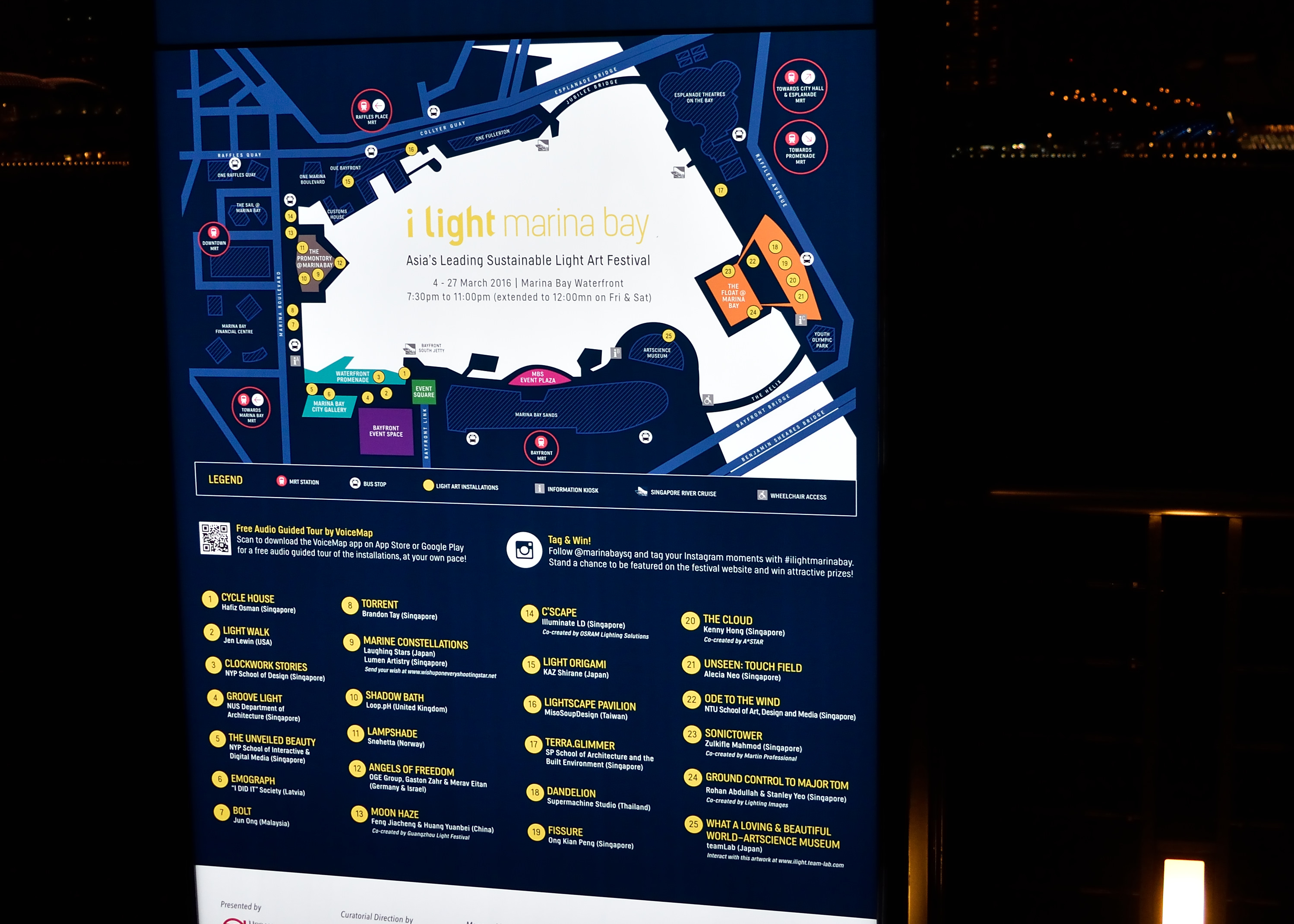 If your office is somewhere within or near the Central Business District, you should definitely find time to check out iLBM. It's perhaps the perfect wind-down to the busy office day. There's a total of 25 light installations, from OUE Bayfront all the way to the floating platform. If you're wondering where you should start, I suggest you come out from the Promontory @ Marina Bay, where most of the installations are concentrated at. You can then walk all the way to the floating platform if you so wish. It's a distance, but a good way to clock those steps.
Installations
When you walk out from the Promontory, the Bolt installation will probably catch your eye immediately as you look to the left.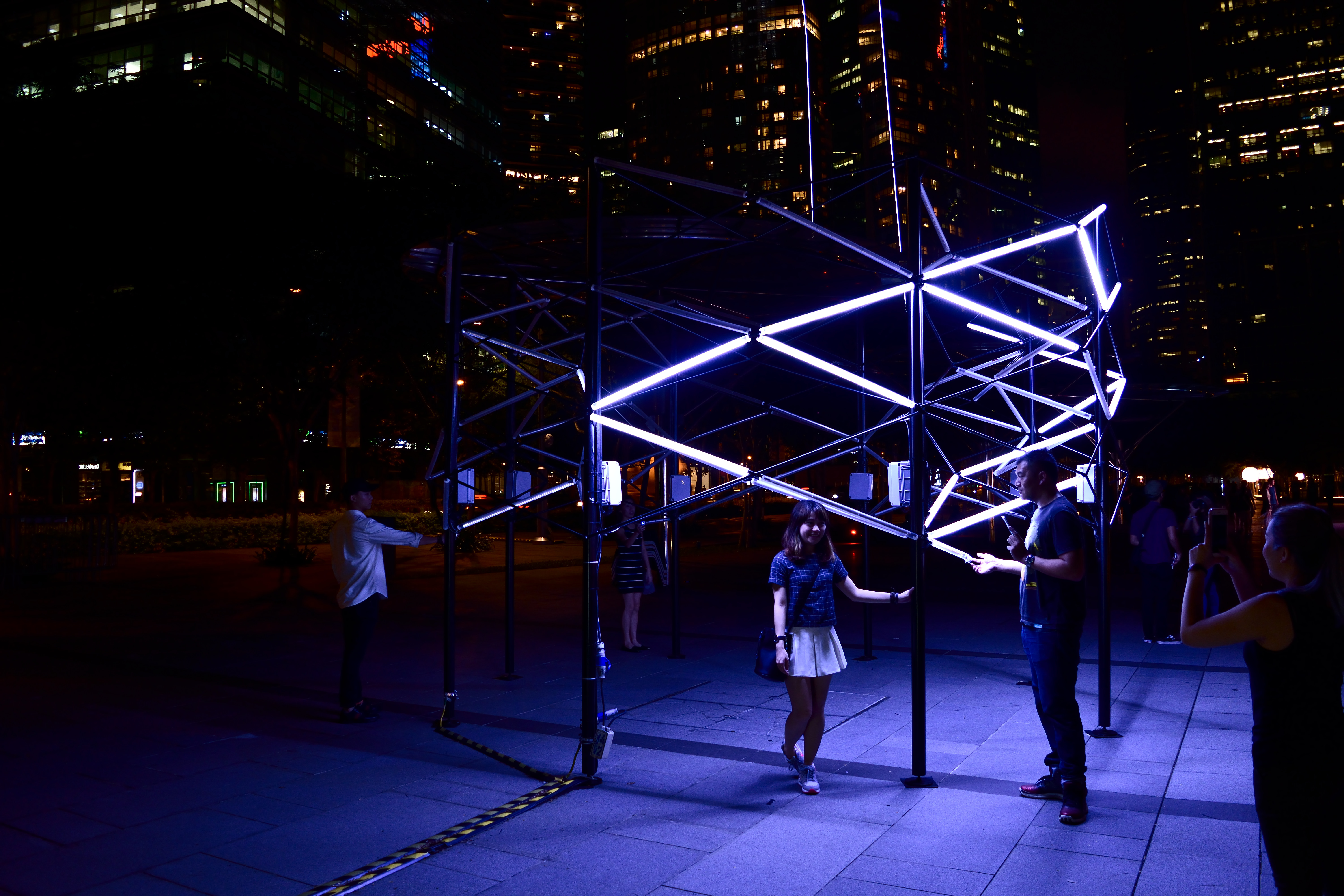 If you're wondering why everyone has their hands on the installation, it's because the tube lights up only when you touch them.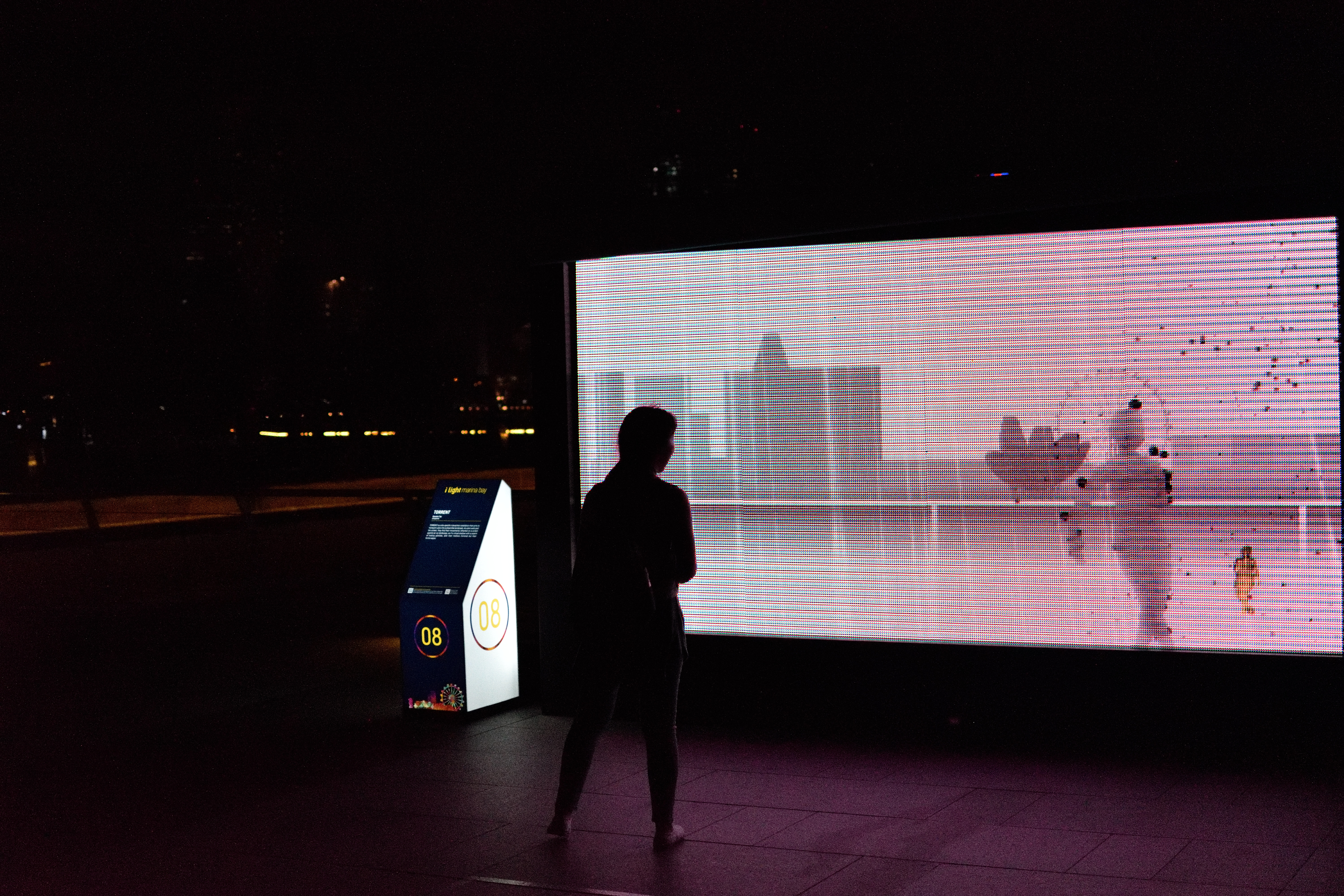 Moving further to the left, you'll come across Torrent, a screen that mimics your movement. Think of it as Dance Dance Revolution in reverse.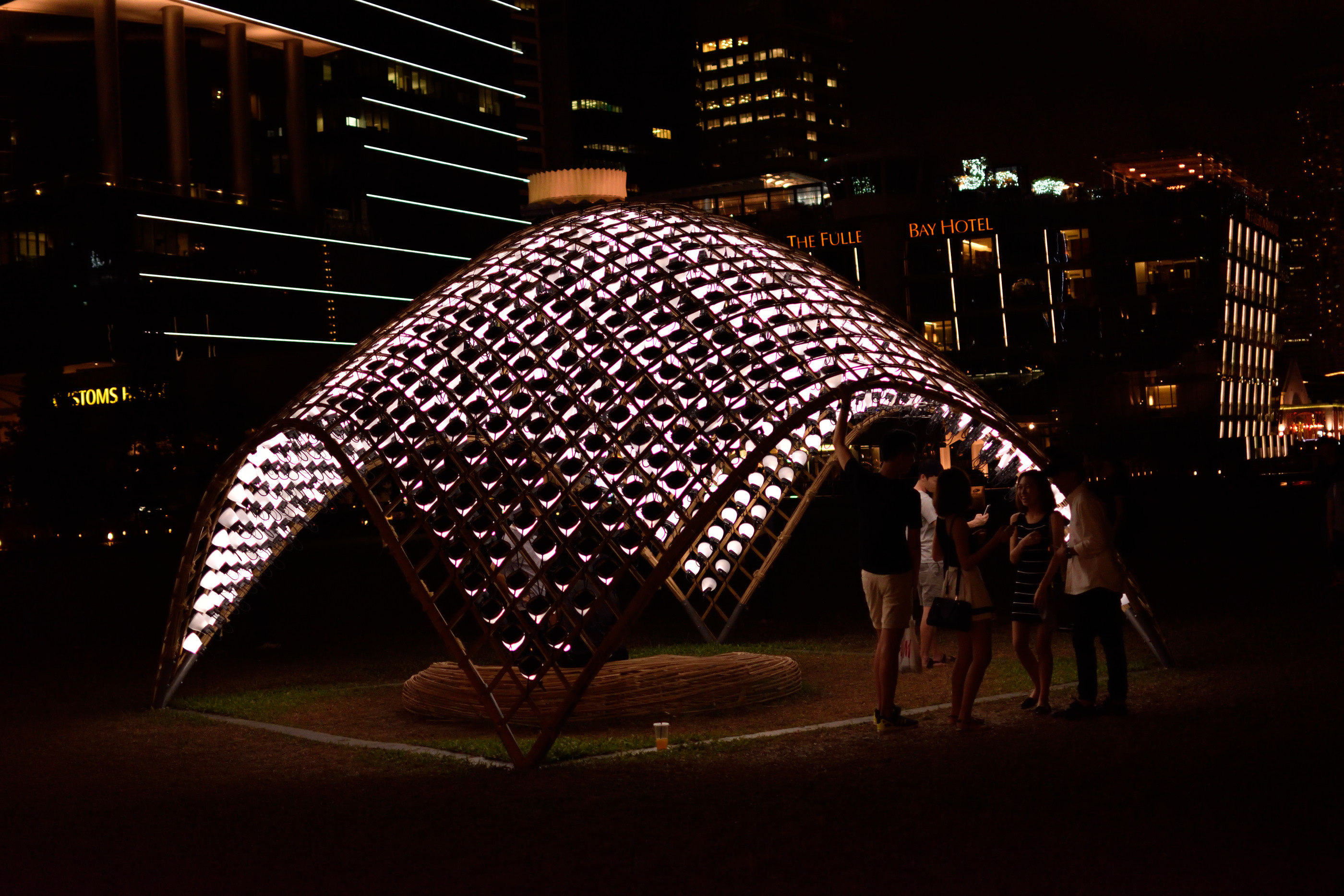 Moving on, you'll find Lampshade, which is made up of solar cells that collect solar energy in the daytime. This solar energy is then stored and powers up the installation at night. At least, that's what I gather from the somewhat ambiguous description. It also prevents sunlight from getting inside during the day.
Now, back to the Promotory, if you head right, you'll come across The Unveiled Beauty, where many people were gathered to scribble ink on the coloured tiles.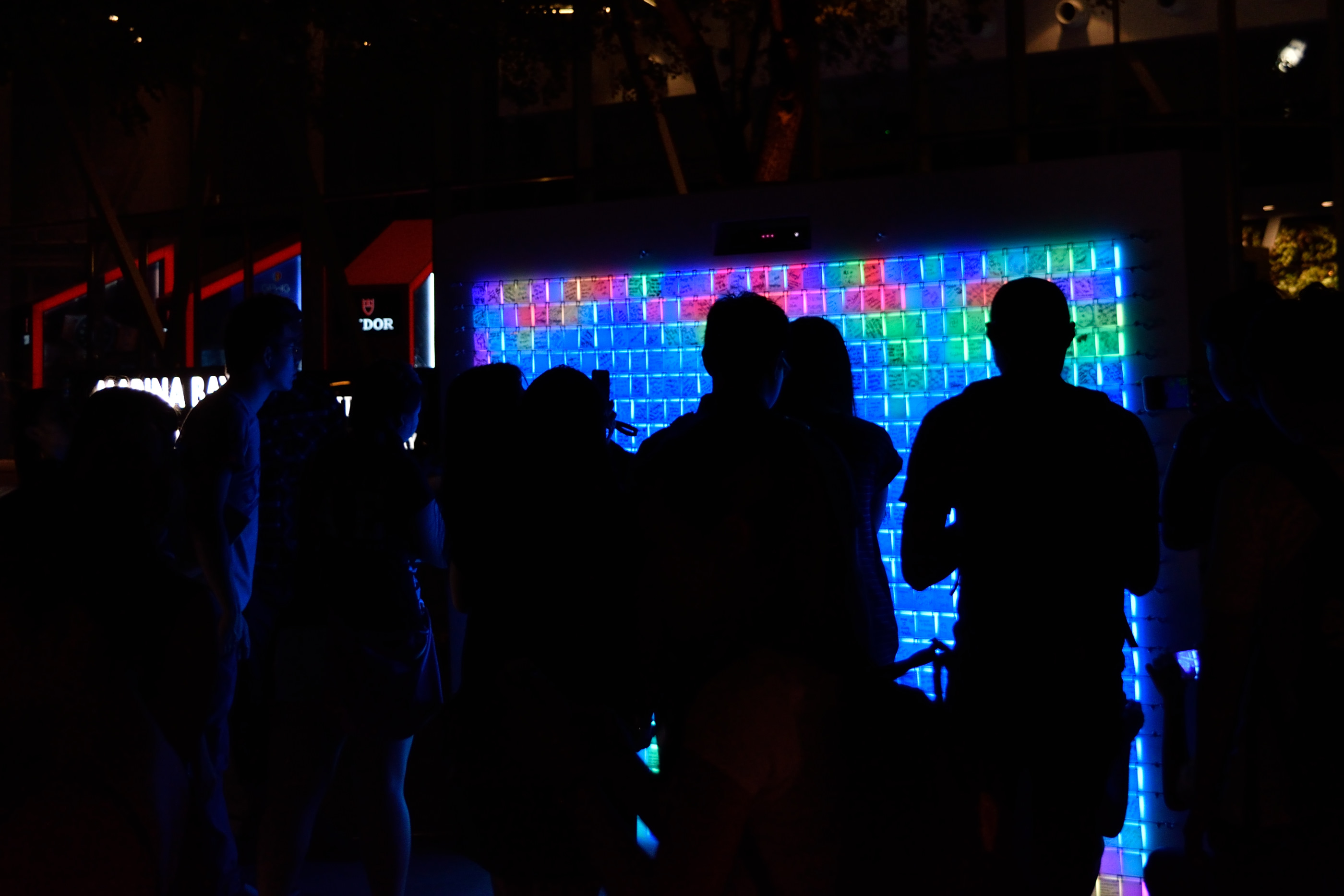 I'm not sure what makes this installation so special, given the description which explains basically nothing. Does it change colours when you write on it? Does it auto erase after five minutes? No idea.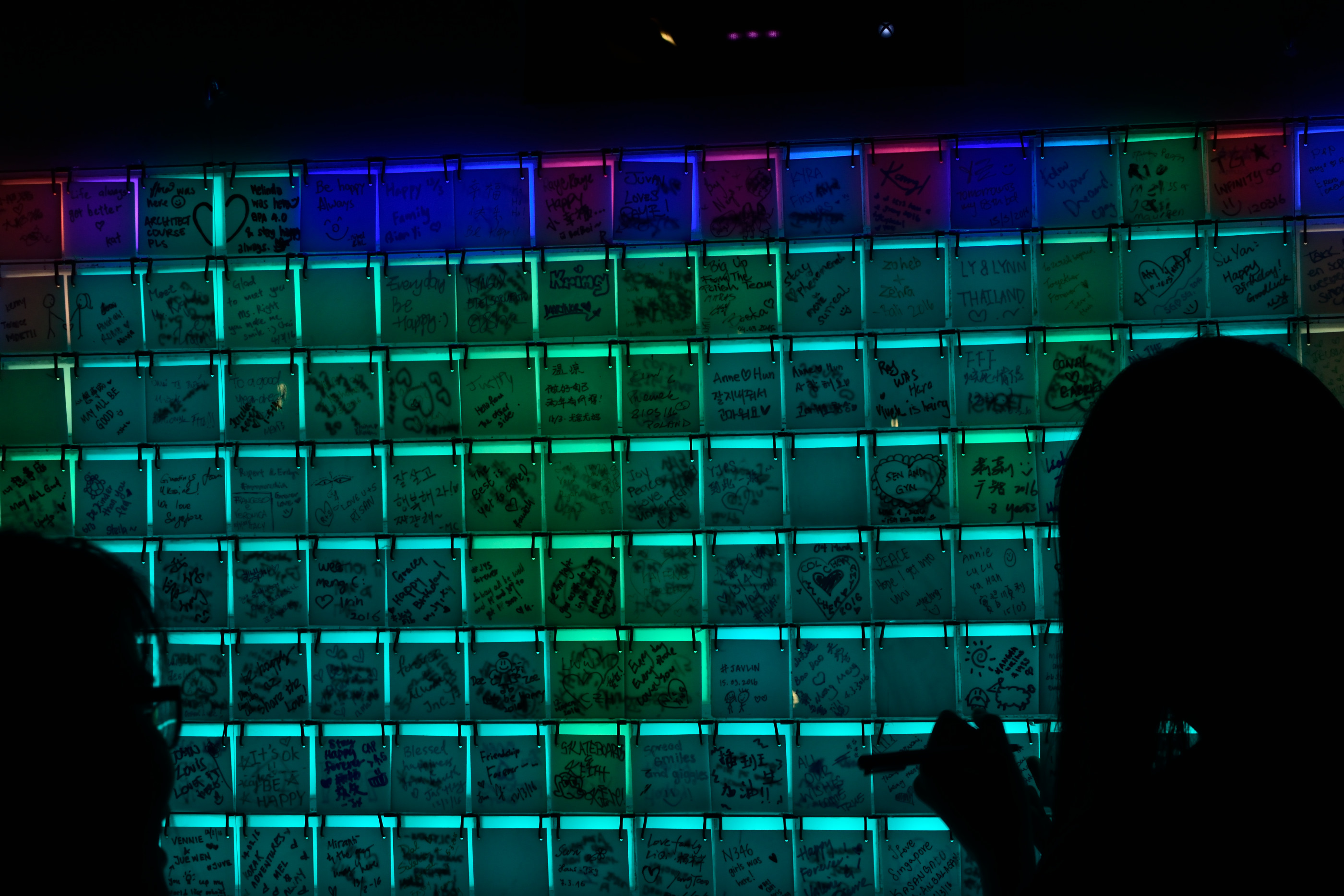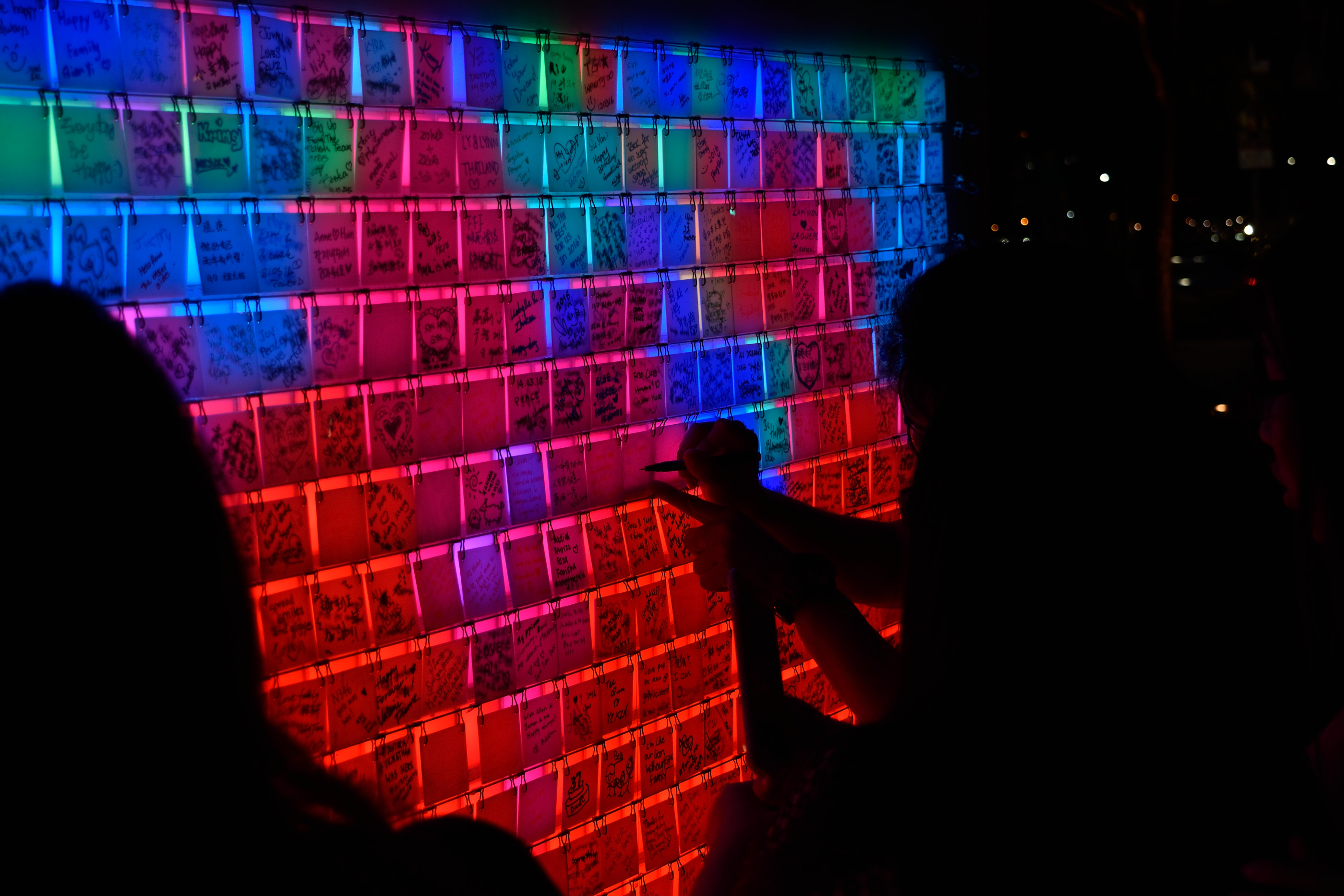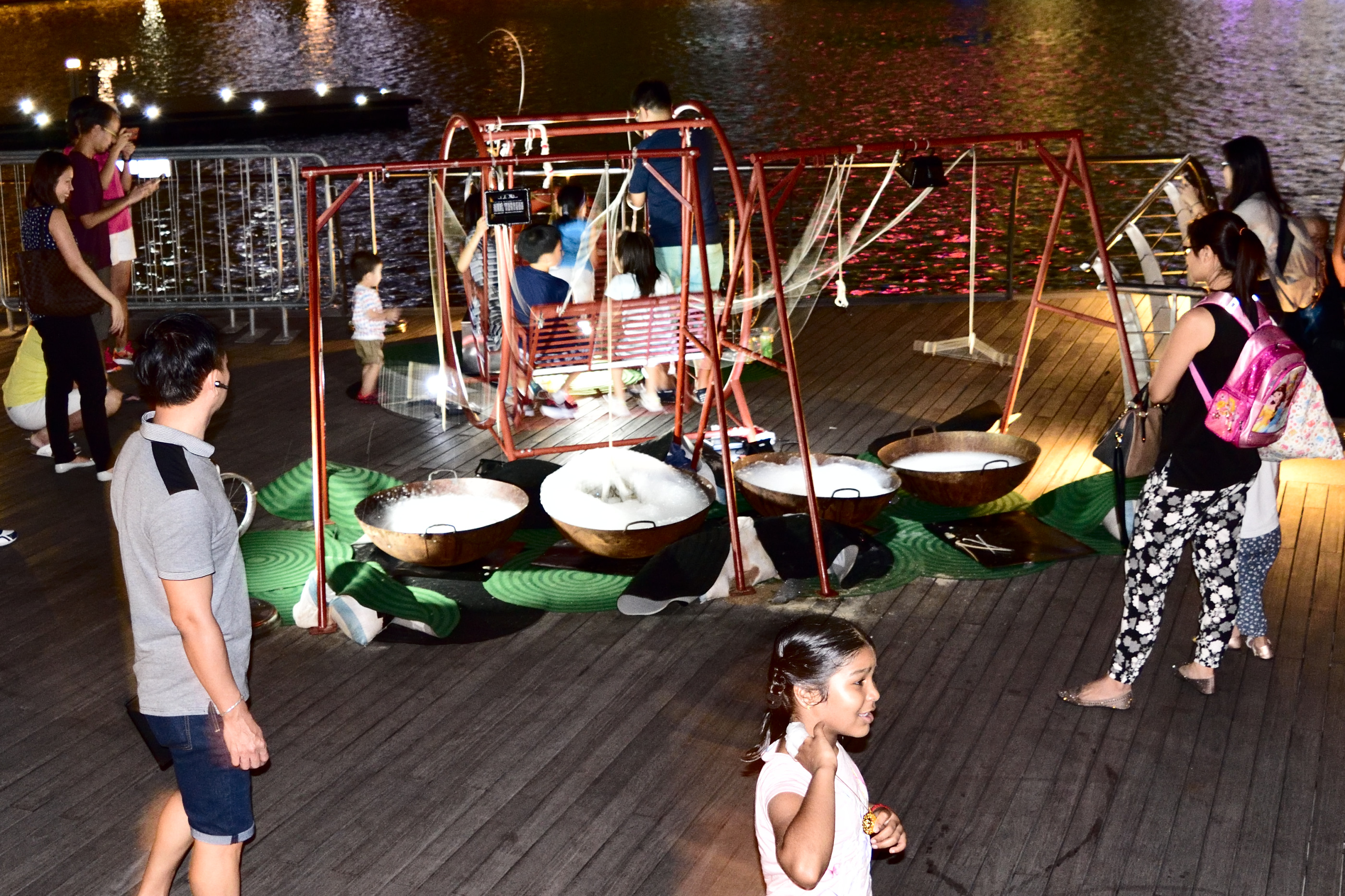 As you move further right, things get more interesting as you enter the bubbles area. The above installation is a swing which is connected to a rod, which is in turn connected to a basin of soap bubbles. When you swing in a certain way, soap bubbles get released.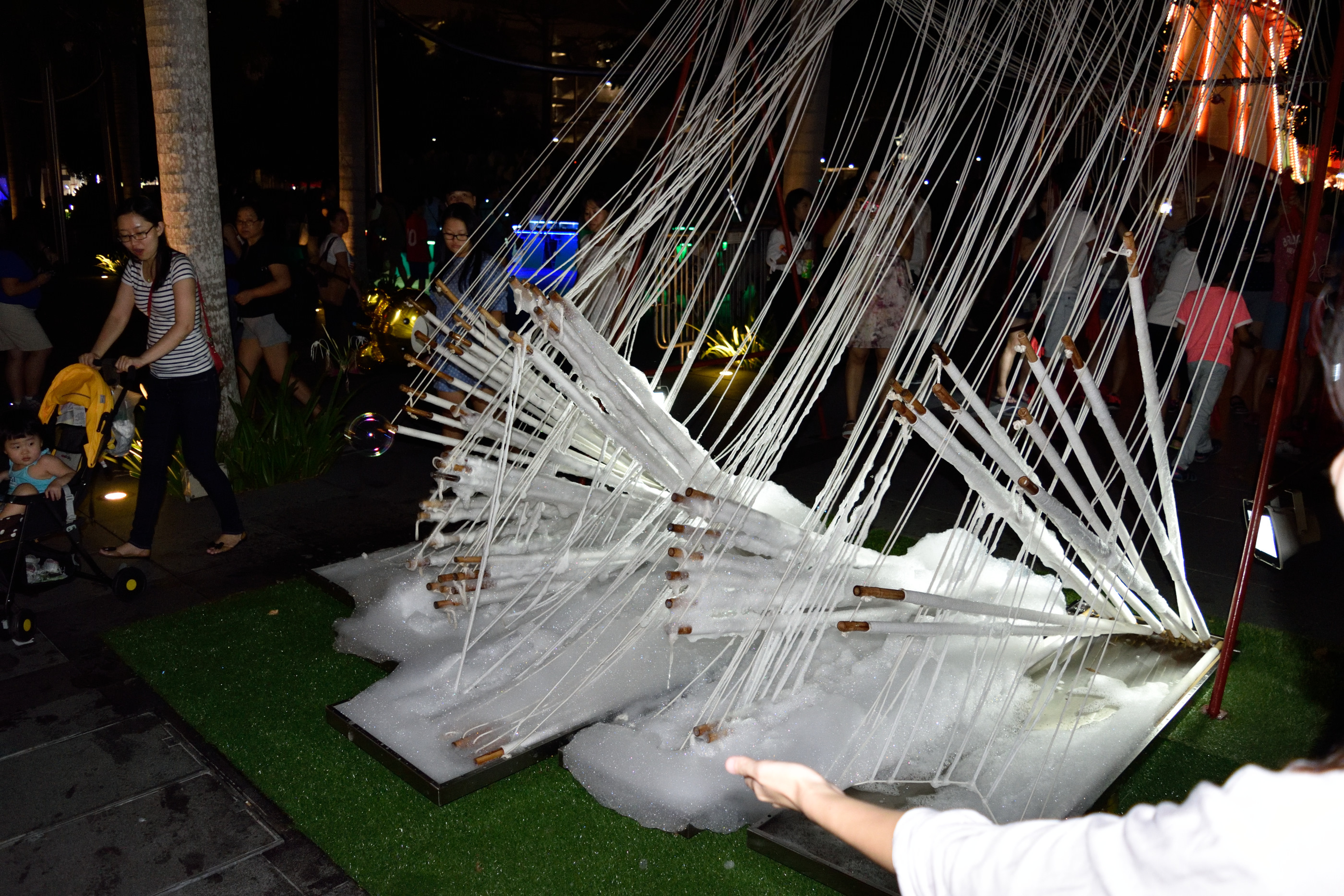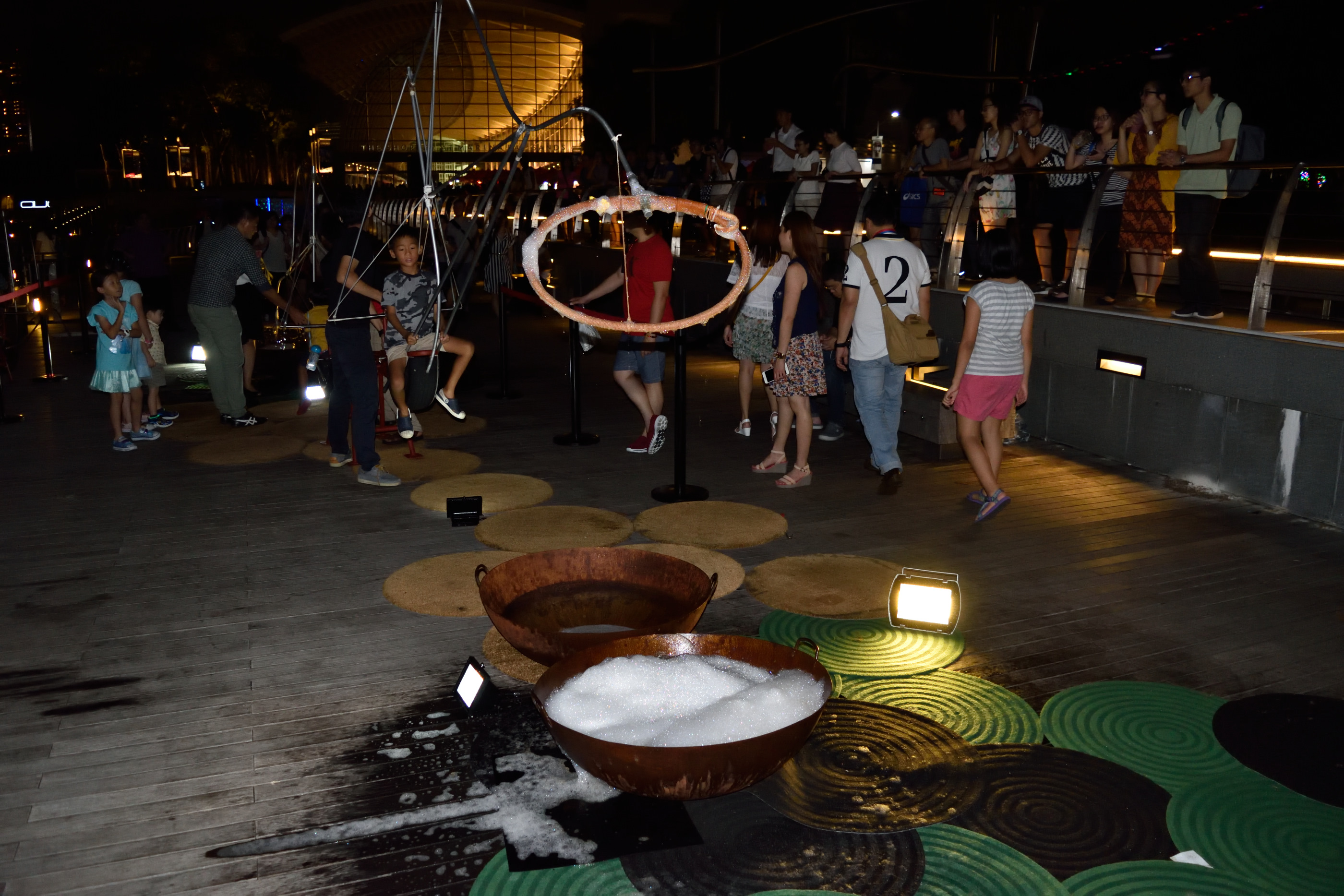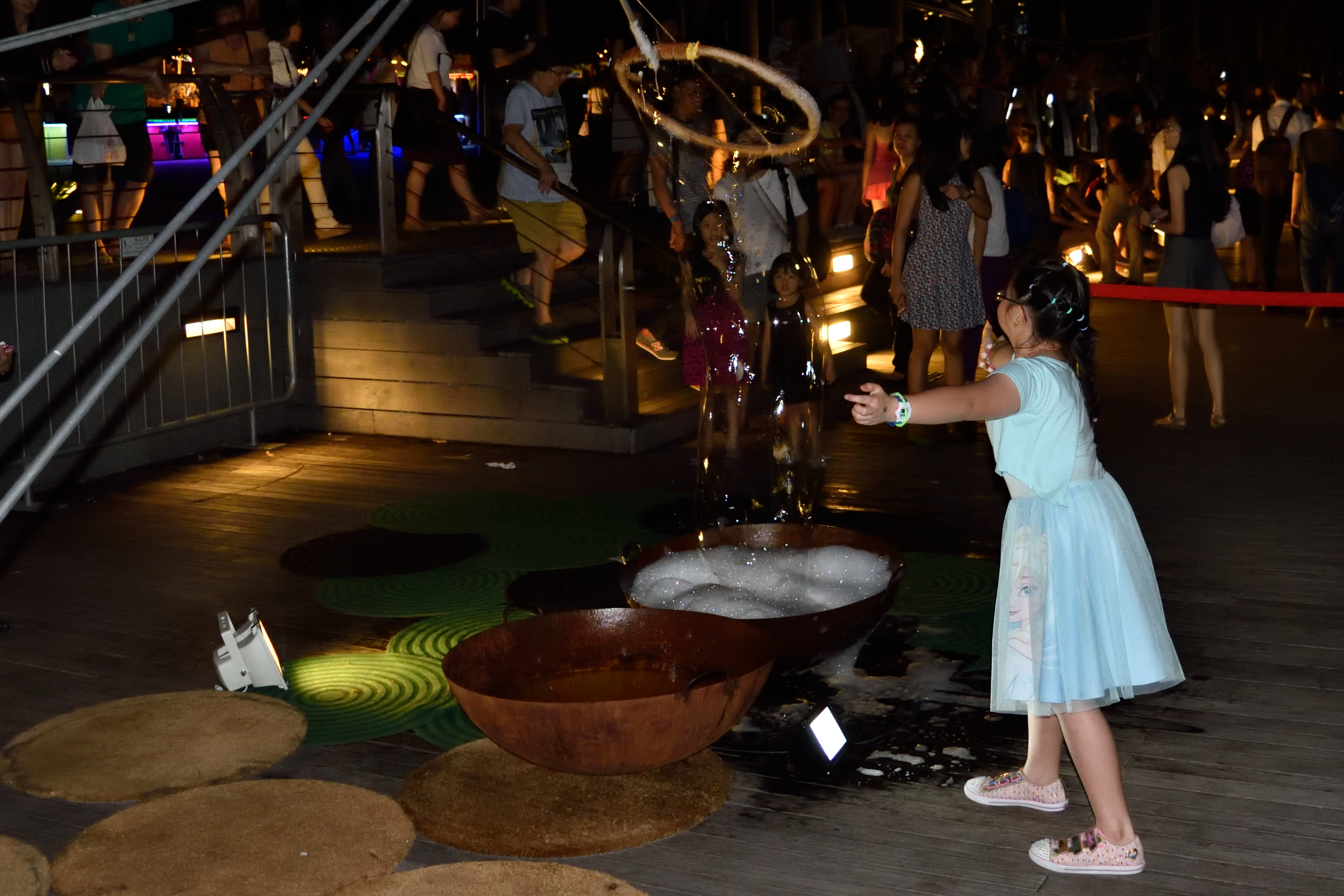 But all of those is incomparable to this: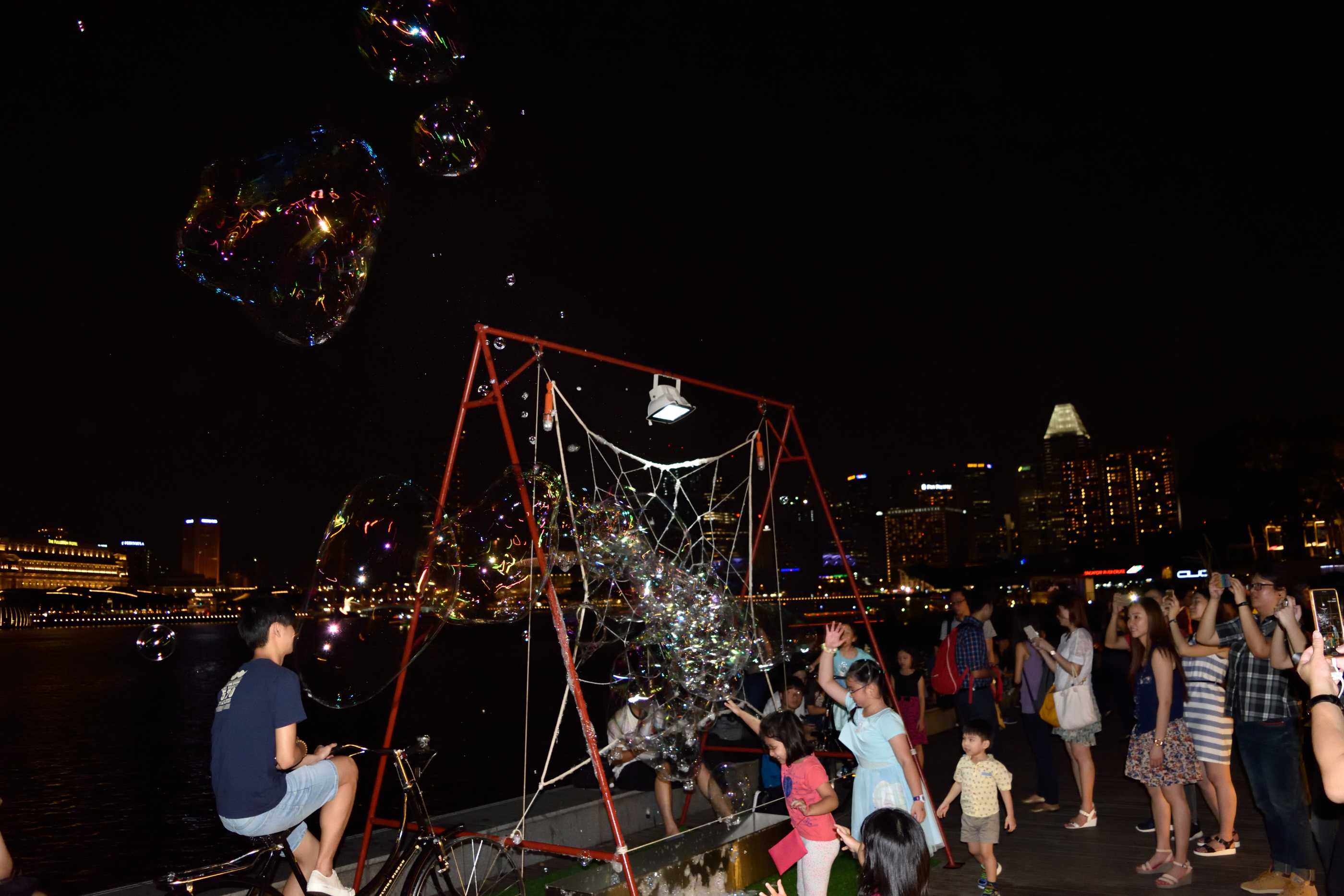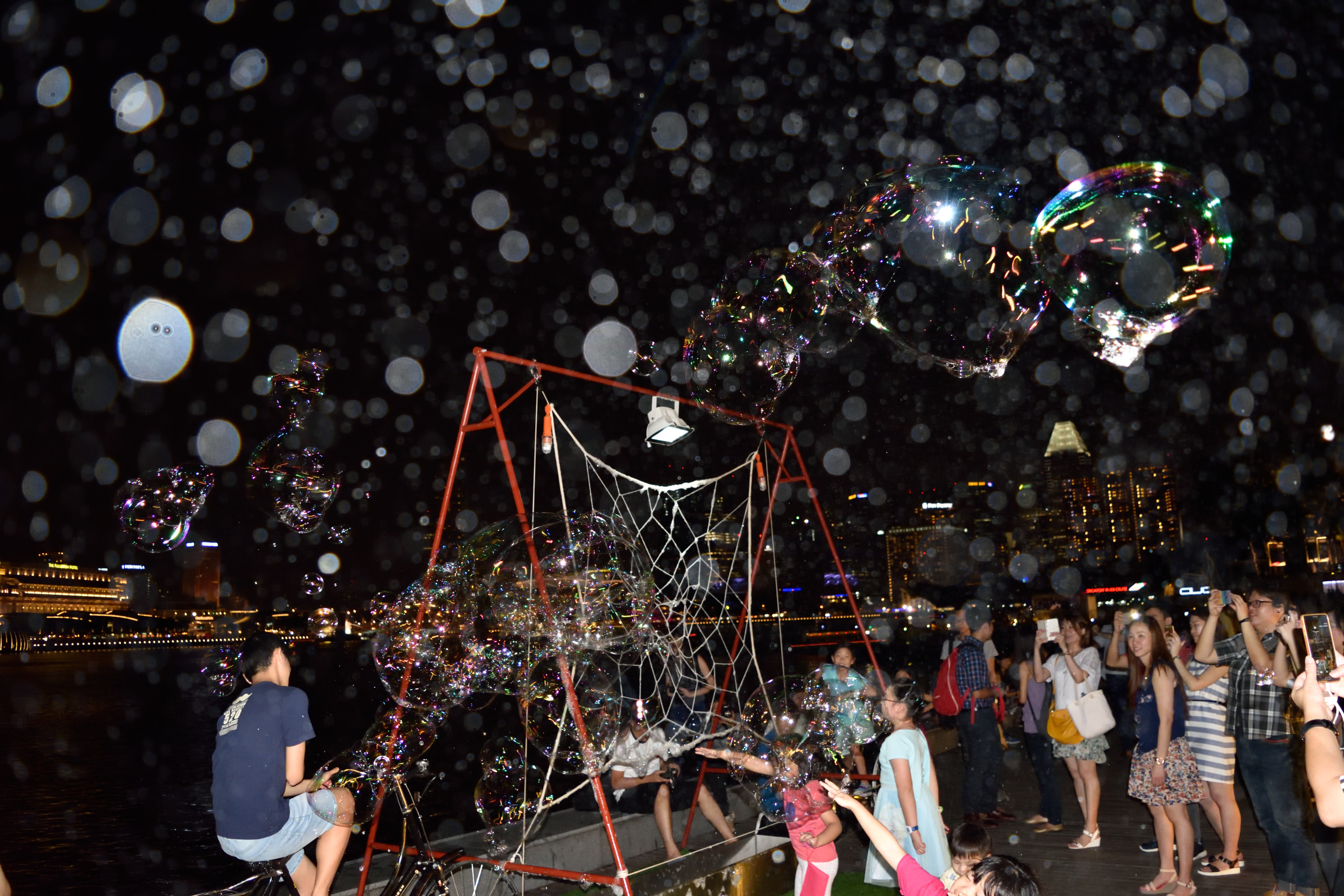 If soap bubbles aren't your thing, you can always play ping pong at one of these tables.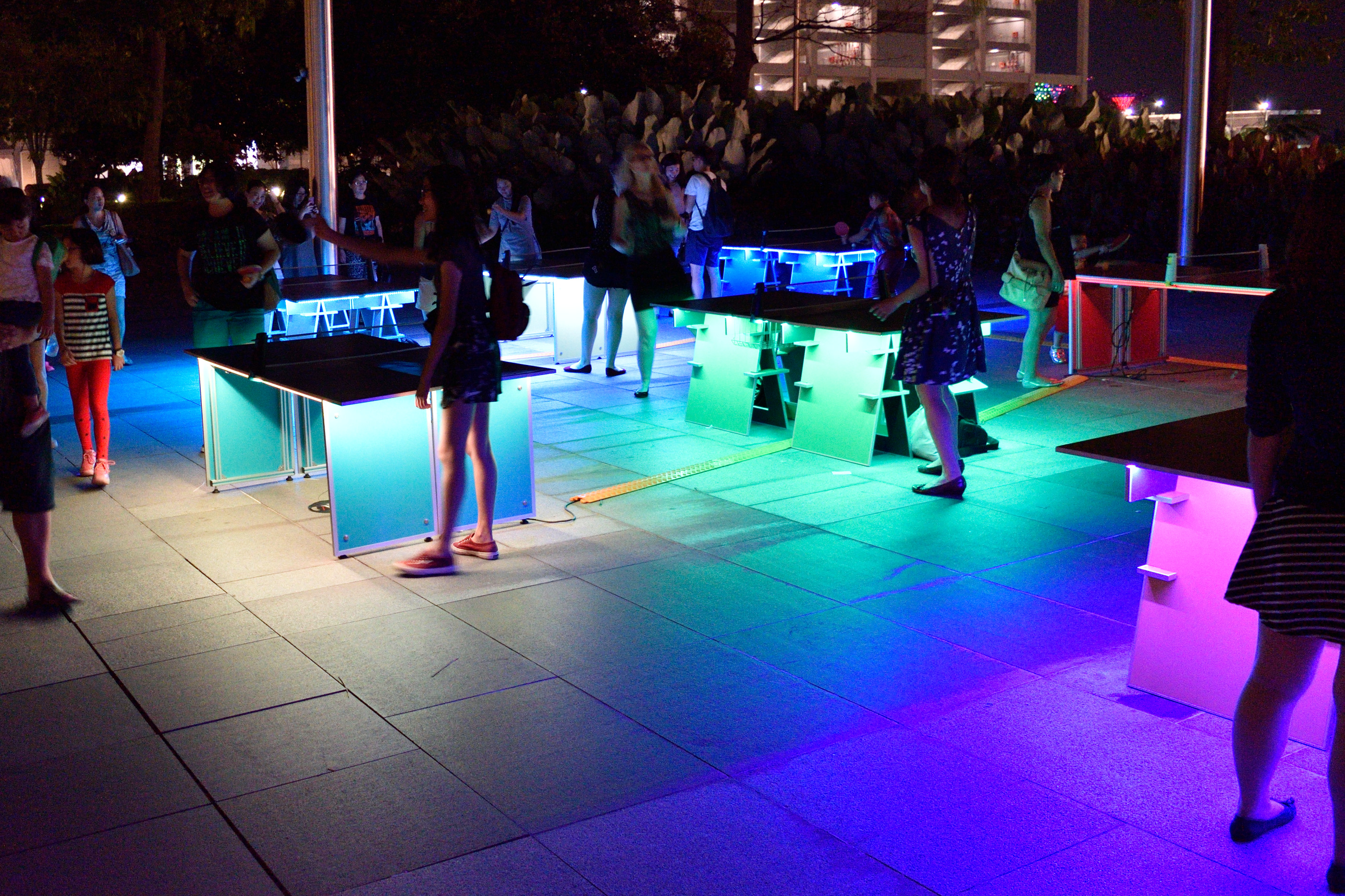 The tables are perennially full, so you'll have to be patient and wait for your turn. Rackets are provided, and I believe balls are, too, though I'm not sure how they manage to not lose the balls!
As you move further towards Marina Bay Sands, you'll come across Light Walk, which is pretty reminiscent of our MRT system.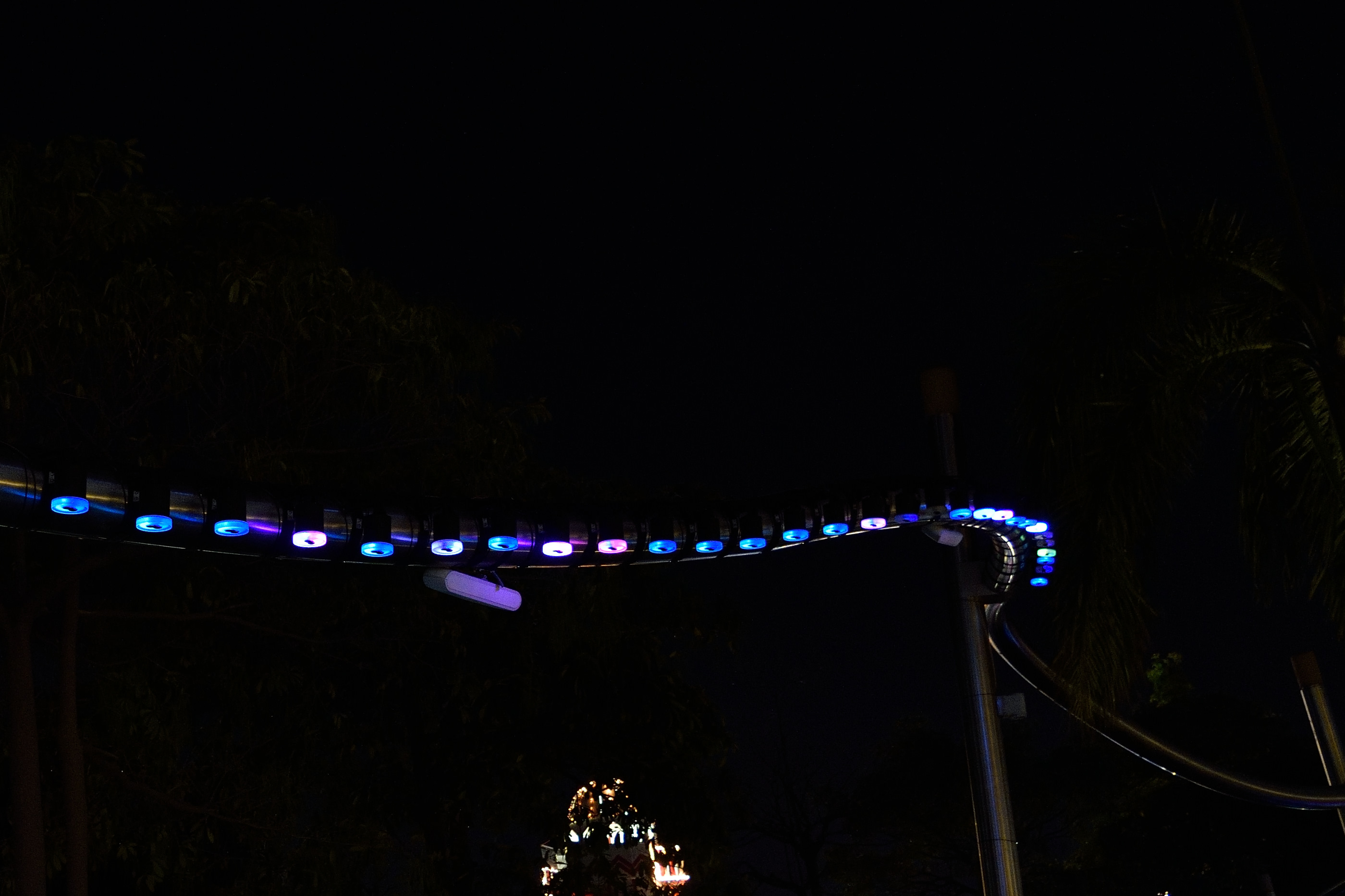 Down at the floating platform, which you can access either from Esplanade MRT or walking through Marina Bay Sands, there are a few more light installations in store.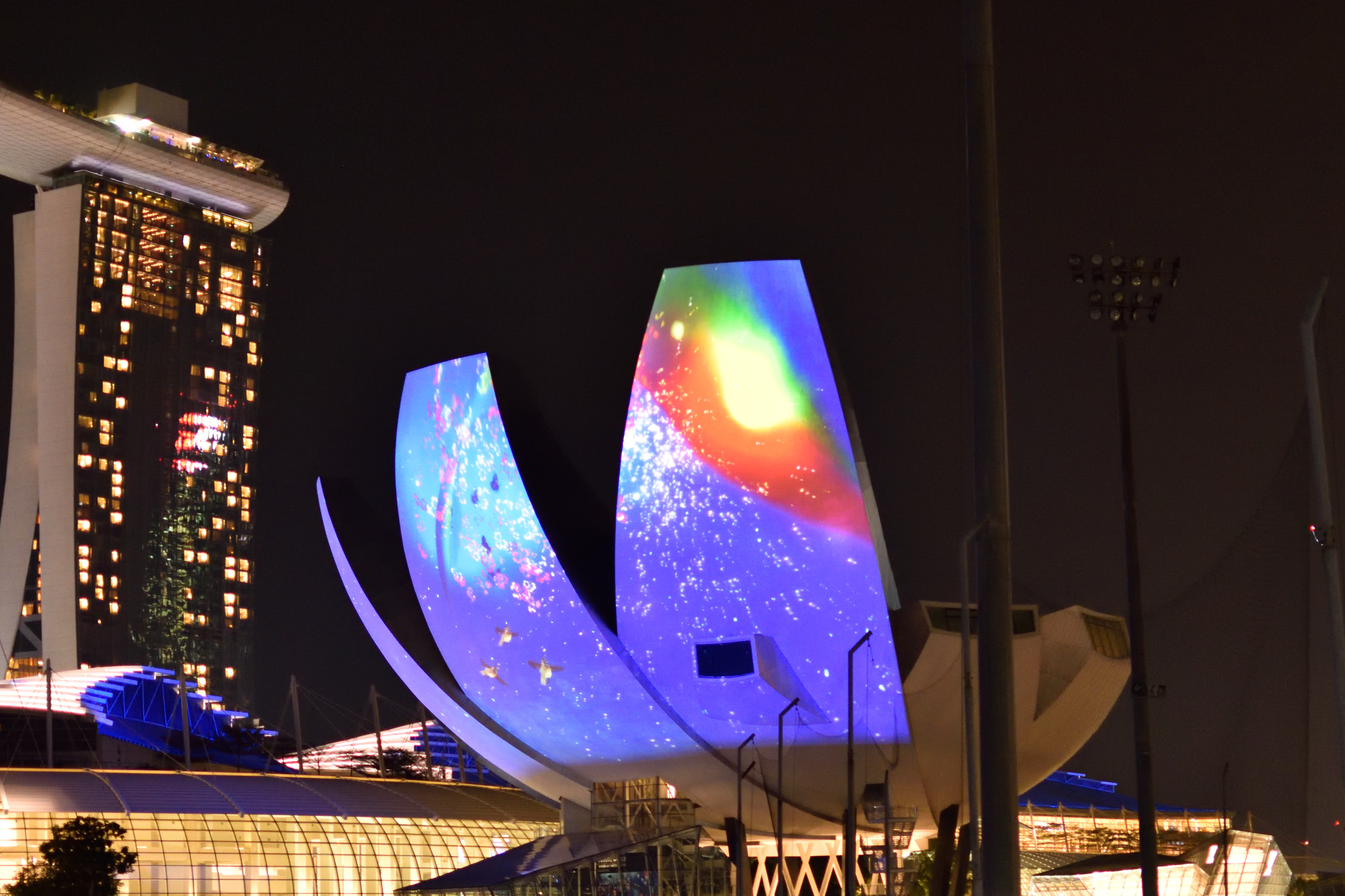 One of those is the video projected on the ArtScience museum, something you've probably seen in your Instagram feeds over the past week.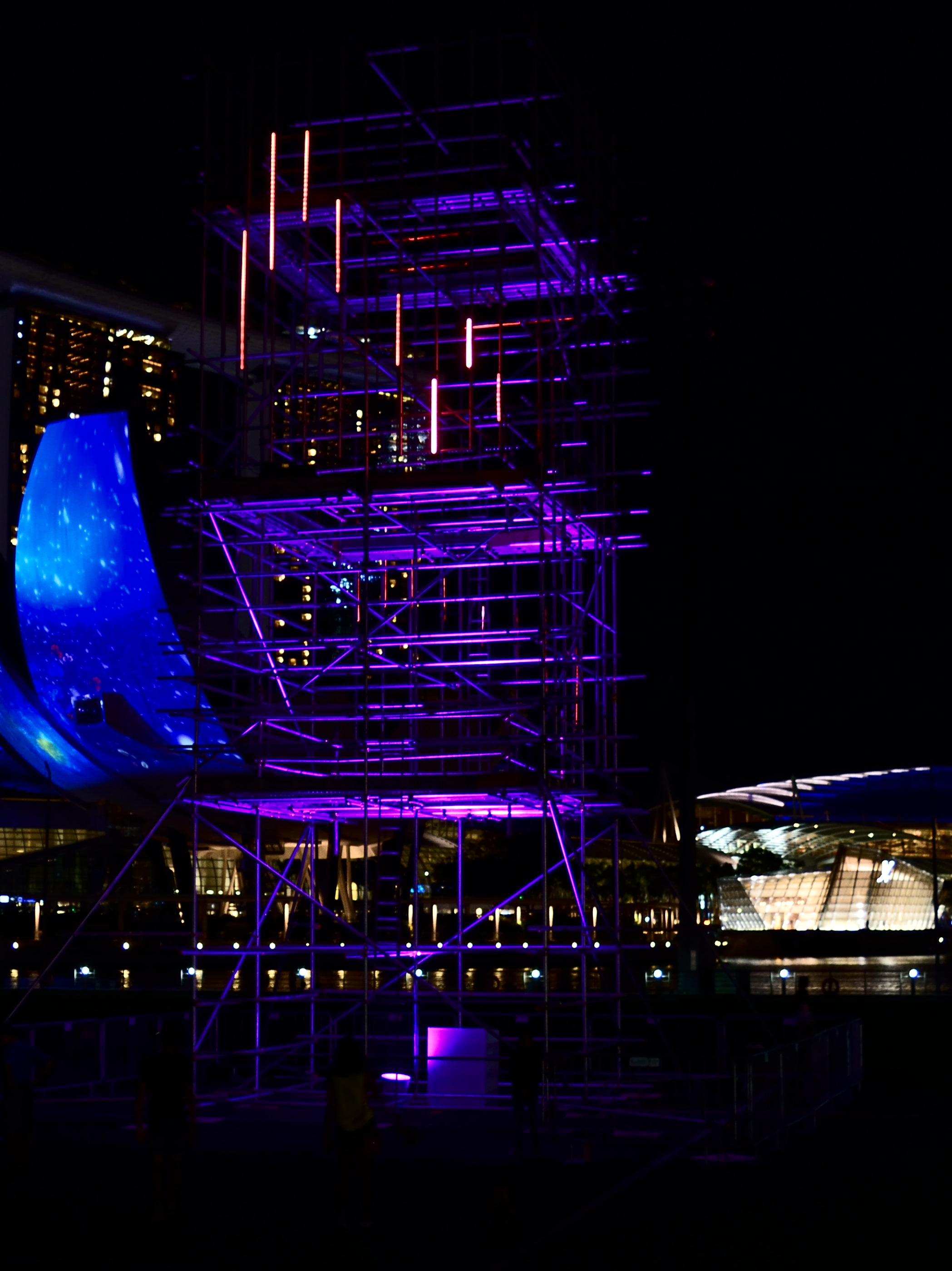 There's also the SONICtower installation, which emits a metallic sound as light pulsates through the structure. Solenoids are used, in case you're wondering, so that metallic sound doesn't just come out of speakers.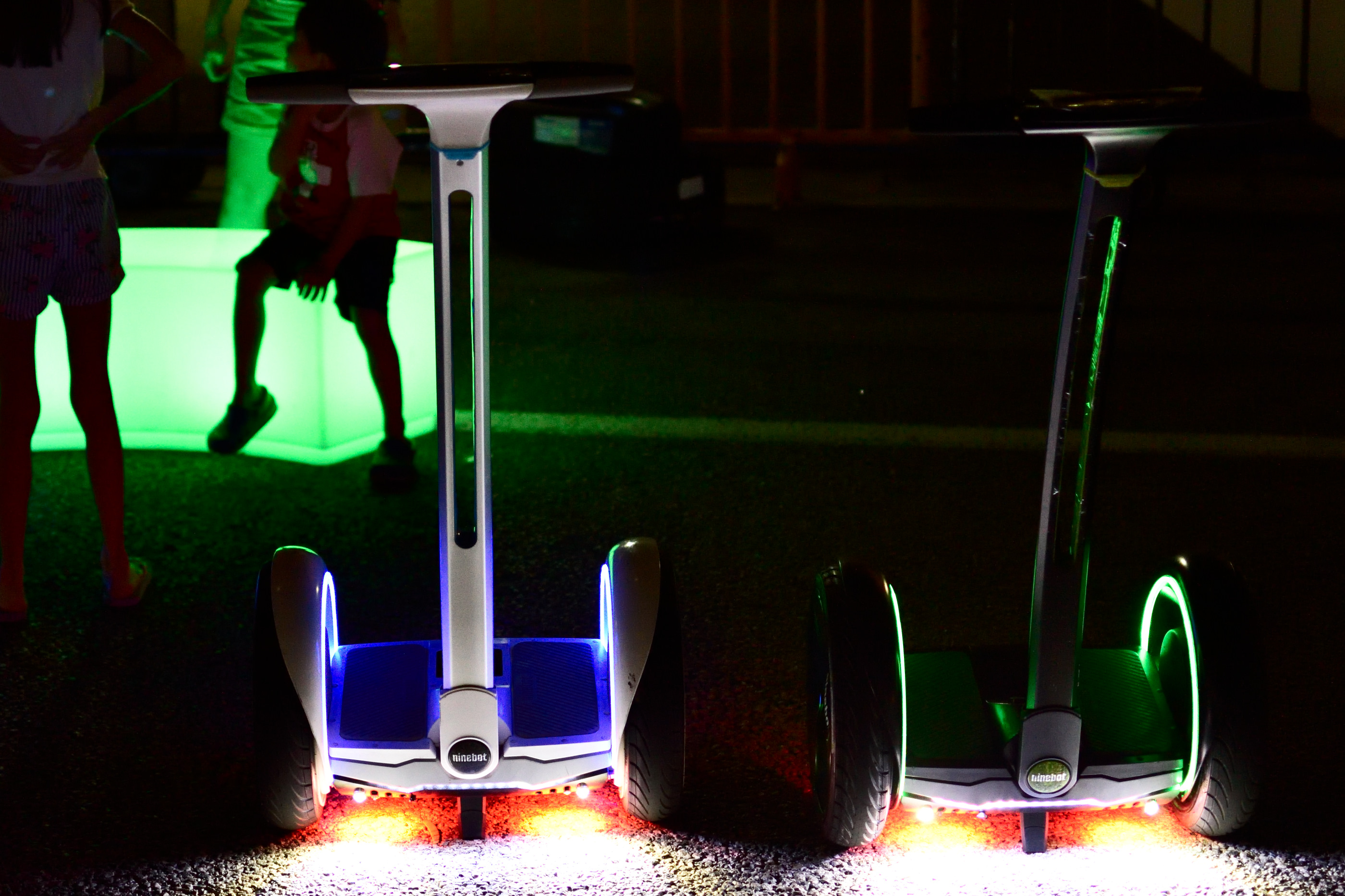 Ninebot rides are also available, where you ride through a track much like a go-kart. If I'm not wrong, one ride costs about $20, and you can choose between a handleless or a normal (as pictured) scooter.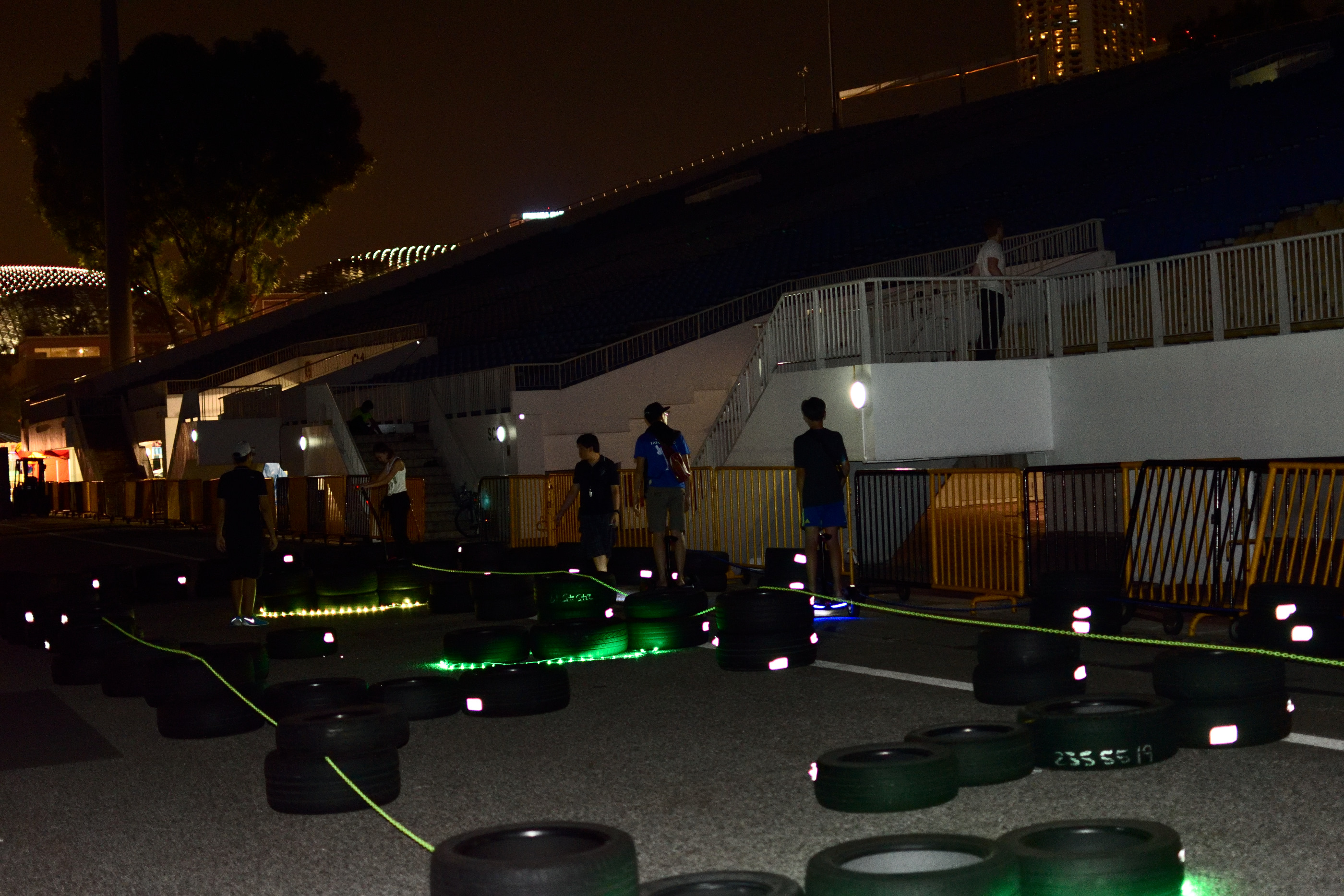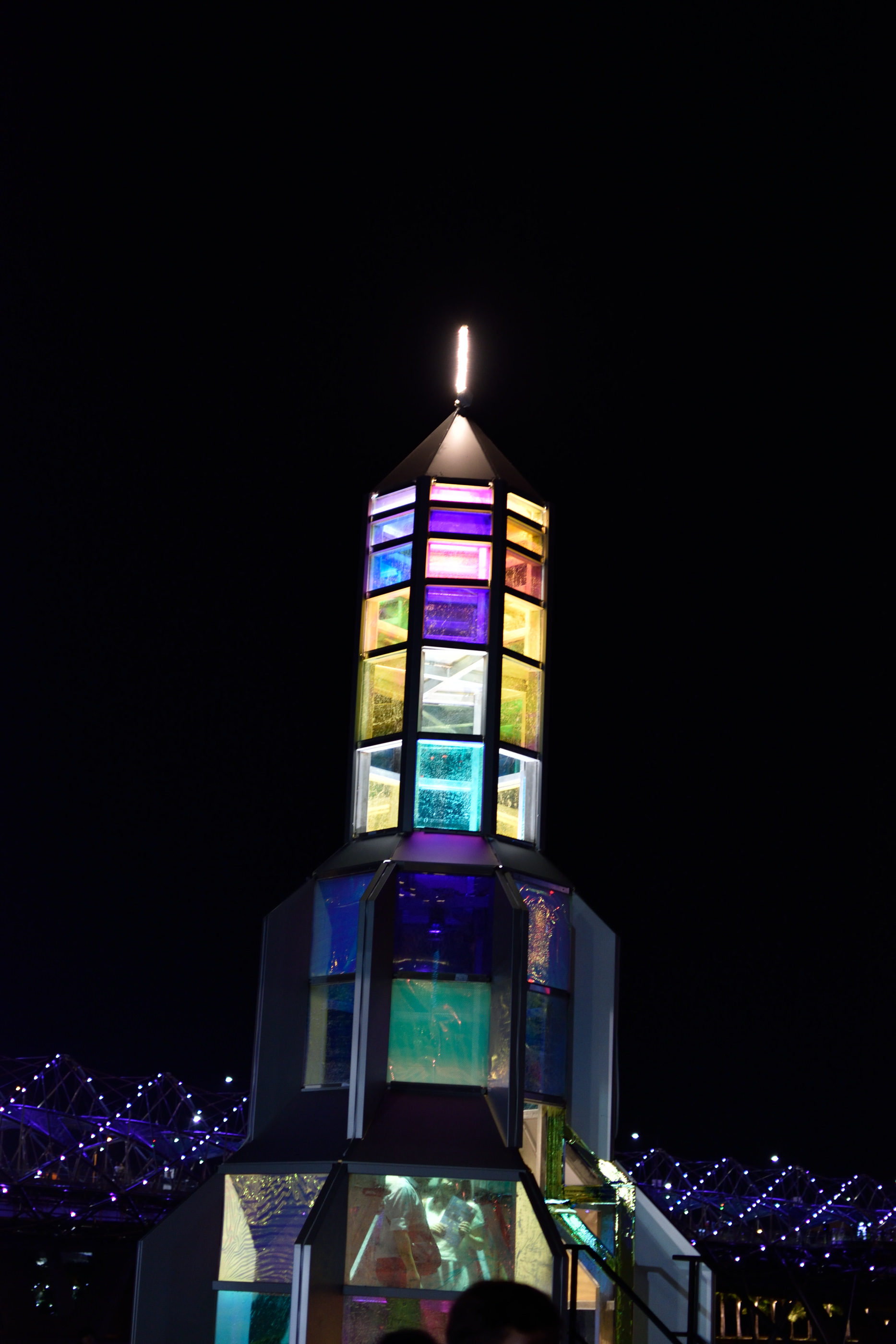 Ground Control to Major Tom is a multi-coloured lantern that has some special light effects when you step into the rocket-shaped tower. There was a long queue, so I didn't manage to get in.
Amusement Rides
Apart from the various light installations, there's also a carnival (actually, two) ongoing. Both of them are organised by the Uncle Ringo company; one is held at the Floating Platform whereas the other is near Marina Bay Sands. I suggest checking out the latter one as there's a much larger crowd. And remember what I said about amusement park rides making a comeback in Singapore? It seems like they are, in a big way.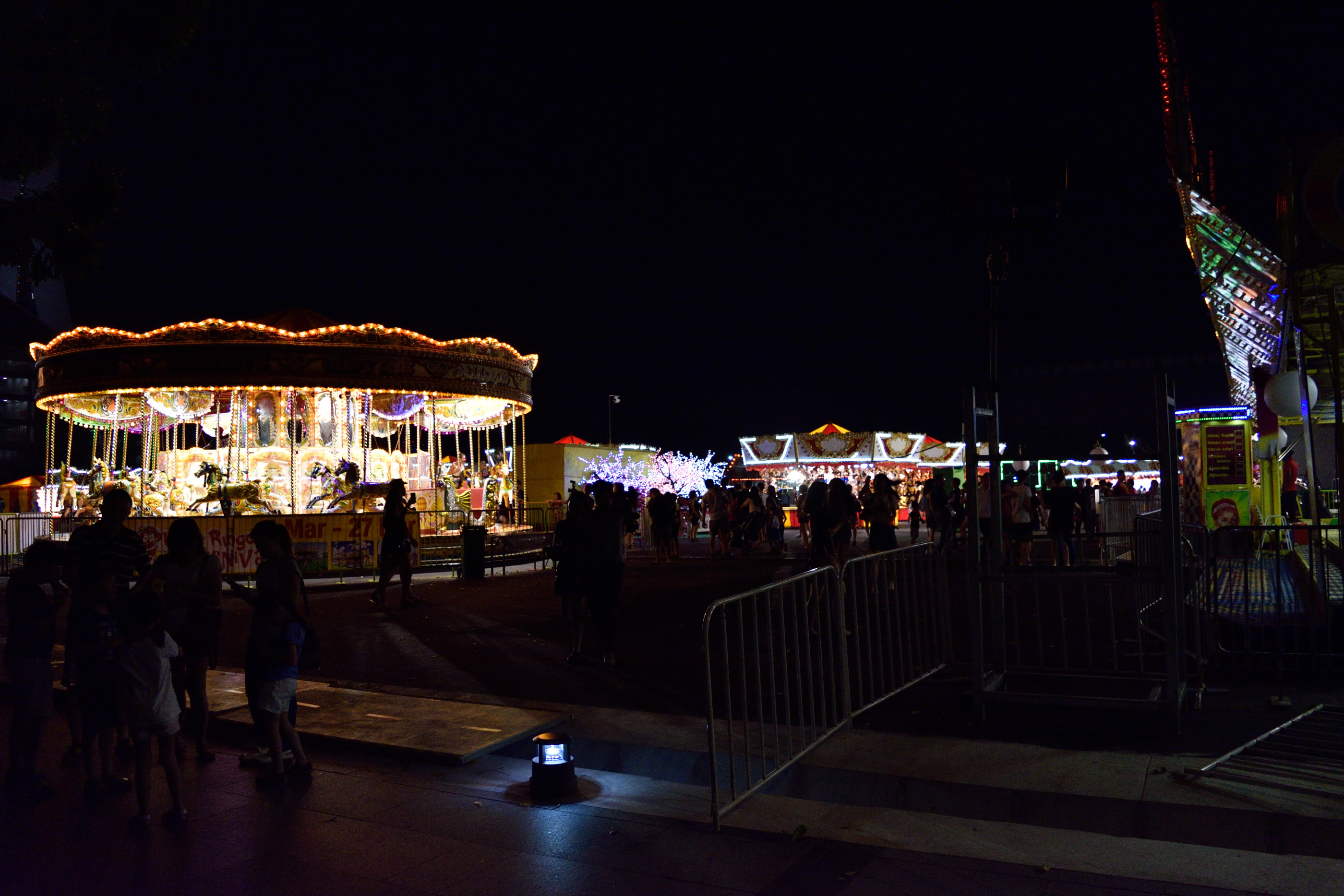 Rides are not cheap, though: they start from $5. You also get the usual pasar malam games in addition to a haunted house train ride.
I sat on the Meteorite ($7 per ride) for the first time in my life. I thought it was really scary at first, but after riding on it it was just plain fun. I hate the feeling you get in your stomach when you ride rollercoasters and the Viking ship, but this one had none of it.
As you enter The Shoppes @ MBS, there are also a few stalls selling whimsical things like dream catchers and mini figurines, among others. Touristy, but it fits the mood, so who cares!
Getting There
Since the festival runs throughout the Marina Bay area, you're well-served by a number of MRT stations. If you wish to start at the Floating Platform, you can take the train to Esplanade MRT (which you can also reach via City Hall MRT via CityLink Mall) and head towards the floating platform (aka The Float@Marina Bay).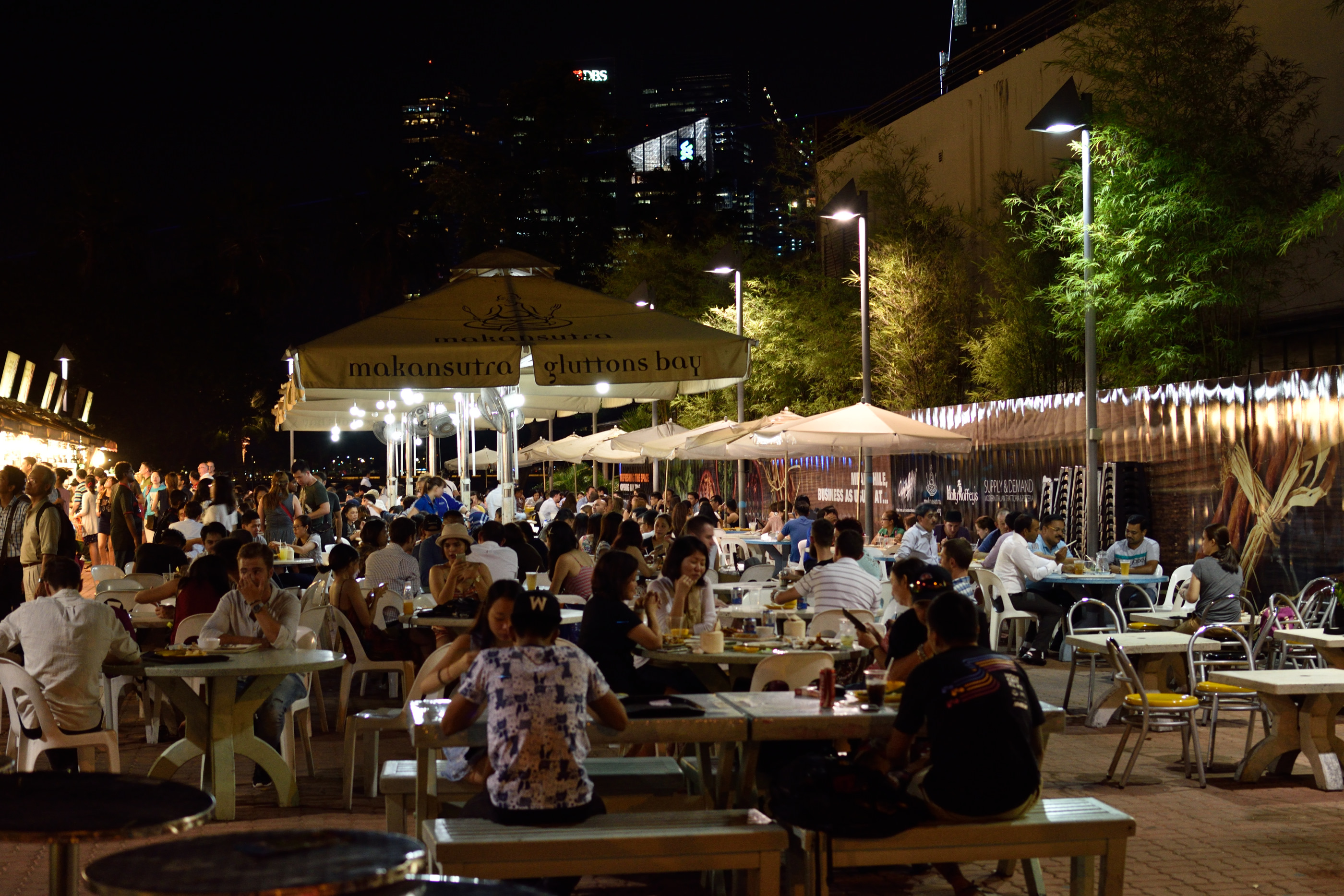 Doing so means you can make a stopover for dinner/ supper at Makansutra Gluttons Bay. The food there is not exceptional nor cheap, but large scale al-fresco dining places near the sea are hard to come by in Singapore, so it's still worth a second look.
Otherwise, if you want to get into the 'meaty parts' right away, enter via The Promontory@Marina Bay, which you can reach most easily through Downtown MRT station via Marina Bay LInk Mall. Alternatively, you can also reach The Promontory from Raffles Place MRT station, though that's a longer walk.
Lastly, you can also enter from Marina Bay Sands via Bayfront MRT, though that's a much longer walk…
In any case, Google Maps is your best friend.