Pop quiz time: What's the name of the shopping mall located right outside Clarke Quay MRT Station?
I was at the shopping mall situated right outside Clarke Quay MRT station that I knew to be "The Central" some two years ago, looking for a restaurant that I read about online. After a fruitless search based on the unit number, I decided to approach the information counter, only to realise that the restaurant I was looking for was located at Central Mall.
Well, am I not at the Central mall? As it turned out, I was at Clarke Quay Central, or so it was explained to me by the information counter staff. Feeling slightly in disbelief, I Googled the shopping mall online. Indeed, the mall's official website was clarkequaycentral.com.sg and its official logo showed "clarke quay central", notwithstanding that the words "clarke quay" were in comparatively small print.

I searched further for any announcement that would indicate that the mall was originally known as The Central and only renamed Clarke Quay Central recently, but I just drew a blank. Or had I fallen victim to the Mandela Effect?
I put in a mental note to continue some more digging when I reached home, but in the end I forgot all about it until recently, when I received a text message from my dentist, Tooth Angels, that their clinic had relocated to The Central.
Ah! A moment of vindication, you could say. Intrigued, I decided to search for further evidence that the mall was not always known as Clarke Quay Central, and that Far East Malls did a sneaky bait-and-switch some years ago.

As it turned out, it wasn't very difficult to uncover such evidence. For instance, Clarke Quay MRT still refers to the mall as "The Central" in its maps and directional signages.
Or could it be, however unlikely the possibility, that the Land Transport Authority had gotten it wrong all along, which misled people into thinking that Clarke Quay Central was actually The Central?
Thankfully, my search for irrefutable evidence ended rather quickly, once I walked into the mall's main entrance and saw the name The Central etched prominently in bold on a plaque. Tada! Mystery solved.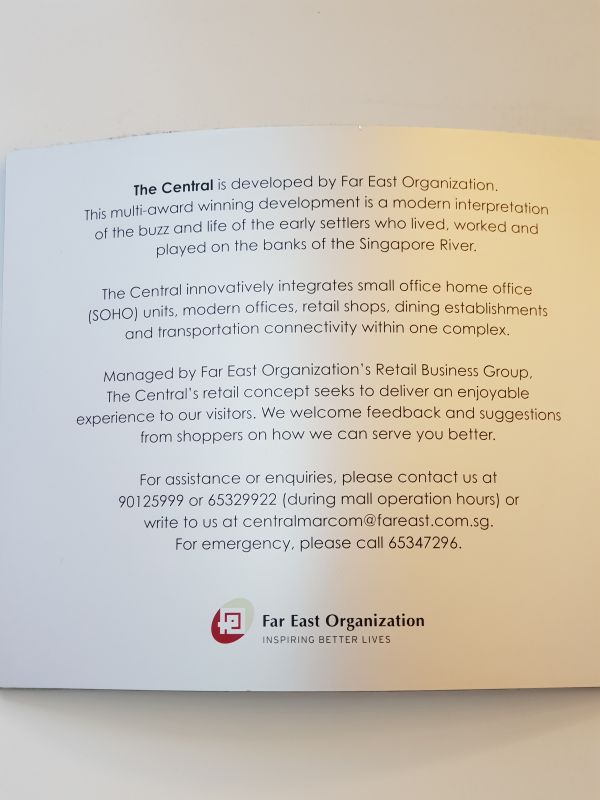 Now that the truth is uncovered, when did this name change happen? As mentioned earlier, there was no evidence online of an official renaming exercise having taken place. But a quick search on Google Maps uncovered the answer: somewhere between May 2013 and October 2014.

Admittedly, this was a rather pointless exercise. But I hate to be proven wrong. And I'm glad I was right, this time.