Cycling has suddenly become everyone's favourite pastime — not surprisingly given that people can't travel anywhere and cycling seems to be one of the better ways to explore Singapore, while having fun and getting some exercise in at the same time.
I too, have been suckered into this phenomenon. My last bike was an Aleoca mountain bike bought from Carrefour in 2002 (when I was in Primary Five…) — which I disposed of in 2016 after years of storage because it was starting to fall apart. This time around, like many others, I opted for a folding bike for its convenience — you are no longer restricted to cycling within a limited radius from your house, since you can take the bus or the train with your bike. Rain or a flat tyre? No problem. Just hop on the next bus or call a Grab and you're on your way home.
Why the Java Zelo?
While folding bikes can cost up to the thousands (like a Brompton), being new to all these I didn't want to put in so much capital on a bike and did not appreciate the value of higher quality parts. I wanted to keep within a budget of $400 and the Java Zelo seemed to be the one of the better options in stock at the time, at just $319 from Passion Gadgets (the price has since increased slightly, however).
There are some other folding bikes that you can find within the same price range, such as the Hito X4 and the Lankeleisi QF600. The advantage of the Java Zelo is that it comes with the necessary screw holes in place so you can mount a front block bag (with an appropriate adapter, of course).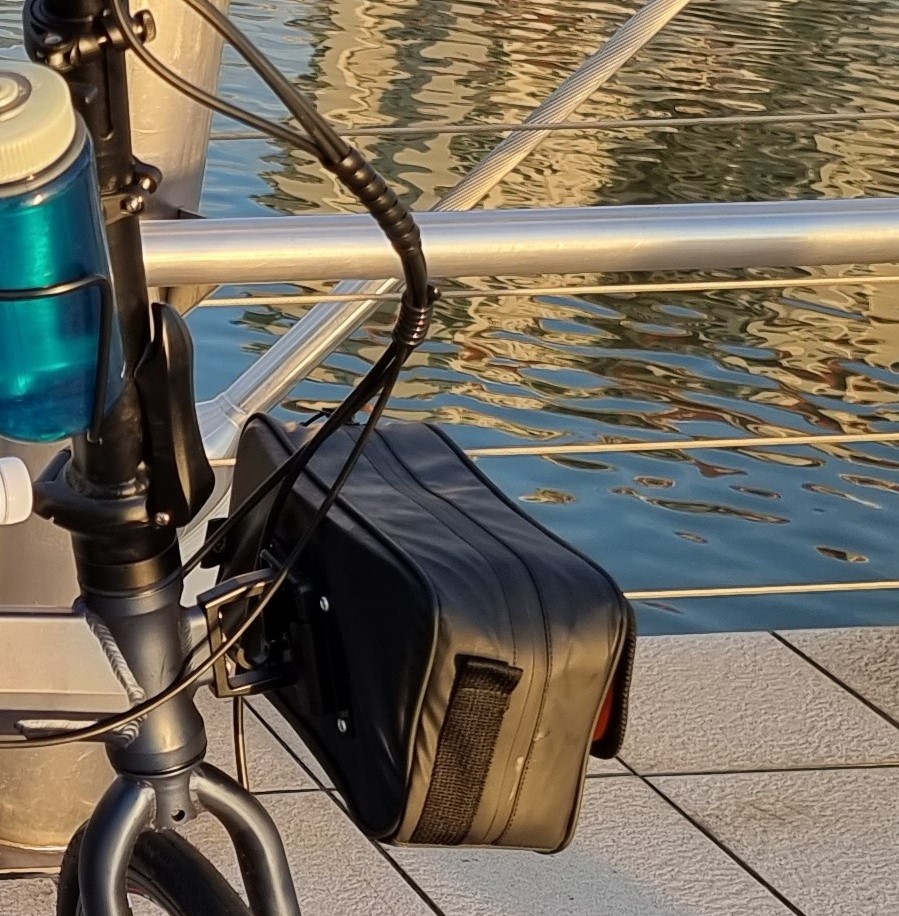 Of course, much like how one would prefer a Toyota over a Honda or vice versa, it's best that you go down for a test ride to get a feel of bike. For me, I went down to Passion Gadget's warehouse at Tai Seng to have a test ride. I was considering between the Zelo and the slightly pricier TT7, but the Zelo felt more sturdy to me and the gear shifter seemed to be of a higher quality.
Design
The Java Zelo comes in olive green, red, blue and black. So far, olive green seems to be a rather popular colour, although my personal preference would be for the blue or black, which has this really nice, matte anodised finish.
It has a 'dolphin-frame' design, which is probably inspired or copied from one of Dahon's designs and is a design that is very similar to the Hito X4, Crius Velocity and Fnhon Tornado.
There are some silly aspects to the Zelo's design. Chief among them is that it is nearly impossible to mount a rear mudguard.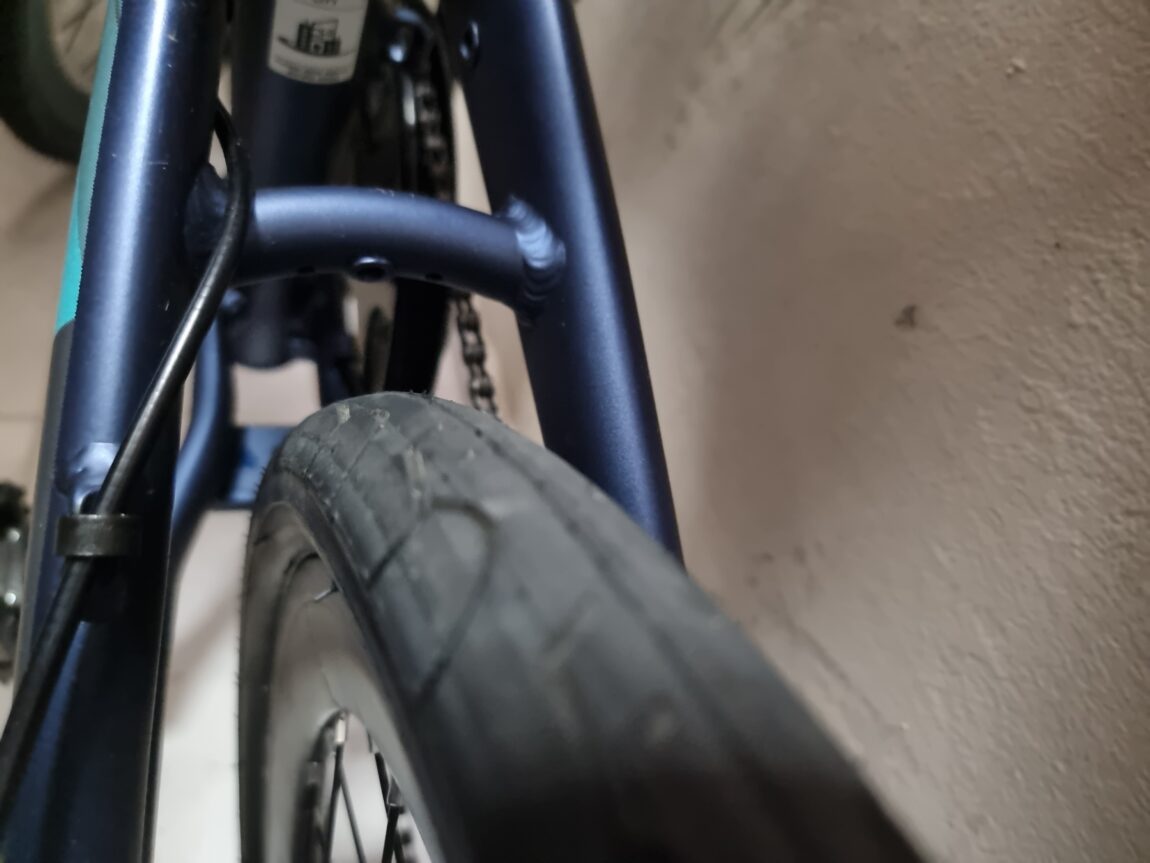 Speaking of the seat post, it's something you want to change out as soon as possible. After collecting the bike, I rode home from Tai Seng and was cycling happily, contented that all the gears were shifting properly and smoothly, and the performance was better than I expected for a folding bike. Until I went over a bump, and suddenly, my saddle became loose.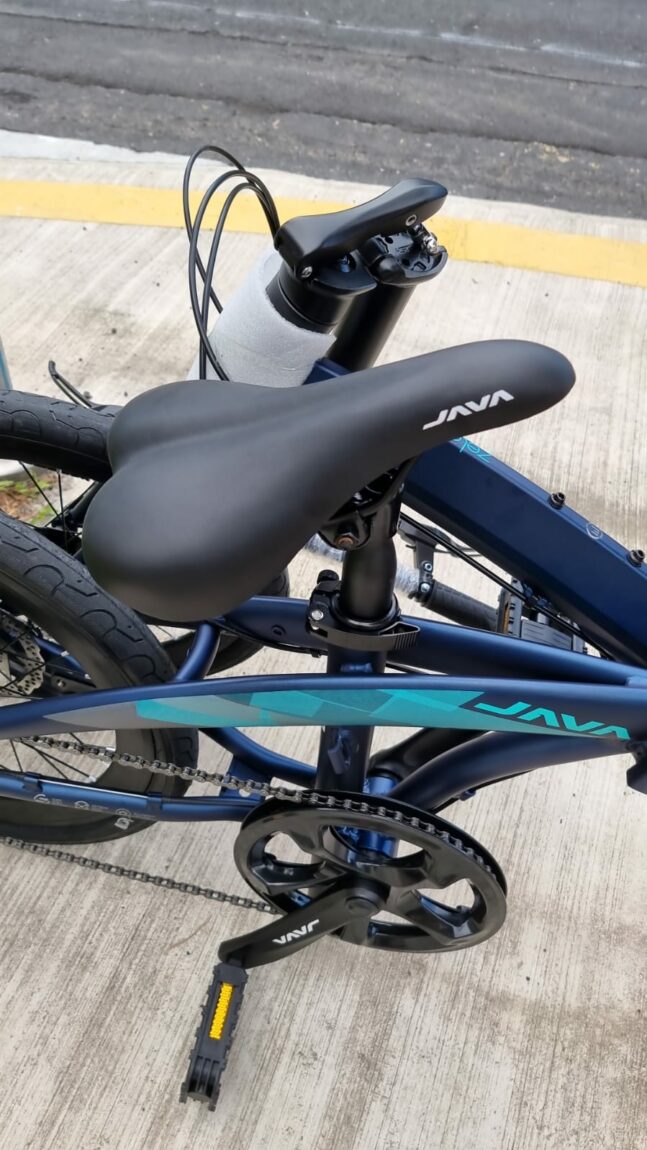 Given that I had no spanner in hand, I had no choice but to fold the bike and take the bus home. I was able to tighten the seatpost at home, but it would always become a recurring problem until I switched out my seatpost to a Litepro A61 (more on upgrades in another post).
Unlike many other dual-fold folding bikes on the market, the handlebar folds outwards instead of being tucked in between the two halves of the bike. This makes the folded footprint of the bike a little larger than normal, though you may prefer this folding arrangement if you have items mounted on your handlebar.
The aluminium frame is quite sturdy and no complaints there. There are two holes available for mounting a bottle holder. There is an (unused) hook for mounting a front derailleur if you wish to upgrade down the road. The front fork is made out of steel, which adds a little to the weight of the bicycle. The fork is the old-style threaded kind and not the threadless type which you would find on more expensive bicycles, thus limiting the upgrade options somewhat.
Folding Mechanism
The folding mechanism is quite easy to grasp. To fold the bike, you should first lower the seatpost so that the bicycle forms a tripod with the two wheels when folded. Then, release the double-lock mechanism at the middle of the frame and fold the bicycle. Lastly, unlock the folding mechanism at the front stem to fold the handlebar area.
Moving the bike while folded is a little bit more difficult, though. While I had the magnet hook installed, the magnetic force was often not sufficient to keep the two wheels together. As I later learnt, the best way to manoevre the bike when folded would be to not fold the stem, and then lift the bicycle up 45 degrees to move it while holding the handlebar.
The double-lock mechanism in the middle is different from what you see on most other bikes. This mechanism is marketed as an 'advantage' over the typical Dahon-esque folding mechanism, but I do see a few disadvantages. One is that the double-lock sometimes does not engage properly — you may think that you have engaged the double lock only to find that you can flip open the lock easily. To get around this, ensure that you pull the double-lock whenever you lock the bike as well, and do a check to make sure that the lock is securely fastened. In addition, the novelty of this mechanism means that it is difficult to source for spare parts in case any part of the mechanism gets damaged. Already, there are instances where people have reported that their double lock knob has dropped off, though they managed to rectify the situation somewhat by substituting it with a screw.
Drivetrain
Out of the box, the Java Zelo comes equipped with a 52T chainring in the front and a 14T-28T freewheel at the rear. The gear ratio therefore ranges from 185% (52/28) to 371% (52/14), which translates to a maximum of about 74 inches of movement per pedal revolution. This lags in comparison to say, a Brompton, with smaller 16 inch wheels, can go up to about 108 inches per pedal revolution. However, if you're just a casual PCN rider, the stock gear ratio should generally be good enough.
Personally, most of the time, I hovered between gears 5 to 7, and I generally didn't feel that I needed much more speed than what gear 7 could offer.
The crank is seated on a conventional square-tapered bottom bracket. The chainring does not appear to be replaceable–you will have to replace the entire crankset if you want to upgrade to a chainring with more teeth. On the bright side, the stock chain is a bit too long, so you may not need to replace it if you upgrade your chainring.
One selling point of this bicycle is that it comes equipped with a Shimano rear derailleur and a 7-speed gear shifter. In truth, what you're getting is Shimano's bottom-of-the-barrel stuff. Though, that is not by any means bad. When tuned properly, shifting was generally quick and reliable.
Wheelset and Brakes
The stock Java Zelo comes with high-profile 20-inch (406) wheels, and the stock tyres go up to only about 35 PSI. Generally, a higher PSI rating equates to less tyre resistance, at the expense of comfort. Many higher-end foldable bikes come with tyres that pump up to around 100 PSI.
In practice, I didn't think the stock tyres had any issues; traction was generally okay.
What is more limiting is the wheelset itself–it is of an older freewheel design as opposed to modern wheels that use cassettes. This means that in terms of upgrades, you are essentially stuck with seven-speed drivetrains and generally restricted to slower 13 or 14 cog cassettes. If you're not intending to upgrade the bicycle, then there's nothing wrong with this design.
The brakes, especially the rear, are mediocre. I had to pull the lever all the way backwards before there was enough pressure exerted on the discs to brake it. I guess this could be fixed with some tuning.
Other Teething Problems
Unfortunately, there are some minor QC issues with this bike (which could either be attributed to the way it was built from the factory, or a rushed assembly by the bike shop).
Apart from a loose saddle (elaborated above), I also had an issue with the brake cables coming unsheathed after a few folding/ unfolding cycles. This is probably because the aluminium hooks had a bit of roughness to it.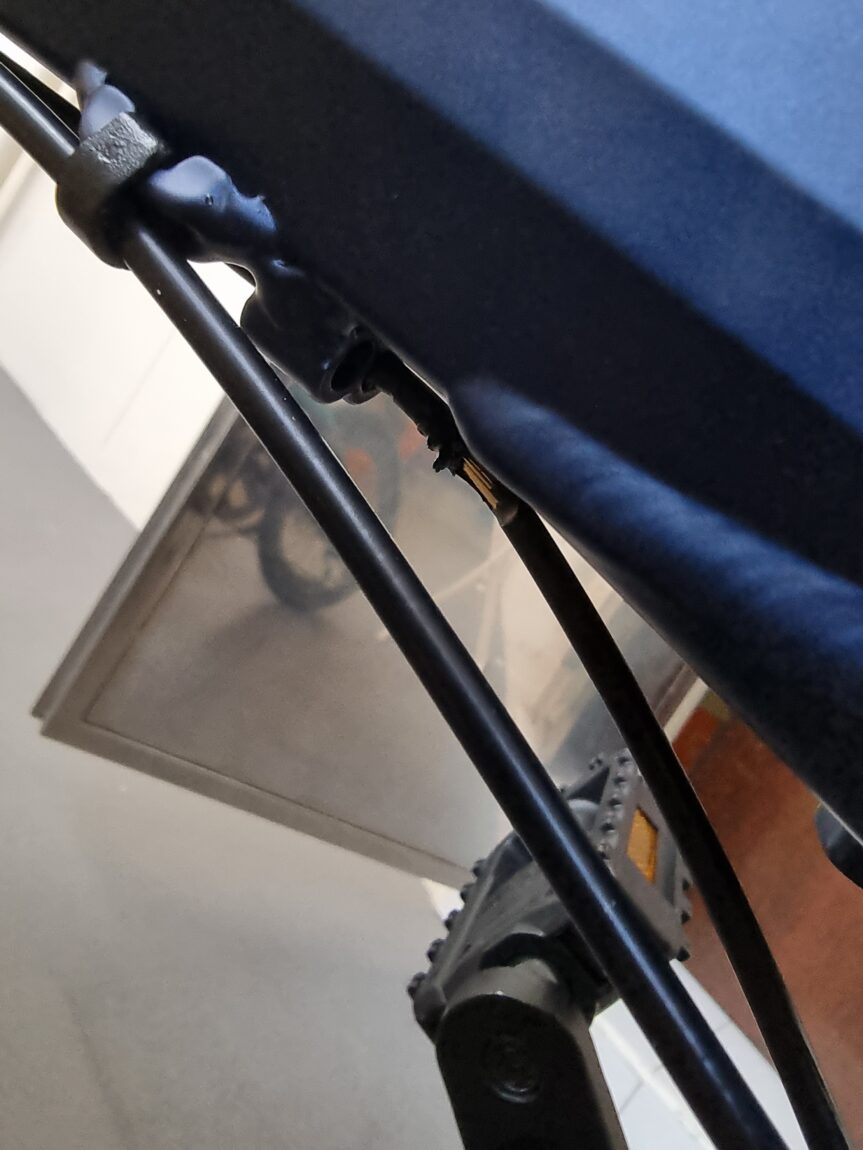 In addition, after a few rides, the bike starting making creaking noises when I pedalled. This was only ultimately resolved through a replacement of the crankset and bottom bracket through my upgrading process.
Conclusion
For its price, the Java Zelo is a good starter's bike. If you intend to use it in its stock configuration with minimal upgrades (e.g. changing of seat post, chain ring and perhaps installing a front block adapter), it is very good value for money.
If you're looking to upgrade this down the road, going for the Java Zelo may cost you more in the long run. This is mainly because the wheelset is of an older type, so if you want to upgrade to, say, 9 or 10 speeds in future, you will have to change the wheels as well (which is not cheap). You are also limited in terms of the stem options given the fork is the old threaded type.
Instead, you may wish to stretch your budget a little bit more (~$450+), and check out the Rifle R8, which comes with a 9-speed drivetrain (easier for upgrades down the road) and is much lighter. Though it uses conventional V-brakes instead of disc brakes, some argue that V-brakes are actually more effective. There is also a higher-end Rifle R10 which uses disc brakes.