A 'normal' seatpost designed for road and mountain bikes won't work on most folding bikes because the length is simply too short for most people. Hence, you would need to find a seatpost that is at least 55cm to 60cm long.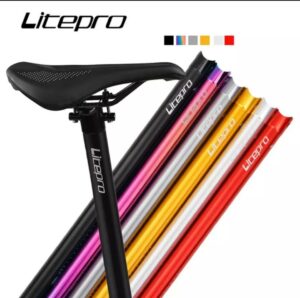 Litepro Seatposts
For folding bikes, Litepro seatposts are somewhat the market standard, for good reason–they are affordable, good looking and lightweight. If your bike doesn't come with a Litepro seatpost already, upgrading to a Litepro seatpost can shave off about 350 grams of weight. The stock Java Zelo seatpost, for example, weighs about 700 grams, as compared to 350 grams for a Litepro A61 seatpost. Many pricier folding bikes, like those from Crius and Fnhon, already come equipped with Litepro seatposts as their default options. Within the Litepro range, there are a few options available:
Litepro A61
This is the 'default' Litepro seatpost. Fashioned out of AL6061 aluminium, this seatpost is very lightweight, at under 350g, and comes with a number of attractive colour options, including an oil slick version. However, it accepts only a maximum weight of 80kg. If you're nearing or exceeding the weight limit, this may not be the best option as it tends to bend relatively easily. The Litepro A61 which came on my Crius Master-D had a noticeable bend after just two weeks, and the bend made it impossible for me to move the seatpost downwards!


Litepro A75 (also marketed as Litepro A71)
This is a slight 'upgrade' over the Litepro A61 and weights even lighter than the A61, at about 320g. While on paper it accepts a maximum weight of 80kg, it is purportedly more durable (supporting up to around 90kg) because it is made out of AL7075 aluminium. I have not tested this claim, however, and the inner tube thickness of the A75 is slightly thinner than that of the A61.


Litepro A62
The Litepro A62 is a slightly heavier version of the A61, coming in at about 420g. Similar to the A61, it is made out of AL6061 aluminium. The difference is that it has a more robust saddle clamp mechanism and the inner tube thickness of the A62 is thicker than that of the A61. Based on a Taobao user review, the Litepro A62 should be more durable than a Litepro A61 and Litepro A75, although it is also marketed as supporting only 80kg on paper.

Ever since my Litepro A61 developed a bend, I have been using a Litepro A62 (as pictured on the header image). So far, it is stood up well on multiple rides.


Litepro Pump Seatpost (Without Bicycle Pump)
This confusingly named item is a replacement for the stock Dahon bicycle pump seatpost but does not support the Dahon bicycle pump attachment. At approximately 580g, it is the heaviest of the lot, but probably the strongest and should, according to certain Carousell sellers, be able to withstand a weight of up to 110kg (although it is also marketed as supporting only 80kg on paper).


Litepro A65 Carbon Seatpost
The lightest of the lot, at only 280g, the A65 seatpost is made out of carbon fibre (instead of aluminium) and has a rated maximum load of 90kg. Carbon, while stronger than aluminium, is more brittle, however, so you may end up with a cracked or broken seatpost more easily than aluminium (which tends to bend), especially if you have clamped the seatpost too tightly. Unless your priority is to get the lightest bike possible, I would stick with aluminium where possible.


Where to Buy?
There are a number of fakes out there, so be careful. If you're well versed with Taobao, you can head on to https://litepro.taobao.com which is apparently genuine. Locally, you can check out wheelonfire on Carousell who sells rebranded Litepro A62 and Litepro Pump Seatpost for really affordable prices, or Passion Gadget which carries the Litepro A61.
Before buying, be sure to find out what your current seatpost diameter is (your current seatpost should state the diameter near the bottom, in most cases). Most folding bikes, including the Java Zelo, Crius Velocity, Crius Master-D, Fnhon Blast and Fnhon Tornado use the 33.9mm standard.
Alternatives to Litepro
There are a few alternatives to Litepro out there. If your bike supports a smaller 31.8mm seatpost diameter instead, you can consider Aceoffix or other brands that sell Brompton-compatible seatposts.
For a seatpost with 33.9m diameter, you can look for the following alternatives as well on Taobao:
MaxtroN Tower 5 (about 400g, 85kg maximum load) or MaxtroN Tower 3 (about 530g, 105kg maximum load)
Eiosix which has a 430g version that withstands 110kg
Kore which, according to the Taobao seller, withstands up to 250kg (take it with a heavy dose of salt!)
Installation
Installation of a seatpost is really easy. Basically, all (or nearly all?) saddles out there follow the same mounting standard. You just have to figure out how to unclamp your old saddle (a spanner or allen key should be sufficient, depending on the old clamp type) and how to clamp your saddle to your new seatpost. YouTube should have plenty of tutorials to guide you along. You can most certainly go to any local bicycle shop for assistance, but given that this is a simple upgrade, you may want to try attempting it yourself first.