It's been only a few months since I picked up cycling once again and in that time frame, I've used the Java Zelo and Crius Master D before deciding to build a frame from scratch, with an Fnhon Tornado used as a base. It's a time consuming experience but well worth the effort.
Why the Fnhon Tornado?
For a mid-range (which I define to mean $700 to $1,000 all built up) foldie, two main brands come to mind–Crius and Fnhon. Crius is Litepro's bicycle frame brand whereas Fnhon is purportedly created by some former employees of Dahon, the granddaddy of all bifold folding bikes. Between the two, I think Crius is slightly more common on the PCNs and roads, but you do see a couple of Fnhons around, although the Tornado is relatively rare.
I can think of two main reasons Crius bikes are preferred. One is that Crius bikes are generally more available (just do a quick search on Taobao and you'll know) and that there are more attractive colourways available (the chameleon blue, in the particular, is really attractive). The second is that Crius bikes come standard with the three holes drilled on the front of the head tube so you can fit in a front block adapter whereas Fnhon bikes (except the Gust) do not come with the three holes drilled by default. This is unless you opt for a customised frame from Cylicworkz, which is the authorised distributor for Fnhon frames in Singapore.
In my case, I chose the Fnhon because I already had a Crius and wanted to see for myself how Fnhon would be like. Some people who've tried both bikes claim that Fnhon has a better build quality.
Between the Blast and the Tornado, the Blast is the far more popular bike, at least in Singapore. I chose the Tornado, however, because I already had the Crius Master D (which is all but similar to the Fnhon Blast), and because it has a distinctive folding mechanism that sets it apart from the rest. My Tornado frame was ordered from Cyclicworkz and comes with the three holes for the front block adapter. However, these frames come in only in limited batches and colourways and so you'll probably need to be patient. If you're okay to forego the front block (you can always install a Litepro front block clamp, which clamps to the head tube, as an alternative), you can look for "wheelonfire" or "Bike-20" on Carousell if you just need the frame. Or you could opt for a pre-built bike which is more readily available.
Frame Build Quality
Build quality wise, the Fnhon Tornado is pretty much on par with the Crius Master D. The aluminium used on the Fnhon Tornado does seem to be a little sturdier and the screw threads on the bottom bracket and fork seem to hold up a little better.
The dropout for the derailleur hanger seems to be a little misaligned out of the box (same with the Crius Master D), though this is nothing a simple tweaking of the derailleur hanger can't resolve. In addition, on my particular frame, there are some minor dings on the fork and on the head tube. I also acquired two Fnhon Tornado forks and one fork measured a millimetre shorter than the other.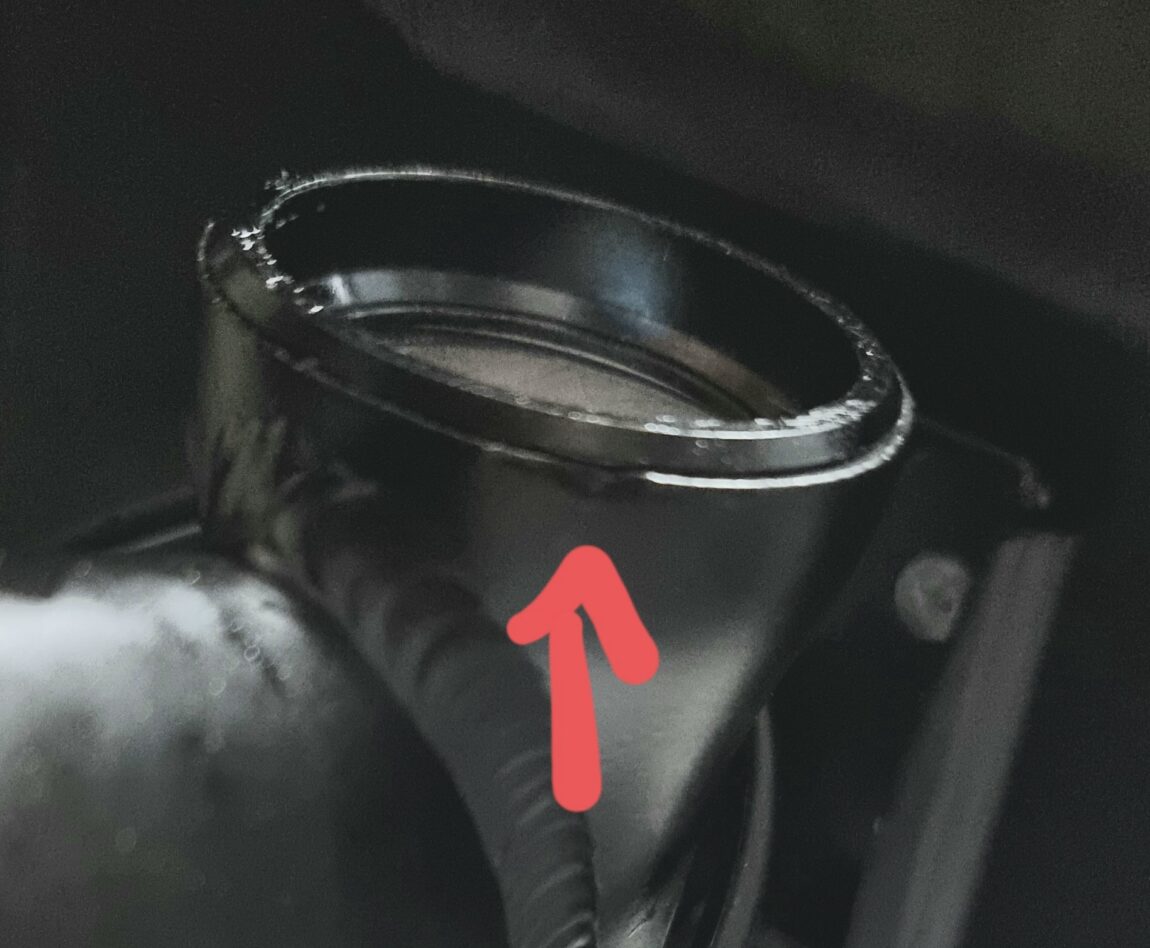 Overall, I think these flaws are minor and generally cosmetic in nature, although a small part of me is worried that this would translate into structural issues down the road.
Ride wise, the Fnhon Tornado has held up well. I've brought it on some long rides so far, including a stretch along Tanah Merah Coastal Road, and didn't feel much of a flex or major creaking noises even at high speeds. There was a small stretch where I heard the disc brakes rubbing (at 35km/h), although I believe that could be attributed to a slightly loose QR skewer instead.
Speed wise, I was able to attain 25-27km/h comfortably with a 11-32T setup paired with a 56T Stone oval chainring. 30km/h is achievable if you're fit and 35-40km/h is attainable at short bursts and if the wind is in your favour. A seller told me that the Fnhon Tornado is more stable than a Blast or Master D at higher speeds; in practice, I did not notice a difference. In fact, when approaching 40km/h, I was a little worried as to whether the entire frame would just fall apart.
Crius vs Fnhon; Blast vs Tornado
Overall, I didn't notice much of a difference between the Crius and Fnhon. Neither did I notice any difference between the normal Master D/ Blast frames compared to dolphin frame designs like the Crius Velocity and the Fnhon Tornado. At the end of the day, I think it is a matter of preference and I guess what matters more are the parts that you put onto the frame… which brings me to the next section.
Building Experience
Building a bicycle is actually not that difficult (but of course, on hindsight everything looks relatively easy…). It's somewhat similar to building a PC, except that you have to figure a lot of things yourself along the way due to the absence of resources especially when it comes to a folding bike. To this, someone has posted a very helpful assembly walkthrough on YouTube which basically covers everythign you need to know. You can also refer to Steve Tan's Hands On Bike blog where he covers his assembly experience of various bikes, including the Fnhon Tornado and Crius Velocity.
For me, I opted to go down this route as a challenge to myself, and also because I had some spare parts left over from previous upgrades. My original intent was to build this up for my sister; I later had a change of heart and kept the Tornado for myself and sold the Master D to my sister instead. Oops.
So, apart from the frame and fork (which already comes with the compression bolt), here are a list of things you'll need to get:
Handepost stem
Handlebars and grips
Headset
Brake levers, calipers, cables and rotors
Wheels, tyres and tubes
Gear shifter, derailleur and cables
Cassette
Chainring, crankset and pedals
Seatpost and saddle
Chain
Handlepost stem
The Fnhon handlepost stems are pretty decent and are readily available on Taobao (just do a search for 风行头管). For a while, Fnhon made a "3D forged" version of the handlepost, although these are now all but impossible to obtain. The normal ones are fine. Telescopic and fixed versions are available. Personally, I have tried both the 35cm and 37cm length variants of the fixed stem. While the 35cm (or shorter) variant favour a more aerodynamic riding position, I prefer the 37cm variant on relaxing rides as my arms get fatigued more easily with the 35cm. That said, I am 181cm tall so you might prefer something shorter/ longer depending on your height. A note though if you fold your bike frequently–the 35cm variant seems to get in the way less than the 37cm variant, where the handlebar usually ends up contacting the pedal and thus impeding the folding process.
If you're wondering, the Litepro handlepost stems are compatible as well. The main difference is that the Fnhon handlepost stem is angled slightly more (about 5 degrees) towards the front as compared to the Litepro handlepost stem, so perhaps the Fnhon stem would be more suitable for those people who are taller or have longer arms.
Handlebars and grips
I use the Litepro Monster handlebar, which is the default, entry-level option for folding bikes and available for about $15 or less. Moving up, you can try a carbon handlebar if you wish to save a bit of weight.
Grip wise, I like the Ergon GP1 really much.
Headset
As pressing in the headset cups require a special tool, I asked Cyclicworkz to press in a set of Litepro headset cups for me. The headset also comes with bearings as well as the top and bottom crown races.
The headset itself is purportedly a "Litepro Plus H73". Apparently, there are quite a number of fake Litepros going around (although not all branded as "Litepro" alone are fake) and "Litepro Plus" verisons are ostensibly newer and more likely to be 'original'. I have tried both "Litepro Plus" and "Litepro" versions of the headset. Assuming that both versions are legitimate, there are actually at least two different crown race designs produced by Litepro. The one found on the "Litepro Plus" appears to be better, as the bottom crown race seems to meld with the headset bearings more readily, thus reducing the gap between the bottom headset cup and the fork by about 1mm.
The "Litepro Plus" version is sold by Cyclicworkz, Bike-20 and wheelonfire, all of whom you can approach on Carousell.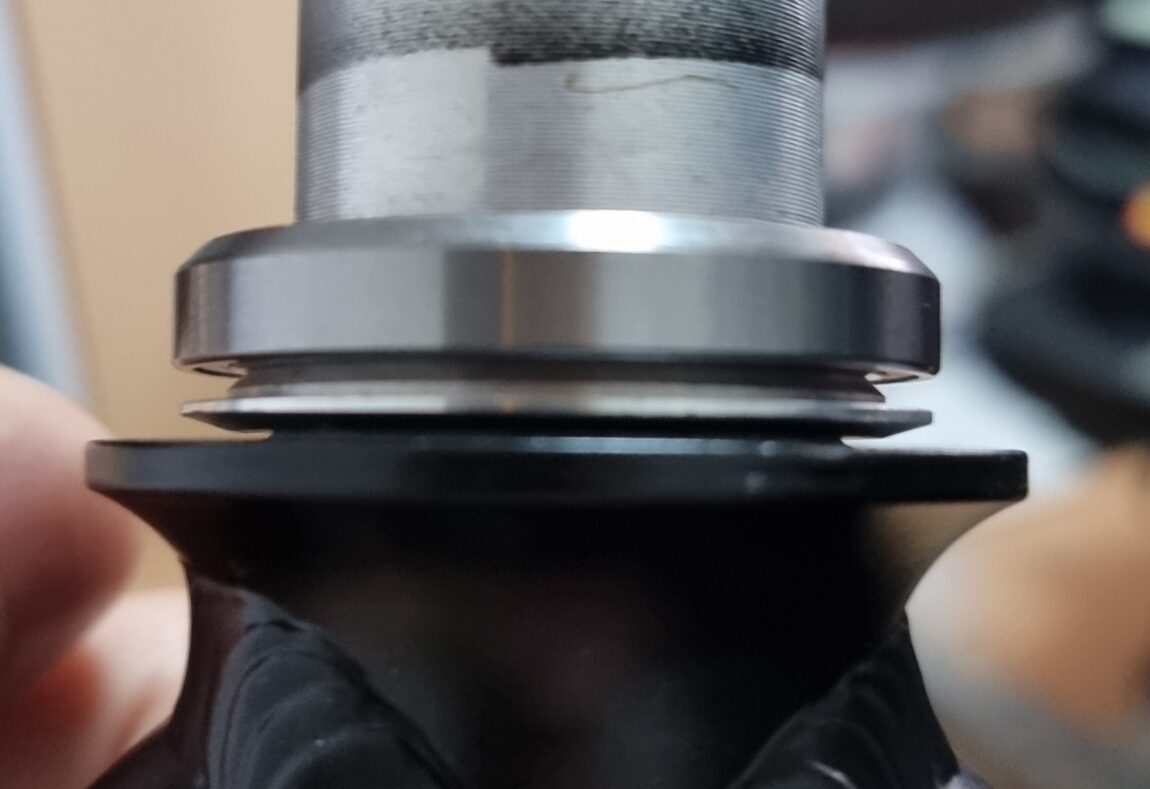 Brake levers, calipers, cables and rotors
I opted for the Shimano MT200 hydraulic brakes, which work sufficiently well in Singapore given that we don't really have that many steep descents. The good thing about the MT200 is that it is really simple to install, as the brakes already come pre-bled and the cables are already joined up for you.
If you get a MT200 with full packaging, the front and rear brake should be 1000mm and 1700mm respectively. I find this to be the ideal length and it gives you sufficient clearance even on the longest of handlepost stems. If you prefer using a shorter handlepost stem, however, there are some sellers on Carousell which sell OEM versions of the MT200 (without any packaging) with shorter cabling (e.g. 800mm and 1600mm).
For the MT200, as it comes in a "post mount" configuration and the bike comes with an "international standard (IS) mount", you will need to get an adapter to connect the MT200 appropriately. For the front brakes, you will need to look for a "0mm IS to Post" mount adapter which fits 160mm rotors. For the rear brakes, you will need to look for a "+20mm IS to Post" mount adapter. This works fine for the front and this works fine for the rear. From my experience, I've noticed two different types of 0mm and +20mm adapters. For the MT200, get the ones that look similar to the links I posted above. The MT200 does not require the use of any washers–using one would cause uneven pad wear.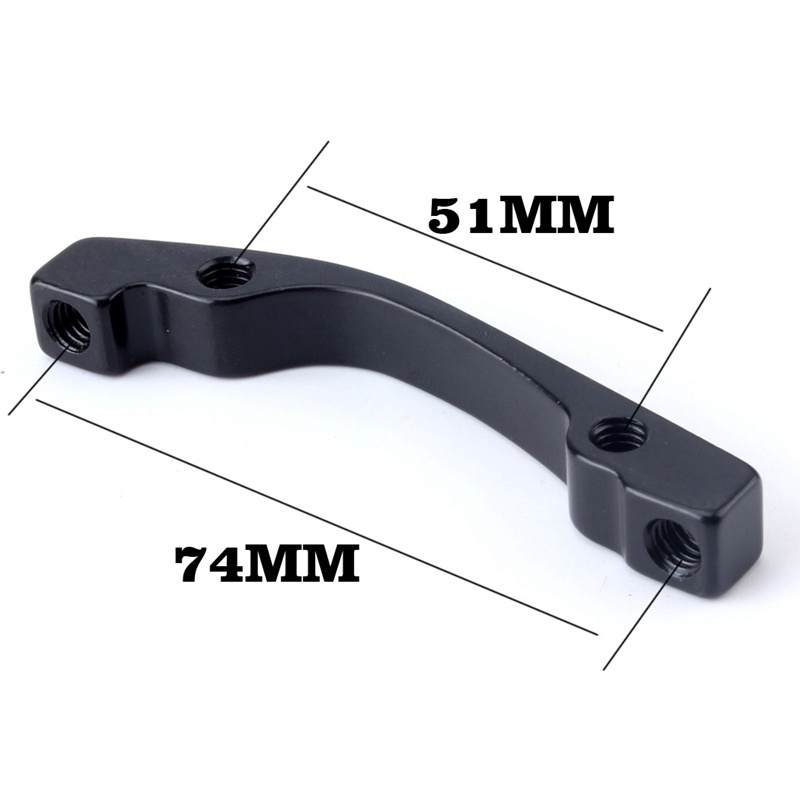 When installing the brake adapter, the arrow should be pointing upwards in the case of the front brake, and to the front of the bicycle in the case of the rear brake.
The MT200 also requires the appropriate rotors to be used. As the MT200 has a special, wide pad design, it is recommended that only compatible Shimano "wide" rotors be used. Unfortunately, this means you are restricted to a number of lower-end options from Shimano. I use the SM-RT56 rotors, which is the highest end of the cheap rotors. It works well for me so far and is very silent provided the rotors and pads do not get contaminated. I tried Avid HS1s as well, they do work fine in a pinch but will cause uneven pad wear and I find it to be slightly noisier (it has an audible 'gasp' whenever you brake).
Wheels, tyres and tubes
For this build, I decided to reuse the Litepro Aero 451 wheels which came on the Crius Master D and went out to buy another set of Litepro Aero 451 wheels as a replacement for the Master D.
As it turns out, not all Litepro Aero wheels are equal. For one, there are different spoke designs and apparently, different hub designs. In addition, some wheels are branded "TXB" whereas some come with "Crius" branding or are simply unbranded.
My two set of wheels come with the "Crius" branding. One of them has a "three-spoke" design on the rear wheel whereas the other comes in a more conventional pattern with three additional spokes.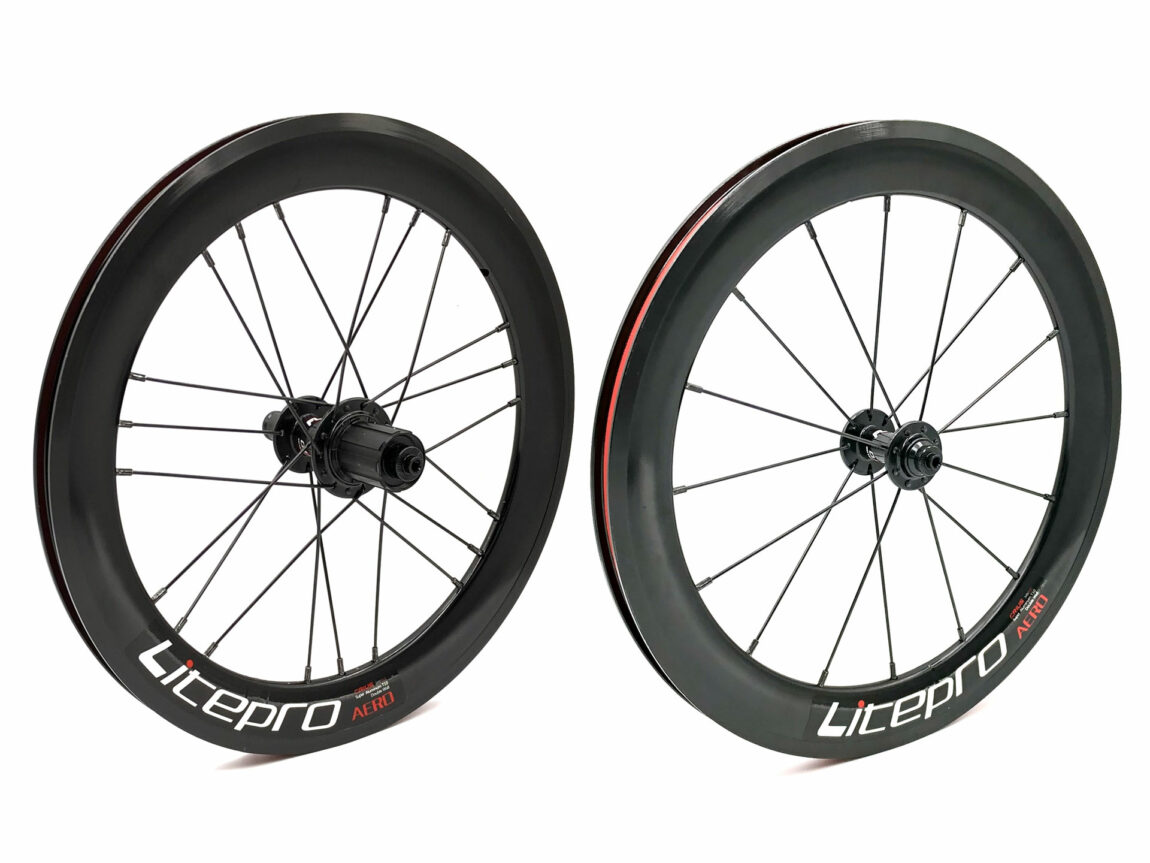 Personally, I prefer the "conventional" design as it has a quieter hub and spins with less resistance. The "three-spoke" design has a far noisier hub and does not spin as freely as the one with the conventional design. The only advantage of the freehub on the "three-spoke" design version is that it has five pawls instead of three, so when you start to pedal forward after freewheeling, it will 'bite' onto the teeth more quickly.
For tyres, I have tried both Kenda Kwest and Schwalbe One tyres, and both are pretty good. Tubes are those typical CST tubes which are very common these days. For these wheels with high-profile rims, it is best to opt for a tube with a 60mm long valve. I tried the shorter 48mm valve and it barely protruded out of the rim (although you can still pump air through it so I guess it will still work).
When installing, remember to install the rim tape which comes with the wheel! I missed that out on my first installation and the tube burst after pumping it up to 100psi…
The QR skewers which come with the bike are nothing much to shout about. I am looking to replace them with Shimano internal cam skewers which apparently clamp better.
The lockcap to access the freehub have to be unwound using two 17mm cone wrenches. You may have to use a set of locking pliers to pull out the other side after you've removed one side, though.
A note about 451 wheelsets — these wheels are really thin and has the tendency to skid on wet roads. On pavements, be really careful when you ride over drain covers when wet — do not attempt to turn the bicycle or brake while doing so. I also noticed sheltered walkways can get really slippery sometimes when wet.
Gear shifter, derailleur and cables
For the gear shifter and derailleur, I opted for the 11-speed Shimano 105 SL-RS700 and the RD-R7000 respectively. The SL-RS700 is pretty much the only 11-speed flat bar option out there from Shimano for road bikes, and I bemoan the lack of a shift indicator, though it is something you do get used to rather quickly.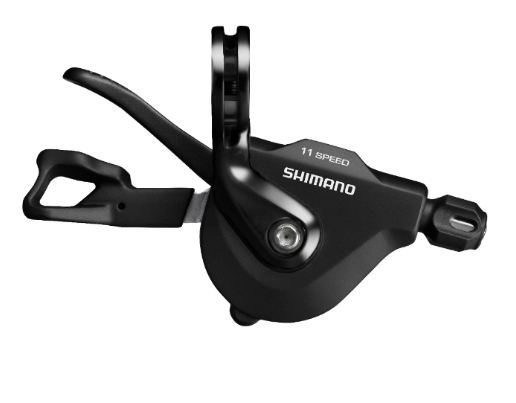 For the derailleur, I used the Shimano 105 RD-R7000, which, given the Ultegra's recent shift to electronic shifting, has become the current top-end mechanical derailleur in Shimano's road lineup. I had issues with gear tuning at first, which I resolved (somewhat) through aligning the derailleur hanger and ensuring that the cables are routed through the path of least resistance.
If you're looking to save some money, you can pair a 11-speed shifter with the cheaper Shimano Tiagra RD-4700 (note: only this particular model of the Tiagra!), which has the same cable pull ratio as the R7000.
And if you're deciding between a 9-speed Sora, 10-speed Tiagra or 11-speed 105, to tell you the truth, I do not notice a differnece in terms of shifting performance. What you gain is just more granular control over your gear selections (as you now have 11 gears instead of 9 or 10 to play with), although I realise that 11-speed is starting to get a little excessive. On hindsight, 9-speed is more than sufficient, but hey, the more the merrier, right?
Speaking of cables, I'm currently using Jagwire LEX-SL for the cable housing, and I believe Jagwire slicks for the cable itself. You also need to get yourself some cable end caps and crimp the wire at the end to prevent fraying.
Ideally, you want the cable to be long enough so that you can tie up the shifter and brake cables neatly, but not too long such that it affects shifting performance.
Cassette
I currently use a Shimano R7000 11-32T cassette, which I find to be the perfect range when paired with a 56T chainring. I tried the higher end Ultegra R8000 11-30T cassette briefly and didn't really notice a difference in performance (the difference is probably just that the R8000 series is slightly lighter), and I missed the extra 2T on the low end when climbing up steeper slopes. However, if weight matters to you, get your hands on an R8000 soon (there is also an 11-32T configuration available) because they're probably going to be phased out within the next two years due to the arrival of the new electronic-only 12-speed Ultegras.
If you have a freehub that can only accept up to 10-speed cassettes, try going for a CS-HG800-11 cassette instead. Offered in configurations beginning from 11-34T and higher, you are able to fit in a 11-speed cassette in a 10-speed freehub. Conversely, if you want access to a higher gear range on a 11-speed freehub, you can use the CS-HG800-11 cassette but you will need to use a 1.85mm spacer with it.
There are offbrand cassettes available such as those from "Sunshine". Personally I would stay away and go with a tried-and-tested brand as much as possible.
Chainring, Crankset and Pedals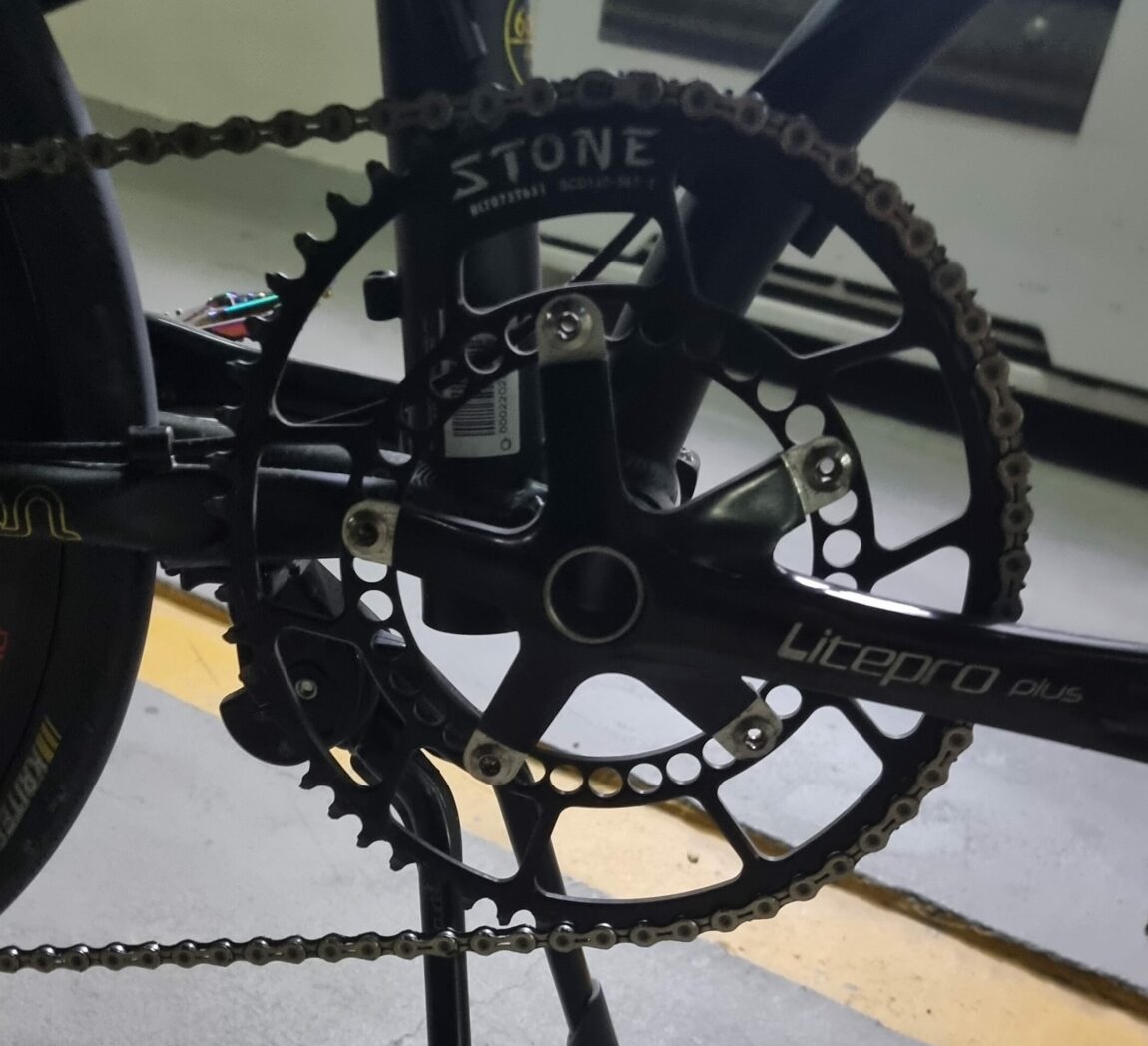 I used the Stone Oval 56T chainring on this bicycle. To be honest, after a couple of rides, I don't really feel any difference between a conventional chainring versus an oval chainring, but this one is good so I'm sticking with it. If you're looking specifically for an oval chainring, I would recommend the Stone over Litepro as this has narrow-wide teeth and thus less prone to chaindrops as compared to the Litepro.
The crankset is a typical one from Litepro. I opted for a more conventional design as opposed to those "super-light" kinds such as those from Bolany as those are known to crack after a while. Safe, rather than sorry.
Pedal wise, I opted for an "oil-slick" coloured design just to add a dash of colour to the bike. I have not experimented with quick release pedals or those that are suited for cleat shoes. A thing to note about pedals are that many options out there have really sharp "spikes" at the top presumably for those using cleat shoes to get a better grip. In practice it just means lots of accidental cuts…
Seatpost and Saddle
As I covered in my earlier article, the Litepro A62 is my seatpost of choice, although it only comes in black. If you're lighter and wish to add a dash of colour, you may wish to try the Litepro A61.
Saddle wise, I didn't opt for anything fancy but went for those foam cushion kind which is adequate for long rides.
Chain
I use the KMC X11EL chain which has been serving me well. It uses reusable quick release links so taking the chain off for cleaning is not much of a hassle. Be wary of fakes, though. It's best if you buy from a reputable local bike shop (such as Lew Bike Scooter in Hougang/ Punggol), or if buying online, read reviews before purchasing. Chains that are priced too cheaply (below $40) are likely to be fake. Apparently, KMC chains that reference "KUEL MENG" instead of "KUEI MENG" at the back of the box are likely to be fake too.
The reason why I chose KMC over Shimano is that it's easier to maintain. With Shimano, quick links are non-reusable (although I guess there wouldn't be anything wrong if you were to reuse them once or twice…) and the chain is directional, so you need to exercise a little bit more care when installing the chain.
If you're looking for the cheapest, decent quality chain, head over to Decathlon. Their chains are rebranded from KMC's Z series, which is KMC's lower-end range but still perfectly serviceable. At less than $20 per chain, the chains get sold out rather quickly, though. The quick links use the non-reusable type and are really difficult to put on/ remove for some reason, but Decathlon chains offer very good value for money.
I use Finish Line's Ceramic Wax to grease the chain.
A Great Experience
Overall, I had much fun building my Fnhon Tornado from scratch and I guess I'll be sticking to this bike for the foreseeable future.