Update 10/10/16: Season 2 of the National Steps Challenge is now here! I've done a write-up about it here.
Update 17/4/16: I've been using the Actxa tracker for three months now and have experienced a few syncing hiccups along the way. Scroll down or click here to find out how I resolved them.
In November last year, the Health Promotion Board launched the inaugural National Steps Challenge. As part of the challenge, early birds would receive a complimentary Actxa Stride step tracker (pictured above), whereas those who missed the early bird deal will pay only a nominal fee of $5 (or $20 for foreigners). Of course, this isn't relevant any longer since registration is now closed. However, I only managed to receive my step tracker in late January, after missing my earlier appointment in mid December 2015.
Healthy 365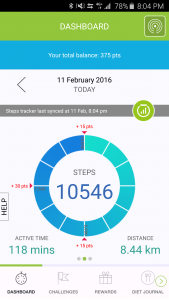 Everything works via the Healthy 365 app, which can be downloaded from the Google Play or Apple App Store.
Once done, you simply pair the tracker to your phone. I had quite some difficulties pairing the tracker to my Samsung Galaxy S6. I then realised that pairing it in my office wasn't the wisest thing to do–my phone detected three of the same fitness trackers, which were probably worn by my other colleagues…
After restarting Bluetooth and the app a couple of times, I finally got the tracker paired.
The user interface of the Healthy 365 app isn't exactly user friendly, but it works. I had to mash random buttons just to found out which one would sync data from my watch. When it works, it's pretty fuss-free. Unfortunately, most of my attempts in syncing resulted me in having to restart the app and Bluetooth multiple times before it would read my steps.
The Tracker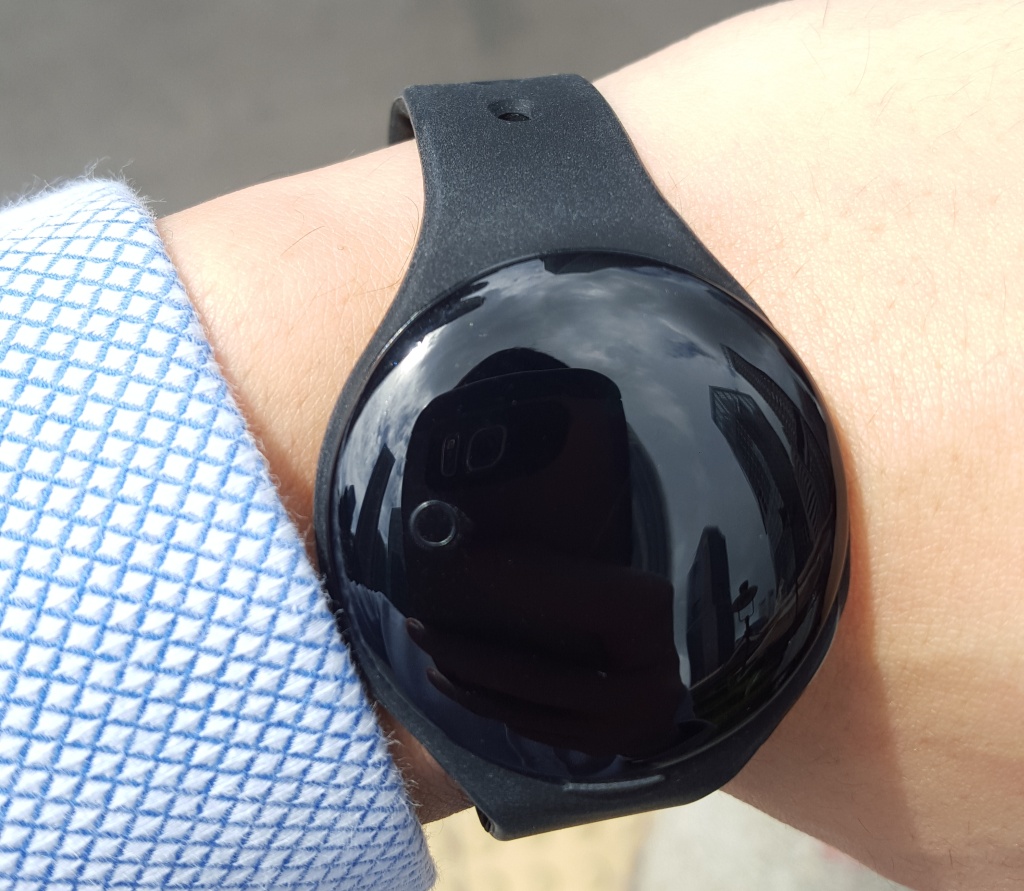 The tracker itself, a Actxa Stride, is worthy of some mention. It doesn't look out of place, nor does it scream "I'm more than a watch!" right at you. In fact, while wearing it around the office over the past week, decked in typical office wear and all, the Actxa Stride went mostly unnoticed, which I felt was a good thing.
HPB claims the tracker to have a battery life of about a week. So far, I haven't been able to put their claims to test as I charge it every two to three days, by which time the battery bar shows 3 out of 4 bars.
Speaking of charging, this thing charges via microUSB. There's a short 10cm cable bundled out of the box, though I'm simply just using the same cable as I use to charge my phone.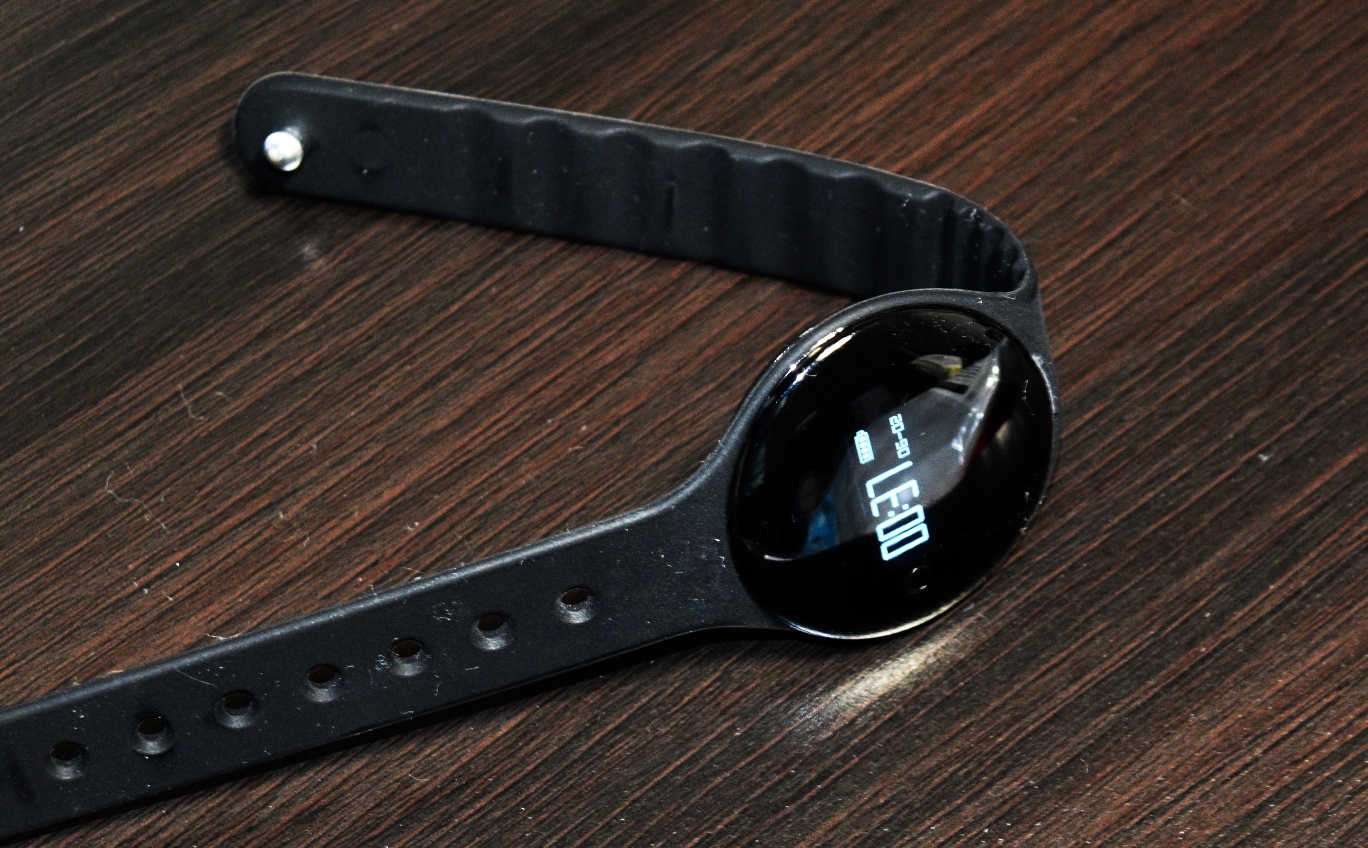 It's been a while since I wore watches on a regular basis. Putting on the Actxa Stride immediately made me realise what I missed most about wearing a watch–it tells the time (and date)! Flicking your wrist is surely more convenient than whipping out your phone from your pocket.
The OLED display on the tracker is beautiful and puts my other digital watches to shame. A built-in accelerometer means that if I flick the watch towards me, the display will light up, showing the time, and then the number of steps walked during the day if I hold my wrist in the same position long enough. Alternatively, you can tap on a small circular sensor on the screen, which will light up the watch immediately.
By the way, I must mention that the OLED display is just a two-line rectangle screen cleverly nestled within a dark, circular frame. Clever touch.
For the price of free, you wouldn't expect the tracker's screen to be covered in Gorilla Glass, or even glass for that matter. After a few days, my tracker has already a couple of hairline scratches. I'm not too sure how they got there, and I don't really care.
I wasn't sure if the Actxa Stride was water-resistant, so I consciously avoided water contact whenever I washed my hands. After a few days, I thought the Actxa Stride was a normal watch (it certainly feels like one!) so I put it under water for a short while. No damage done.
As it turns out, the Actxa Stride is indeed water-resistant, and if what Actxa claims is true, you can even shower with it.
Incentives
Apart from the novelty and satisfaction of having walked so many steps in a day, the reason I'm still wearing this tracker is because HPB incentivises me to do so.
If you walk 5,000 steps in a day, you earn 15 points. This goes up to 60 points if you walk 10,000 steps a day.
The points add up to rewards. 600 points entitles you to a reward worth $5 or more; an additional 1,800 points entitles you to an additional reward worth $15 or more; a further 1,200 points entitles you to another reward worth $10 or more.
As it turns out, hitting 10,000 steps per day isn't difficult. I've been averaging about 13,000 steps a day, with the exception of Chinese New Year where all I did was sit around, eat and gamble. All I wish now is for HPB to award more points to people who walk more than 10,000 steps. 🙂
Season 2, maybe?
As of the time of writing, I've only accumulated a grand total of 495 points. This means I've no rewards to speak of. The contest ends in May, so hopefully I can manage to reach 3,600 points by then, which will entitle me to all the rewards available.
Of course, I wonder if I will have a dedication to continue using the tracker over the coming weeks, or after the contest has ended. For one, it makes for a great watch that needs no calibration (it automatically updates the time whenever it syncs with your phone). More importantly, it makes me want to walk more; even with no rewards, you get an awkwardly satisfying feeling when you look at number of steps you've clocked at the end of the day.

I'm hoping that the National Steps Challenge will extend to season 2 and beyond, together with more challenging incentives that will encourage me to walk even more.
Addedum: Syncing Issues and Fixing Them
As I write this, it has been approximately three months since I've started wearing the step tracker. I have already claimed the first two tier of rewards; one final tier awaits. However, I have experienced syncing issues from time to time.
Most of the time, such issues are minor and a simple toggle of Bluetooth and re-opening the app generally resolves things. However, there were two occasions where even restarting the phone would not help.
If you're in a similar situation as me, don't despair. Reinstalling the app will probably solve the problem. In my case, on a Galaxy S6 (it should apply to any Android phone as well), navigate to Settings, then Applications, and find the Healthy 365 app. There, select "Clear Data", which essentially restores the app to its original state. From there, launch the Healthy 365 app again.
Under the default dashboard, there should be a question at the bottom, asking if you have updated your profile yet. Click on that, and login to your existing profile. From there, you will be given the option to pair your step tracker once again. Cross your fingers, and chances are that it will work again.