After last year's travesty of a song, the organising committee of this year's NDP came up with what I thought was a rather brilliant idea: to take an old song that most Singaporeans could identify with and bring it into 2018.
The result, perhaps in part due to Charlie Lim's artistry and the ensemble cast of local singers, including Joanna Dong of The Voice of China fame, was one of the more memorable National Day songs of recent years. As usual, the music video tries its best to be 'all-inclusive' (in inverted commas because the government current stance on inclusiveness doesn't extend to the LGBT community), but this time there was an air of sophistication to the video, rather than outright cheesiness, perhaps due to the efforts of the video editors who applied consistent but not overdone colour grading throughout (notice the ever-so-slight sepia overtones throughout?). Unrelated bit of trivia: the husband of the music video's director, Wee Li Lin, happens to share the same name as Charlie Lim.
While people don't usually care much about the accompanying music videos, these music videos make for an excellent tool to take you down memory lane.
For example, while we now celebrate National Day based on the number of years since independence, based on the video for Stand Up For Singapore, we know that as late as 1984, we counted the number of years from 1959, the year in which Singapore attained internal self-government.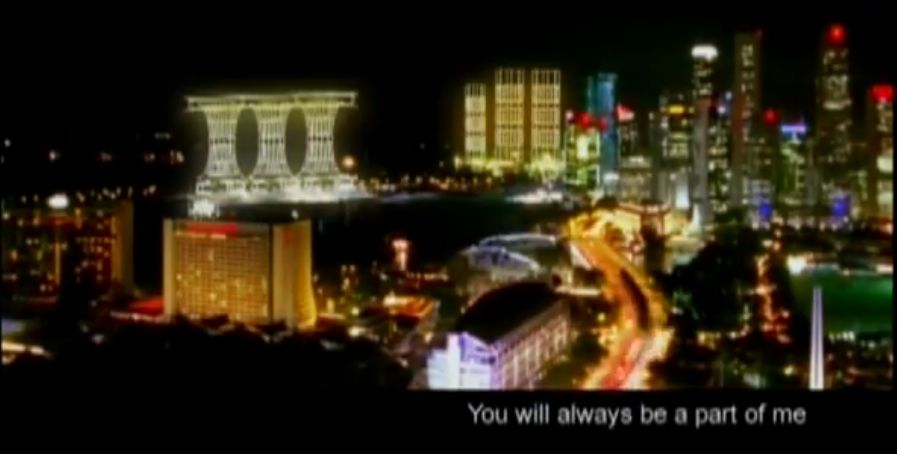 Meanwhile, at 2:41 of the music video of 2006's My Island Home, you could see a vision of Singapore's future, with a computer-generated outline of Marina Bay Sands and Marina Bay Financial Centre interposed on to the existing skyline back then. It dawned upon me just then that the things that are integral and most representative of Singapore's skyline today weren't even there a decade ago.
While the video of 2001's Where I Belong isn't outstanding by any means (perhaps due to the 240p image quality), the song remains my favourite by far, seventeen years on. Perhaps it was because I was a primary school kid at the time and we were forced to learn that song. Or maybe it brought me back to a time where the world was very much different–this was a month before 9/11, before the word "terrorist" became a part of everyday language. But I thought it was a very meaningful yet upbeat piece and I would definitely choose it over Home any day. Sadly, it remains forgotten by most and wasn't even voted one of the top five national day songs in a Channel NewAsia poll.

What is your favourite National Day song?