I've always had a knack for using gaming mice for productivity purposes.
Introduction
I've been chugging along with a Razer DeathAdder v2 since January last year. To me, it was a familiar return to form, after a brief dalliance with the CoolerMaster MM720 and Logitech G403 wireless, since I've been using DeathAdders (and previously, the Diamondback Plasma LE, which lasted me a good five years until I smashed it a little too hard in a fit of gaming anger) since its first iteration.
Yet, having been used to the Logitech G604 in office and now having to work from home for the larger part of the past two years, the DeathAdder v2 felt slightly inadequate. Not in terms of sensor performance, for the PixArt 3399 sensor is pretty much the best in the market today, but rather, the scroll wheel which looks ordinary in comparison to the more versatile G604 which comes with horizontal scrolling capabilities and an infinite scrolling mode. Granted, for pure gaming, where having the lowest possible weight seems to be the end game rather than quality-of-life features like horizontal and infinite scrolling, this may not be much of a concern, but for mixed and productivity uses such features are greatly appreciated, at least for me.
So when the rubberised edges on my DeathAdder started peeling (in part due to Singapore's extreme humidity) and my right click button suddenly felt "loose" perhaps due to plastic fatigue, I thought of looking for a more productivity focused mouse. For home use, I didn't want to contend with changing batteries or plugging in a cable every now and then and so my preference was towards a wired mouse. I also wanted a reasonably high DPI because I would be navigating across multiple high-DPI screens, so the 4,000 DPI on the MX Master 3 and other Logitech non-gaming mice felt too limiting (I currently run my DeathAdder V2 at about 4,000 DPI without mouse acceleration).
As it turns out, there were only two options in the market which comes with both horizontal and infinite scroll functionalities — the Logitech G502 HERO and the Basilisk V3. Released in 2018, the G502 HERO has some extra features such as weight tuning and is available at around $60 these days from Lazada or Shopee, its angular looks just doesn't appeal to my taste, plus there have been complaints about double clicking issues. The Basilisk V3, released late last year, looks more refined in comparison, though it's probably too early to conclude on durability. Sensor wise, both are similar, with the G502 HERO spotting a 25,600 DPI sensor versus the 26,000 DPI on the Basilisk V3. Realistically, I think anything above 6,000 DPI is overkill at this stage, though as we move to 8k screens in future, perhaps the higher DPI would come in handy.
Design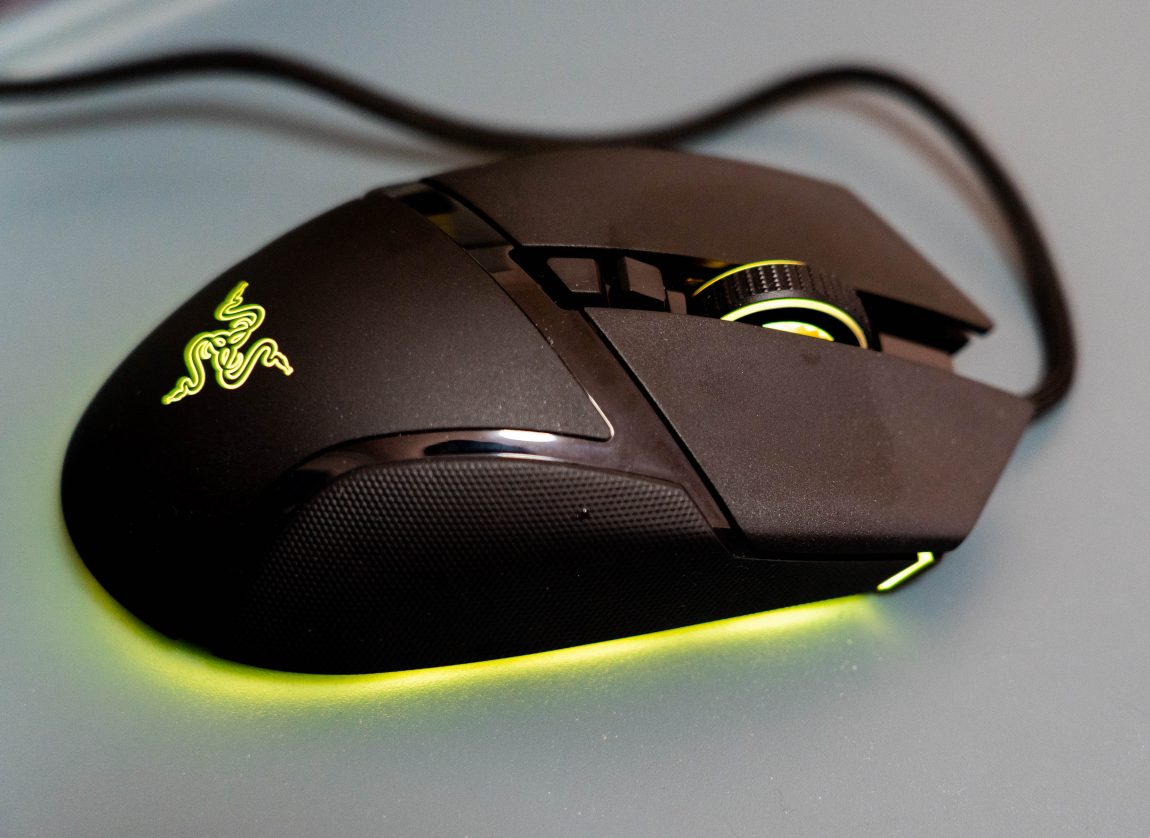 The Basilisk V3 looks really good in person. Despite its bulbous shape, it doesn't feel unwieldy to hold, although its 103g weight would probably make it unsuitable for someone looking for a lightweight gaming mouse. Shape-wise, it is similar to the Razer ProClick, with the Basilisk V3 being slightly smaller and just a couple of grams lighter.
The sides of the mouse are coated with soft-touch rubber, as par for the course for most Razer mice (notable exception being the original DeathAdder). The top of the mouse feels slightly rougher, though, with less of a rubbery feel. Hopefully, this makes the mouse buttons look less aged over time.
Excluding the two main buttons and the scroll wheel, the Basilisk V3 comes with five other programmable buttons on the front and left side, plus another programmable button on the underside which is used to cycle between profiles by default. Of the three buttons on the side, one of them is programmed as a sensitivity clutch by default, has a slightly more matte texture than the other two side buttons and is designed to depress at an angle (instead of directly inwards), lending it the feel of a "press-and-hold" key, which admittedly feels really good.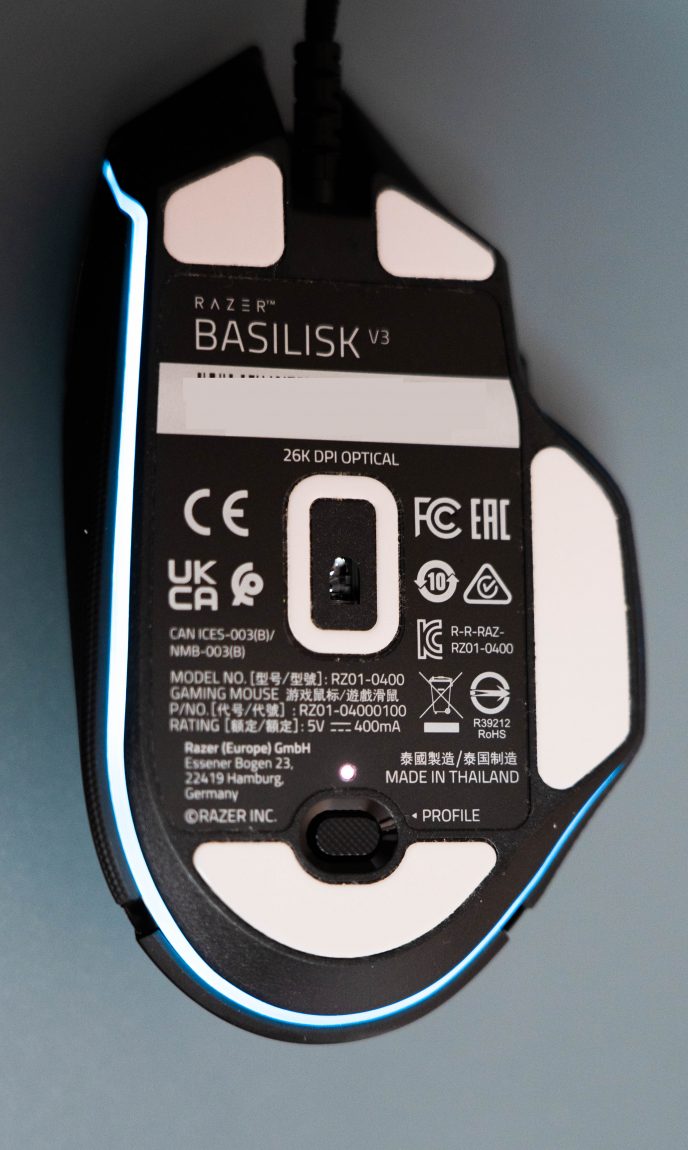 With generous amounts of PTFE mouse feet pasted on the underside of the mouse, the Basilisk V3 glides very smoothly across even on my cloth mousepad. Lifting the mouse requires a little bit of effort though, due to its weight.
Superficial as it sounds, my favourite part about the Basilisk V3 is its RGB underglow. Against a black mousepad, it looks really great, yet not overly gaudy. While the mouse is configured to show just one colour at a time by default, using Chroma Studio, the underglow area has nine separate customisable zones for you to choose from, plus two additional zones at the scroll wheel and Razer logo respectively.
Scrolling
I've done a bit of cursory 'research' myself, and coupled with some personal experiences of my own, I think the types of scroll wheels on the market today can be broadly classified into the following categories:
Vertical scrolling only (e.g. Razer DeathAdder V2 and most other mice)
Vertical scrolling only with 'freewheel' or infinite scroll function (e.g. Logitech POP Click, Logitech Signature M650)
Vertical and horizontal scrolling (e.g. Razer ProClick and many Logitech mice)
Vertical and horizontal scrolling with infinite scroll function (e.g. Logitech G502, Logitech G604, Razer Basilisk V3)
Magnetic vertical and horizontal scrolling with infinite scroll function (e.g. Logitech MX Master 3)
Having been spoilt by my Logitech G604 previously, I think having an infinite scroll function is invaluable. To that end, some of Logitech's recent productivity offerings, the Logitech POP Click and Logitech Signature M650, incorporate an infinite scroll function that automatically activates once you scroll past a certain velocity. It works quite well, although unfortunately, it does not also scroll horizontally.
Meanwhile, the venerable Logitech G502 and G604 incorporate both an infinite and horizontal scroll which works quite well in practice. The switch between "normal" and "infinite" scroll modes is done manually, however, by depressing a mechanical lever right beneath the scroll wheel, so some may find it inelegant.
Of course, there's also the electromagnetic scroll wheel of the Logitech MX Master 3 which sounds amazing on paper. Yet, in practice, I've found that the magnetic wheel on the MX Master 3 often cannot keep up with your inputs. So, for example, if you are scrolling through a document quickly with an up-and-down motion, the MX Master 3 takes some time to register the inputs and sometimes, if it is too overwhelmed, it will disregard certain inputs. To me, this is a deal breaker.
Then, we come to the scroll wheel of the Basilisk V3, which I find to be almost perfect. Out of the box, the Basilisk V3 is configured like a regular scroll wheel, with indented scrolling. Depress the button below the scroll wheel (or any other button, for that matter), and it switches to infinite scroll mode with an audible "tick". Unlike the G502 or G604, the button is not a mechanical switch but rather "fly-by-wire" — the button probably activates a switch that depresses or releases a "clutch". The advantage to this is that you can remap any other button to toggle between the scroll modes rather than having it fixed to the one right below the scroll wheel. Through the Razer Synapse software, you can also configure the scroll wheel to auto toggle between normal and infinite scroll modes depending on the velocity. As you would note from the above video, this works quite well, although the audible tick may be a turn-off for some (which is why it's only "almost" perfect).
If you're worried about having to install Razer Synapse wherever you go, I tested the mouse on other devices including my Android phone and an iPad. To my surprise, the switch betweeen normal and infinite scroll mode works even without any software installed. The auto toggle feature also works. Thus, short of the advanced Razer Chroma features which require Chroma Studio to be installed, you can enjoy most of the functionalities of this mouse on your office laptop even if you are unwilling, or cannot, install the Razer Synapse software.
Personally, I feel that the Basilisk V3's scroll wheel is the best and most versatile on the market right now, at least for productivity purposes, and I hope Razer brings this over to their wireless offerings soon.
Performance, Features and Software
I don't game, so I cannot really comment on the gaming performance of this mouse. For productivity purposes, however, it seems to work very well at my DPI setting (4,000), with no jittering or auto correction. I noticed that the mouse cursor moved a little sometimes even when it is stationary; for that, correcting the calibration distance in the Synapse software seemed to resolve things.
The Basilisk V3 comes with five onboard memory profiles, so you can carry over your settings across different systems. As far as I can tell, most of the functionality of this mouse, including the Hypershift layer, can be accessed even without Synapse installed. I'm glad to see that Razer is moving things in the right direction in terms of software. It was not too long ago when Razer caught lots of flak by forcing people to register for an account and log in before they could access Synapse. Thankfully, Razer seems to have realised its error and has started making amends.
Conclusion
If you're looking for a high DPI productivity-focused mouse and do not require wireless functionality, the Basilisk V3 is probably the best option out there. If Razer were to update its wireless variants of the Basilisk with the updated scroll wheel found on the Basilisk V3, I honestly think that it would become a far better option than Logitech's MX Master 3.
The Basilisk V3 typically retails for $109. However, I found it on Amazon Singapore (fulfilled by GamePro Shop) at just $81.90. You can buy it here (note: this is an affiliate link and I may receive some commission if you buy it through the link).