At S$649, the 32UN650 is probably the most affordable 4K 32″ IPS monitor you can get on the market these days.
Introduction
About a decade after the first 4K TVs hit the market, 4K monitors are finally on the cusp of becoming mainstream. In particular, prices of 27″ and 28″ 4K monitors have dropped rather dramatically. Last June, I was able to snag an Acer CBL282K for just S$389 at Challenger (though the price has since gone up to S$428). There are also a number of high refresh rate options available, such as the LG 27GP850 which supports up to 160Hz.
Unfortunately, the market for 32″ 4K monitors is not quite mature yet. The majority of affordable panels out there are of the VA type. While VA panels boast higher contrast ratios than IPS panels, they also have poorer viewing angles, which becomes more crucial with a larger panel, where there may be slight colour shifts at the sides even when looking at the screen straight on at normal monitor viewing distances. IPS panels, on the other hand, are pricier. I guess most people do not require such a large screen. However, for me, I find a 32″ 4K monitor to be the perfect screen for productivity purposes. You can potentially snap four Full HD 16″ equivalent windows within your field of view, without having to turn your neck (as you would have to on an ultrawide display). At 32″, a 125% scaling ratio also becomes quite comfortable.
Below S$1,000, the only IPS models that support a wide colour gamut (i.e. wider than sRGB) are the LG 32UN650, which is the subject of today's review, and the recently released Dell G3223Q, which is a 4K 144Hz panel that typically goes for just S$899 (U.P. S$1,279) when it is on sale on Dell's website. Unfortunately, the G3223Q has a known image retention issue, which leaves the 32UN650. [Correction: the HP U32 is also available at S$749, and features 99% sRGB and 98% DCI-P3 and is factory calibrated. The only con is that it does not support 10-bit colour and HDR at the same time (though each feature is available independently).]
Up the chain, you do get more attractive high refresh rate options (at least on paper), such as the Gigabyte M32U and the Gigabyte Aorus FI32U. I actually purchased the latter monitor at first, for S$1,399 at Tradepac. Unfortunately, the first FI32U unit that I used had poor colour uniformity (there was a vertical strip that was slightly greener than the rest of the screen, most noticeable on a white background) and the replacement FI32U unit which I got was even worse (the right 1/3 of the screen had a pink colour tint). While it's not noticeable when gaming or watching movies, given that my needs are productivity-focused, it becomes a big distraction.
Since one doesn't get to play the panel lottery here in Singapore (there is no such thing as a return over here, and an exchange is very hard to get unless it's clearly faulty), I decided to cut my losses and check out the 32UN650, which costs nearly half that of the FI32U. Does it live up to my expectations? Let's find out.
First Impressions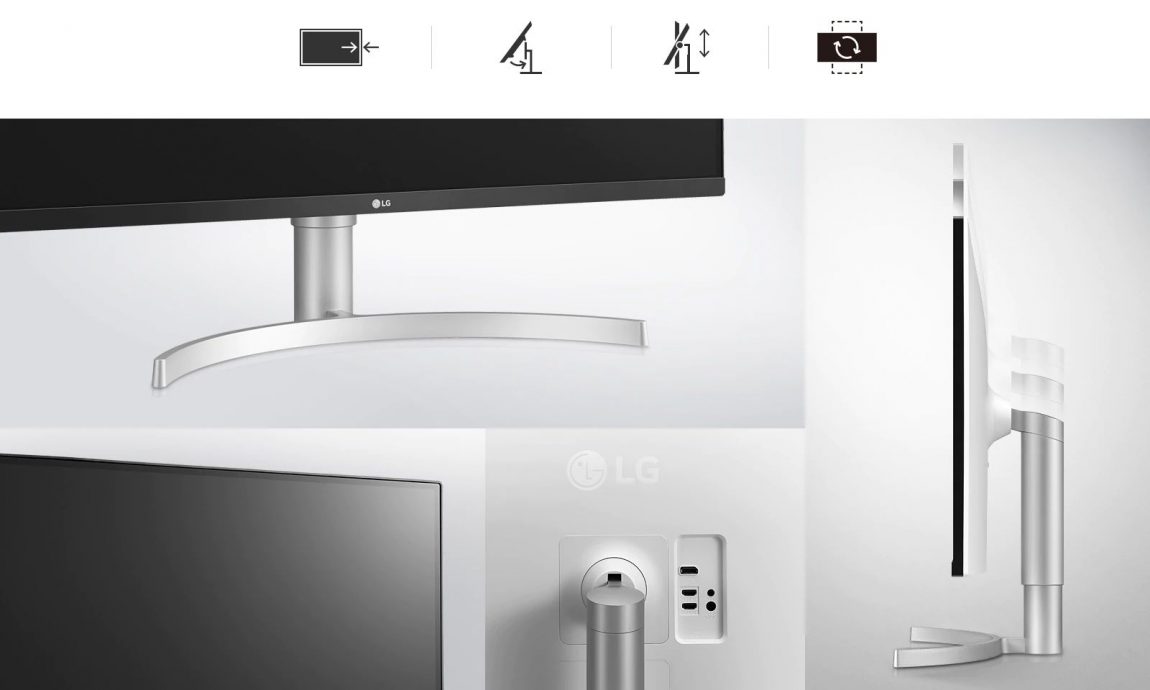 The 32UN650 has a two-tone design, with black bezels in front while everything at the back is white. It comes with a silver-coloured stand that supports height adjustment, vertical tilt and rotation. You cannot horizontally tilt the monitor, however. The stand clicks into the monitor rather easily.
That said, I did not use the stand at all, because I already have an existing VESA wall mount. The 32UN650 supports a 100mm x 100mm VESA clamp.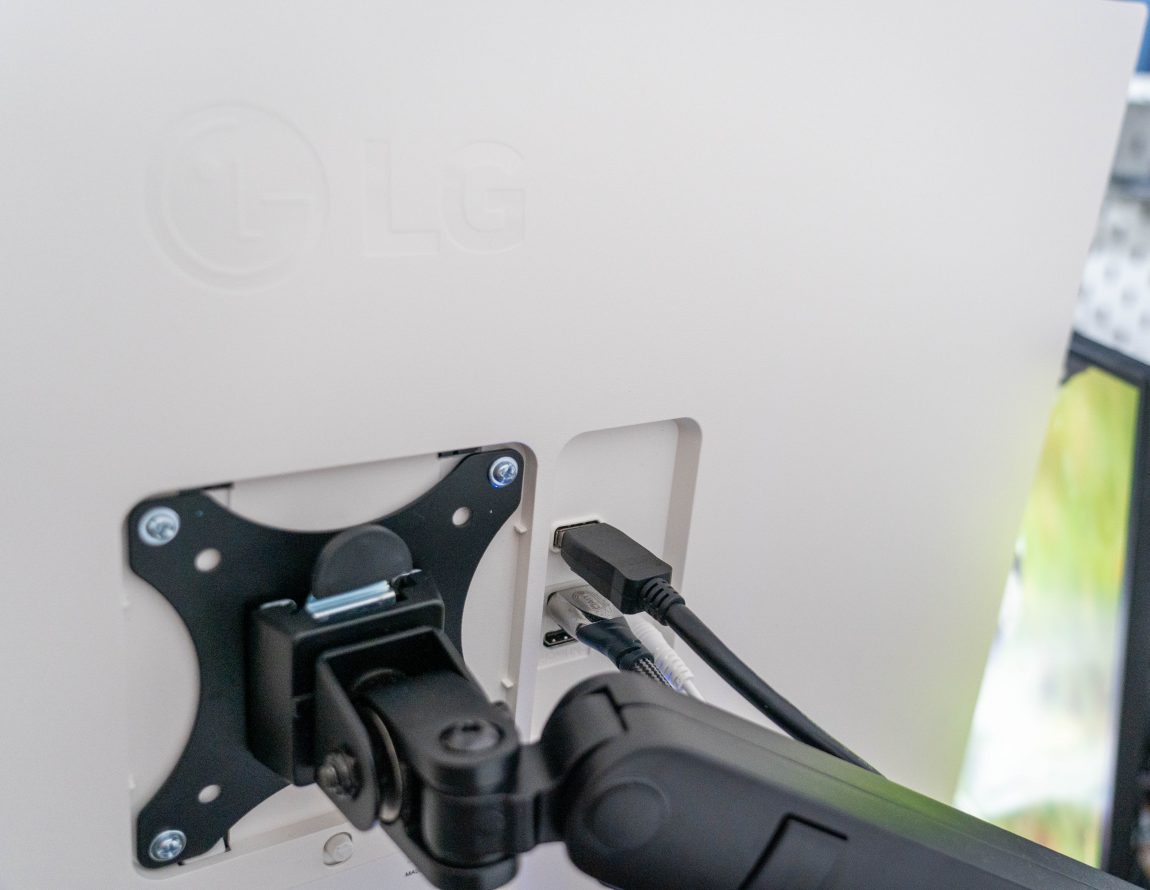 Unlike any other non-LG monitor I have ever used, the ports on the 32UN650 are perpendicular to the rear of the display. Although this makes it really easy to plug in your input cables, it does look a little unsightly when viewed from the back and may potentially interfere with your monitor arm. The input ports are limited to two HDMI 2.0 ports and a single DisplayPort 1.4 port.
The 32UN650 (and its other LG brethens) is also unique in that it does not have an internal power supply. Instead, much like a laptop, you plug in a round-pin power cable to a power brick which you then plug into the mains. I would've much preferred an internal power supply, for regular three-prong cables are much easier (and cheaper) to replace.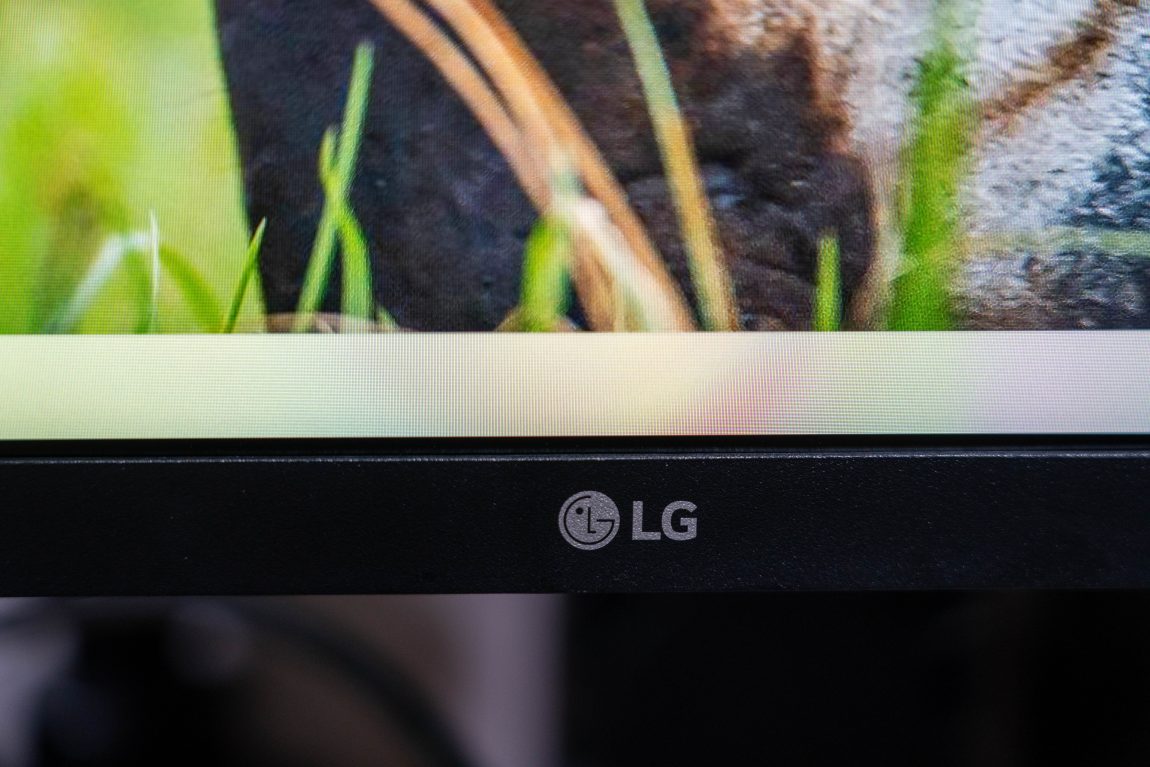 As with most monitors these days, the 32UN650 has a slim bezel design, where the top and sides of the monitor appear to be nearly bezelless, but with a chin at the bottom. The edges of the bottom chin, however, looks a little jagged and unpolished, which makes the monitor feel slightly cheap.
OSD and Features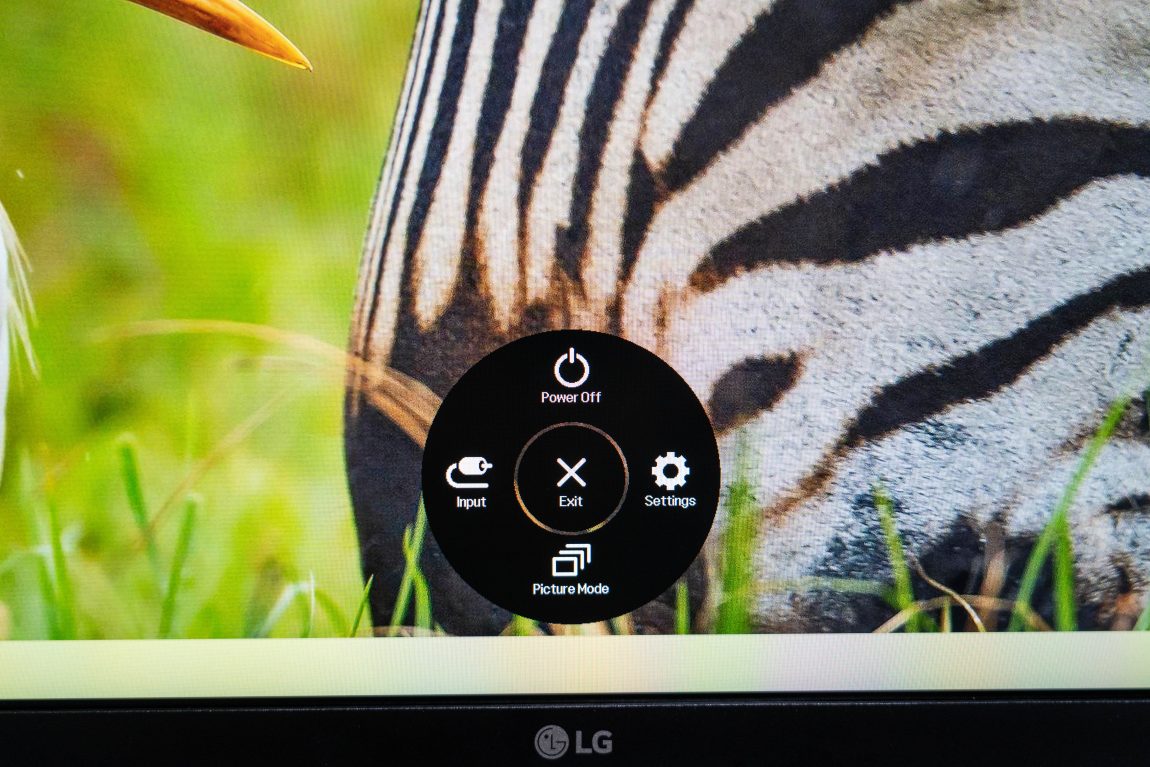 The 32UN650 is controlled by a single joystick button on the underside of the panel, beneath the LG logo. The OSD is generally quite intuitive, although there is no direct shortcut to adjust brightness or contrast (nor can you customise the quick menu options).
The feature set of this monitor is unfortunately quite barebones. First of all, there is no option to automatically switch inputs. While this won't matter much if you're just connecting the display to a single computer, it becomes a bit of an annoyance for someone who needs to regularly switch between, say, a gaming console and a PC, or a home PC and a work laptop.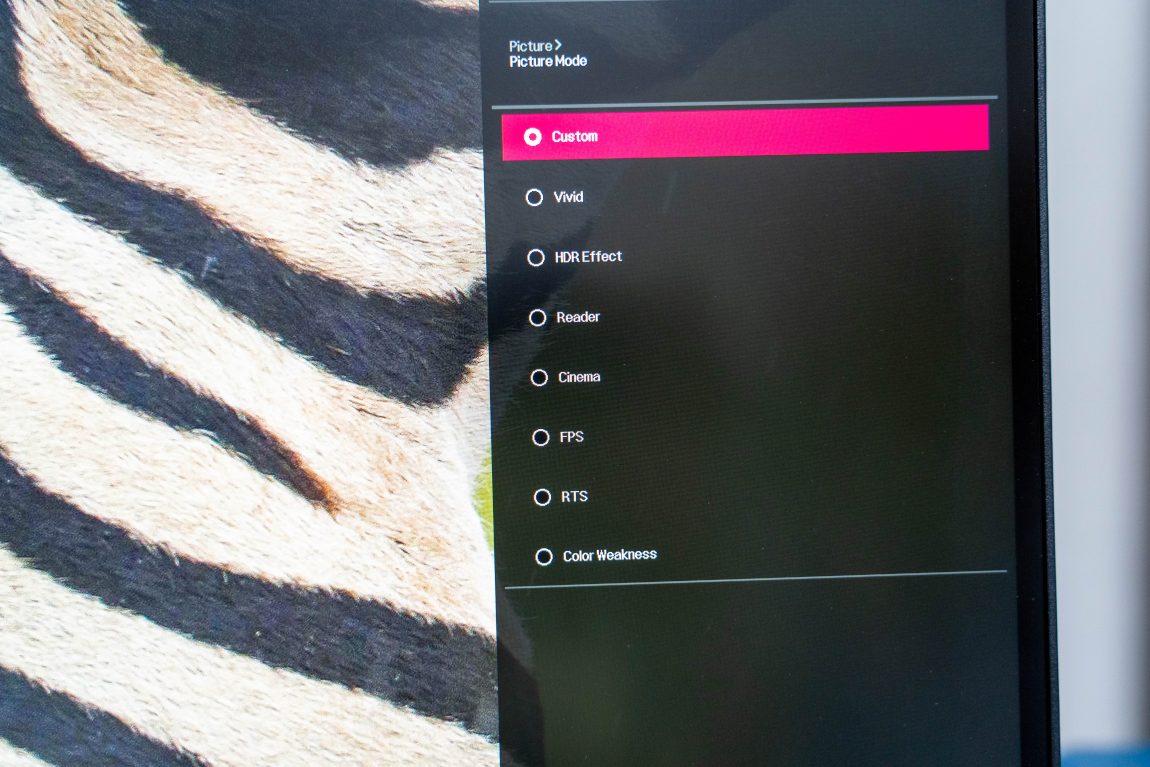 There is also no emulated sRGB mode on this monitor — for that feature, you have to step up to the higher-end 32UN880, which ironically uses the exact same panel. Given that the monitor is a wide colour gamut panel which has a colour coverage greater than the sRGB spectrum, this means that the colours on this panel would generally look over-saturated in places such as the Windows desktop and most Windows applications. That said, if you have an AMD or Nvidia graphics card, there are ways to "clamp" the sRGB colour gamut. On Intel, you have to use an application called "dwm_lut" and generate a compatible LUT file using DisplayCAL. Alternatively, if colour accuracy is not a main concern and you just want to tone down the colour saturation, the OSD thankfully supports 6-axis hue/ saturation adjustment. Adjusting the saturation from about 50 to 45 gave me rather acceptable results in normal use.
There is also only one custom picture mode, so you cannot have various custom presets. There is a "Color Weakness" mode which caters to those who are red/green colour blind.
There are built-in speakers, which, like most built-in speakers on monitors, are tinny and abysmal. That said, it's able to get quite loud.
Panel Quality, IPS Glow and Uniformity
According to DisplaySpecifications, the 32UN650 uses a BOE MV315QUM-N20 panel. The panel has a slightly grainy matte coating to it (as compared to the Gigabyte Aorus FI32U which looks clearer in comparison), but it's probably something you will barely notice at normal viewing distances for a 32″ panel.
The actual panel is very, very slightly recessed from the black border, so if you look at the panel from an angle, you do see a bit of a 'shadow' at the sides, and if you were to draw, say, a 1 pixel line on the edges of the screen, it may have a slight shimmering effect or may 'disappear' if you look at it from an extreme angle. As an example, the Windows 10 taskbar has a horizontal line beneath each active application. When you view the screen from the top, the line seems to disappear beneath the bezel. It's an interesting observation, though it shouldn't be of any concern in the real world at normal viewing angles.
Viewing angles are very good. On my swivel chair, swinging myself left and right did not result in any perceptible difference in contrast or colours.
My unit had no observable bright or dead pixels, though your mileage may vary. [Update: While there was no bright or dead pixels, I noticed a tiny piece of dust stuck under the screen (about one pixel wide). I managed to get the panel replaced; however, the replacement panel also had a dust stuck under the screen and had quite severe colour uniformity issues (on a white background, you would notice the left side of the screen being slightly red tinted while the right side of the screen was slightly green tinted. Replaced it again and this unit doesn't seem to have any dust stuck under the screen (so far) but suffers from the colour uniformity issue as well (although not quite as severe as the second unit).]
I did not measure brightness, but it gets bright enough and I typically use it only at the "30/100" setting in my room.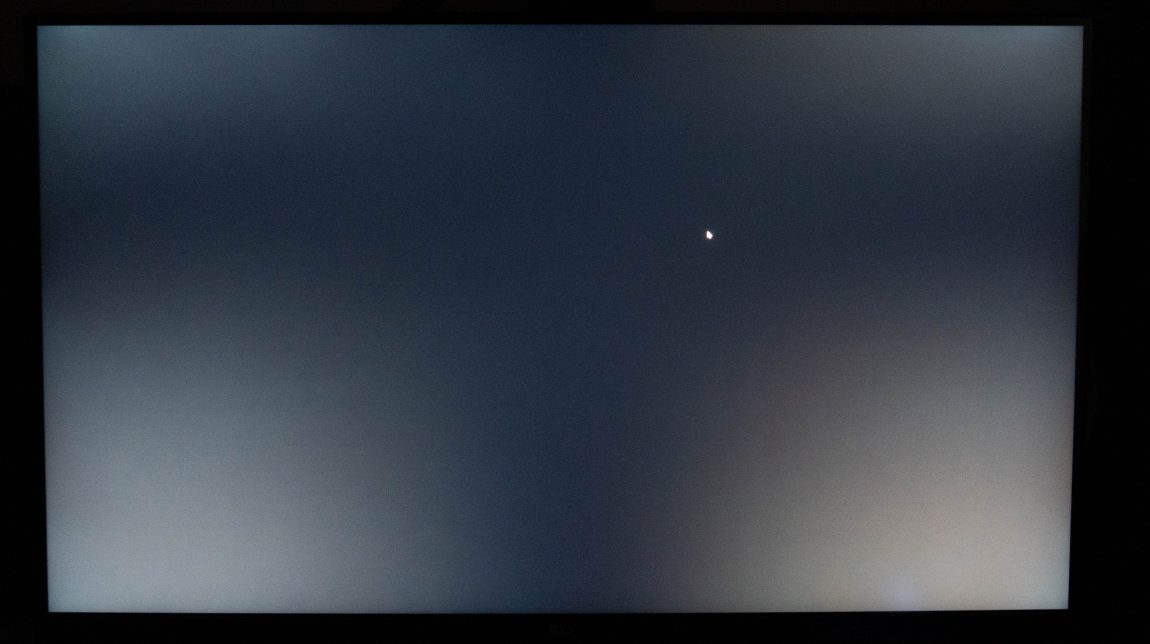 IPS glow is a bit of an issue on this panel, though it's not really a concern to me since I never use my display in the dark. In typical room-lit conditions, it's not noticeable. There is slight backlight bleeding at the upper left corner, but nothing out of the ordinary.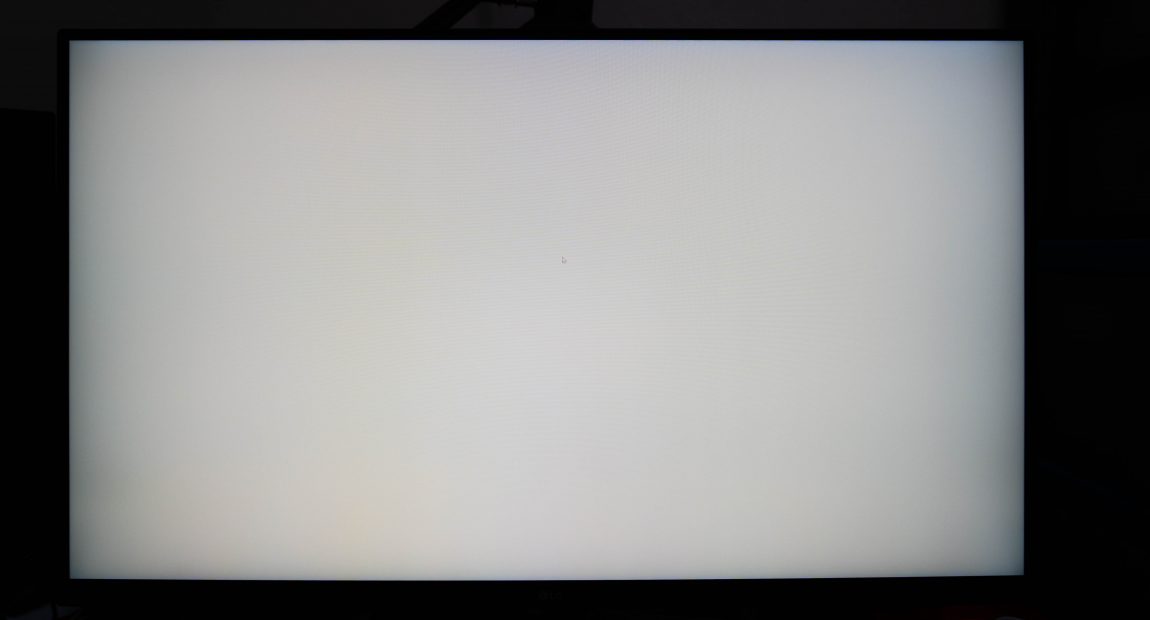 In terms of luminance uniformity, there is quite a bit of brightness fall off or vignetting at the two sides of the panel (note: contrast adjusted in the above picture; in real life it is not as extreme). This seems to be typical of this panel as the display sets I've seen in stores all have similar issues. To me, this is not too much of a concern especially on a panel of this size, since you'll be focusing on the middle most of the time.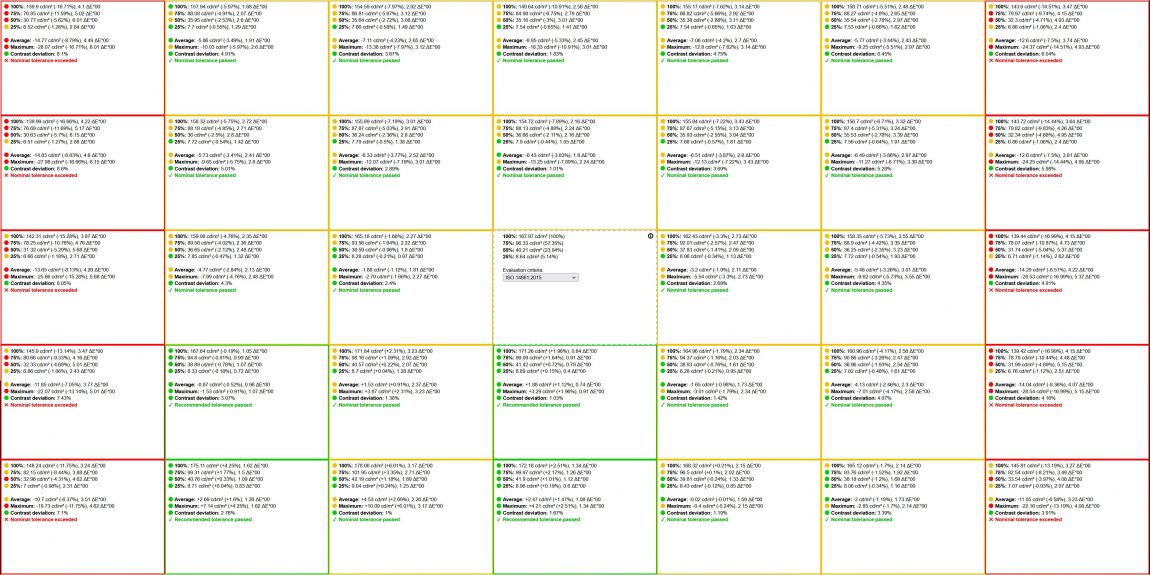 Based on DisplayCAL's uniformity report, you can see that the luminance uniformity on the left and right edges of the monitor have exceeded nominal tolerances.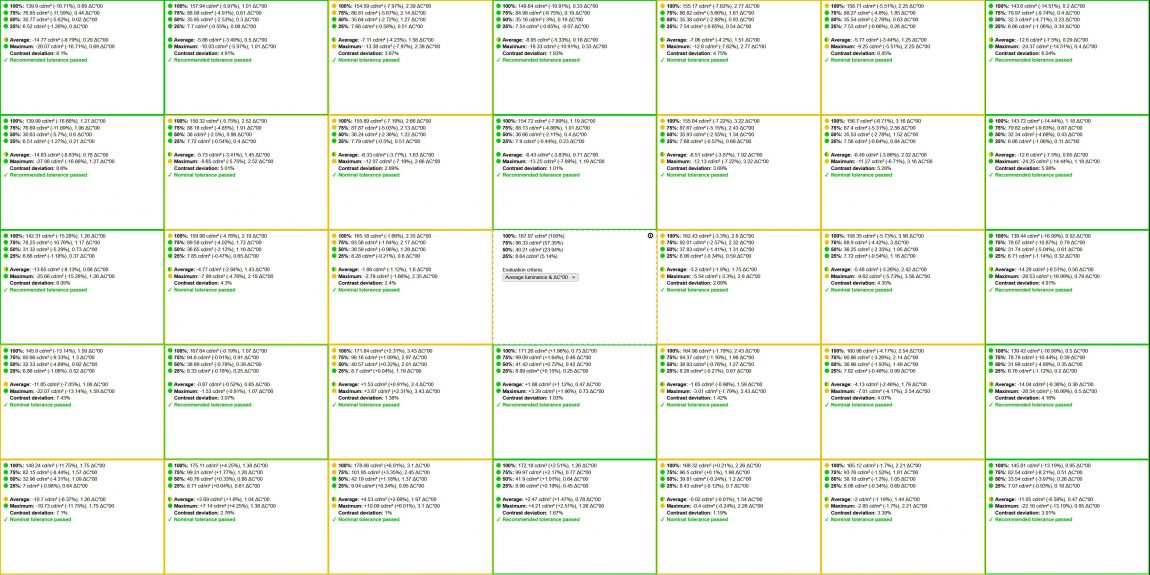 In terms of colour uniformity, which is basically whether the screen is able to display a uniform shade of white throughout, the 32UN650 fares better. Compared to the Aorus FI32U, the 32UN650 is much more pleasing to the eye when displaying text on a white background.
That said, there are areas of slightly "yellowish" spots that may not appear obvious at first glance but may get distracting if your eyes are unfortunately attuned to pick up such differences. There is also a small patch near the bottom middle of the screen which has a very slight green tint as compared to the rest of the panel. Unfortunately, this is the state of monitor screens these days. Ten years ago, I had never come across any uniformity issues, and concerns were mainly on dead/ bright pixels and backlight bleeding. Now, I've been spotting such colour uniformity issues to varying degrees in about 80% of the screens I've come across over the past few years (with a notable exception being Apple's iPad range which is very uniform).
Overall, given its price range and compared to other screens I've come across recently, I am quite happy with the colour uniformity on this panel. Your mileage may vary, but I am usually quite unlucky when it comes to the "panel lottery" so perhaps my panel could be rather representative of what you'll end up with. To corroborate this, based on a cursory search on Amazon, complaints about this panel are mainly in relation to the vignetting at the sides, with few complaints about colour uniformity issues (which is in contrast with the M32U and FI32U, where colour uniformity is an issue that's frequently flagged out).
[Update: I had the first panel replaced because of a small piece of dust stuck under the screen. The second panel also had a piece of dust stuck under the screen, and poor colour uniformity (the left side of the screen had a bit of a red tint while the right side of the screen had a bit of a green tint. I got the panel replaced again and this time round, no dust spotted (as far as I can tell), but there is also the same colour uniformity issue. See the below results for yourself: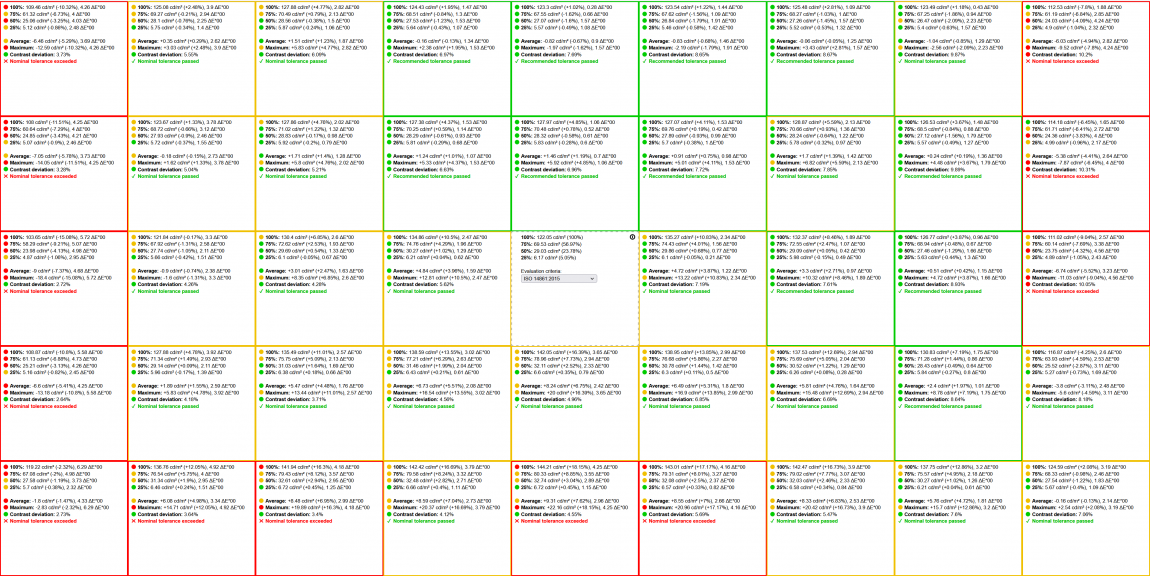 That said, given it's price point, I guess some degree of panel variation is to be expected and one would need to make do.]
Colour Gamut and Calibration
On LG's website, the 32UN650 claims to be colour calibrated. I was sceptical of this claim at first. As it turns out, there is indeed a "colour calibration factory report" provided with the panel, although it is not the kind that you typically expect. As it turns out, the calibration report is just a loose set of criteria for gamma, colour temperature variation and colour difference with a binary "PASS" and "FAIL" result. There is no colour calibration to a specific colour gamut like sRGB or DCI-P3.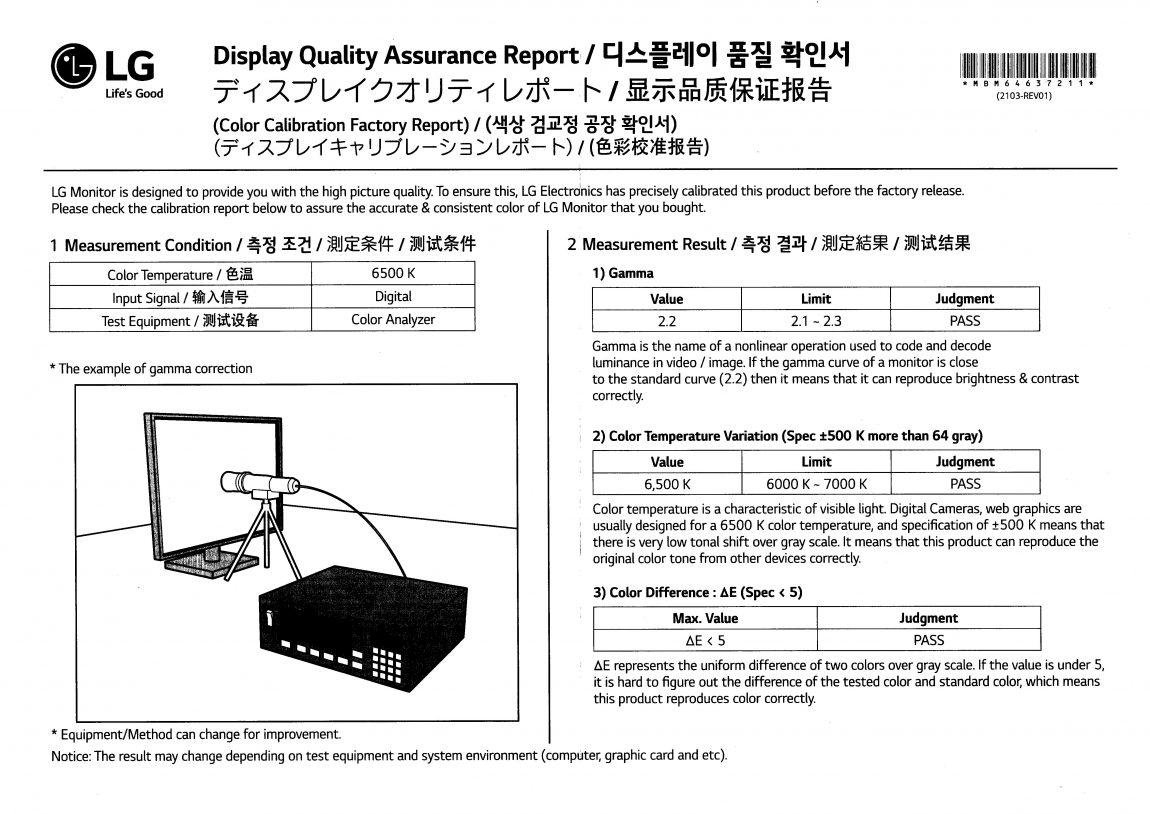 As you can see above, the specification for colour difference is a laughable delta E of five. In my experience, a delta E of between two to three is already perceptibly different.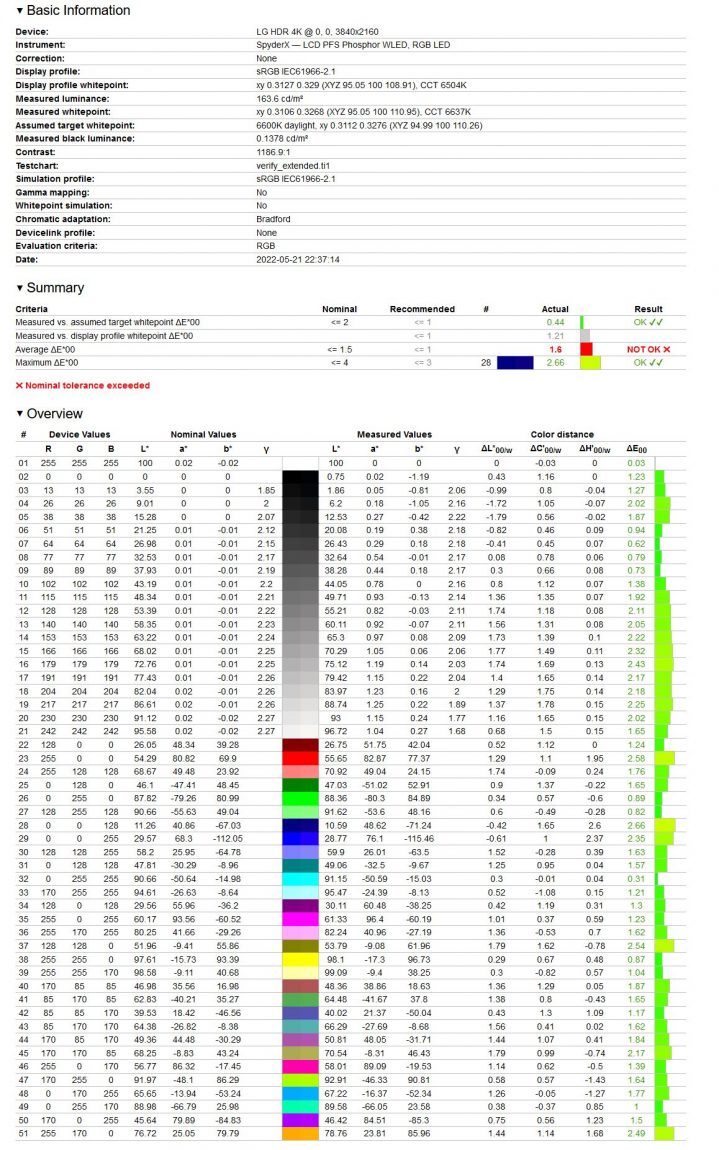 Out of the box, when measured with my SpyderX, the calibration against the DCI-P3 specification was out of whack. However, when the sRGB clamp is applied, the calibration measurements appeared to be rather reasonable, with an average delta E of 1.6 and a maximum delta E of 2.66.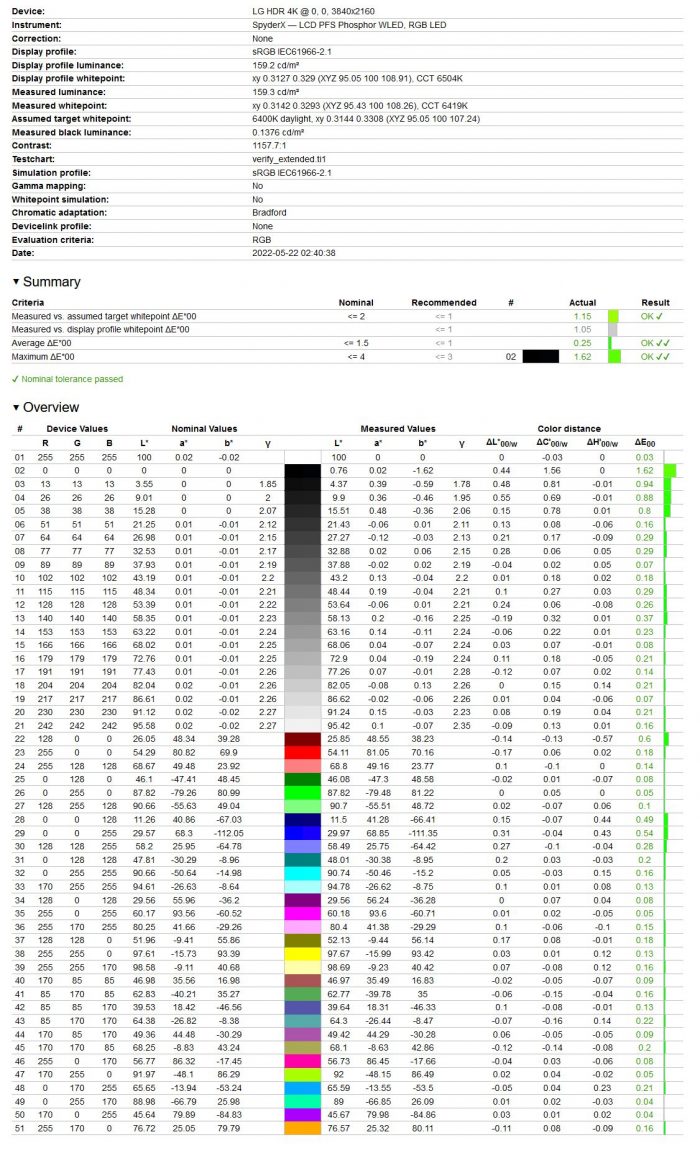 Post calibration results to the sRGB colour gamut (with sRGB clamp applied) are very good, with an average delta E of just 0.25 and a maximum delta E of 1.62.
Meanwhile, colour gamut is as advertised. Measured using my SpyderX on DisplayCAL, the 32UN650 covers 99.8% of sRGB, 85.5% of Adobe RGB and 94.7% of DCI-P3 (within a margin of error from the advertised 95%). Gamut volume for sRGB, Adobe RGB and DCI-P3 are 143.3%, 98.7% and 101.5% respectively.
Conclusion
For it's price, the LG 32UN650 is a great monitor which holds its own in terms of panel quality and colour uniformity. As compared to VA, it offers better viewing angles and has none of those VA-associated issues like scan lines and grey streaks. Apart from the lack of 144Hz and a slightly heavy matte coating, the 32UN650 feels like a superior panel to the Gigabyte M32U and the Gigabyte Aorus FI32U. Of course, the 32UN650 cannot match the likes of monitors with built-in uniformity compensation or with full array local dimming, but those monitors sit are in a different league, anyway.
Where the 32UN650 falls short is in terms of its features. It lacks basic features such as auto input switching (so you gotta get a separate KVM switch for that) and does not have quality-of-life features such as USB-C input, a USB hub or a KVM switch. You basically get a panel with basic colour adjustment and that's about it. For such features, you can consider the 32UN880 which comes with a USB-C port supporting 60W power delivery, as well as two USB-A ports. However, the 32UN880 does not come with a conventional monitor stand and you'll have to use the table clamp mount, which can get quite restrictive, or swap it out for your own VESA mount.
Overall, at just S$649 (or less, if you can snag a bargain — I got mine for just S$610 at Best Denki plus an additional 2% cash back with the OCBC Titanium card and a free MK850 keyboard/ mouse combo which can fetch probably $60 to $80 on the open market), the LG 32UN650 is an great choice for a 4K 32″ monitor, as long as you're able to overlook its minor quirks.