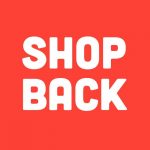 I first wrote about ShopBack in late 2014 on Buyfromwhere. Since then, ShopBack has grown from strength to strength.
I was recently invited to be part of ShopBack's Street Team, and my role is to spread the word. Since I am (slightly) incentivised to promote ShopBack (in return, you get incentives too!), I have decided to write an updated article about ShopBack, and why you should start using ShopBack now.

What is ShopBack?
Founded by a team of people from Rocket Internet (that has spawned successful ventures like Zalora and Lazada), ShopBack gives you a certain percentage/ amount of cash rebate on your online purchases from selected online stores. While I say 'selected', the list of stores is very extensive, and encompasses big names like Agoda, Expedia, Zalora, Lazada, Singapore Airlines and even Uber. The ever-growing list of eligible stores can be found here.
Notable omissions on the list include Amazon and Qoo10. In my previous conversation with ShopBack last year, they said they were working on including these stores in future. It's been a while since, but I hope they have made some progress on that front.
The Business Model

When someone offers you something for free, it is natural to be wary. Will they steal your credit card details and use it for something nefarious?
ShopBack leverages on the affiliate marketing concept. Most online stores offer a certain percentage of commission if you are able to recommend people to buy things. For example, Amazon has its successful Amazon Associates program and Qoo10 has its Curator Affiliate Program.
How such stores track whether the purchase is referred by you is through the form of browser cookies. The actual payment transaction still goes through the online store itself, and the affiliate has nothing to do with it. So no, your payment details are safe.
Instead of keeping all the commission revenue to themselves, ShopBack shares a cut of their commission with you. While they lose out on some commission revenue as a result, they make up for it in terms of numbers. Logically, if ShopBack is able to achieve a critical mass so as to cover their overhead costs, their business model seems highly sustainable, especially as it capitalises on the emerging online shopping trend in Southeast Asia.
Signing Up and Usage
Signing up for ShopBack only requires a few steps, and you don't have to pay anything or divulge any payment details ever.
If you sign up using my Street Team link here, you will get a signup bonus of $5 and an additional $5 bonus upon making your first purchase (if your first purchase is above $25, I get an extra incentive as well). Once you have signed up, you can also proceed to refer your own friends and grab your own incentives.
Once you are at the link, simply fill in your name and email and you're good to go. It's that easy.

Once you have signed up and logged into your account, simply search for a store or product in the search box at the top of the ShopBack website (as shown above). You have to make sure your starting point is the ShopBack website, or else your browser cookie won't be logged. If you're kiasu, use an incognito window and use ShopBack from there to minimise the chance of a rogue cookie interfering with your cashback.
How Long Till I Get My Rebate?
Upon making a purchase, your cash rebate should show up in ShopBack within the next 48 hours. However, it may take up to 60 days for your cash rebate to be redeemable. This limitation exists mainly because on some online stores, you have the option to return an unused or defective item within a stipulated timeframe and receive a full refund.
In situations where your cash rebate does not appear on ShopBack within 48 hours, you may lodge a complaint and they will investigate the issue. Investigating the issue may take a while–I have a pending claim from Expedia from one month back and they are still resolving the issue. Still, nothing to lose, right?
Due to bank transfer overheads, you can only redeem your cashback once you have accumulated at least $10 (excluding friend referral bonuses) in your account. The cashback will be credited to your local bank account within a few days.
Yes, It Stacks!!!
One question that many people ask is whether ShopBack stacks with other promotional and discount codes. Yes, it does, in most situations.
You see, ShopBack is applied only on your final purchase price, after all coupons and discounts have been applied. Think of it as a backend rebate: you don't get the discounted price straight away, but the rebate is credited to your account only once everything is done.
Useful Tools
ShopBack has a "Cashback Buddy Extension" which allows you to access ShopBack with one click from your Google Chrome or Apple Safari web browser.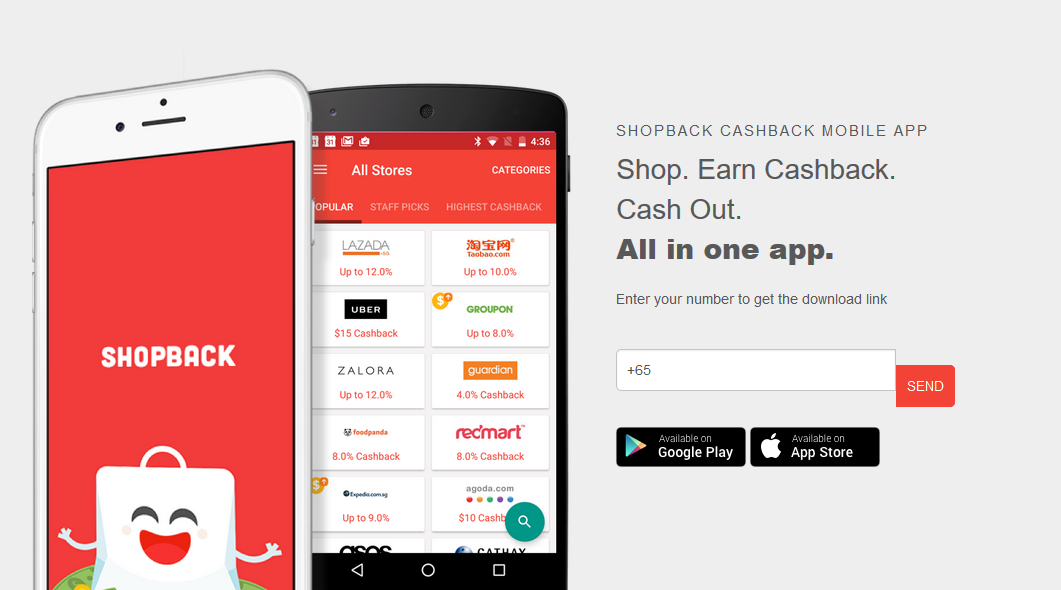 For mobile users, you're not left out either, as ShopBack has recently launched its ShopBack App, available on the Apple App Store and the Google Play Store. Lazy people, you have one less excuse not to use ShopBack now.
What I've Bought So Far…
In case you're wondering if I have really used ShopBack before, yes I have. I don't quite remember all the purchases I have made, but some big-ticket items included a Galaxy S6 64GB and four air tickets to Italy. For the former, I received a cash rebate of about $40, and for the latter, I received a rebate of $60. The latter case is rather incredible, because what was supposed to be only a 1% rebate still translated to a lot of savings when you spend $6,000.
I am supposed to get an additional $10 to $15 rebate from Expedia, but due to some issue with Expedia and ShopBack at that point in time, they are still investigating the issue.
There's Nothing to Lose
Once again, I have to reiterate this: there's nothing to lose when you use ShopBack. Apart from the additional minute to spend signing up and perhaps logging on to the ShopBack website or app, everything else is just free money. Many of my colleagues and friends have been using ShopBack, even without me having to recommend it to them. This is perhaps a testament of ShopBack's popularity.
(Header image source: Facebook)