An old Singapore patriotic song goes "you can take a little trip around Singapore town, in a Singapore city bus". That may be true 50 years back, but 'Singapore town' is much bigger today, and with it the number of transport options have also risen considerably. With skyscrapers and similar-looking high-rise apartments towering all around, it can be easy for one unfamiliar with Singapore to get lost in this concrete jungle. What, then, is the best way to move around Singapore for the inexperienced?
Car Rental Not Really an Option
First, let's strike car rental off the list. Unlike countries like Australia where you could rent a car and embark on a road trip, there's not much point in renting a car here. Not only are most places accessible by public transport (as you'll find out later), but finding parking can be a chore. Car rental isn't cheap in Singapore too, with daily rentals ranging from S$60 (~US$43) to over S$100 (~US$72).
Get Data and Download Some Apps
While you can definitely get by without getting mobile data, a prepaid mobile plan will make life much easier for you. Before we move on exploring the various transportation options, let's discuss a little bit on obtaining a mobile data plan in Singapore and some relevant apps you may find useful.
Singapore currently has three mobile service providers–Singtel, StarHub and M1. All three offer prepaid plans for tourists. For stays of five days and less, both M1 and StarHub will give you a whopping 100GB of free data for just S$32. If you don't need that much data, Singtel has a 4GB data plan for just S$15 (lasting five days) or a 14GB data plan for S$30 (that lasts ten days).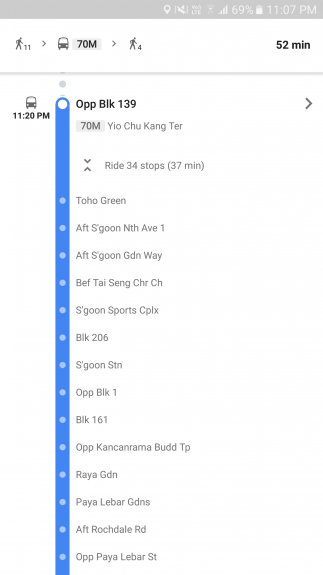 Armed with a data plan, the most convenient way to know what bus/ train to take is to fire up Google Maps. Google Maps works really well in Singapore, with all the bus and train routes properly mapped out. The map details are fairly up to date.
Another useful app to have would be the MyTransport Singapore app developed by the Land Transport Authority. It is available on both Android and iOS. It features an interactive train map that allows you to calculate the duration and cost of your journey. If you expect to be taking buses often, it won't hurt to download sgBusLeh, which shows you the next bus timings, how crowded the next bus will be, and where the bus will stop. It's available for both Android and iOS as well.
If you're open to taking taxicabs, the various taxi operators have their own booking apps as well. While you can generally flag down taxis easily in Singapore, sometimes there's a long queue and a booking might come in handy if you don't wish to wait. Of the operators, ComfortDelgro has the largest fleet in the country and has both Android and iOS apps that are pretty well developed.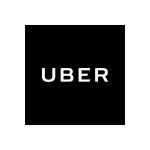 Uber is also available in Singapore and comes in useful in certain situations where there are just no taxicabs available, booking or not. There's also another app giving Uber a serious run for its money in Southeast Asia called Grab. More on that later; for now, just download all these apps if you're kiasu (Singlish for being afraid to lose out).
From the Airport…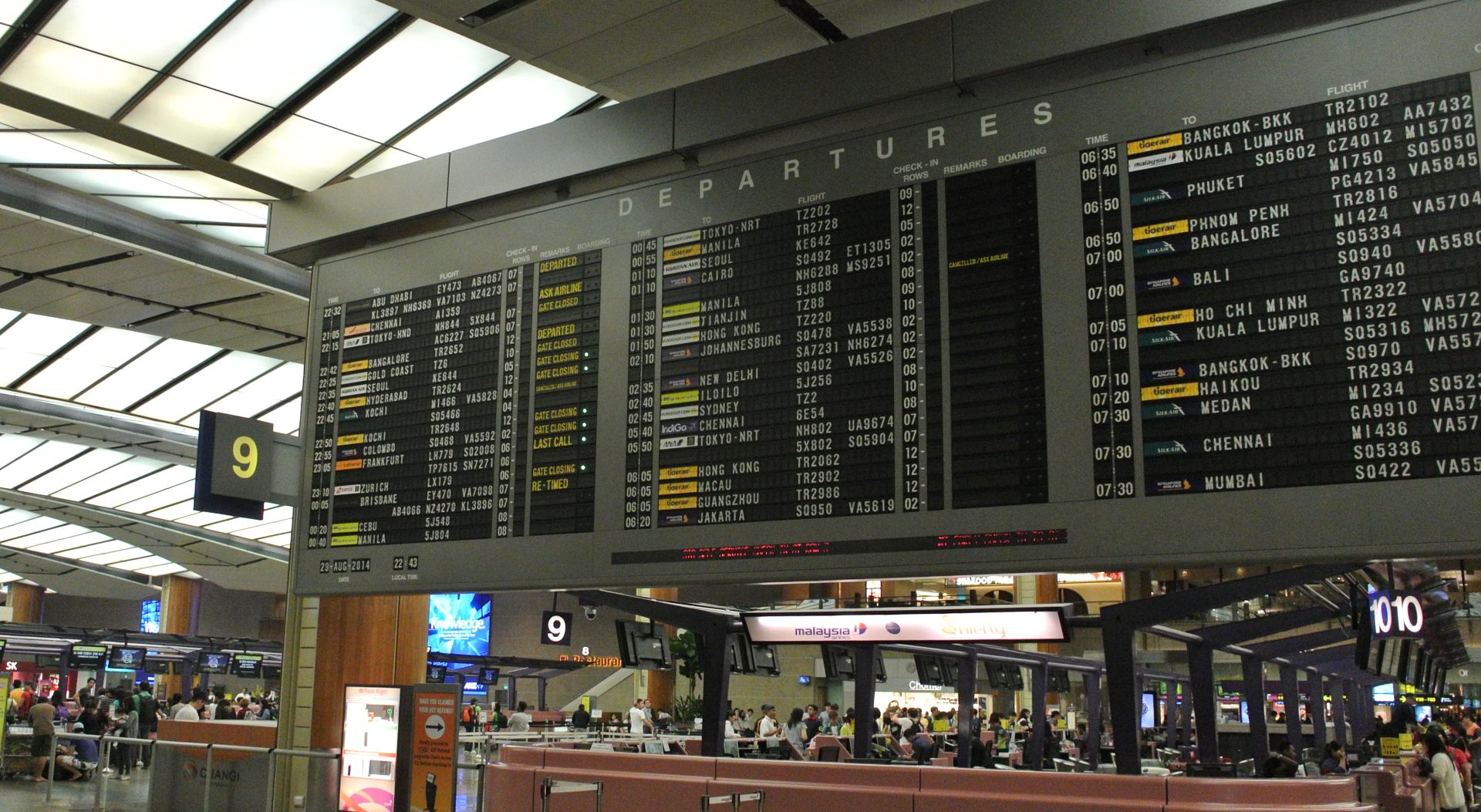 Since Changi Airport is probably the first place in Singapore you'll touch base with, perhaps it'll be helpful to first familiarise yourself with the transportation options available from the airport.
The city state's metro network (known as the Mass Rapid Transit or MRT in short) extends all the way to Changi Airport. It is a shuttle service along the East-West Line with the station situated between terminals 2 and 3 of the airport. It terminates at the Tanah Merah Interchange, from which you will need to hop off and take the train towards Joo Koon to continue your journey to the city centre. The latest MRT map can be found on the Land Transport Authority's website here. On a good day, a trip to the city centre should take about half an hour.
Singapore's MRT run from around 6am to around 11.30pm daily, and peak hours (between 7 to 9am and 5 to 8pm) can get very crowded. If you have lots of luggage, a taxicab would be a better option. Taxis are abundant at Changi Airport, thanks to a $3 to $5 surcharge imposed that makes it an attractive pick for drivers. There are two kind of taxis available, regular and limousine. Comfort-wise, the limousine cabs and regular cabs are pretty much similar, even in terms of size. It's just that you get to ride in a Mercedes-Benz E Class or a Chrysler. However, the meter runs faster on the limousine cab. If you're price conscious, just tell the steward at the taxi queue that you wish to opt for a regular cab. A cab ride to the city takes about 15 to 20 minutes on a good day.
Public Transport Options — Buses and Trains
Singapore has a very extensive public transportation network, made up of buses and trains. For a tourist, sticking with trains would be most convenient (because the map is all laid out for you) and they can get you to most tourist attractions.
To use public transport, you first need to purchase an EZ-Link card. A card costs $12 and comes with $7 of stored value. Cards are sold at any MRT station. Alternatively, if you'll be travelling a lot, you can purchase the Singapore Tourist Pass, which grants you unlimited train and bus (excluding premium buses, which you can certainly get by without) rides for 1 to 3 days. Which to get depends on your itinerary. Most of Singapore's attractions are located within the central district which you can easily cover by foot if you plan wisely. However, if you wish to venture off the beaten path, go on a joyride and visit the heartlands, you may well find the tourist pass worth it (especially considering that otherwise you'll be paying $5 for a card that you will never need after your trip).
There is also a single-trip ticket option and cash payment available for train and bus rides respectively, but it would be pricier than using a card.
As mentioned on the previous page, get the MyTransport Singapore app (Android and iOS) and the sgBusLeh app (Android and iOS) which will serve you handy on your train and bus rides.
Trains
Trains arrive at regular intervals, between 1 to 3 minutes during peak hours and 5 to 7 minutes during non-peak hours. You'll have to squeeze with everyone during peak hours (7 to 9am and 5 to 8pm) and it might be difficult to even get into the train during those times, so you'd be wise to plan your route avoiding those hours. Thankfully, it has become a norm since a few years back for people to line up in an orderly fashion while waiting for the train, so there's little pushing and shoving involved.
On escalators at train stations, the norm is to keep left, as the right is reserved for people who wish to walk up the escalator. While no one will call you out on this, it is proper etiquette to follow the rules because we Singaporeans are perpetually in a rush and are the fastest walkers in the world 😉 .
There are at present five lines on Singapore's train network. The lines are colour-coded red, green, purple, orange and blue, which is what locals generally refer to them as (just in case you need to ask for directions!). The red (North-South) and green (East-West) lines are the oldest, and are the only lines still having above-ground portions (from Jurong East to Bishan on the red line and from Joo Koon to Redhill and again from Kallang onwards on the green line), so bear this in mind if you intend to do some sightseeing via train (protip: a long bus ride is a better option!). Half-height platform doors were installed on all above-ground stations a few years back after a number of track accidents and suicides, in case you're wondering why there's a yellow line drawn and that you still see signs warning you not to go down to the track even though it's pretty much impossible to fall in today. On the other hand, the newer lines (purple, orange and blue) are fully underground and are driverless, an engineering marvel at the time.
Train services are generally reliable, though there may be a delay every now and then, especially during peak hours. Major delays are often announced in the myTransport app, which is why it's always good to have it on hand!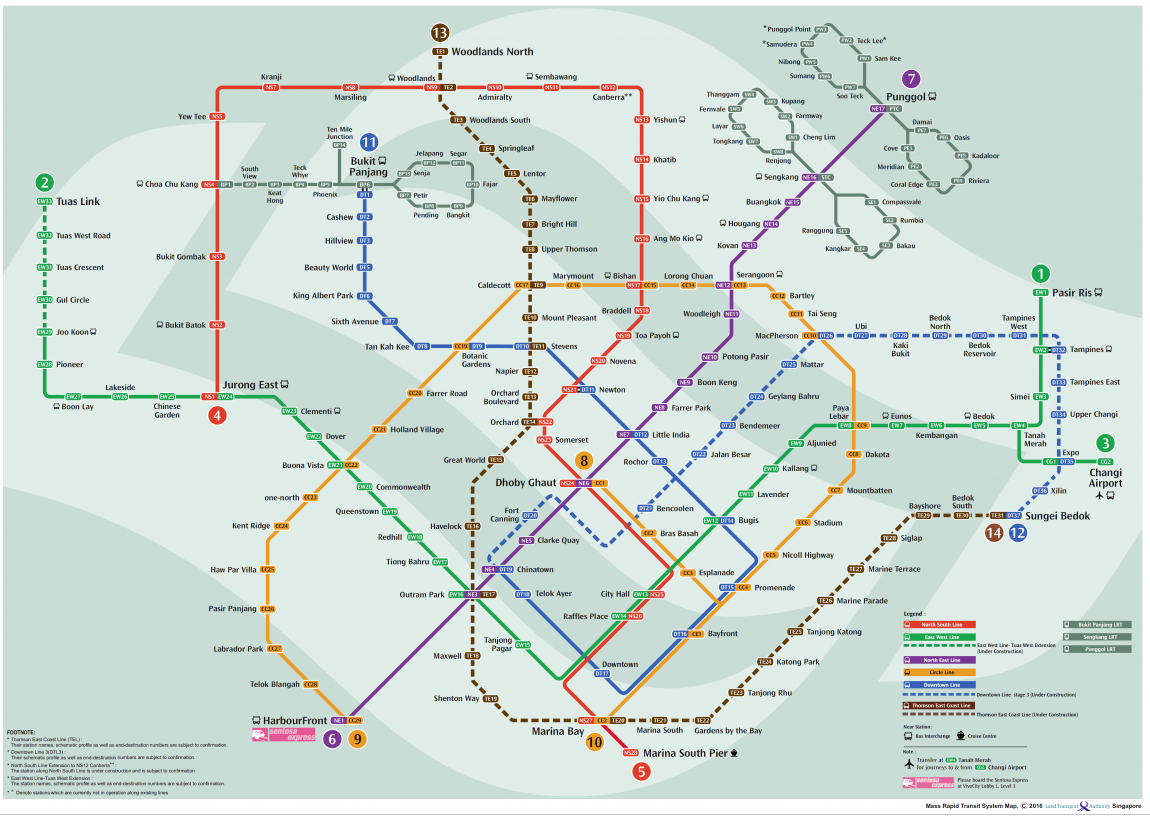 The MRT map is displayed prominently at the entrance of every MRT station. Alternatively, you can save the above image on your phone, or a full-scale SVG or PDF version at LTA's website. Those stations that are dotted, as well as Canberra station on the North-South (red) line, are not actual stations as of now.
Singapore also has three light rail lines (apart from the skytrains at the airport and on Sentosa island). You are unlikely to need them, unless you wish to transit from the Downtown Line (blue) at Bukit Panjang to the North South Line (red). Opened in 1999, he Bukit Panjang LRT line is Singapore's first ever light rail system, and is unfortunately also plagued with the most system reliability issues.
Buses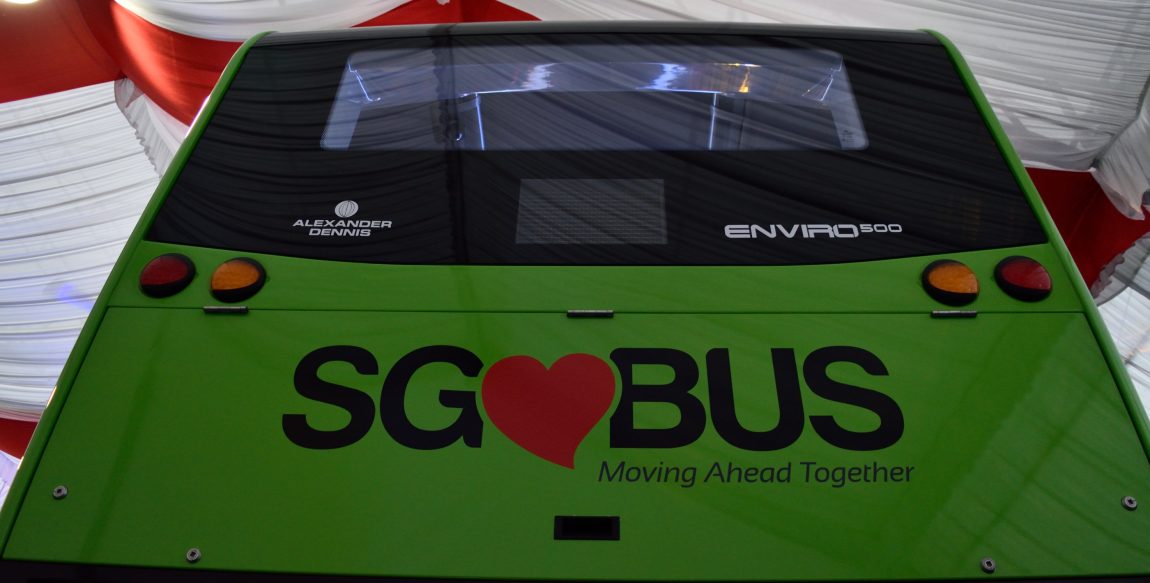 While trains are really convenient, due to the way the route is structured, it may not get you from point A to point B in the quickest time. This is where Singapore's bus network steps in.
Singapore currently has four public bus operators, SBS Transit, SMRT, and two recent entrants: Tower Transit and Go-Ahead.
SBS Transit buses have a red-purple livery whereas SMRT buses are either white-red or grey. The bus sector as a whole is currently undergoing restructuring, with the government buying back buses from the various public bus operators. Soon enough, all public buses will be decked in the green livery you see above.
As mentioned earlier, you pay for your bus fare using the same EZ-Link card that you use for trains. There is no single-trip option for buses though. Alternatively, you may pay coins (note: there is no change provided), but coin fares are significantly more expensive than the equivalent EZ-Link card fare. Bus boarding is only via the front door, so don't even think about cheating fares. Fare inspections are conducted infrequently on a random basis, but bus drivers have presumably been trained to ensure that everyone taps in.
Buses are a good way to sightsee Singapore. Bus 36 offers one of the best scenic routes in Singapore. From the heart of Singapore's shopping belt at Orchard, it brings you along the southern coast, where you can see the Esplanade, Marina Bay Sands and the Singapore Flyer, before moving along towards the aiport, not before passing by the National Stadium, the Indoor Stadium, East Coast Park as well as a golf course. If you want to explore more scenic routes, try BusRouter.
Bus timings can be checked using the MyTransport or sgBusLeh app, as mentioned earlier in the article.
Taxis, Uber and Grab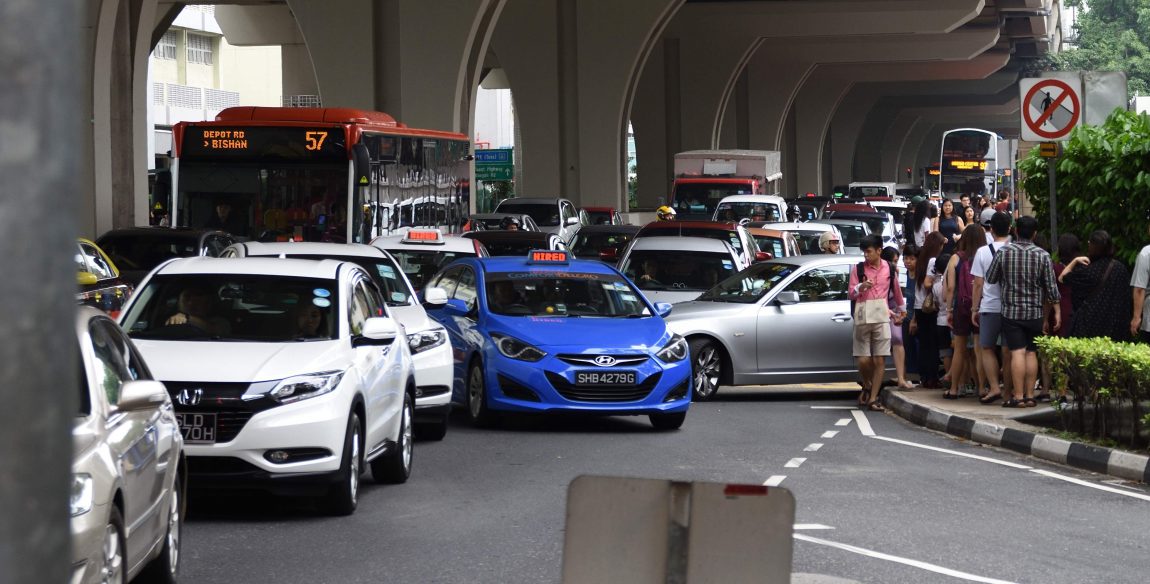 Taxis and private hire services like Uber and Grab are relatively affordable in Singapore. Taxis go strictly by the meter here, so don't bother haggling. While it isn't a common occurrence here, make sure the driver goes by the meter.
There are some 30,000 taxis in Singapore. Despite this, there are certain hours that taxi drivers change shift or have their meals and it becomes difficult to catch a cab. I've noticed that it is usually most difficult to get a cab between 12-2pm and 4-5pm.
Taxis are easily identifiable by the roof-top signs, which on most cabs will display "TAXI" in green if its available, and in red when unavailable. All licenced taxis have a car plate starting with "SH". Not all taxis accept credit cards, and only ComfortDelgro taxis (which are decked in blue livery, as seen above, or yellow livery) accept VISA. A surcharge of 10% is imposed on credit card payment, so you are better off paying via cash anyway. Some drivers are also reluctant to accept credit card payment as the funds are held with the taxi company for a few days before they can receive it.
You can flag down taxis anywhere except in the Central Business District (CBD). Within the CBD, you have to wait at designated taxi stands (which are usually very obvious). The CBD extends from Orchard Road to the Marina Bay area–basically where most of the touristy areas are. You may view a map here.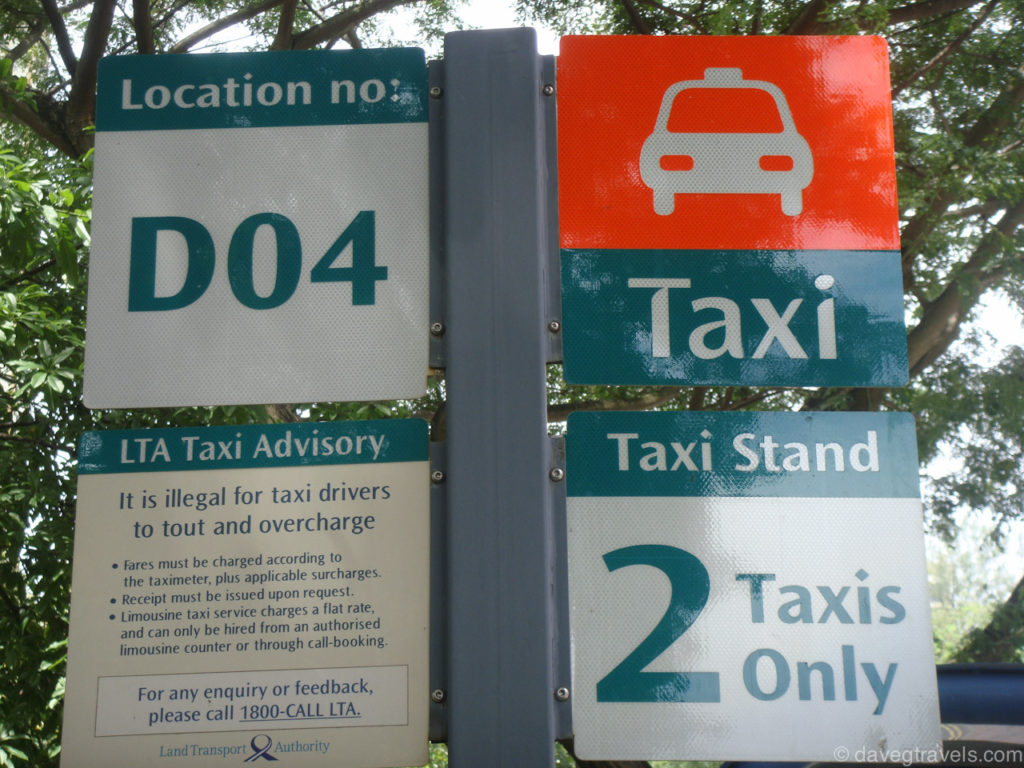 If you'd prefer to book a cab, most taxi companies in Singapore have their own apps. The largest taxi operator in Singapore is ComfortDelgro, so if there's any taxi app to use, use theirs. It's available on the App Store and Google Play, and is rather intuitive to use. You can also make advanced bookings (with a higher surchage), which you may want to utilise when going back to the aiport.
Uber is also available in Singapore. Uber utilises a fixed fare system in Singapore, so you know the price upfront. Due to recent changes in its fare structure, it seems that surge pricing is the norm rather than the exception today, and it is usually cheaper to get a taxi rather than an Uber, except perhaps at midnight, where taxis levy a 50% surcharge. Cash and credit card payment (including VISA, with no further surcharges) is available.
You can also book a taxi using the Uber app, which will follow the normal metered fare on top of a booking surcharge. If you already have an Uber account, this would be the most convenient option–no other apps to download!
UberPOOL is also available in Singapore, but the savings are not usually worth it.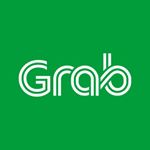 Uber has a local competitor in the form of Grab. Grab is currently prominent within the Southeast Asian countries, and offers by-and-large similar pricing and features as Uber in Singapore. As per Uber, it offers taxi booking, private car hire and car pooling services, and also accepts both cash and credit card payment.
If you're price sensitive, it would be helpful to have both apps on hand so you can compare prices.
Summary
Phew… that was a long one. If you've read all the way from the start to end, you should be very familiar with how public (or semi-public) transport in Singapore works now. If you have any questions or need any advice, feel free to leave a comment!