There's no possibility of a White Christmas in Singapore. The next best thing for us, perhaps, would be the annual Christmas light-up along Orchard Road, which has been a staple since 1984.
Christmas on a Great Street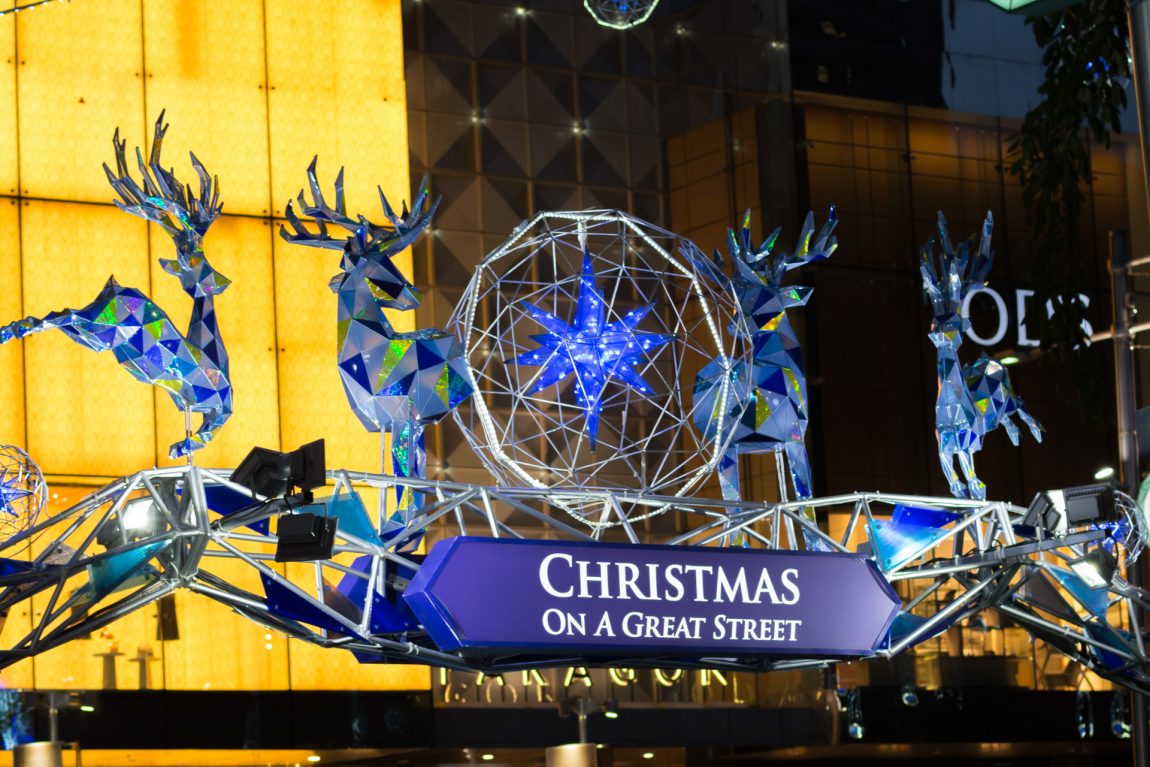 Each year, starting in mid-October, the various street lights along Orchard Road are dressed up in Christmas decorations. By Orchard Road, I mean the entire road–from the Forum Mall all the way to Plaza Singapura. Spanning the length between three MRT stations, it truly is a sight to behold.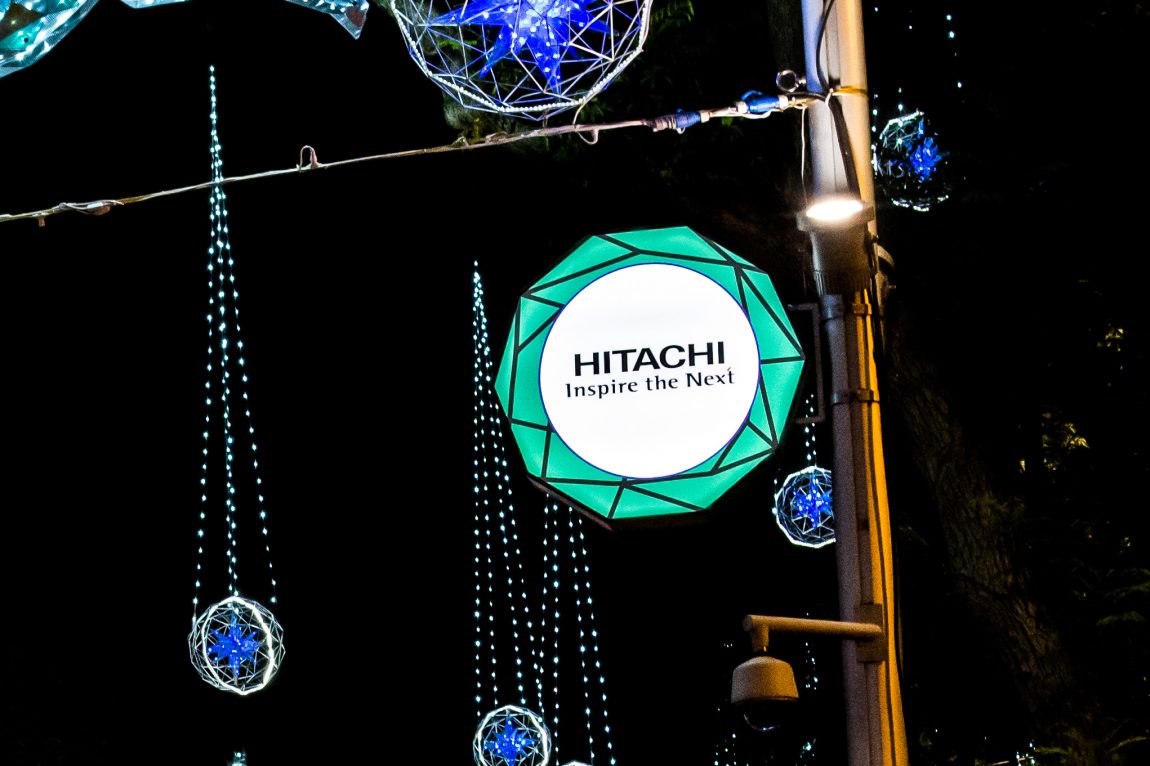 If you've been observant enough, you would have noticed an octogonal-shape Hitachi orb along the lamp posts too. That logo has also been a staple of Orchard Road Christmas decorations for as long as I can remember. As it turns out, Hitachi has been the main sponsor of the event for the past 26 years.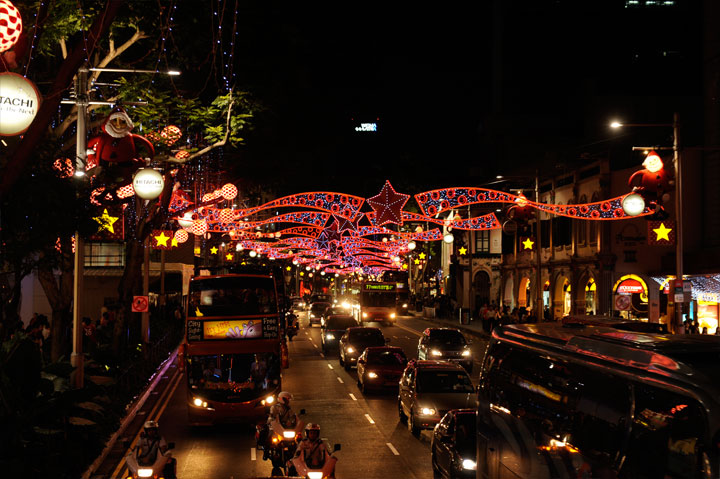 Honestly, the orb is starting to look a little old and makes it seem like the decorations are re-used every year. Perhaps a little re-design should be on the cards?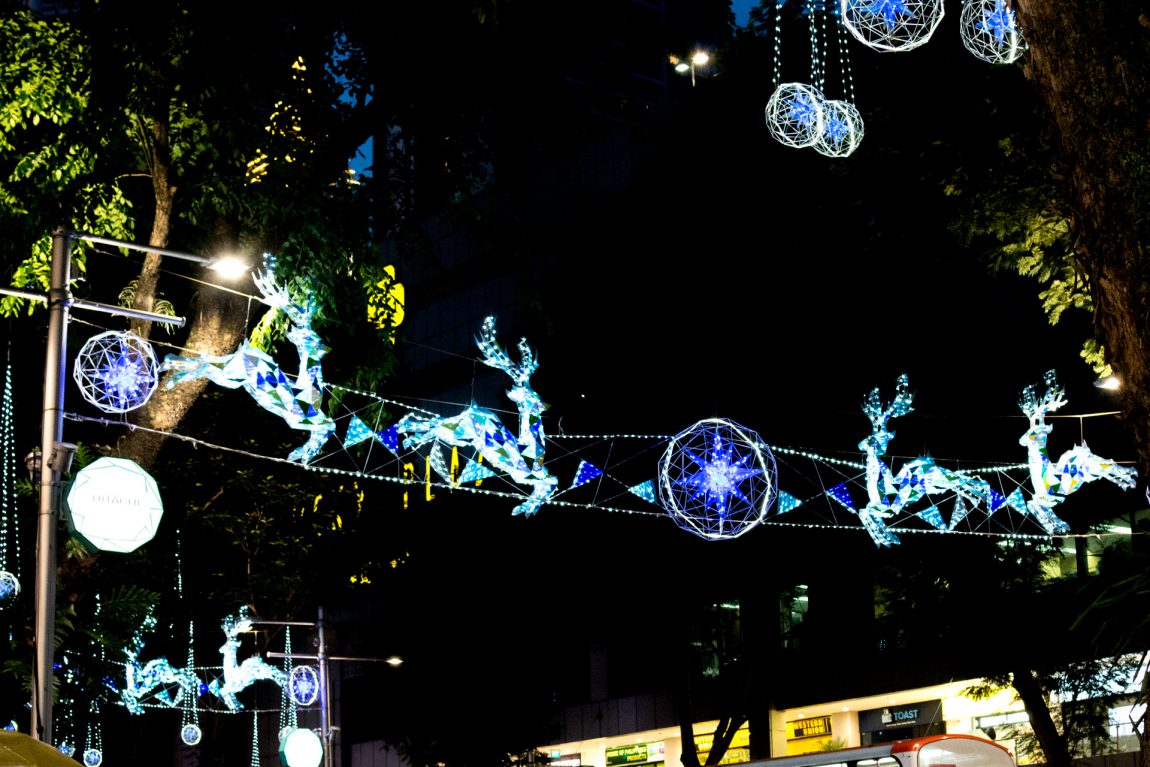 I thought this year's Christmas decorations were especially nice. For once, we get to see reindeers make an appearance. There's also a magical feel to it, with glimmering crystals and what appears to be a magic ball in the middle. The more I look, the more ephemeral it feels to me; the magic ball seems as though it may suddenly glow bright and swallow all the Christmas decorations in one fell swoop.
I browsed through my photo archives and created this comparison photo showing the Christmas decor over the past three years.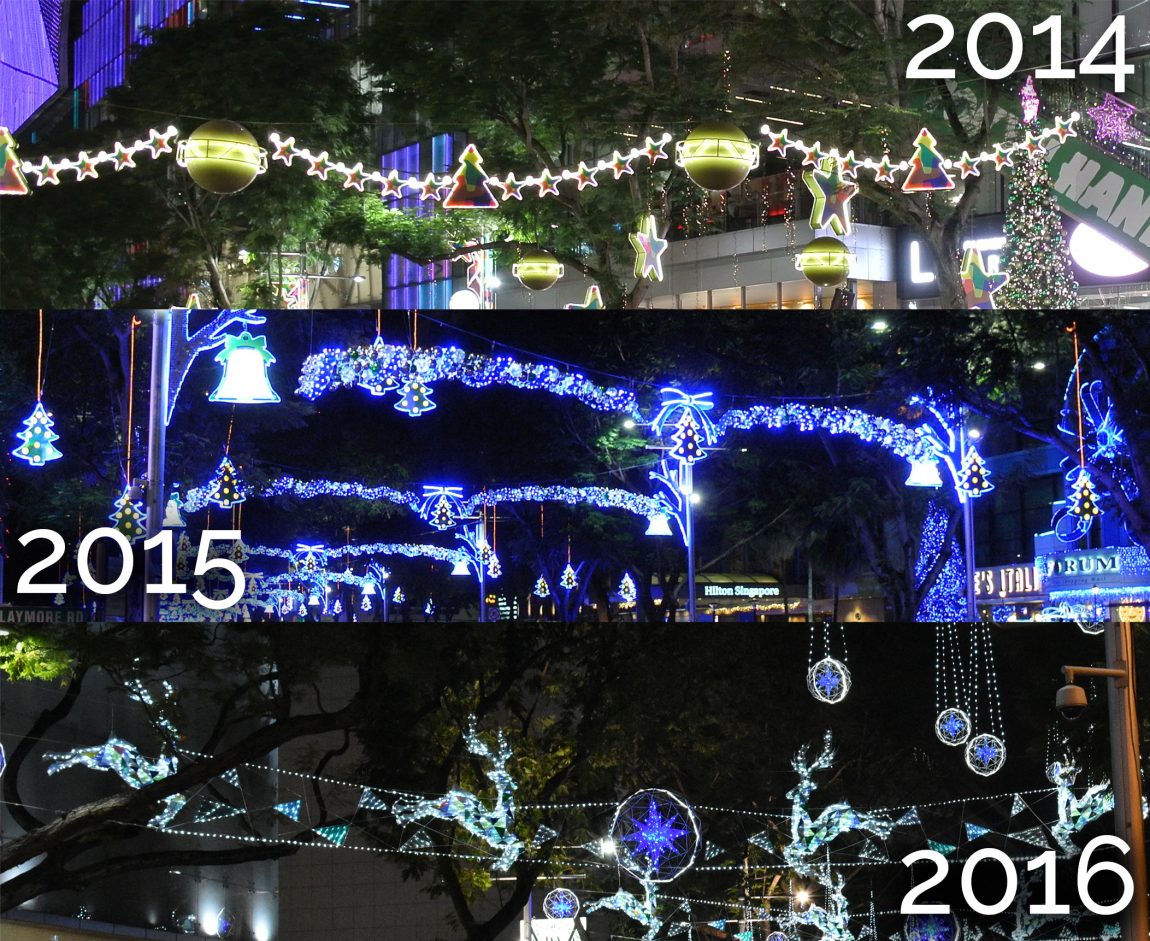 I quite like 2014, for it was colourful and had a warmer feel reminiscent of older Christmases, where the lightings were all yellowish presumably because of the incandescent bulbs used. 2015 seemed almost like a re-use of 2014 decorations, but with more blue. It felt too 'cold' for my liking. I like 2016 most amongst the three for the reasons I mentioned above.
If you search through Hitachi's activities archives and go further back the years, you would also notice another change occuring within the recent years–the change of street lighting along Orchard Road. They used to be warm orange, just like any other road in Singapore. Somewhere along the way, probably in 2014 or 2015, the lights along most of Orchard Road were swapped (though in Singapore swopped seems to be the preferred spelling for some reason) out for the cold white ones used today. Perhaps that's why 2015's decorations looked rather horrible in comparison.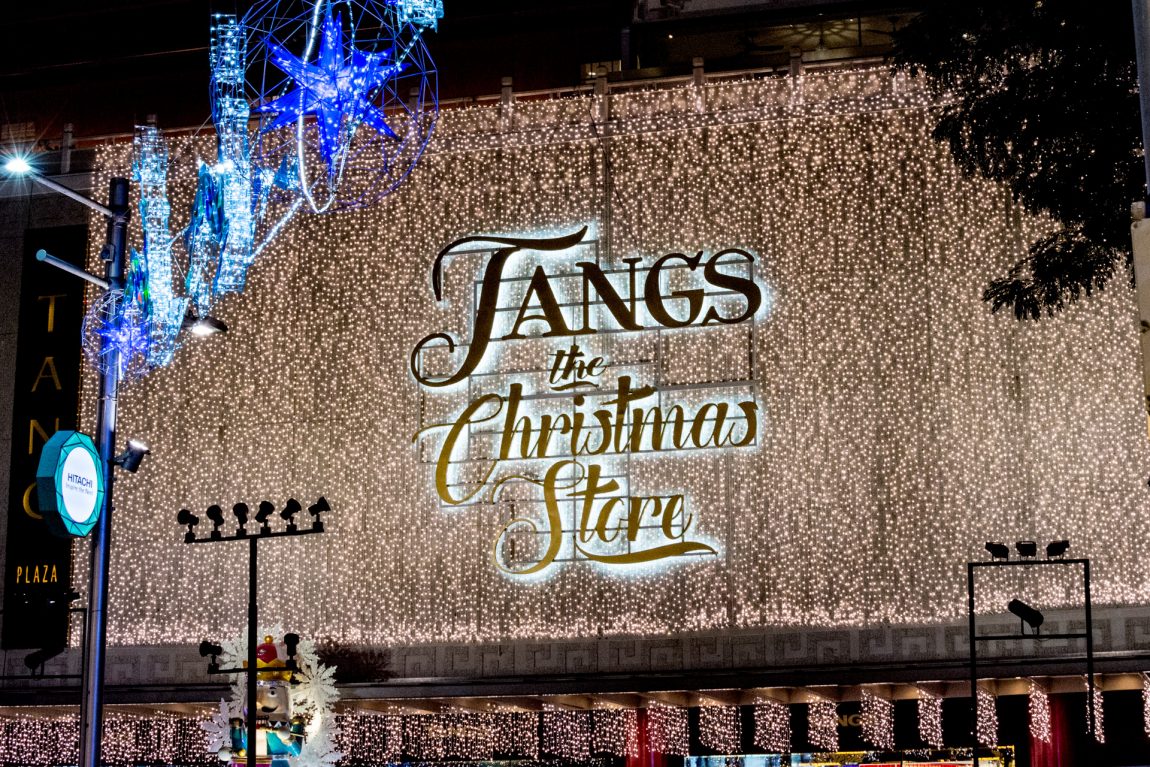 I began my photo-journey from Orchard MRT station. One of the first things that caught my eye was this decorated wall outside TANGS. With warm yellow lighting, it stands out in beautiful contrast to the predominantly blue lighting used along the street.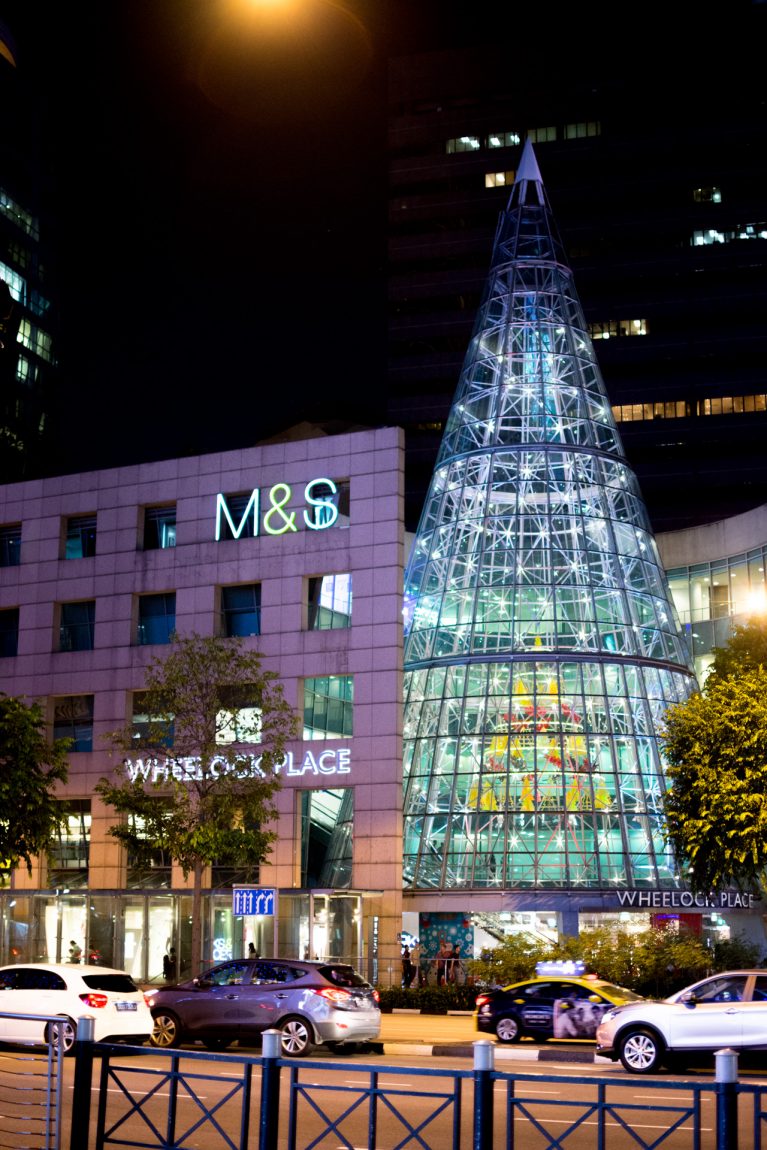 I thought Wheelock Place stood as the odd one out amongst its neighbours, with its facade remaining largely untouched this Christmas. Then, it dawned upon me how much its iconic conical structure already resembles a Christmas tree.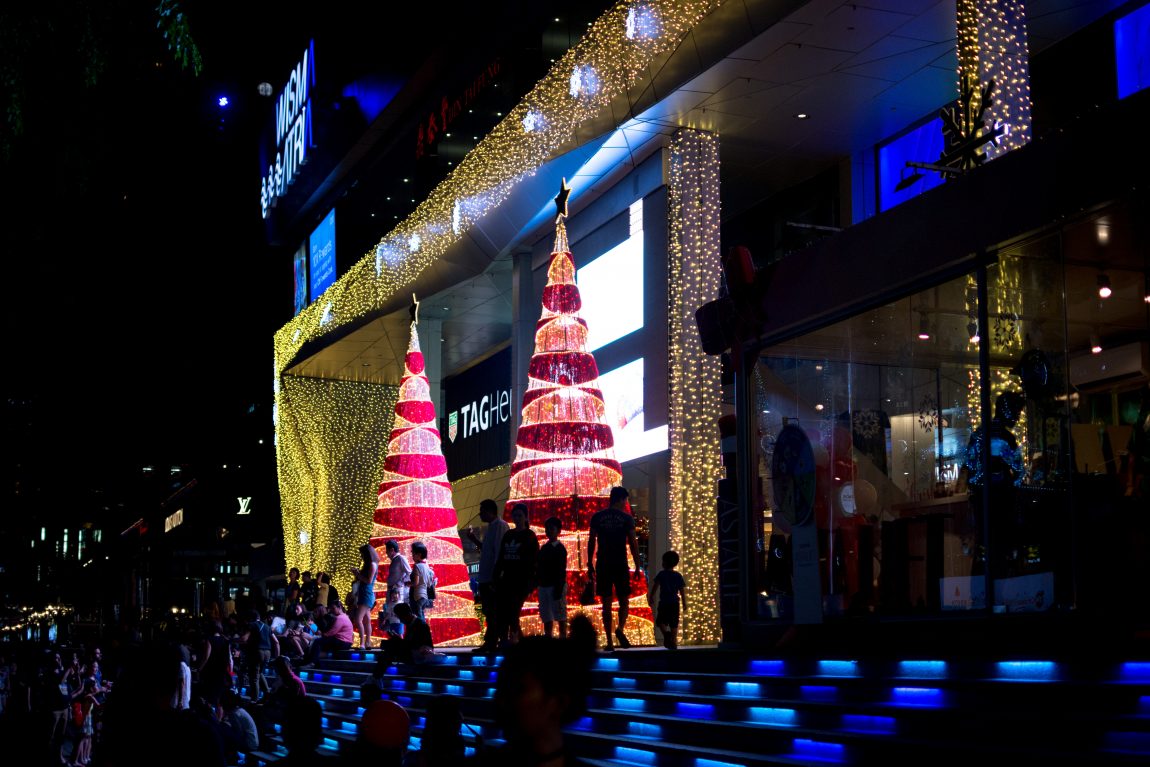 Meanwhile, Wisma Atria has a pair of red Christmas trees adorning its facade. It's something different from the typical green pine trees, but I'm not sure if I like it very much.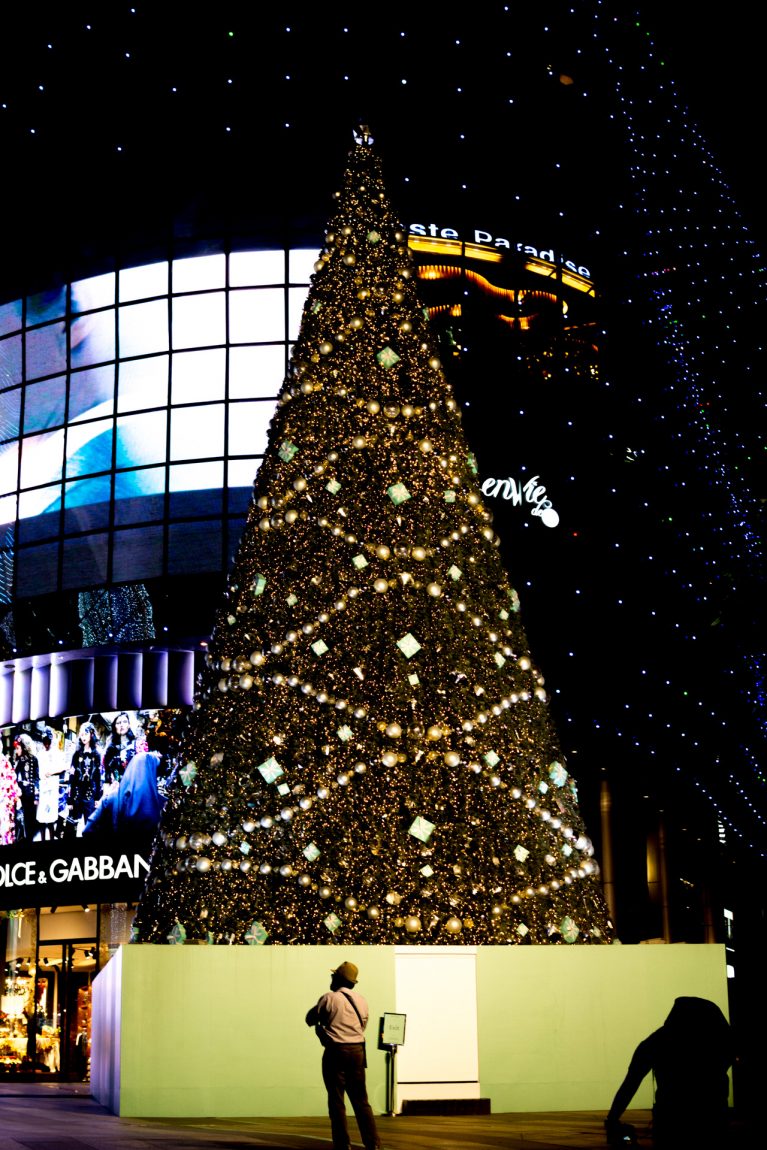 ION Orchard was voted as one of the two best-dressed malls along Orchard Road this season. I wonder why, especially since its tree remained cordoned up as recent as a week before Christmas.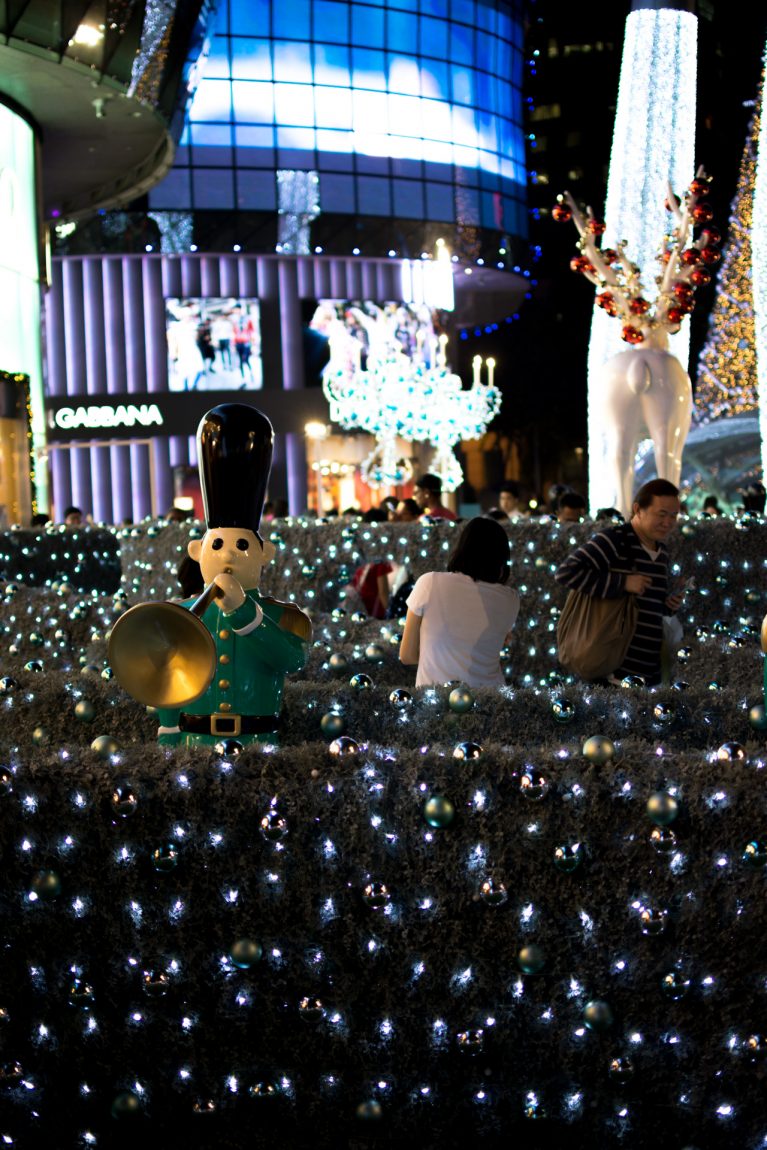 Perhaps it's because of the Christmas display outside ION Orchard? Other than being a nice place to take selfies, I didn't find anything special about it.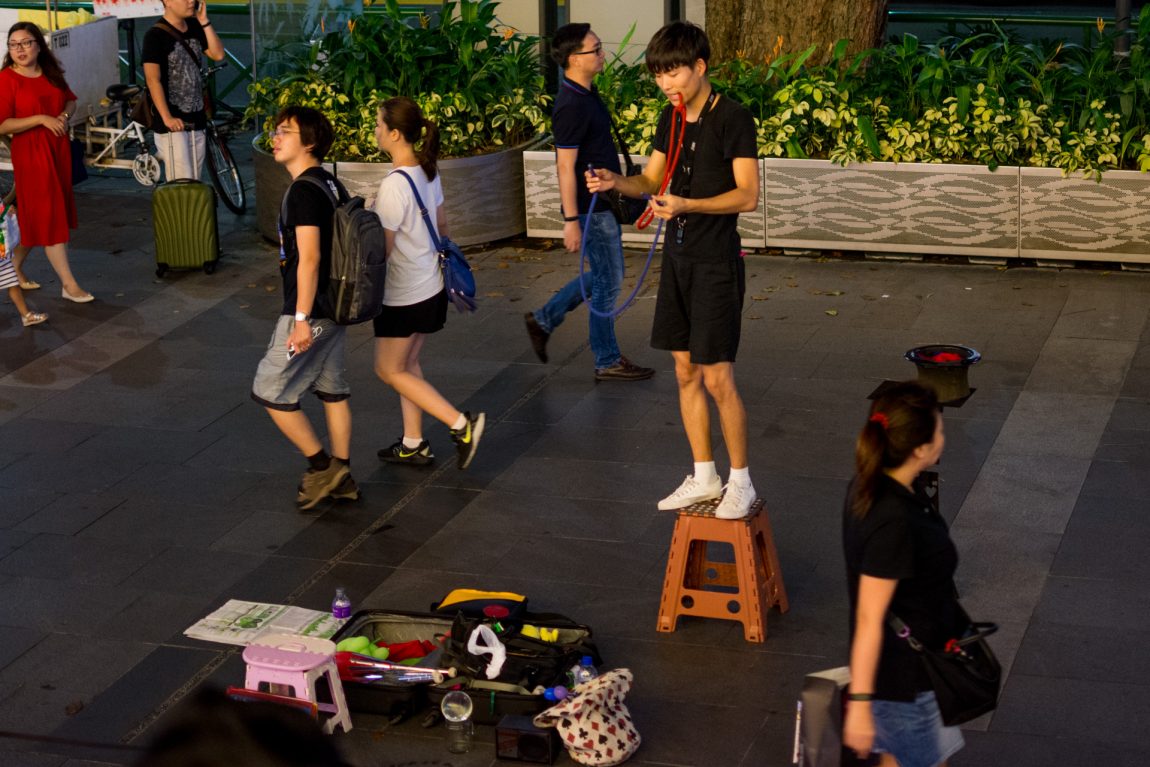 Walking further down Orchard Road, you'll see some street performers and buskers. They've been a common sight in recent times, and it seems it's no longer an art restricted to the handicapped. Given Singapore's traditionally strict laws about strict busking, one wonders if what they're doing is legal. Even if it's not, it seems the authorities aren't doing much about it, which is probably a good thing. Singapore desperately needs to show that it isn't just a country of living automatons.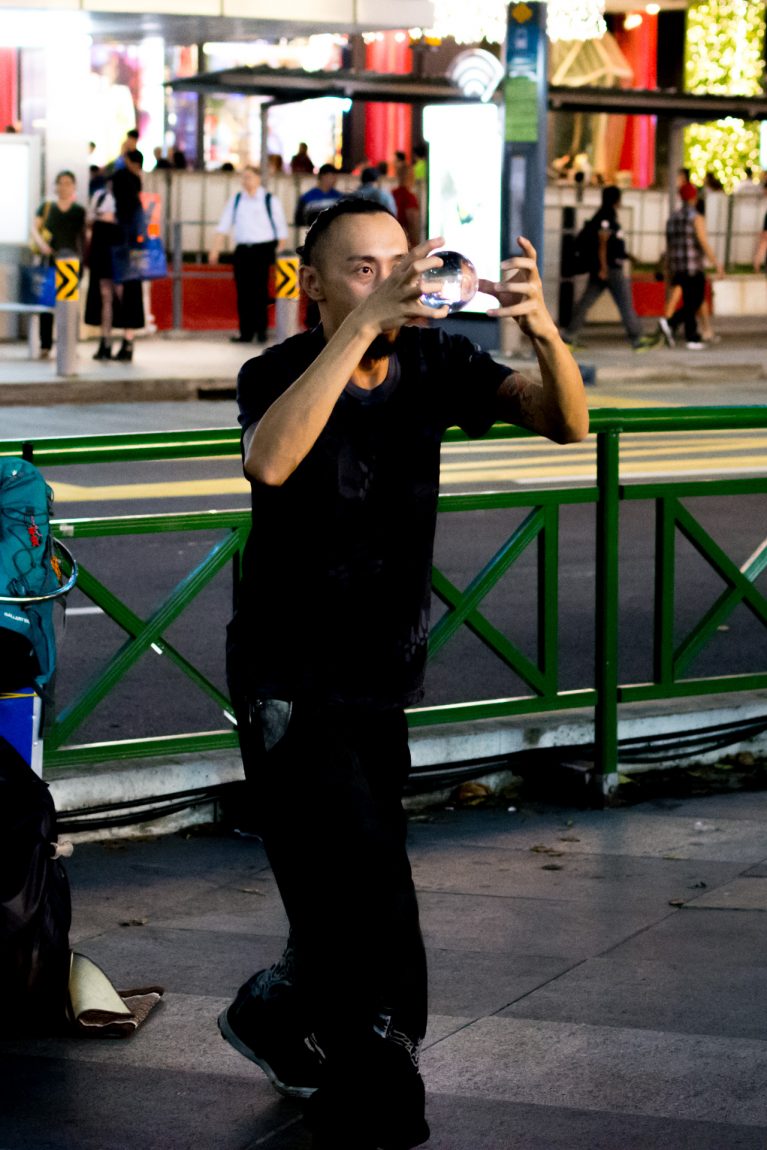 Keeping in-line with the theme, this street performer is 'controlling' a crystal ball. Throughout the performance, he balances the ball all around his body, and in the picture above, is 'controlling' the ball even though he's not touching it. It was a pretty good performance that drew a sizeable crowd.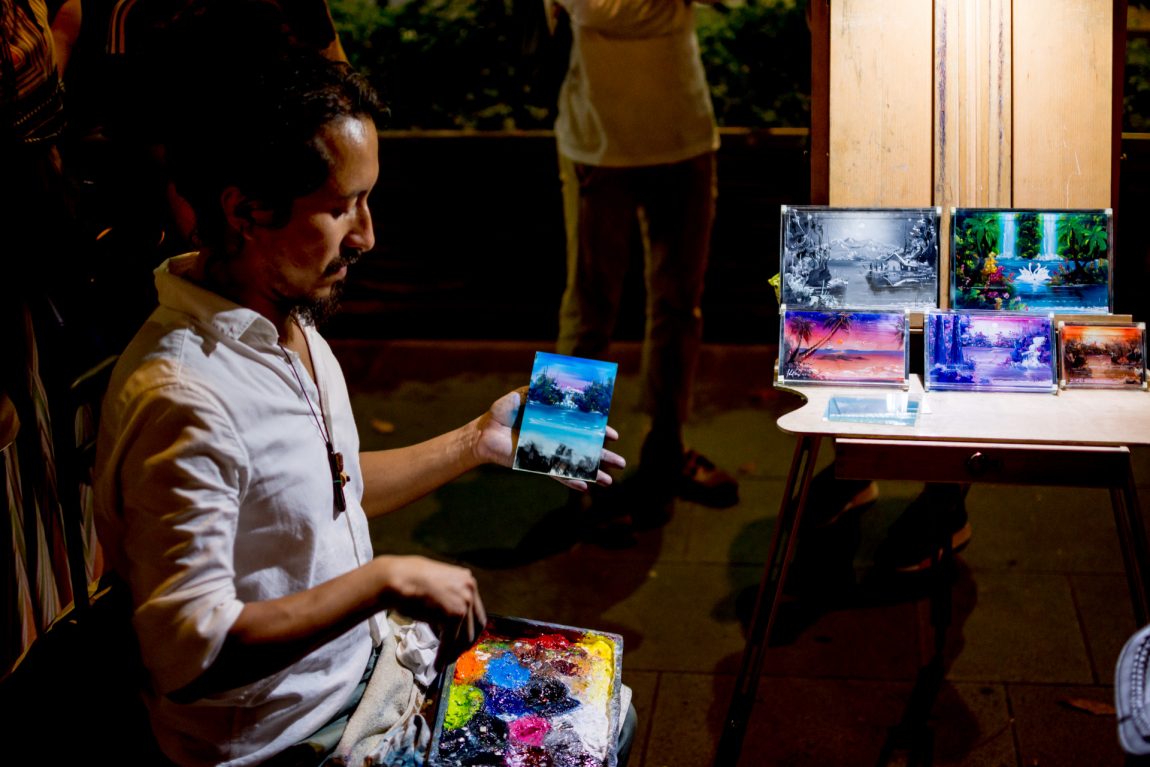 Meanwhile, this street artist is making watercolour paintings on the spot. Each painting takes about five to ten minutes to complete and is remarkably detailed. Once again, this attracted a sizeable crowd, though unfortunately for him, no one seemed interested in purchasing any of his art pieces (I'm guilty as charged).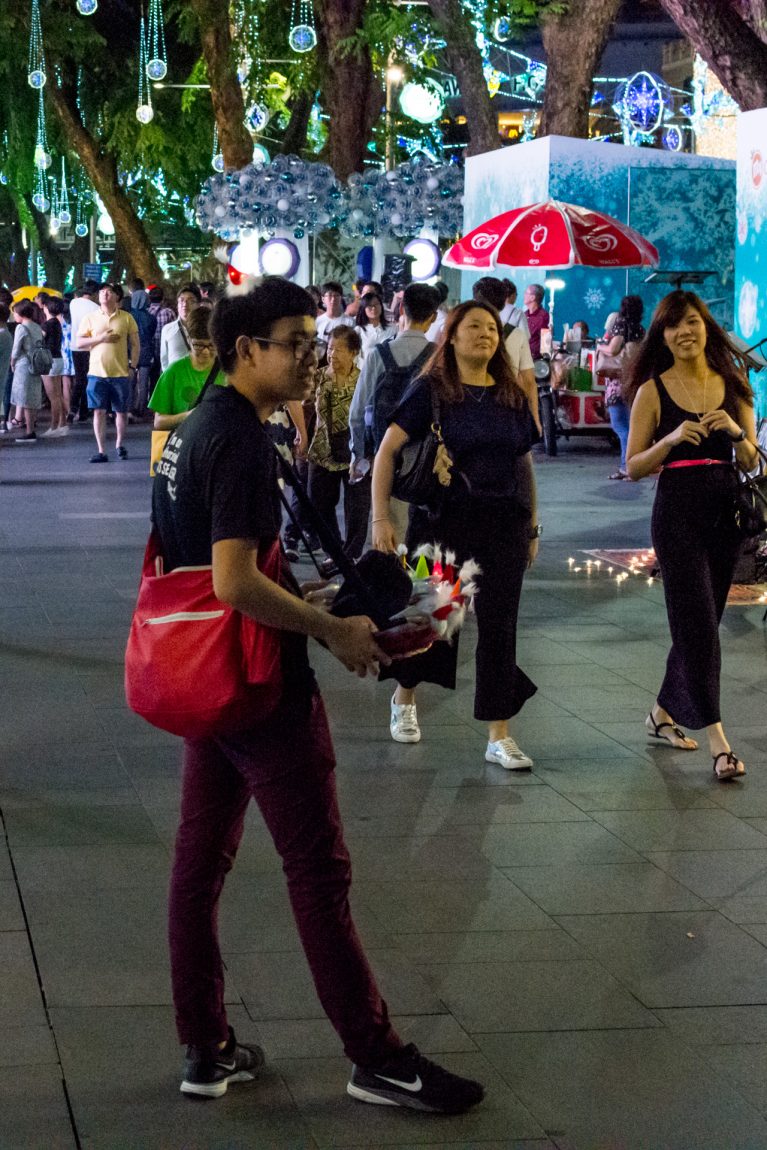 There were also a number of teens trying to sell Christmas hats. Based on a cursory observation, they didn't seem very successful in doing so.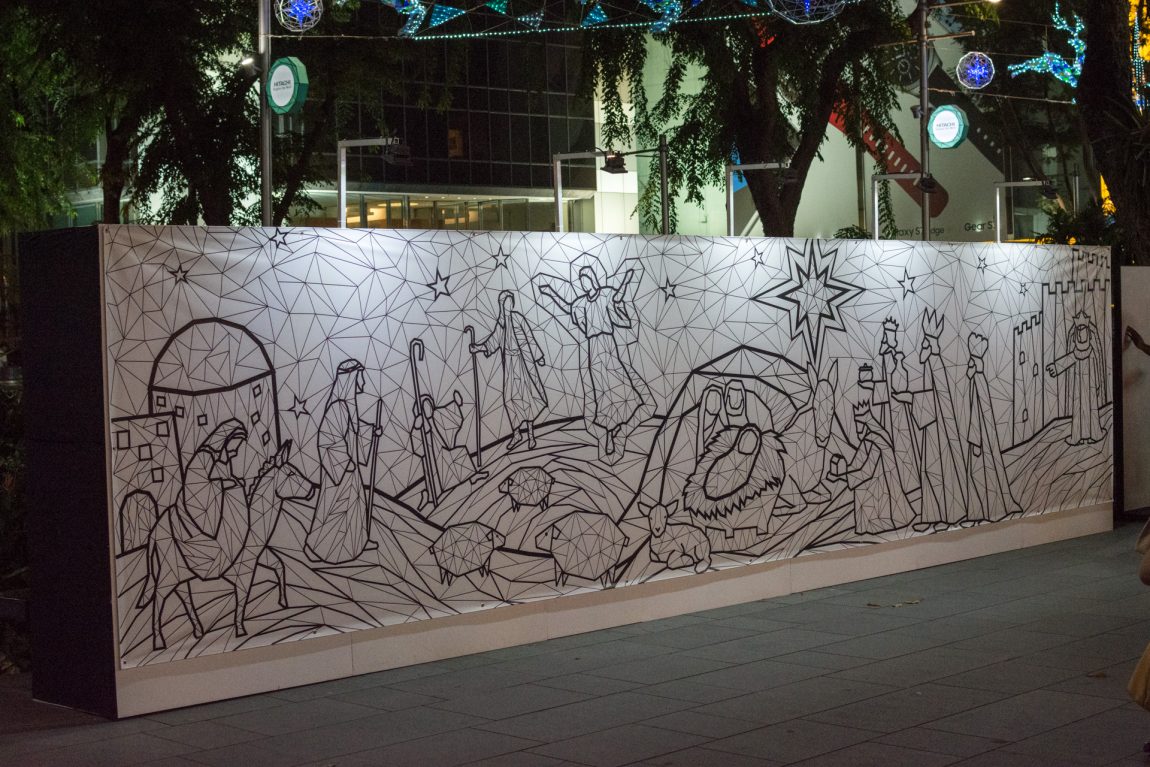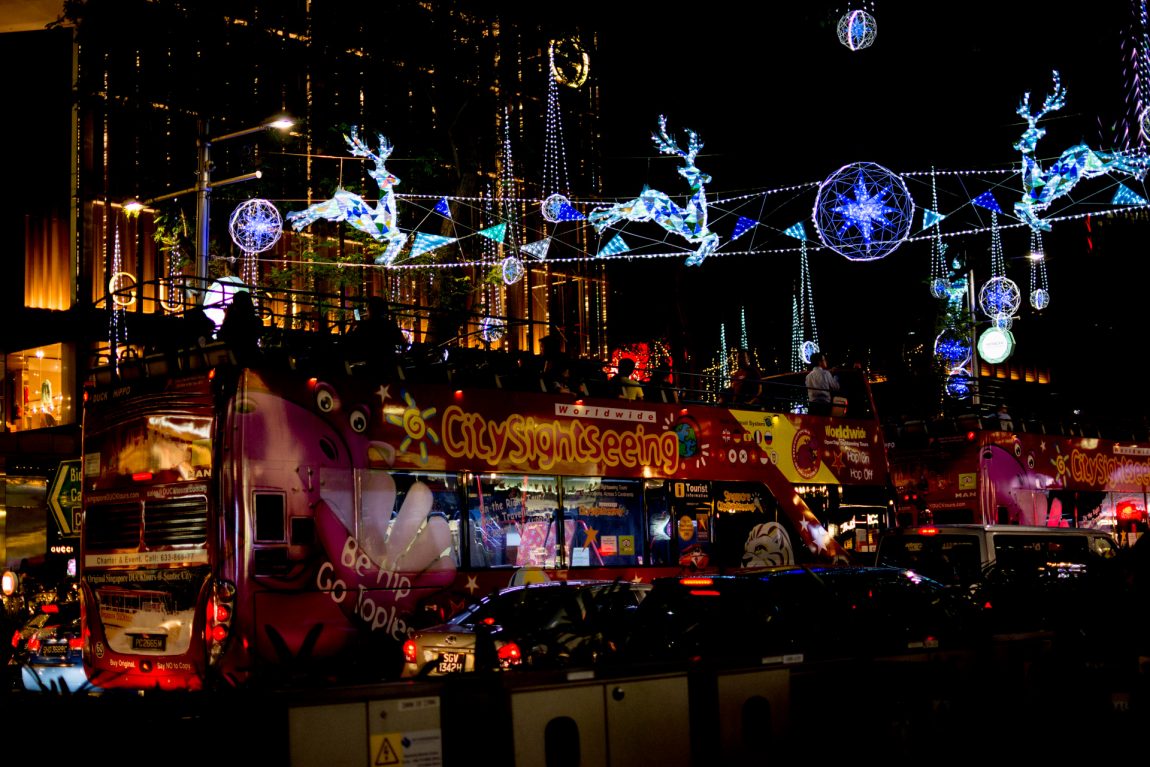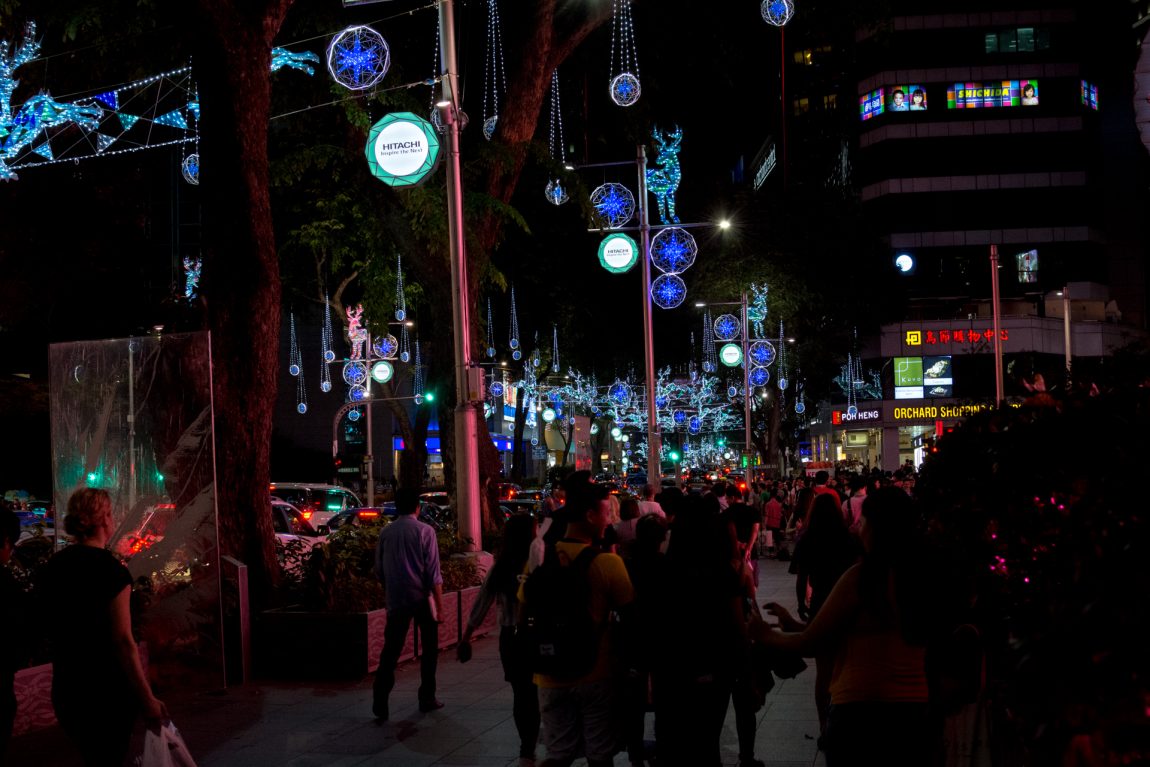 Moving towards Somerset, I spotted this young boy busking.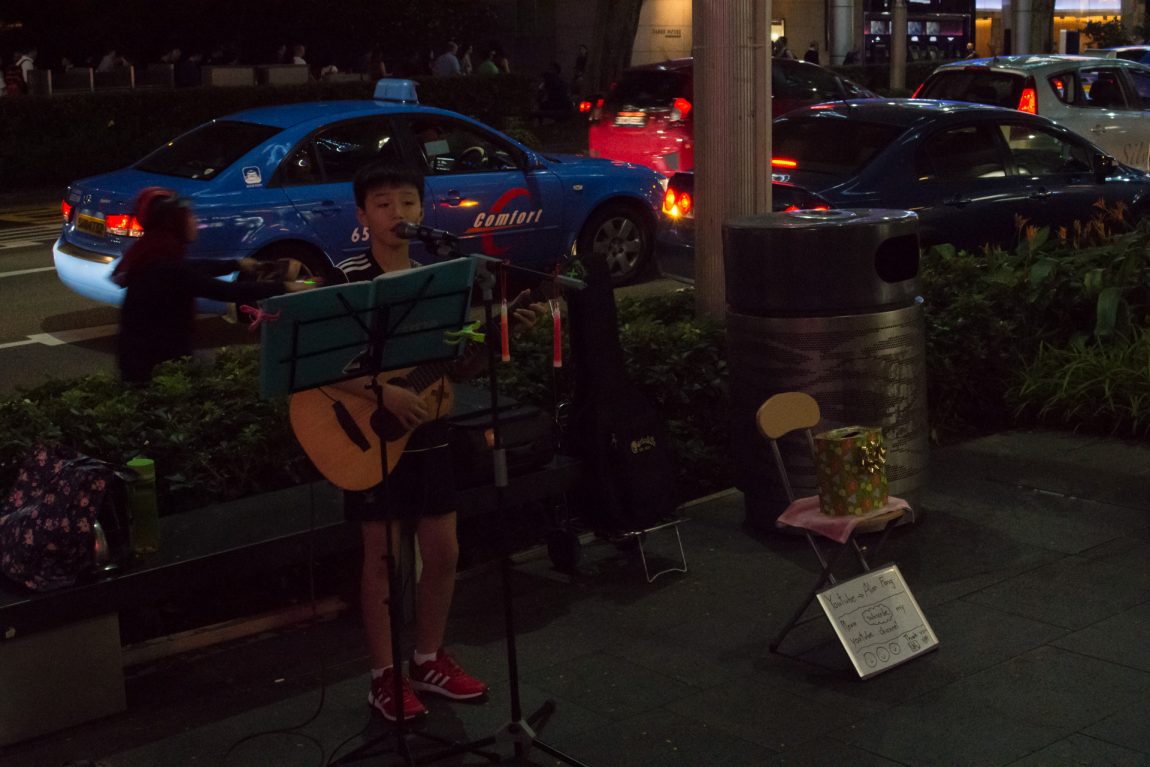 According to the text on the whiteboard at the right, he's Alan Fong and he's canvassing for subscribers on YouTube. You can follow him here. He's on the right path to greater things, I'm sure.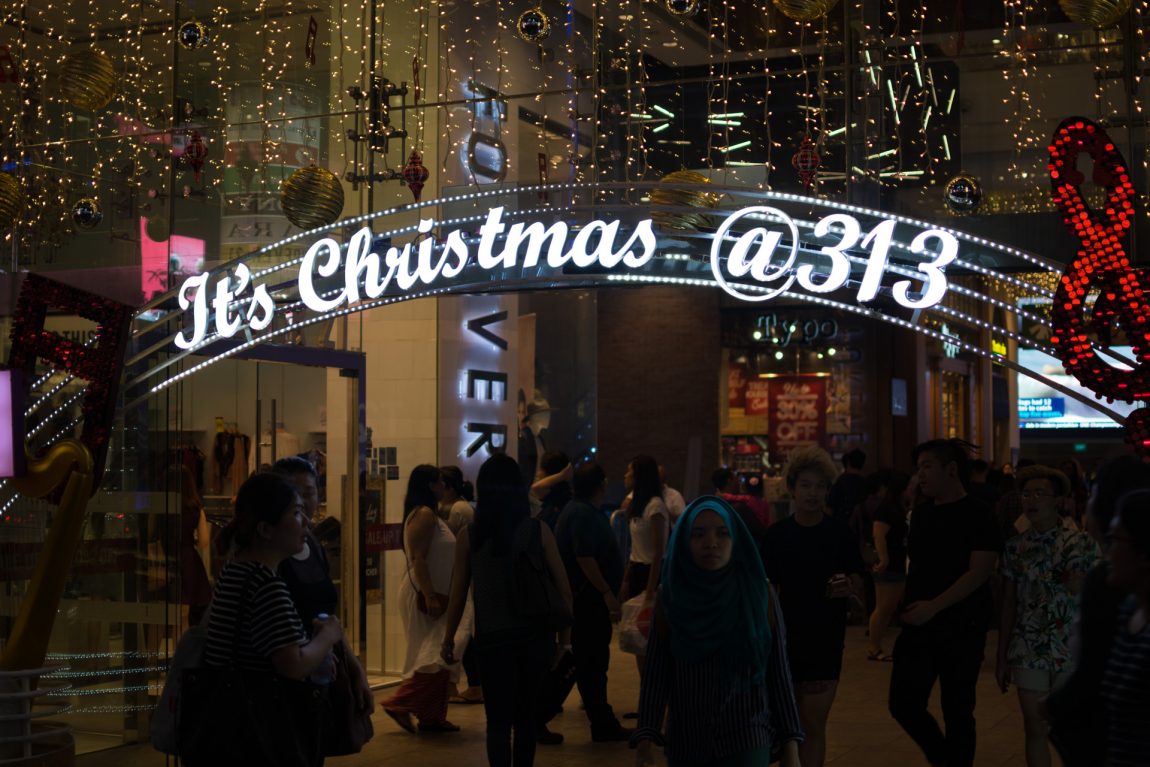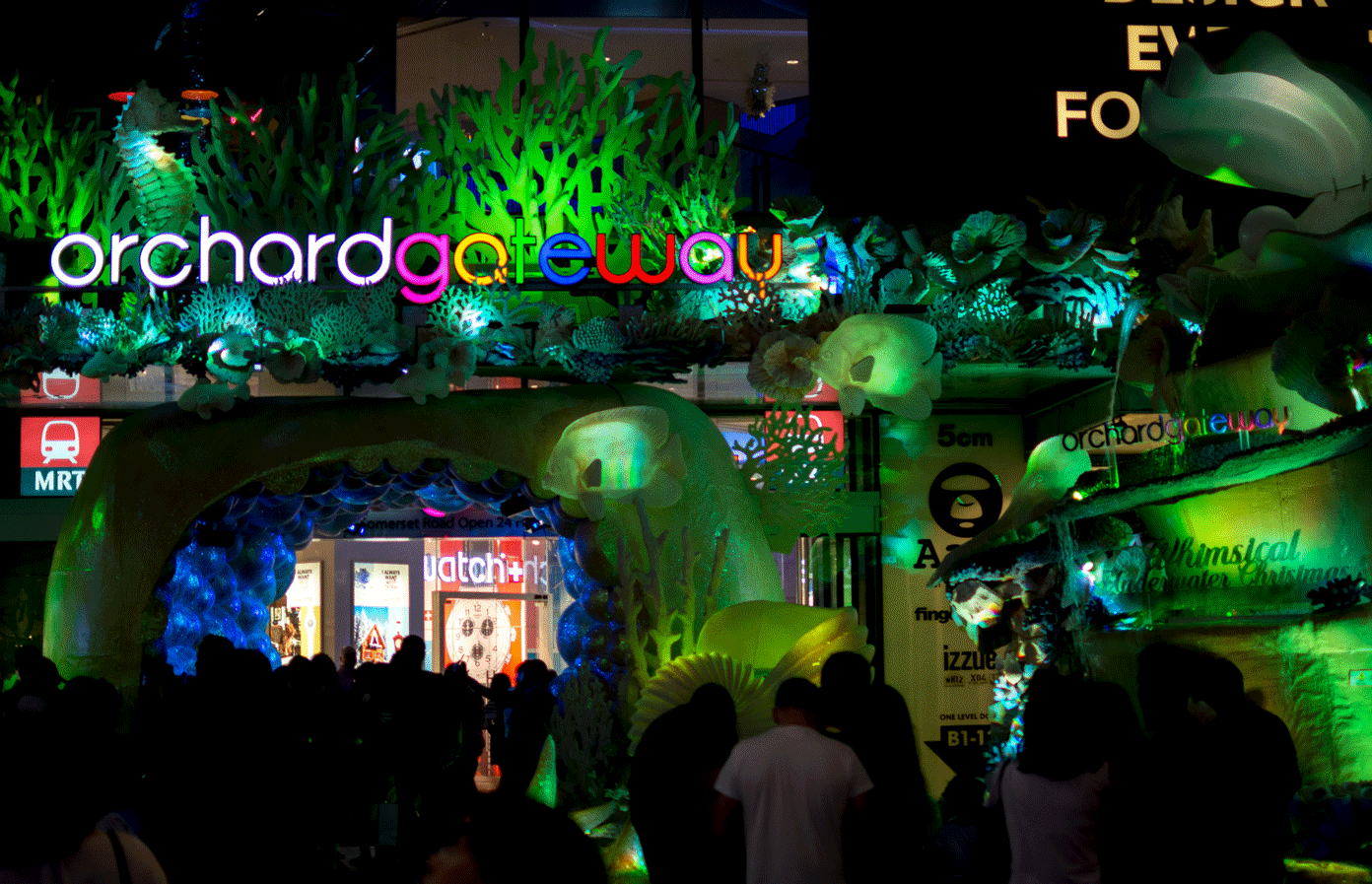 The entrance arch of Orchard Gateway feels like Alice in Wonderland. The colours alternate every minute or so, which is a really nice touch.
Across the road at CentrePoint, there's a gigantic clock with cogs that rotate (you can't see in in the photograph, though).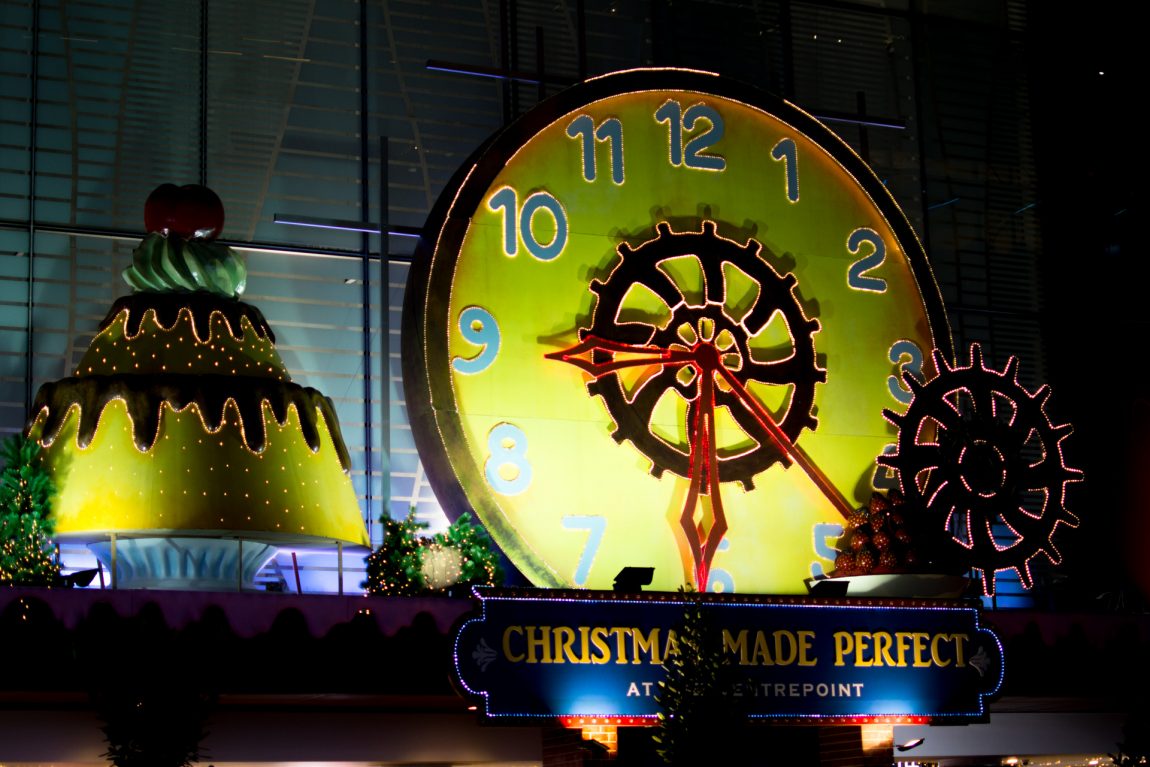 CentrePoint was the other mall apart from ION Orchard to win the best-dressed contest this year and I think it's well-deserved.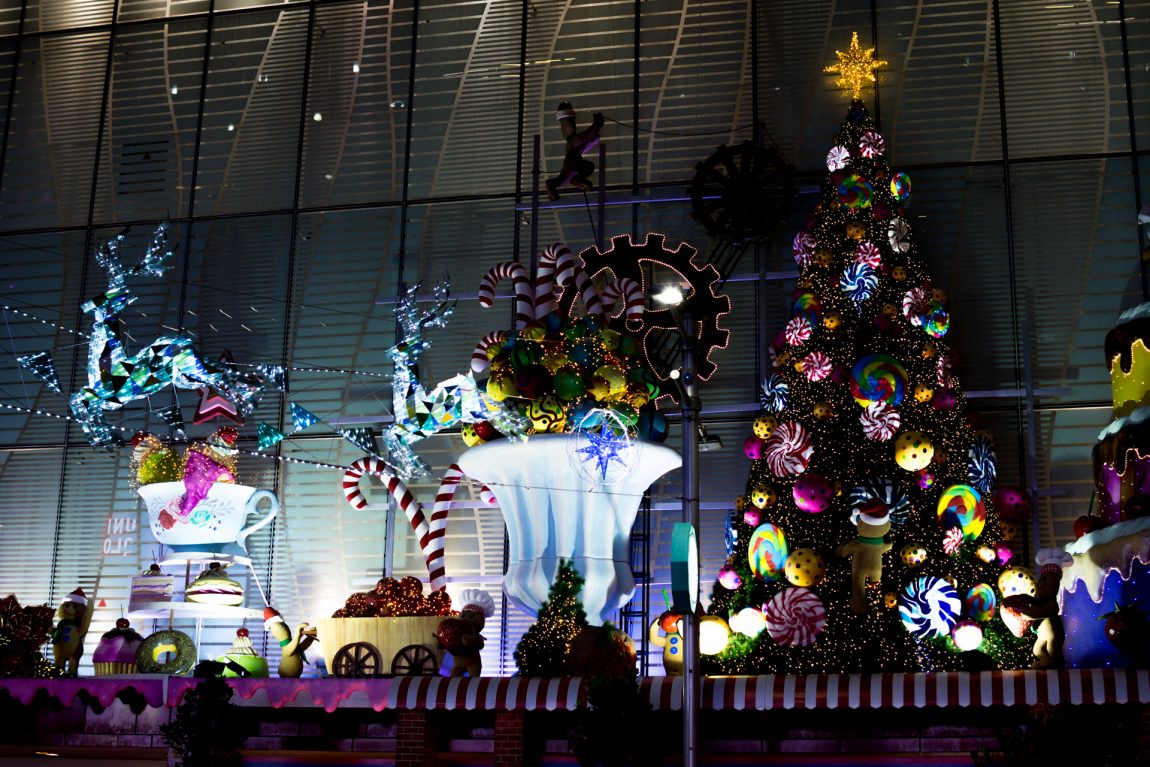 CentrePoint relies not upon its lighting but in the intricacy of its decorations.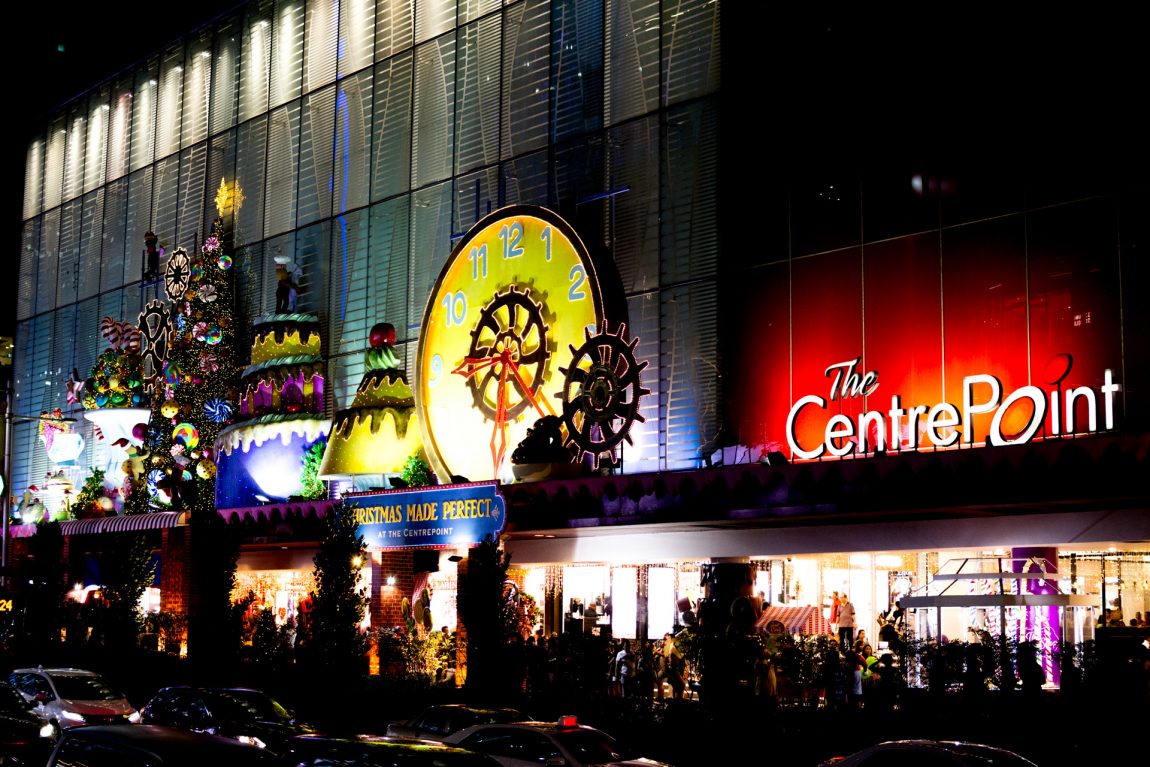 Indeed, it is Christmas Made Perfect, and it's also making me hungry…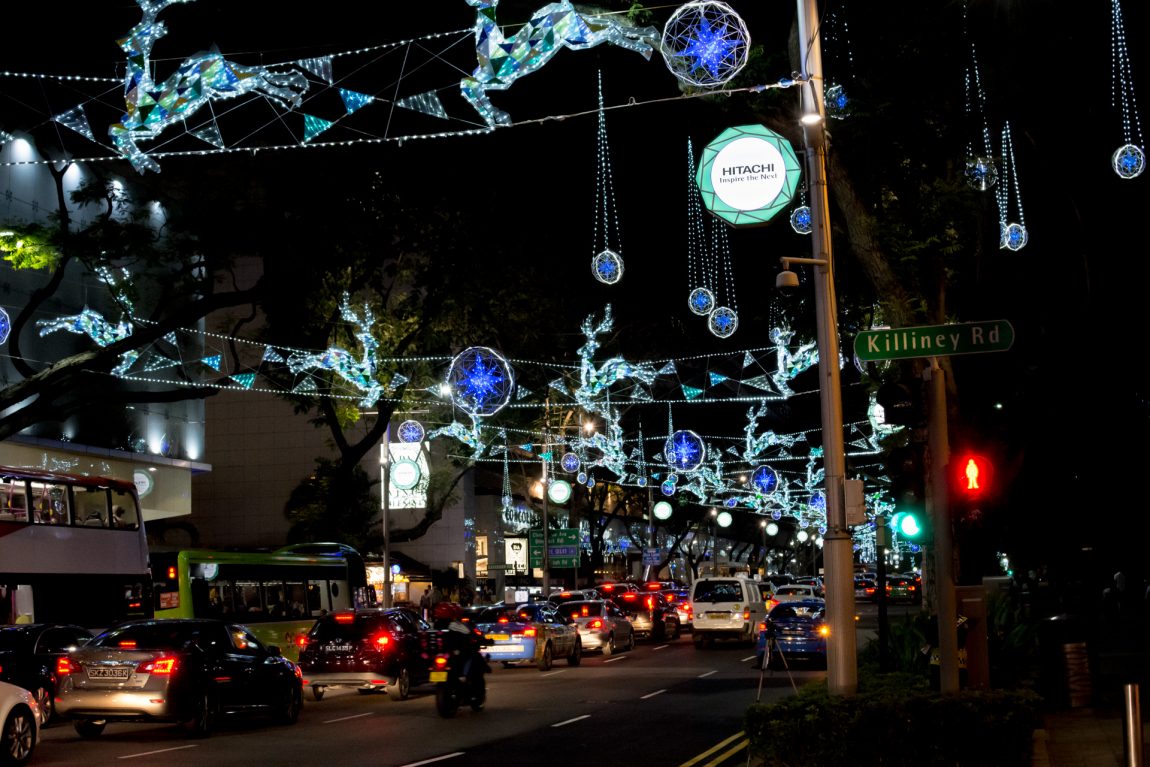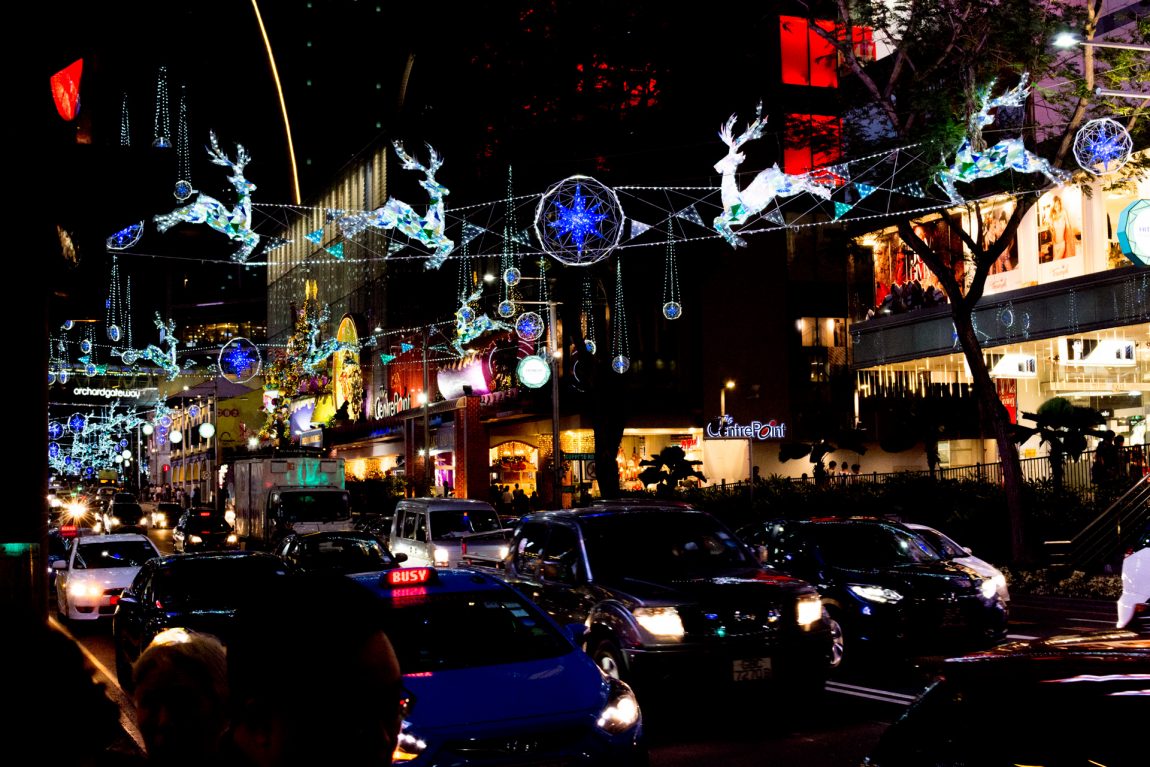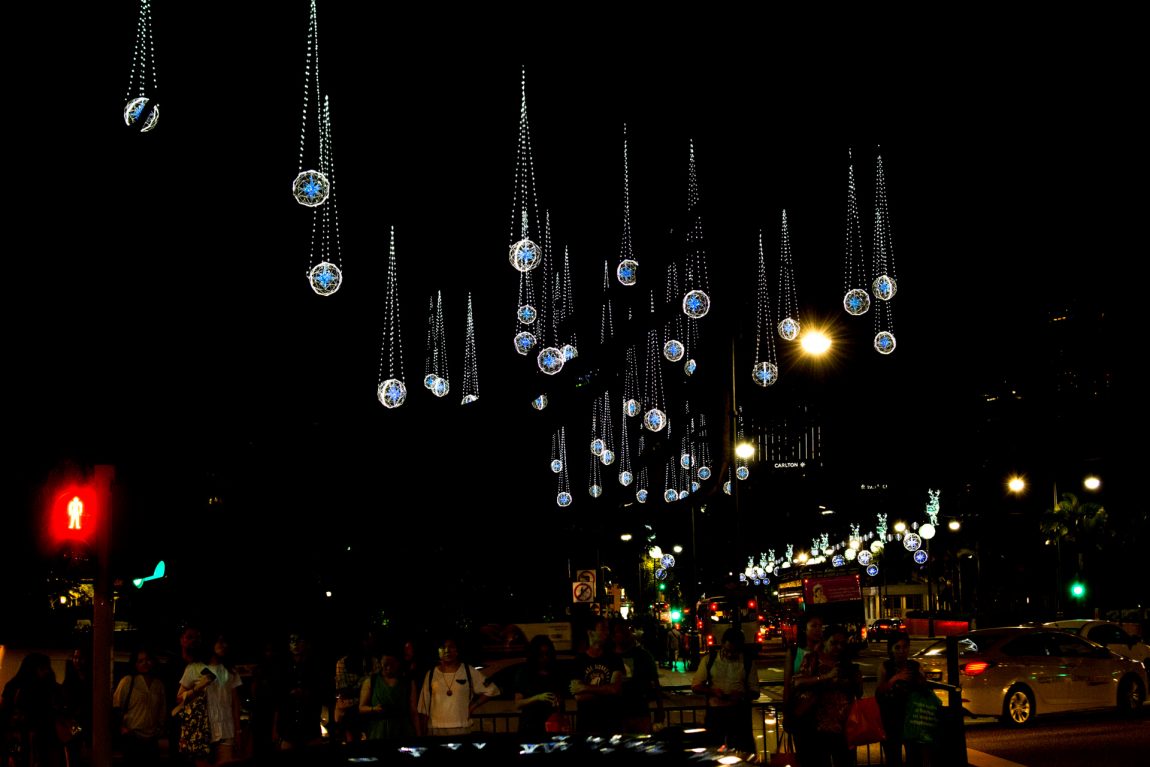 The decorations extend on, past Somerset and towards Concorde Hotel and finally, Dhoby Ghaut where it all ends.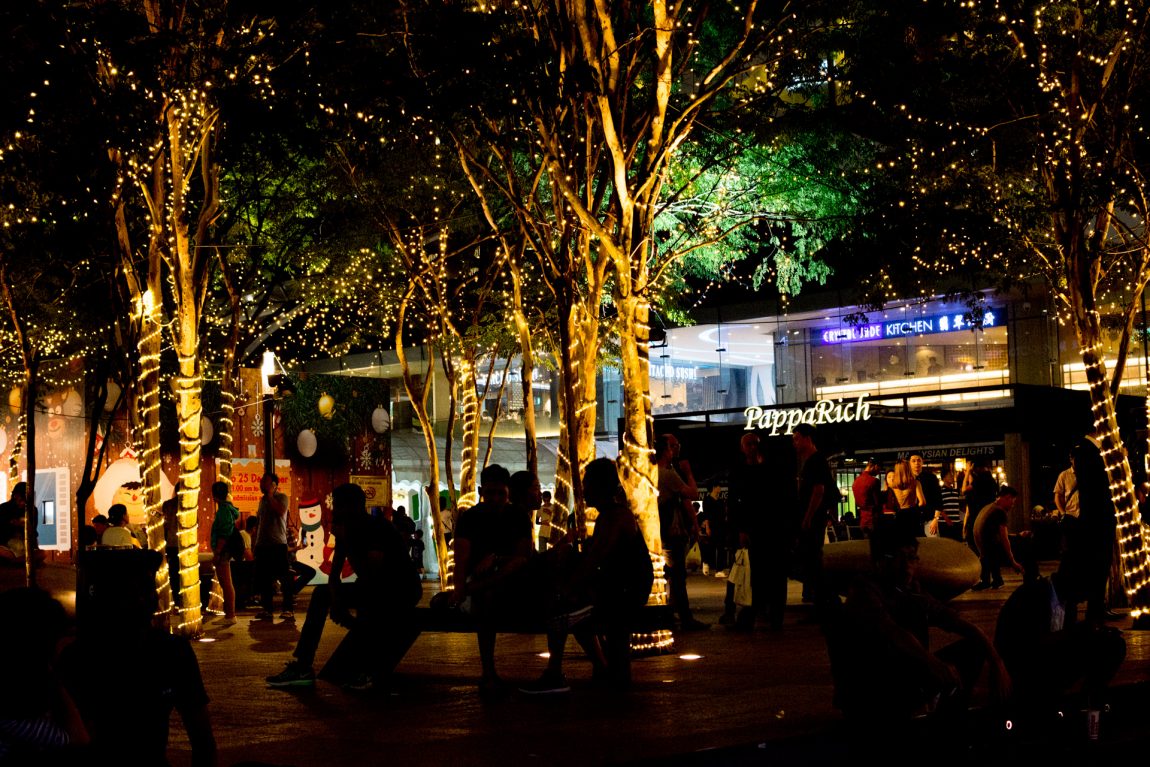 As I type this, 25th December is over, but hey, there's 12 days of Christmas. So hey, have a very Merry Christmas and enjoy this year's decorations until 2nd January, where they'll make way for the Chinese New Year decorations at Chinatown.