The Galaxy Note 10+ was released some nine months ago. It has since been eclipsed by newer phones such as the iPhone 11 Pro Max, Galaxy S20 Ultra, Google Pixel 4 XL, OnePlus 8 Pro and the myriad offerings from Xiaomi. Still, if you're on a lookout for a capable Android phone today, the Note10 or Note10+ are still two of the better options out there.
Preface
I've been using Samsung phones ever since the Galaxy S4. I've used the S4, S6, S7 edge, S9+, S10+ prior to the Note10+. Of late, I've become a serial phone changer. I upgraded from the S10+ to the Note10+ in September last year, after five not-so-happy months with the S10+. The S10+ charged slowly, had poor battery life (for its size) and the fingerprint reader barely worked (through a UV-cured tempered glass screen protector). In the seven months since I've owned the Note10+, I've been mostly happy with it, and have had no desire to change phones just yet. This one's a keeper for the next two years, I suppose.
This isn't a full review in the sense that we won't be delving into technical details and all–for that, there are already hundreds of reviews out there on the internet. Rather, I'll share my real-world experiences of using this phone for the past few months.
The Design
The Note10 series fixes an annoying pain point of the S10 series–the right-aligned selfie camera, which pushed the notification icons awkwardly to the left. This was especially odd in the case of the S10+, which came with an additional depth sensing front camera which only functioned in limited scenarios where you wanted a more accurate bokeh effect in portrait photos. The Note10 series moves the selfie camera to the centre, which feels more natural and symmetrical. Ideally, I would much rather have a full display and a pop-up camera, but the middle hole-punch cutout is an acceptable compromise and doesn't really get in the way, even when watching full-screen movies.
In Singapore, the Note10+ comes in Aura White, Aura Black and Aura Glow colours. I chose the Aura Glow because it was the most unique of the options offered–the back of the phone basically looks like the back of a CD or DVD (remember those?) and serves a secondary function of being a mirror, which can be surprisingly useful sometimes. On sunny days, however, the mirror finish will catch and reflect sunlight, much like the glass on a wristwatch, and will probably scratch easily, too. In the end, I purchased a matte SlickWrap which toned down the mirror finish and the phone has a baby blue shine to it now.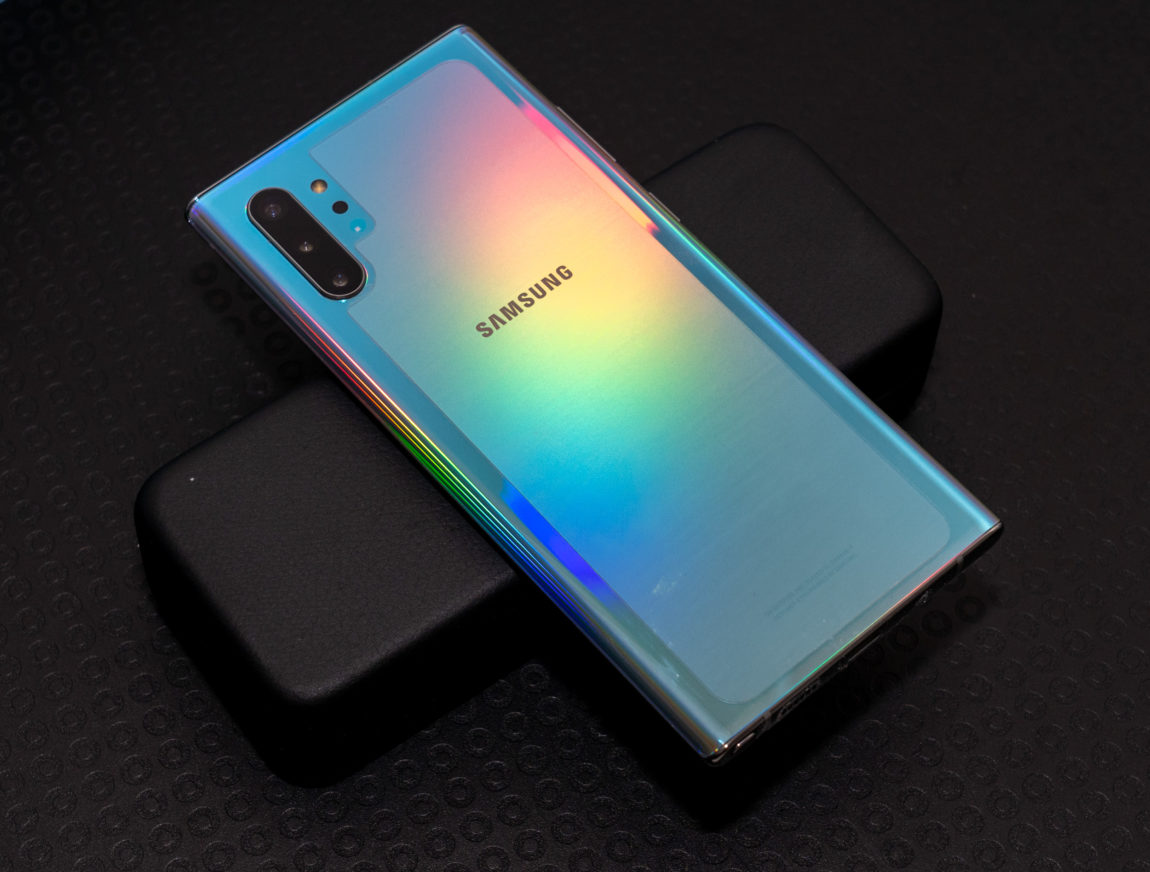 The Aura Glow version comes paired with a deep blue coloured S-Pen, which doesn't really fit into the colour scheme. Then again, the S-Pen (at least for me) is tucked away in the phone most of the time.
The sides of the phone, despite having a shiny chrome finish, are still made from aluminium instead of stainless steel as on the latest iPhones. This means that the sides will get scratched easily if you don't take good care of it.

Battery Life and Fast Charging
The Note10+ comes with a 4,300mAh battery, a slight improvement over the S10+'s 4,100mAh cell. With careful power management, you should be able to get through the day, if just barely. That's not the case for me, however, given that my phone's always paired to my Galaxy Watch Active2 and streaming music through Spotify using mobile data.
In some ways, it's quite a disappointment that Samsung's phones still have rather poor battery life despite its large battery. My spare Xiaomi Mi 9T, for example, gets through the entire day without much issues, albeit with a slightly slower processor. I think part of the reason behind the poor battery is Samsung's inefficient modem. On Wi-Fi, for example, battery drain on the Note10+ is quite minimal. However, if you're on 4G/4G+, standby battery drain is quite significant even when you're in an area with good reception.
On the bright side, the Note10+ charges really quickly. Out of the box, the Note10+ is bundled with a 25W charger, or almost twice the speed of Samsung's regular 15W "Fast" Chargers. With a compatible charger (which, unfortunately, Samsung doesn't sell in Singapore for some reason), you can charge the Note10+ at speeds of up to 45W. To enjoy charging speeds of 25W and above, you need to purchase a charger that supports Power Delivery with PPS.
Personally, I use Aukey's 45W Power Delivery PPS charger, which charges the phone somewhere around 25W or so. With this charger, you can top up the phone's battery in about an hour. Do note that charging speeds will slow down as the phone heats up, so it's best to charge the phone in a well-ventilated place if you want to charge it as quickly as possible.
The Note10+ also supports wireless charging above 15W, though I find that even with a 10W charger, it's hard to reach the maximum speeds due to heat issues.
Camera
I usually bring around my Sony Alpha if I wish to take photos, but the camera on the Note10+ will make do in a pinch.
Out of the box, the photos shot by my Note10+ seem slightly lacking in contrast. Perhaps this could be due to the fingerprint oil smudges accumulated on the lens through use. Post-processed through Lightroom, however, the photos turn out to be quite decent. The Note10+ supports the High Efficiency Image Codec (HEIC) format, though there doesn't seem to be an appreciable increase in image quality over JPEG. The Note10+ supports Night Mode as well, which is passable at best.
Performance and Storage
Performance in day-to-day use is excellent, with no noticeable slowdowns or sluggishness. Of course, this is to be expected from a flagship phone with 12GB of RAM. The GPU in the Note10+ is relatively weak, though, so games may have lower framerates as compared to say, a phone running on the Snapdragon 855. Still, I had no issues playing PUBG on the phone.
My version of the Note10+ comes with a whopping 512GB of UFS 3.1 storage, something no other phone released since has topped. Unfortunately, the S20+/S20 Ultra launched in Singapore only comes in a single 128GB variant, which is a really puzzling decision by Samsung. Outside of the iPhone, no other phone released in the past year in Singapore features at least 512GB of storage.
The storage is really fast in day-to-day use and with 512GB of storage at your disposal, you can use the microSD slot to fit in another nanoSIM instead.
Other Notable Features
I rarely use the S-Pen, but when I do use it (e.g. to play drawing games online, or to crop photos), it works well and there is no discernable lag (even with OneNote, where I had lag issues with my Galaxy Tab A with S-Pen). However, I still think a stylus is best reserved on a tablet; it's really hard to write properly on such a narrow screen, and a curved one at that.
The lack of a 3.5mm headphone jack doesn't bother me anymore given that I've switched to using Bluetooth IEMs out of sheer convenience. My Creative Super X-Fi amp works fine with the Note10+, though some people on Head-Fi have reported compatibility issues with other USB DACs.
Meanwhile, Samsung Pay is great and one of the best reasons why it's still worth remaining in the Samsung ecosystem. With each purchase, you rack up points which you can then use to redeem rewards. Best of all, it is now compatible with our public buses and MRT; you don't even need to unlock the phone to use it. There are some instances, however, where the tapping gets a little cranky and you do need to launch the app for the card reader to detect the phone.
Conclusion
Overall, the Note10+ may not be the best or fastest phone out there today, but it still offers a good blend of features, battery life and storage. It's a worthy contender even when compared to the more recent OnePlus 8/8 Pro and the S20 series.