AMD's third-generation (confusingly named the Ryzen 4000 series) mobile processors are finally here, and the IdeaPad 5 is probably the first Ryzen 4000-equipped model to reach our shores, courtesy of Infinito Atrix which is selling the laptop for S$1,398. There was a time sale, however, and I managed to snag it for just S$1,250.
Making a mark in the mobile space
The Ryzen 4000 series of mobile processors marks another important milestone in AMD's resurgence. In 2017, AMD launched its Ryzen line of desktop processors, marking the first time in a decade where AMD was able to put up a good fight against Intel. By 2019, AMD had finally regained the upper hand for the first time since 2006, trouncing Intel's 9th generation Core processors in terms of performance, all for the same price.
AMD's march to dominate the mobile space hasn't been that smooth in comparison. The early laptops based on the first generation Ryzen mobile processors, marketed as the Ryzen 2000 series, were riddled with weird bugs (e.g. YouTube videos crashing) and poor battery life and were at best, seen as a budget alternative to laptops equipped with the Intel Core processors. The follow-up Ryzen 3000 series fixed most of these issues, and pretty much went toe-to-toe with Intel. The Ryzen 4000 mobile series (which, due to AMD's confusing nomenclature, is actually its third-generation mobile processors based on the Zen 2 architecture featured on the Ryzen 3000 series desktop processors) promises to shake things up significantly, offering up to eight cores and sixteen threads on a power envelope of just 15W, all while offering graphics performance that far eclipses anything Intel has to offer right now.
The Ryzen 7 4700U featured in the IdeaPad 5 is just a notch down from the flagship 4800U, featuring eight cores with no multi-threading support. It operates at a base frequency of 2GHz and offers a boost frequency of up to 4.1GHz. It doesn't appear to be an expensive chip, given that it features in a laptop that costs half the price of, say, the Dell XPS 13, which features Intel's top-of-the-line 15W chips.
Design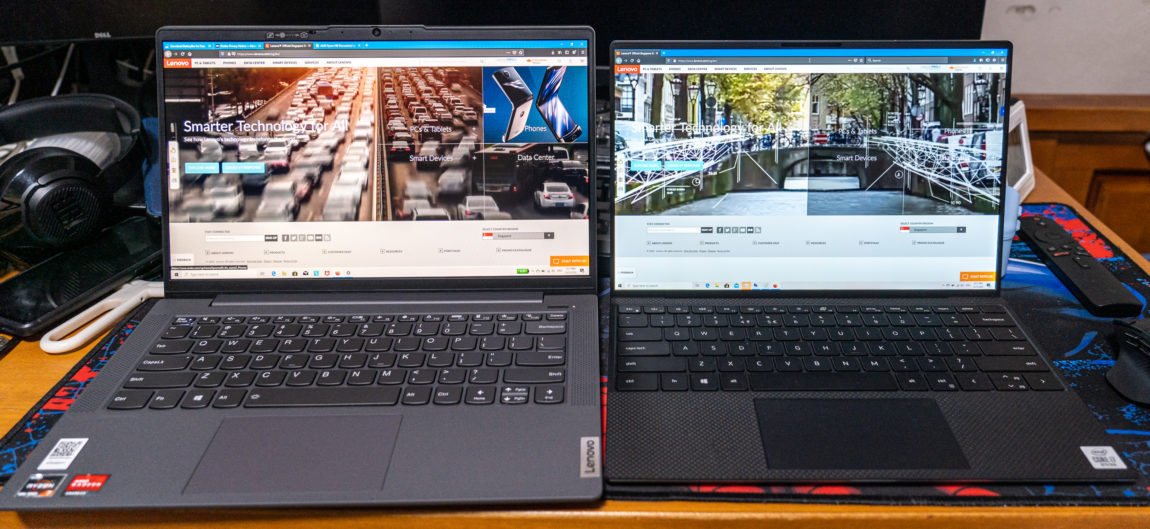 Before we digress further, let's go back to talking about the laptop. The IdeaPad 5 14 is a 14-inch laptop which comes in two body configurations–one with a metal lid and metal chassis, while the other has a metal lid and a plastic chassis. My set comes in the latter configuration, in a "Slate Grey" colour. It's a thick laptop–perhaps almost twice the thickness of the incredibly svelte XPS 13–but to its credit, it's still a fairly lightweight machine, tipping the scales at just 1.40kg (yes, I measured).
While this laptop is definitely no looker as compared to, say, the Dell XPS 13 or the recent Acer Swift 5, the IdeaPad 5 is still attractive by virtue of its minimalistic design. There's barely any branding on the laptop, save for a small, non-descript "Lenovo" badge on the top right-hand of the lid and corresponding badge on the right side of the palm rest. Lenovo has also trimmed down the bezels significantly, especially with regard to the bottom chin, which now seems to have the same thickness as the top bezel.
The keyboard deck has a rough texture to it, which I don't quite like. The keyboard, however, is a pleasure to type on, with rather long key travel. The touchpad uses the Precision Touchpad drivers, so you have full access to a variety of gestures. It's made with the same "Mylar" material as with most of Lenovo's other touchpads, which is a kind of soft-touch plastic. There's not much friction when you glide your finger across, and sensitivity is also quite okay, though there were some instances whereby the touchpad would skip a little. The touchpad only clicks at the bottom, and the clicks are quite distinct and deep (which, depending on your preference, may be a good or bad thing).
On the whole, the laptop has a sturdy build. The metal lid is quite thick and has barely any flex to it. The base, too, is built pretty solidly despite being fashioned out of plastic. I would say that the build quality of this laptop is comparable to that of the lower-end ThinkPads. I think if Lenovo were to release this laptop in black, it could almost pass off as a ThinkPad.
Ports and Features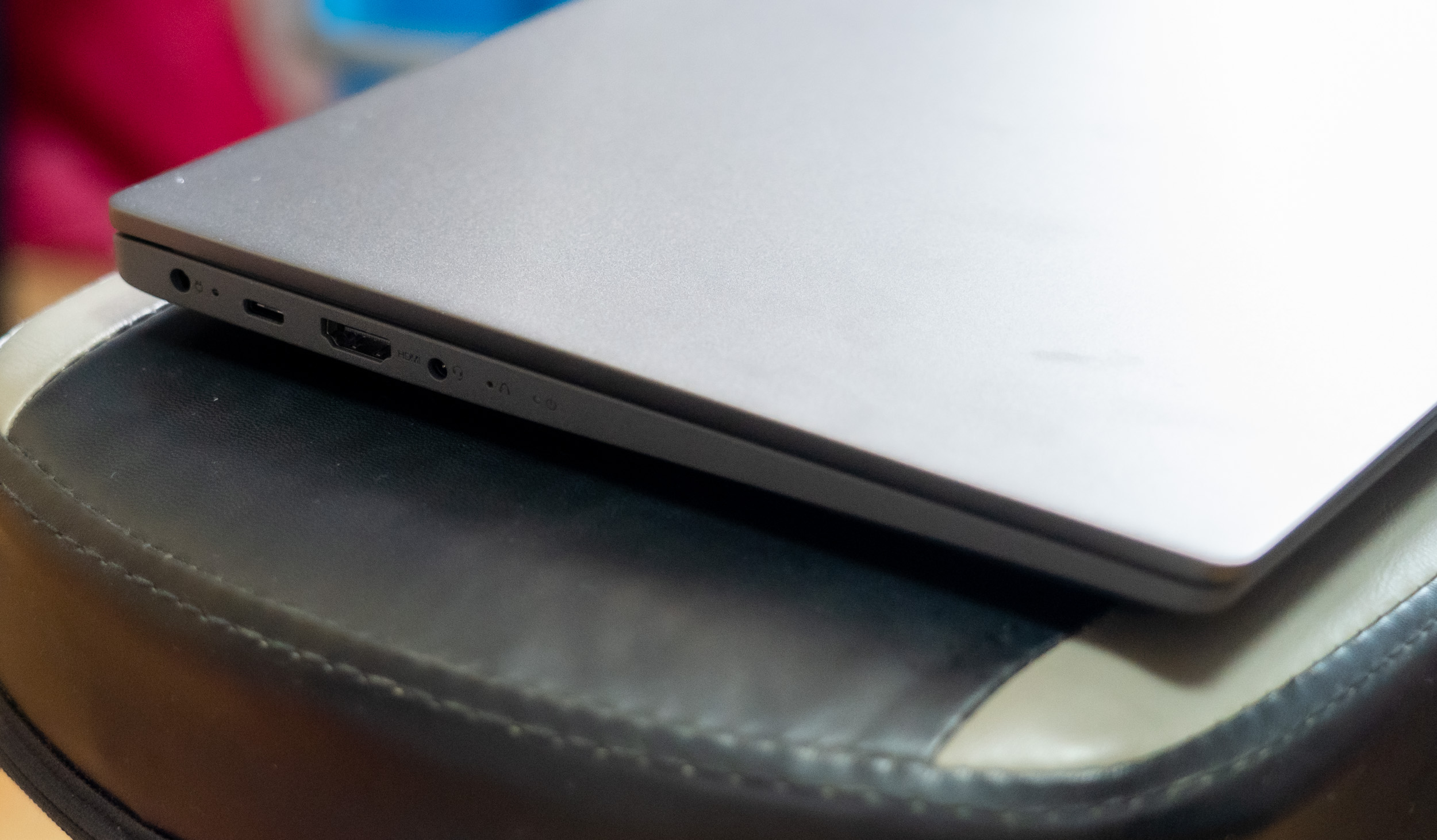 Ports-wise, the IdeaPad 5 comes with a barrel-tip charging port, a USB-C port, a HDMI 1.4b port and 3.5mm headset jack on the left side. Do note that if you have the configuration with the metal bottom, there is no dedicated charging port at all and you can only charge the laptop via the USB-C port. For this reason alone, I would think that the metal lid+plastic chassis variant is the superior configuration here, as it frees up the USB-C port for you to connect your other peripherals.
Based on my own tests, the USB-C port is unfortunately restricted to Gen 1 speeds (5Gbps), which means that you may get bottlenecked when plugging in certain external SSDs such as the SanDisk Extreme PRO which I have. It supports Power Delivery charging, which means that you can top up the battery using an external power bank, which is something that comes in very handy when you are on the move. While the IdeaPad 5 was unable to accept a charge from an 18W USB-C PD charger, it was able to accept a charge from my 30W, 45W and 65W chargers.
To top it off, the USB-C port supports DisplayPort pass-through as well, although it seems to be capped at version 1.2 (although the graphics processor in the Ryzen 4700U should support version 1.4). This means that you can only run a single 4K monitor at 60Hz. Based on my tests, I was able to run my 4K television at 60Hz and full 8-bit colour (couldn't get 10-bit to work, however) with no issues over the USB-C port. This is contrary to the information provided on Lenovo's PSREF website which claims that the laptop can only output 4K at up to 30Hz over the USB-C port.
Unfortunately, the HDMI port is indeed not a version 2.0 port, which means that you can only output 4K at up to 30Hz at full 8-bit colour, or 4K at 60Hz with 4:2:0 colour compression.
The above are examples of the areas where Lenovo cut corners, which is quite unfortunate given that the platform has the capability to support Gen 2 speeds, DisplayPort 1.4 and HDMI 2.0. The Acer Swift 3, for example, supports these features despite being priced similarly, though it is not yet available in Singapore.
On the right side, we have a pair of USB Type-A ports as well as a full-sized SD card reader. The two Type-A ports on the right similarly support up to Gen 1 (5Gbps) speeds, while the SD card reader is capped at UHS-I speeds, at a respectable rate of 80MB/s when tested with a UHS-II card.
The charger which comes with the laptop is unfortunately the pseudo three-pin variety, with a plastic ground pin. This means that you can feel some "current" running through your finger if you brush it across the metal lid with the laptop plugged into the mains. On the other hand, given that the chassis is made of plastic on my unit, you won't feel the same current on the keyboard deck.
Lastly, something worth mentioning these days: the laptop also comes with a 720p webcam, with a physical privacy shutter. The quality of the webcam is, as expected, mediocre, but it should suffice for Zoom meetings. There is no IR camera option, and my set also doesn't come with a fingerprint reader (though there are configurations with such an option available).
Display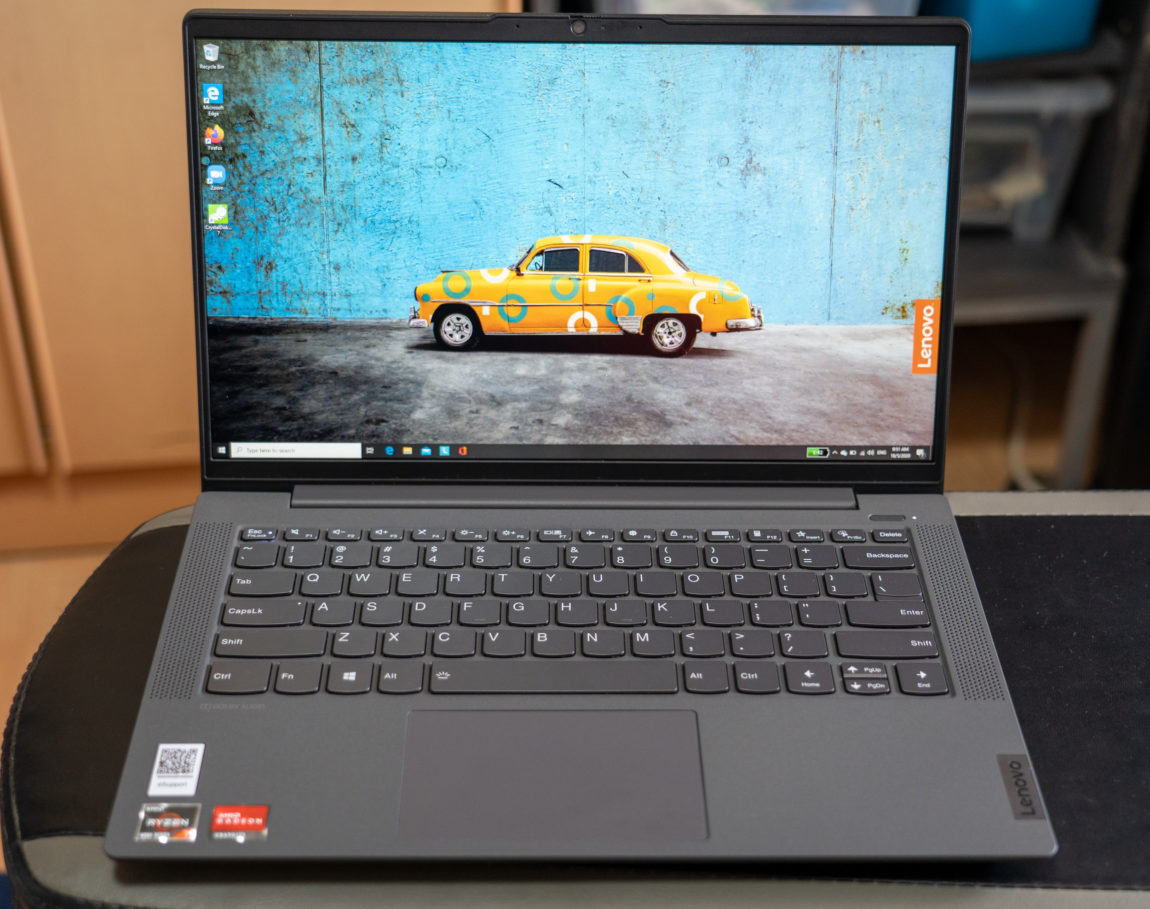 The display is another area where corners were cut. My set comes with a Full HD AU Optronics panel with model number B140HAN04.E. Based on a test with my SpyderX colourimeter, the display covers only 57.9% of the sRGB gamut, or 40.1% of the Adobe RGB gamut.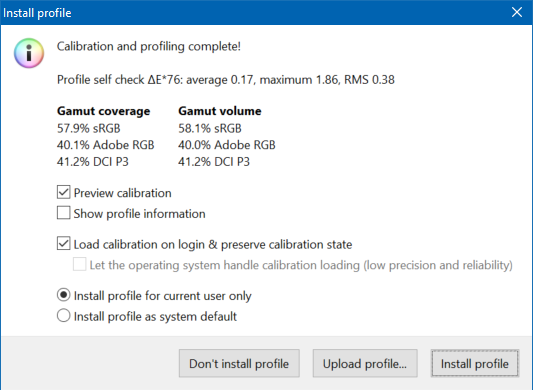 In real-world use, the display appears rather washed out and muted, with the display most noticeably being unable to reproduce rich shades of red (e.g. the Lenovo logo). I'm not sure if a few years ago I would've noticed the difference; but now with the majority of smartphones and external monitors being capable of displaying at least 100% of the sRGB spectrum, it is hard not to notice the deficiencies in the IdeaPad 5's display. It is worth noting that certain full metal SKUs in Europe have the option to be equipped with a display supporting the full sRGB spectrum, however. Given the price difference (probably US$10 at most) between the two options, it is frustrating to see Lenovo cutting corners on what is probably the most important part of the laptop.
The display also has a strong matte coating to it, which makes text and images look grainy if you look closely.
On the bright side, the display exceeds its rated 300 nits, with a measurement of 364 nits at the centre of the display, though this drops to 294 nits on the upper right hand corner of the display. Coupled with the strong matte coating, you should have little issues with background glare even when used outside. I wish the brightness controls could be more granular, though–the laptop jumps from 250 nits to 364 nits in just one brightness level.
The display was a little blue out of the box, which can be fixed with a bit of colour calibration. There were no dead pixels, bright pixels or uneven screen tint observed. The funny thing is, based on my recent experiences, it seems that cheaper displays have fewer issues when it comes to dead/ bright pixels or uneven screen tint. The more problematic screens tend to be high DPI displays with wide colour gamut.
Performance and Stability
With 16GB of DDR-3200 RAM in a dual channel configuration equipped in an octa-core processor, this laptop flies. I generally hate doing benchmarks (and there are many others who have done so already on the internet), but I managed to run a few tests for the sake of this review, as follows:
CineBench R20: 2,891 max, 2,500 average over six runs
CS:GO "FPS Benchmark" workshop map: 55fps on "High" settings, 1920×1080
I also did some 3DMark tests, where the results were unfortunately not saved. However, I do remember the benchmarks results being a significant margin above that of the Core i7-1065G7.
It is perhaps worth noting that even when running these benchmarks, the palmrest and keyboard deck of the laptop remained cool to the touch. This is a testament to how efficient the Ryzen 4000 series is (though perhaps the thickness of the chassis may have been a factor as well).
Throttling wasn't much of an issue with the IdeaPad 5. While the first run got better benchmark scores than subsequent runs, it stabilised at an acceptable level.
The SSD on my IdeaPad 5 was a Samsung PM991 drive. Sequential read speeds were about 2,300MB/s while sequential write speeds were slower at about 1,300MB/s. Surely, while it's not the fastest drive out there, it is still an order of magnitude faster than Intel's QLC Optane drives which are (unfortunately) becoming commonplace in laptops. Boot-up times are real quick, at 10 seconds from power on to the desktop, even with the Fast Startup option disabled. By the way, if you open up the laptop, there's an empty slot for another M2 2280 NVMe SSD.
The IdeaPad 5 comes equipped with the latest Intel AX200 Wi-Fi 6 (2×2) card. I was able to get speeds of about 450MB/s download and upload on a Speedtest, which is about the same speed as the Dell XPS 13 9300 which I also tried over the same router. No complaints there.
Throughout the first few days of my use, the laptop seemed stable and did not crash.
Battery life
My IdeaPad 5 came equipped with a small, 46Wh battery, though there are configurations with a larger 57Wh battery. Despite the small battery, I was able to squeeze out about five to six hours when doing normal web browsing and stuff. For Zoom calls, the power consumption is considerably higher and I was able to get only about 2.5 hours on average.
I must say that idle power consumption has really improved (as compared to laptops based on the older Ryzen 2000 series). When sitting idle on a webpage, power consumption goes down to as low as 5,000mW, which is comparable or even better than Intel's Ice Lake platform.
If you pair this laptop with a sizeable USB-C PD power bank, you should be able to get by the day with no problems at all.
Conclusion
Overall, the IdeaPad 5 is, at its core, a no-frills laptop but with performance equivalent to a desktop processor from a few years ago (case in point: the Cinebench R20 multi-core score on the IdeaPad 5 is higher than that on my i5-6600K from 2016). It's probably the fastest 14″ laptop available in Singapore today. I think it's an especially good choice for university students, given its price, light weight, good performance and ability to be charged over USB-C. If you buy this as a freshman, I believe it will serve you well even after four years.
However, if you can wait, perhaps hold out for more options. The Lenovo Yoga Slim 7 and ThinkPad T14 are right around the corner, and these laptops offer better connectivity options, such as USB-C Gen 2, DisplayPort 1.4 and HDMI 2.0 support, and a much better screen. The Acer Swift 3, while having a similar display as the IdeaPad 5, has better USB/ DisplayPort connectivity and HDMI 2.0 support as well.