On paper, the Yoga S740 is just about the most value-for-money premium laptop you can find in Singapore. At S$1,999, it comes equipped with a 14″ 4K HDR display, Thunderbolt 3 with Power Delivery support, the latest Ice Lake Core i7 processor with Iris Plus graphics and an additional Nvidia GeForce MX250 to boot, 16GB of RAM and 1TB of NVMe PCIe storage. This undercuts its main competitors–the Acer Swift 5 (S$2,198 for a similarly-specced machine but without a 4K display), the HP Spectre x360 (S$2,899 but with pen support) and the Dell XPS 13 (S$2,699 to S$2,899 for a similarly specced machine).
Display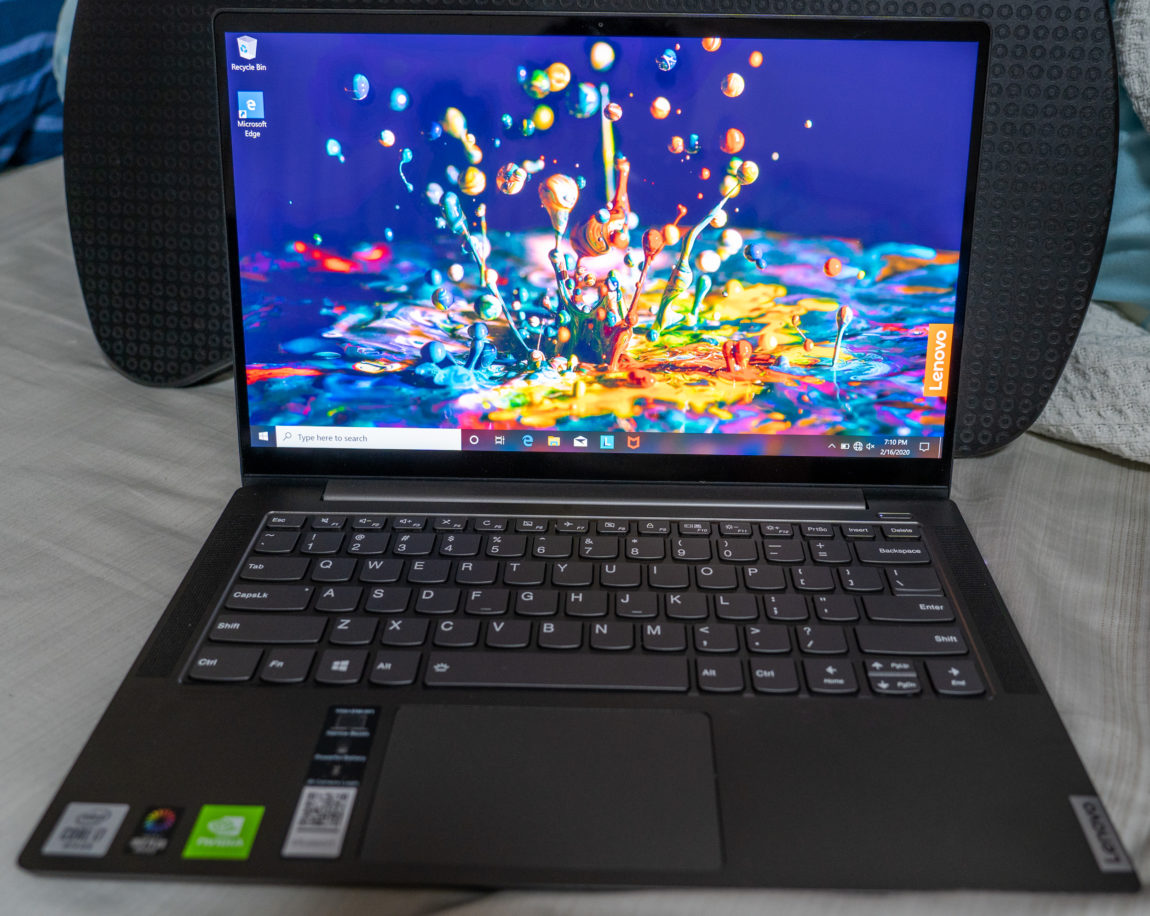 The display is perhaps one of the most important considerations in an ultraportable laptop, since you typically wouldn't be expecting to hook it up to an external monitor. In Singapore, only the 4K display model is being sold in retail stores. Though it's not an OLED nor a 10-bit panel, the display nevertheless displays rather crisp and vibrant images, with 400 nits of brightness and covering the full sRGB spectrum, and then some. On paper, it's a really great display. In real world use, not so.
One issue I noticed was with colour uniformity. My first unit had really poor colour uniformity, with a green tint on the left side of the screen, graduating to a pink tint on the right side. Sure, it won't matter if you're just using the laptop to watch Netflix or YouTube videos, but when working with a plain white background, it gets rather distracting. I managed to get an exchange from the retailer I bought it from (Harvey Norman), but the second unit had dead pixels and still some amount of colour uniformity issues. The third replacement unit was fine from a colour uniformity and dead pixel perspective, but it had a vertical banding issue which was especially prominent on a grey background at high brightness.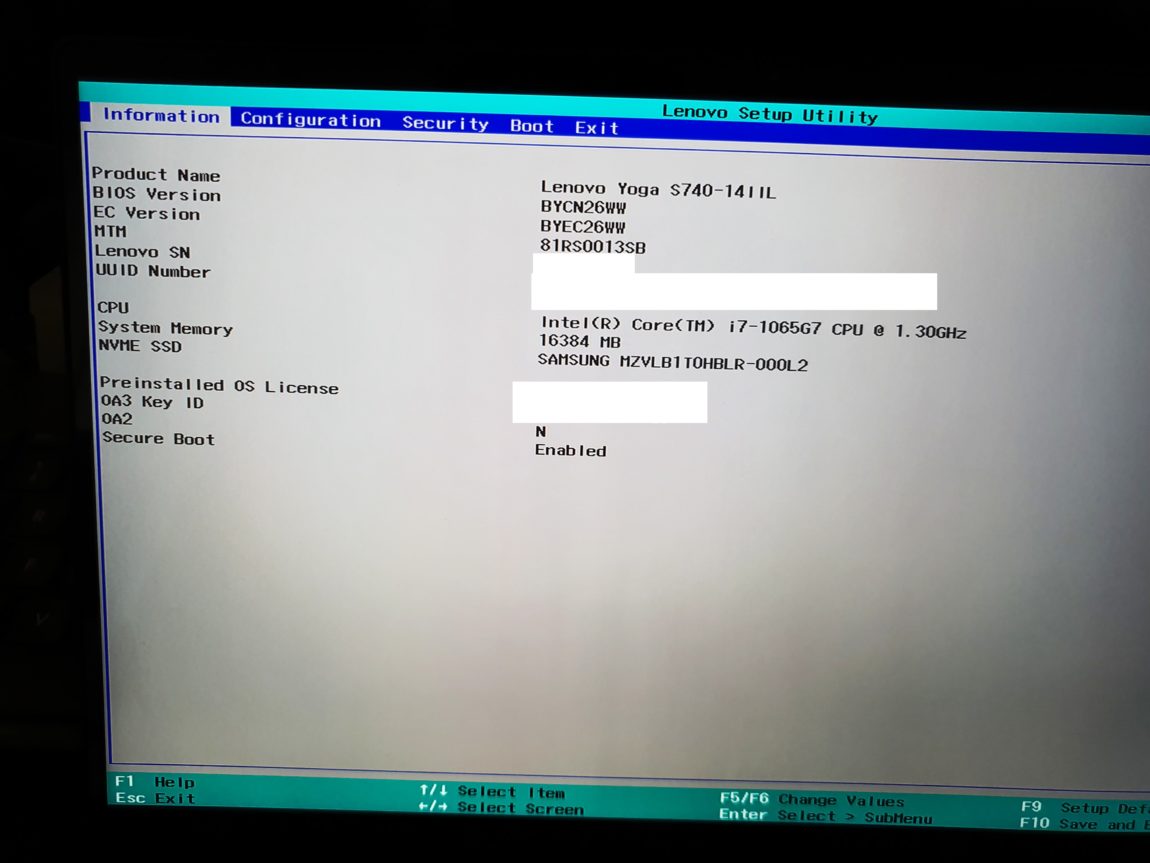 So I decided to sell off the laptop and try my luck at another retailer. The next unit I checked (fourth), for some reason, was preloaded with some testing software and a Chinese music video. Someone at the factory probably forgot to do a factory reset after testing… I got a replacement on the spot; the fifth had obvious dead pixels, so I swapped it for a sixth.
The sixth unit seemed like a good unit, with good colour uniformity (checked using a SpyderX colourimeter) and no visible dead pixels… until two weeks later when I discovered two dead pixels.
For what it's worth, I went to Funan to look at the other S740 display units in the various stores. The displays either had colour uniformity issues or image retention issues (where, if you overlay a grey background in Microsoft Paint, the previous image is still visible).
Clearly, the 4K displays which Lenovo are using are not top quality panels. So far, I've had less issues with Lenovo's Full HD panels and I wish that they'd offer the Full HD model over here. And a last point to add–the screen is really glossy, so it's not good for the outdoors.
Battery Life
Despite a large, 60Wh battery, battery life on the S740 is pretty average. It lasts about five to six hours on average, non-gaming use (i.e. web browsing, some productivity tasks, Lightroom, videos, etc.).
Keyboard, Touchpad and Biometrics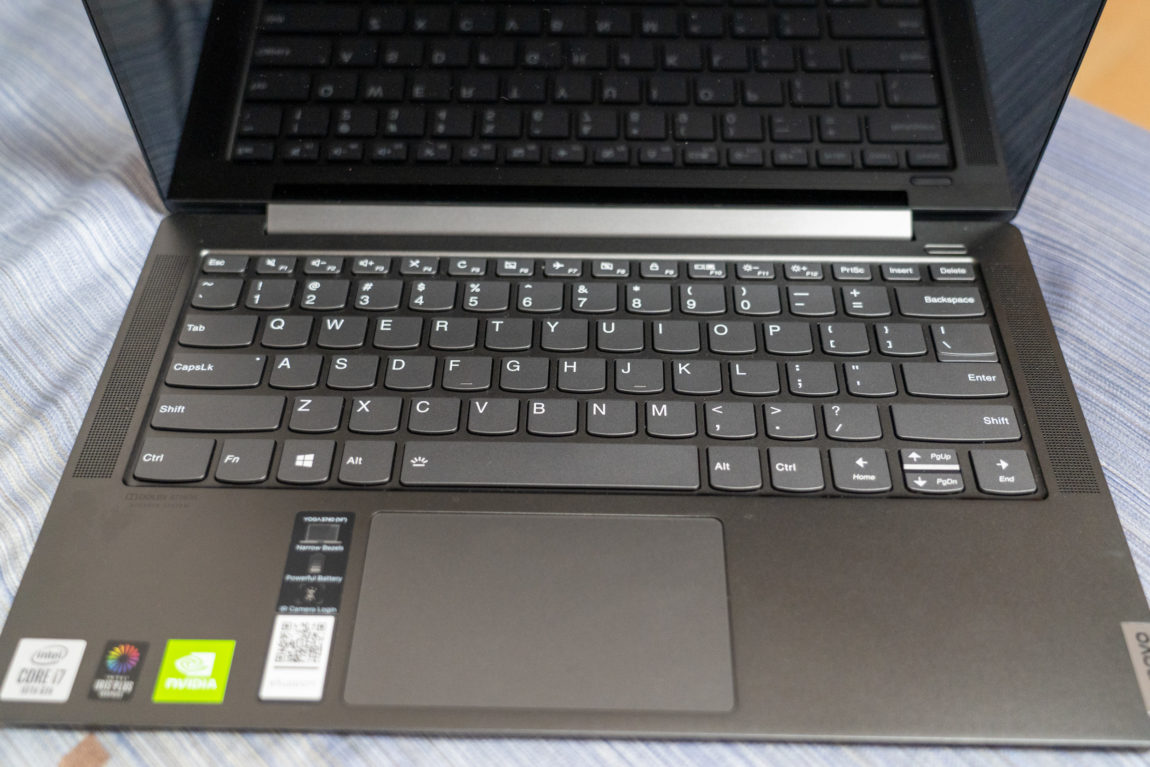 The S740 has the pretty standard IdeaPad keyboard layout, with no dedicated PgUp/PgDn/Home/End keys which I sorely miss from the ThinkPad series. Thankfully, though, the power button is no longer integrated with the keyboard (unlike in the older models). Key travel is slightly less than on the IdeaPad 720s which I owned previously, but still feels rather comfortable to type on nevertheless.
The touchpad comes with Microsoft Precision drivers and is a joy to use. Like with most (non-business) laptops these days, there are no dedicated mouse buttons.
The S740 has no in-built fingerprint reader. Instead, it uses an IR camera in conjunction with Windows Hello to log you in. You can even configure it such that the laptop will automatically unlock when it detects your face, and automatically lock when you walk away from the computer. Pretty nifty. It also works pretty well in low light scenarios, though not so in absolute darkness. Not having a fingerprint reader as a backup, however, can be annoying at times, e.g. when you look at the camera from an atypical angle (which can be quite a common occurrence when using a laptop), or when you attempt to log in early in the morning when your hair looks considerably different from usual.
There were one or two times where the IR camera straight out refused to work. The first time it failed, I resorted to reinstalling Windows. The second time, I figured a way to force the reinstallation of the IR camera. Part of the blame can perhaps be attributed to Microsoft. As a word of warning, do not ever uninstall the IR camera driver from Device Manager! To get it back, you have to go through a convoluted series of steps (involving the use of pnputil etc.).
Connectivity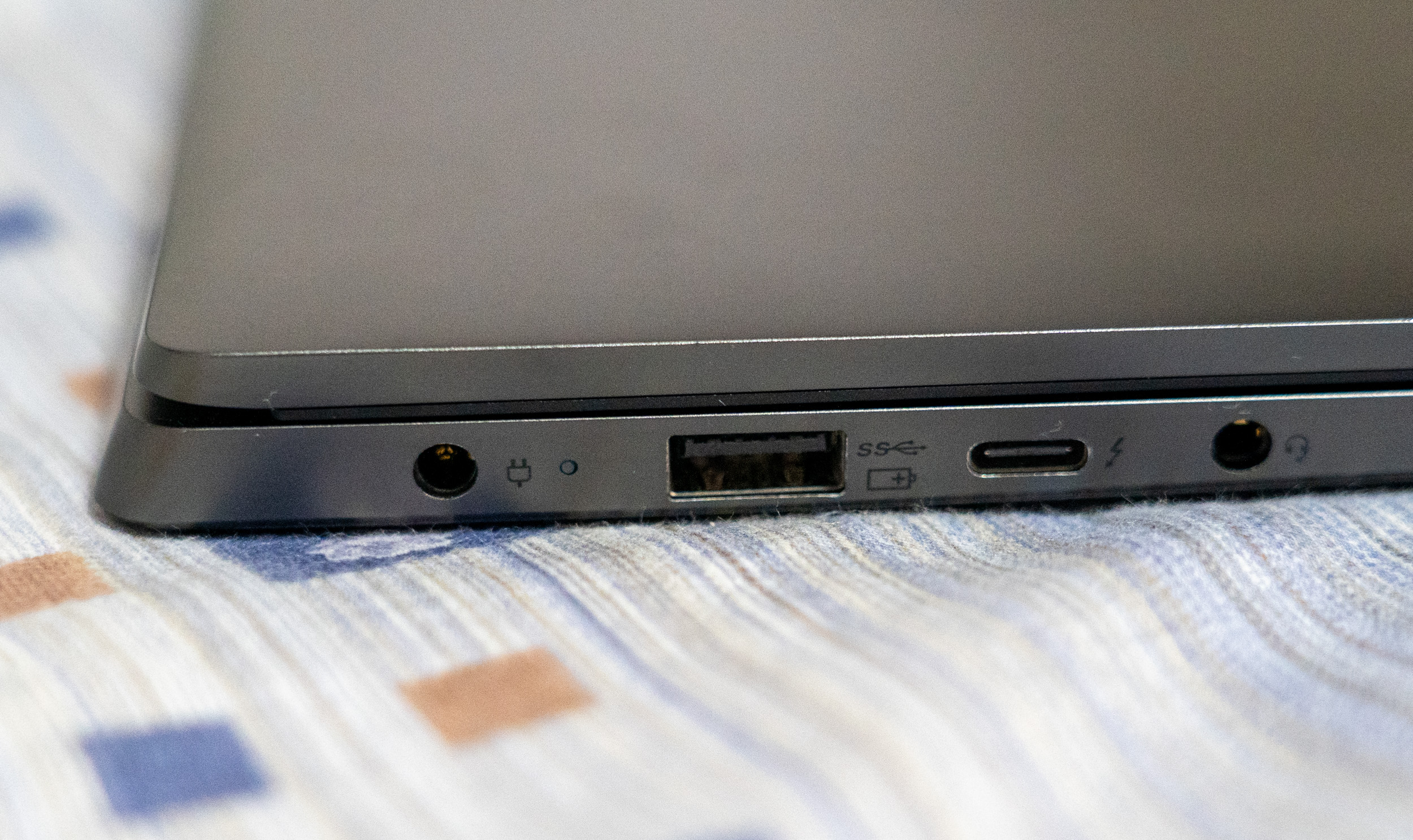 Connectivity wise, the S740 regresses from the IdeaPad 720s and Yoga S730 in that it charges via a barrel tip adaptor instead of through USB-C. Thankfully, though, the S740 still supports Power Delivery via its sole, USB-C connector. That USB-C connector also supports DisplayPort and Power Delivery. There are also two other USB 3.0 Type-A ports, which support only Gen 1 (5Gbps) speeds.
I had some weird issues with the USB-C port as well as the Type-A port on the right side. There were a few occasions where the USB-C connector refused to work completely. It wouldn't accept a charge, allow output to an external display, or allow a USB-C thumbdrive to be plugged in. I had to re-flash the BIOS in order to fix the issue each time.
Meanwhile, the right Type-A port refused to work with certain devices, including an external hard drive and a Targus mouse, which, when plugged in, would give an error saying that the device had malfunctioned. Initially, I thought it was just an issue with my unit, but I tested it on a demo unit at Best Denki and Lenovo's official store at Funan and managed to replicate the issue. I wrote in to Lenovo subsequently but did not obtain a response.
Other issues
I also encountered another issue with this laptop, which is, when Fast Startup is disabled, and Wi-Fi or Bluetooth is turned on, whenever you shut down the laptop while on AC, the laptop may sometimes restart instead of shutting down. I managed to replicate this as well on the demo unit at Lenovo's store in Funan. Was told to write-in and they would look into it, but no one ever replied…
Performance, etc.
Performance wise, the laptop was pretty good. I didn't run any benchmarks so I can't tell you about throttling and all, but the processor plus 16GB of RAM was sufficient to run Lightroom at the very least. The NVMe SSD was able to achieve speeds of up to 3000MB/s.
Conclusion
I guess if you're not a very discerning user, the issues which I've mentioned above won't really affect you. But then again, if you're not a discerning user, you'd probably not spend S$2,000 on a laptop anyway. The S740 is a great laptop on paper, but unfortunately it is tainted by a display which has poor quality control, and a couple of weird (firmware?) issues here and there which makes one question its reliability.