It's been almost a year since I embarked on an 11-day graduation trip to Italy with a few friends. Planning for that trip took a few months of preparation, and from that experience I had a couple of takeaways that I thought you might find useful.
Pre-trip Planning
Ideally, pre-trip planning should be undertaken at least a few months before the trip. This will help you get the best prices possible. If you're late to the party however, don't fret. If you're lucky enough you'll still be able to score a good deal (timing is key); otherwise, you can probably make up the difference by, say, shopping a little less or eating less extravagantly.
1. Secure Your Flight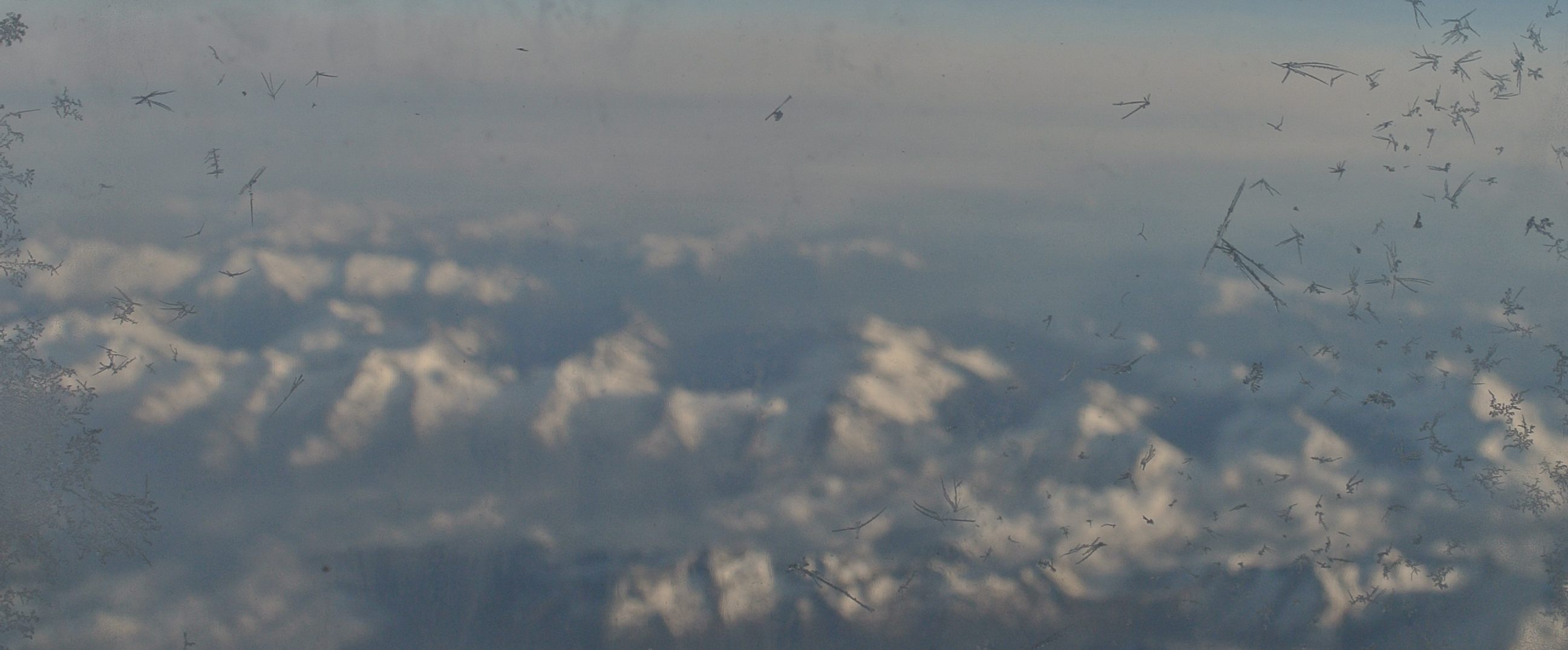 This may come as a no-brainer to many, but always secure your flight first. You can work out the nitty-gritty, but if you don't manage to get a plane ticket to suit your schedule in the end, what's the point? It's good to have an open window of dates for which you wish to go on the trip, because a flight at a slightly different timing or date can be substantially cheaper.

We relied on Skyscanner to source for the best flight prices. To be exact, we camped out on Skyscanner for weeks, waiting for the right offer to drop. While many websites claim that flight tickets are usually cheaper on Wednesdays, we didn't find that to be true. Rather, especially for long-haul flights where you can't use a budget airline, it is better that you camp out for credit card discounts. For example, we ended up saving about 20% on a Cathay Pacific flight we eventually took due to a DBS/POSB debit/credit card promotion.
To keep an eye on such promotions, we suggest you follow the Moneydigest website. On the right column of the website you'll find numerous deals, including the latest flight promotions.
Skyscanner may sometimes redirect you to Expedia to complete your booking. In fact, our flight with Cathay Pacific was through Expedia. The benefit of using Expedia is that it waives the requirement for you to use the specific credit card to enjoy such promotions.

If you book via Expedia or through many other airlines, you may qualify for an additional cash rebate if you use Shopback. In December 2014, I wrote up a Shopback guide on my other website, which explains how Shopback works. It's still largely relevant today, if you're curious.
If you're wondering, we managed to get a 1% rebate from Expedia when we booked our flight. Sure, that doesn't sound like a lot, but when you consider the price of a flight ticket to Europe and multiply them by the number of people going, the amount of savings you get may be enough to get you a free night's stay on Airbnb!
2. Next comes accommodation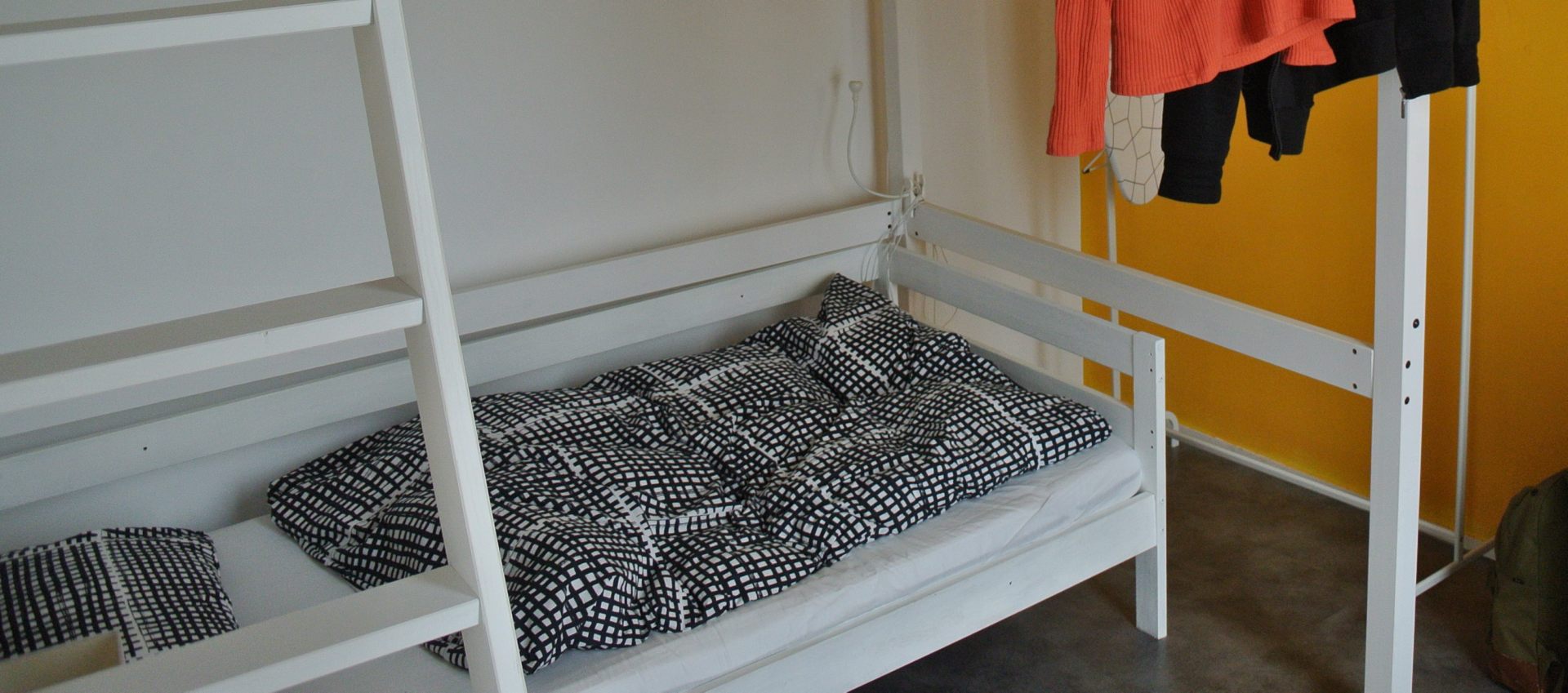 The logical choice today if you're travelling in a reasonably large group and on a budget is to book an accommodation with Airbnb instead of a hotel. If you sign up through my Airbnb referral link, you get $27 worth of credits, while I get a decent cut as well. Otherwise, you may want to apply one of the many coupon codes available (just do a simple Google search) to get a 15% or 20% discount. An ongoing promotion for DBS/POSB cardholders is to enter the coupon code "DBS15 + the first six digits of your debit/credit card" to enjoy 15% off your booking.
Remember to read reviews before committing. Make sure that the people leaving reviews on the Airbnb are legitimate as well. We had little issues with our various Airbnbs throughout Italy; your experience may differ, though.
Many hosts charge a "security deposit" to ensure that you don't leave a mess behind. From experience, we were never charged the security deposit.
3. Buy travel insurance
Travelling without any travel insurance is foolish. Flights get delayed all the time, and sometimes your baggage may go missing or get stolen. Or, you may fall sick during the trip and require medical attention. The last thing you want is for money (or the lack thereof) to put a dampener on your trip.
I bought my travel insurance from Citibank (underwritten by either AXA or AIG) as they offered a good discount at the time. The most basic travel insurance for a two week trip across Europe costs just $70, and insures everything from flight delays to accidental death (touch wood!).
4. Google Maps is your best friend

Hidden within the deep confines of Google Maps is an excellent map making tool. To find it, you need to click the hamburger button within Google Maps, select "Your places", click "Maps" and then "Create Map". The Create Map function is only available in a desktop browser.
If you're like me and lazy to come up with something from scratch, try searching around the Google Maps Gallery. I started off my map of Rome using something I found on the Google Maps Gallery. Then, I copied the map and saved it, so I could later add my own placeholders. The Create Map feature allows you to layer your placeholders, so you could, say, add a layer for food places and another layer for sightseeing attractions, and enable the layers as and when you need them.
Since maps created using the above method can be easily accessed on your phone, if you manage to get a data plan overseas, you should be able to get from point to point very easily.
In case data connection is spotty, it would also be a good idea to download the relevant offline maps. Note that your custom maps won't show up when you're offline, though.
Confused about all these? Feel free to leave a comment and I'll be more than happy to guide you through (no strings attached!).
P.S. If you're too lazy to create custom maps, just save the places you intend to visit by clicking the star icon. All the locations that you've placed stars on will always appear in your Google Maps.
5. Plan your itinerary
This is usually done in conjunction with point 4.
An easy way to start is to check the relevant Wikitravel page for the location(s) you plan to visit. Identify some landmarks, and enter them into Google Maps. Place a star on them or add them to your custom map, as outlined above.
For many cities, Google Maps has public transportation data readily available. If not, you'll have to scour the Internet for it (usually, if it's a popular attraction, heading to the attraction's website will probably provide you with directions).
While some may wish to other sophisticated tools for planning, we simply relied on a table format in Microsoft Word.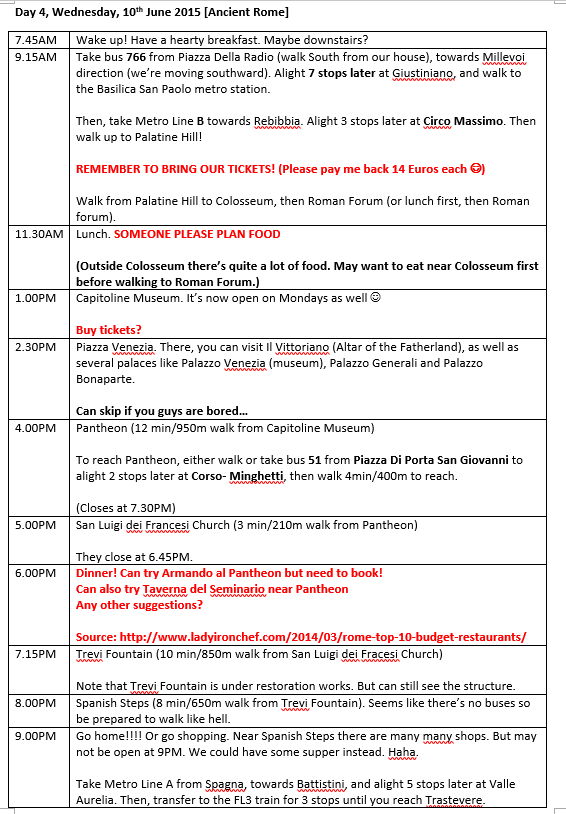 It is good discipline to also paste a screenshot of your map on the Word document, and write down the step-by-step instructions as to how to get there (because it is not wise to rely completely on technology, which may fail you at unexpected moments). A photograph of relevant landmarks may also help, especially if you need to ask for directions later on.
It is important to note the day and time you are in a particular place. Certain landmarks are only open on certain days and visiting hours may be restricted to a precious few hours. If you really want to be there, make sure you provision some buffer time for unexpected delays, and more importantly, appear on the correct day(s)! Also, take note of first and last bus/train timings.
From experience, it is almost impossible to fulfil everything on even a well-planned itinerary. Thus, always expect the unexpected, and if possible, prioritise your list so you know which ones you are ready to give up if you are time-constrained during the trip. If your grad trip is within a large group, try to reach a consensus by voting off less desirable landmarks.
Take note of possible restrictions to entry. For example, large backpacks may be disallowed in certain places; you may want to travel light that day.
Always, always, always mark your home base on your map and remember its address, as well as the nearest convenience store or train station. In the event of any mishap, at least you know how to go 'home'. If you're planning to take public transport, make sure you know where to buy the necessary tickets (in Italy, day passes are usually sold in convenience stores or the Italian equivalent of mama shops).
Lastly, if you're travelling in a group and going to be visiting several places, it is good practise to split up the planning. In my case, each of us were tasked to plan the itinerary for a specific place, including getting there from the previous place, reaching our accommodation, where to obtain train and bus passes, etc. During the actual trip, that person would be the 'specialist' for that location, and also allows the rest ample time to relax and enjoy the trip, since you won't need to be 'in charge' all the time. It's only fair, right?
If your trip involves taking a cross-country or cross-continental train ride, book your train tickets in advance. While seats are unlikely to be completely sold out, you can usually obtain a better price if you book early enough. Research the best options to book train tickets–usually, direct booking is cheaper and easier than booking through an agent. For Italy, we booked directly from Trenitalia (versus opting to go with an intermediary such as ItaliaRail) with no issues.
Now that we're done with planning, let's discuss some things you should pack in your carry-on or luggage on the next page.