Back in the early 2000s, the name K Box, to Singaporeans, was perhaps synonymous with karaoke. It offered decent prices relative to its competitors like Party World KTV, had many outlets islandwide, possessed the latest the largest song collection and also served meals, tidbits and refreshments.
Then, Teo Heng burst into the scene around 2007 with its first outlet at Katong Shopping Centre. It offered a no-frills concept, charging by room size instead of per pax, at far more affordable rates. While it didn't offer any food or beverages, it allowed you to bring in your own food and (non-alcoholic) drinks,  a trade-off most people are more than happy to accept. Originally situated at less accessible places like Katong and Sembawang, it has since expanded to places such as JCube, Rendezvous Hotel and Suntec City. Today, it's safe to say that Teo Heng has displaced K Box as the first thing that comes to mind when you say 'karaoke'.
Meanwhile, K Box went through some tough times. Many of its outlets were shuttered, perhaps due to poor business, and it made the news in 2014 for the wrong reason–hackers managed to access K Box's database and leaked personal particulars of its 300,000 members.
Manekineko
Perhaps sensing that the name "K Box" was now sounding more like a has-been rather than the hippest thing in town, K Box rebranded all but one of its outlets as Manekineko. At the same time, the main company holding the two brands renamed itself as Koshidaka Singapore (a quick check on the UEN website shows that it was formerly known simply as K Box KTV).
Today, Manekineko has outlets in many of the SAFRA clubs in Singapore, as well as at *SCAPE, Bugis+ and Marina Square. While the pricing structure is still more expensive than Teo Heng (especially for a large group) as they charge per pax, it is still reasonable considering you get free flow of drinks and tidbits.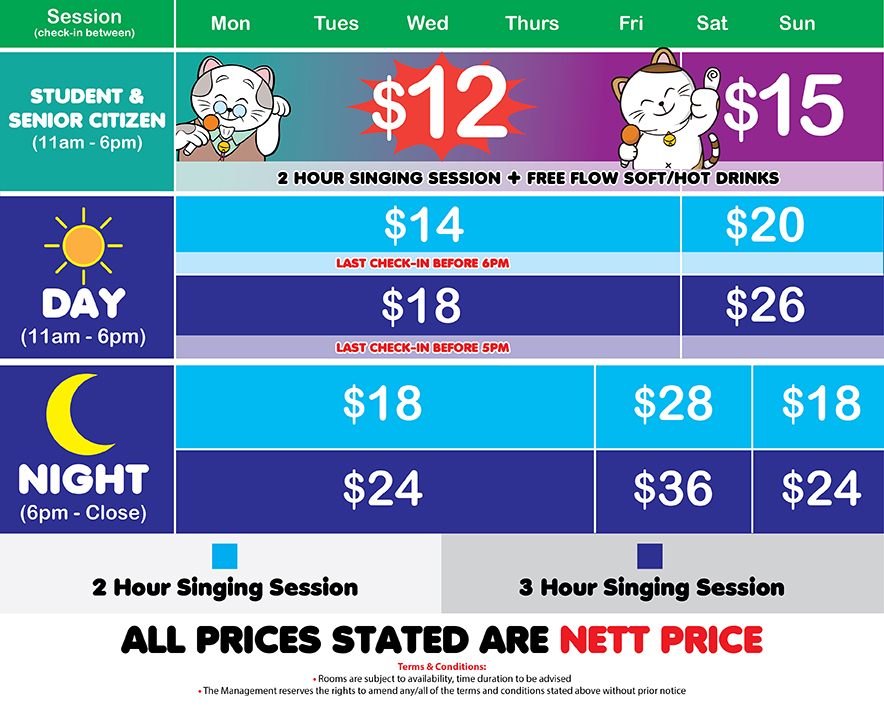 Unlike in the past where there would be a server serving you drinks and tidbits, everything is now placed at a common area outside. There's a large tidbits container and several drinks dispenser. Not only do you get the usual Coke and Sprite, but also Iced Milo and slushy drinks.
If you're still hungry, they also have a comprehensive food menu mostly serving Japanese-styled food such as Takoyaki balls and ramen (apart from the usual finger food like chicken wings and french fries). Unfortunately, it doesn't seem as though they still have the buffet dinner.
Manekineko is also one of the participating merchants of the J Passport. When you first sign up for J Passport, you can also claim one free set of Takoyaki balls from Manekineko.
Song selection wise, I did not find Manekineko lacking. It has all of the latest Chinese and English hits, and its collection seem to be at least as vast as Teo Heng's. As with Teo Heng, the user interface is now fully touchscreen and, in my opinion, feels slightly more intuitive. Of course, you will need time to get used to it if you're a frequent Teo Heng go-er.
Apart from singing, some Manekineko outlets also have pool, air hockey and foosball tables.
Overall, Manekineko has a rather compelling offering. The good thing (for us) about its relatively upmarket positioning is that rooms are more often available at the last minute compared to Teo Heng. Admittedly, Teo Heng is still my first choice when it comes to karaoke due to its happy hour prices. But if there's no Teo Heng available, the revamped Manekineko is at least a very decent alternative.
Note: I am in no way affiliated with Manekineko and/ or Teo Heng. This is not a sponsored post.