Update 17 February 2017: It has now been officially confirmed that the SmartWatch 3 will NOT support Android Wear 2.0. As such, it is difficult to recommend you buying this watch any longer.
As I write this, the Sony SmartWatch 3 (SW3) has been out for more than two years. That's an eternity when it comes to consumer electronics, and even more so when it comes to smartwatches, an industry that has yet to come of age. And yes, the SW3 preceeds even the first generation Apple Watch.
Since the SW3's release, we had seen a move towards more stylish (or differentiated) watches with round faces from the likes of Tag Heuer, Fossil, Casio and Nixon. Meanwhile, Sony has been unusually quiet in this regard, with little indication of an impending successor.
Still, while the SW3 may not be a looker (even with the stainless steel band) the SW3 holds its own in terms of specifications, with processing speed, RAM and storage space by-and-large on par with contemporary watches, and even features a built-in GPS, a rarity when it comes to Android Wear watches.
Android Wear 2.0 – The Elephant in the Room
The reason why I'm emphasising the SW3's age is because Android Wear 2.0 is round the corner. Android Wear 2.0 brings a whole host of improvements, including standalone apps, watch complications and an on-screen keyboard. Unfortunately, it is already confirmed that Wear 2.0 will drop support for certain older watches, including the first-generation Moto 360 and LG Watch.
The SW3 finds itself in a rather unique situation. Judging by its age alone, it's unlikely that the watch will be supported. However, because the SW3 shares similar hardware with newer watches and that Sony has not replaced it with a newer model, there might be a chance that the SW3 may get it. As of now, Sony is silent on the issue. As a prospective buyer, you may be better off holding out for the next few months. Or you could just live in the present and enjoy the watch and Android Wear 1.5 for all that it offers right now.
Value for Money
For me, the chief reason why I decided to take the risk and go all-in on the SW3 so late in its life cycle was because it was great value for money.
As of now, the watch costs just S$238.40 at Sony stores for the black band version, after a 20% discount off its retail price of S$298. The version with the stainless steel band costs about S$310 after discount.
At that price, the only other Android Wear alternative is the newer ASUS ZenWatch 2, which costs about S$229. It looks more like a watch, but lacks GPS and has a slightly smaller battery. Like the SW3, it is not guaranteed Android Wear 2.0.
The other Android Wear alternatives are much pricier. The 2nd gen Moto 360 costs nearly S$400, and the Huawei Watch starts from a prohibitively expensive S$549. I did not want to commit myself too much to a relatively immature platform as yet, so I stuck with the lower cost options.
Between the SW3 and the ZenWatch 2, GPS support wasn't an important consideration for me since I am used to bringing my phone along with me on my runs. The dealmaker for me was because it is one of the few smartwatches that are compatible with round 2 of the National Steps Challenge. Had the ZenWatch 2 been supported, I may have leaned the other way.
Versus Other Platforms
The smartwatch landscape as it is today is that everyone is stuck with their own platforms. Apple has the watchOS, Samsung uses Tizen, while Pebble, Fitbit, Garmin and Polar (with the exception of the new M600) utilise their own proprietary platforms.
Barring the Apple Watch, which is out of the question if you don't own an iPhone, the other platforms have a crucial limitation in that they will probably never work as seamlessly on your Android phone as compared to Android Wear. Samsung's Tizen has arguably the best user interface out there (and the Gear Fit 2 is rather attractively priced as well), but quality third-party apps are still hard to come by. Pebble is a great alternative as well and very popular, but I found its 8MB/ 16MB storage space rather limiting and its lack of touchscreen and low-res screen means it will never be suited for things like navigation.
With that in mind, I strongly feel that Android Wear is the best ecosystem to buy in right now if you own an Android phone. How that eventually pans out remains to be seen, of course.
So, now that we've talked at length about the landscape surrounding the SW3, let's dig deep into the SW3 itself.
Packaging and First Impressions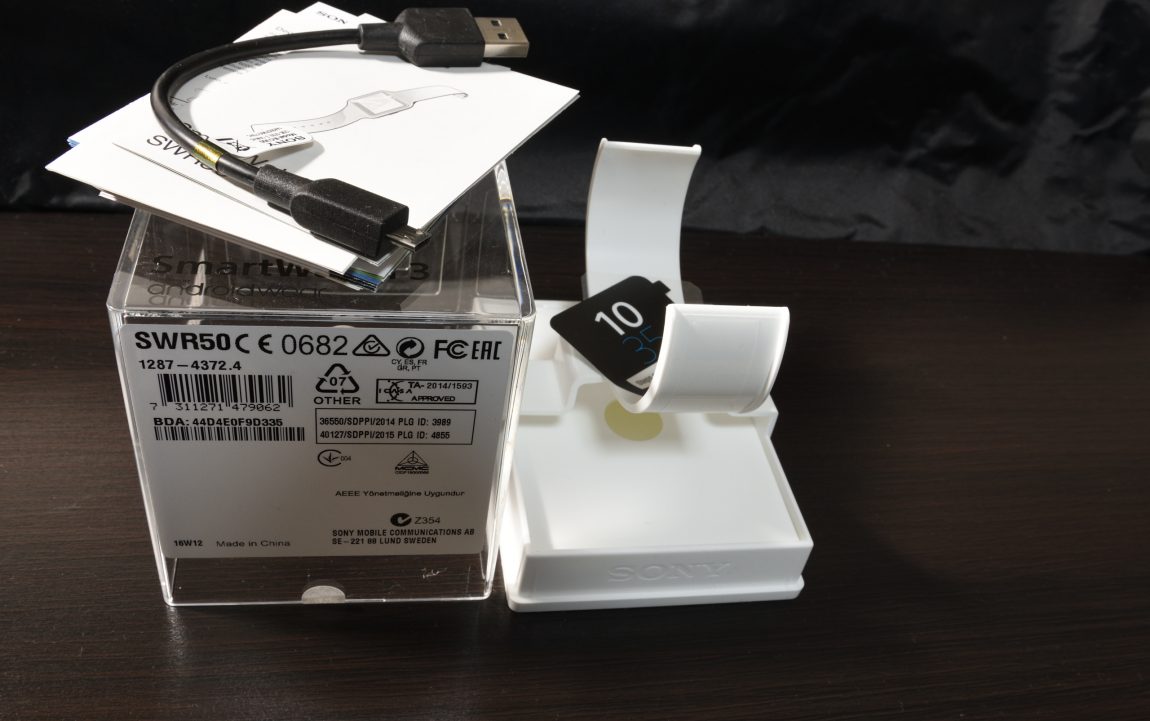 The packaging itself is rather utilitarian, much like many other Sony products. Besides the watch and strap, it comes with a USB cable, some instruction sheets as well some voucher codes for fitness apps like Endomono. Clearly, with GPS functionality baked in, the SW3 is catered towards the fitness band crowd.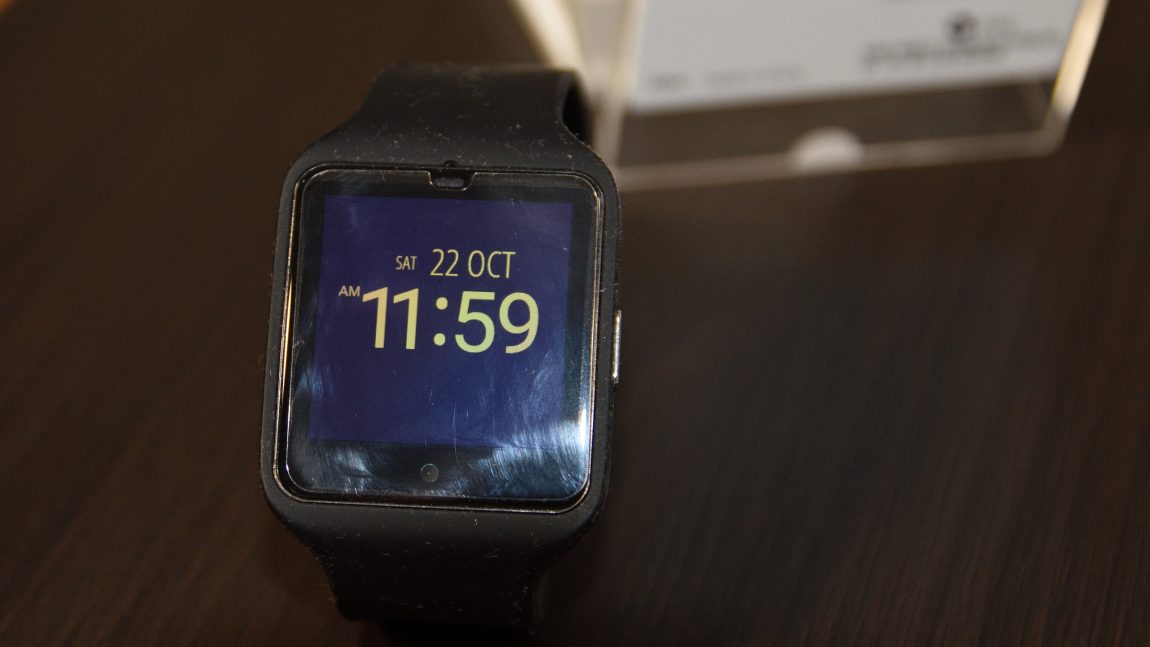 The watch itself is pretty easy to set up. Simply download the Android Wear app on your phone and follow the on-screen instructions. The tricky part is what comes after–how do you get your apps on your watch?
Well, it just does. Basically, for any app that is installed on your phone that supports Android Wear, a companion app will be automatically downloaded to your watch. On one hand, that makes for a really simple set up process, but on the other hand, for certain apps that are watch-specific, you have to have a copy on your phone as well.
Android Wear 2.0 may address this once and for all, where watch-only apps can reside on the smartwatch.
It's Really Useful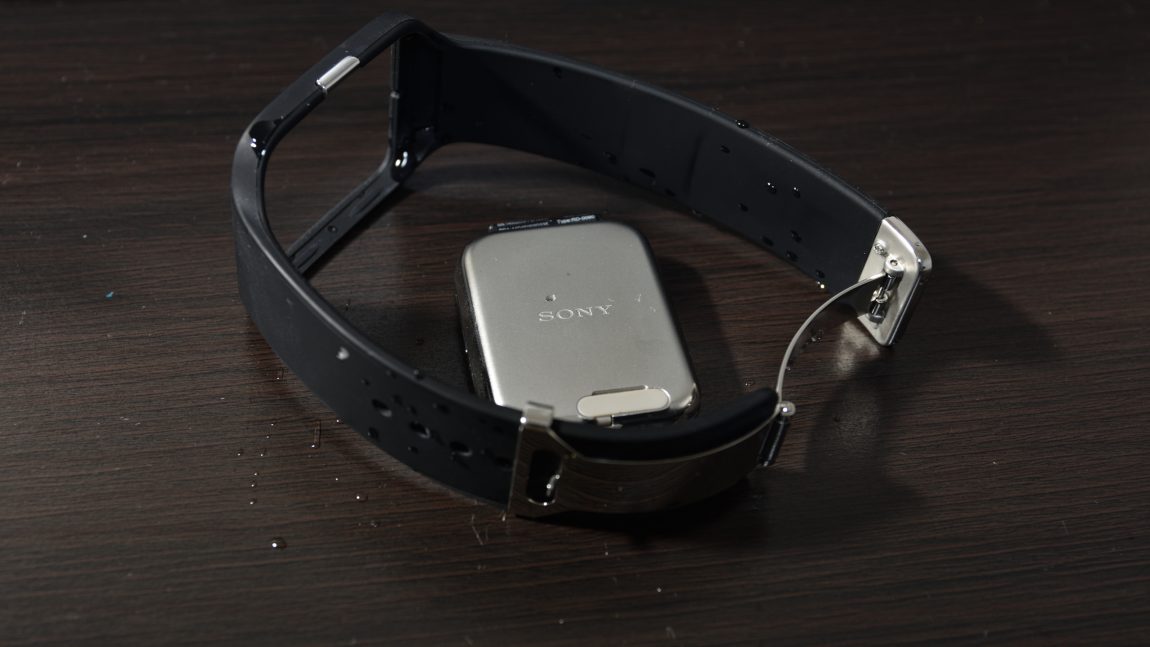 The SW3 can be used as a standalone fitness tracker and mp3 player, provided you have a Bluetooth headset with you. There's 8GB of on-board storage on the watch, which is more than enough for a few playlists. Transferring songs is done via the Google Play Music app, but it works really slowly (e.g. 45 minutes for an album) and if you have a large catalogue, the Play Music phone app seems to have some trouble loading the song list at all. In the end, I gave up on that idea.
The great thing about Android Wear is its plethora of compatible apps. For running, I've been using RunKeeper since 2011 and its Android Wear companion works well. I have a calculator app, which comes in really useful when splitting the bill. If you like keeping track of your expenses, BudgetBaker's Wallet works great. Once you have it set up, simply enter the amount on your watch, swipe left to choose a category (e.g. transport, food, etc.) and swipe left again to register it. I've always been lazy when it comes to expense tracking, but with the app literally at arm's length, it is getting harder for me to find an excuse to procrastinate.
The Wear Audio Recorder comes in really handy when you need to record conversations and meetings. Shazam, too, is something that makes a lot of sense on a watch. There are also a number of camera apps that come in useful when you need to take shots at awkward angles or take selfies using the rear camera (or if you want to STOMP someone without looking too obvious…). If you want to track your sleep and have your watch gently wake you in your lightest phase of sleep, Sleep as Android is a must-have for just $5. It works really efficiently–just a 14% battery drain during a seven-hour sleep session.
Other apps that I use on a daily basis are sgBusLeh (you have to pay $0.99/year to get Android Wear functionality) and CityMapper. sgBusLeh is a little crippled on Android Wear–you can only view bus timings of your favourited bus stops.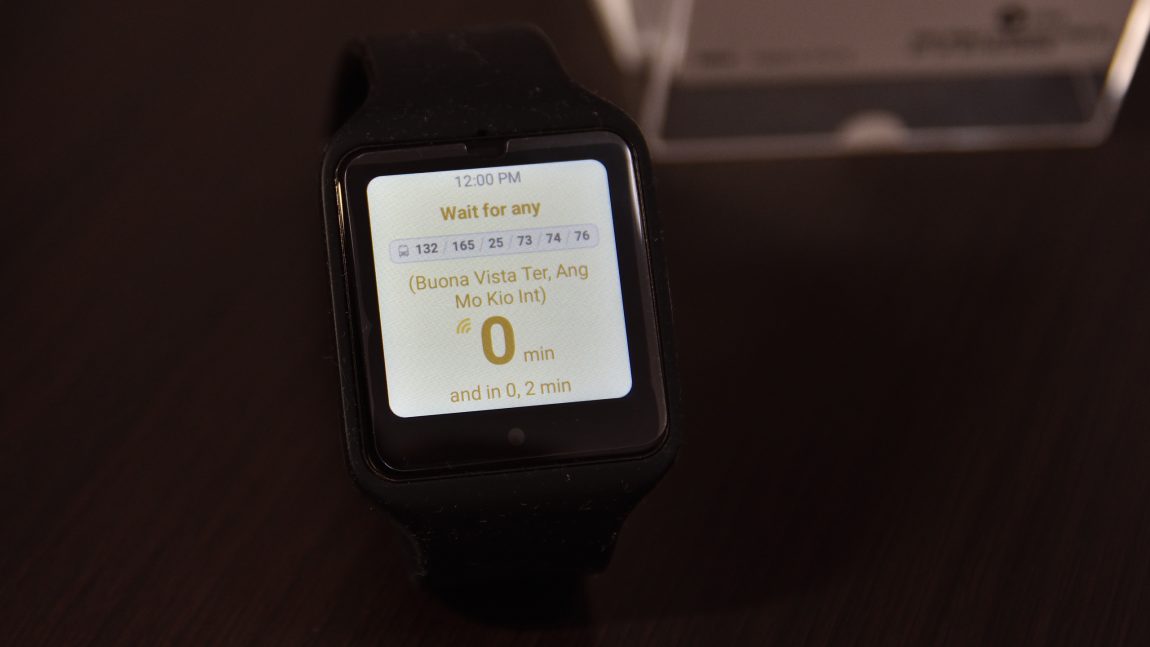 CityMapper is a different beast altogether. How CityMapper works is like this: enter the location on your phone, press navigate, and it'll show you the best way to get there via public transport on your watch. It shows you the bus timings (as above), which comes in really useful, shows you the stops of the bus you're on, shows you where you are along your bus route, and even prompts you via a vibration when it's time to alight.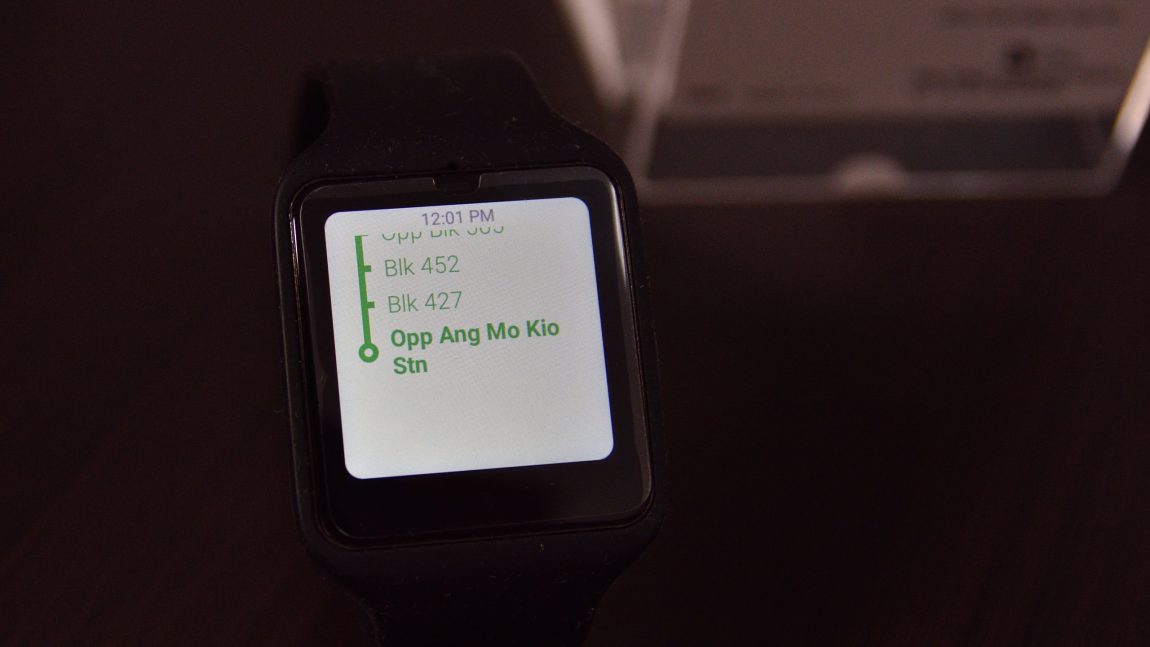 You can also set a "Home" and "Work" location which essentially becomes shortcuts on the Android Wear app–you can navigate back home and to work without even having to whip out your phone. Nifty.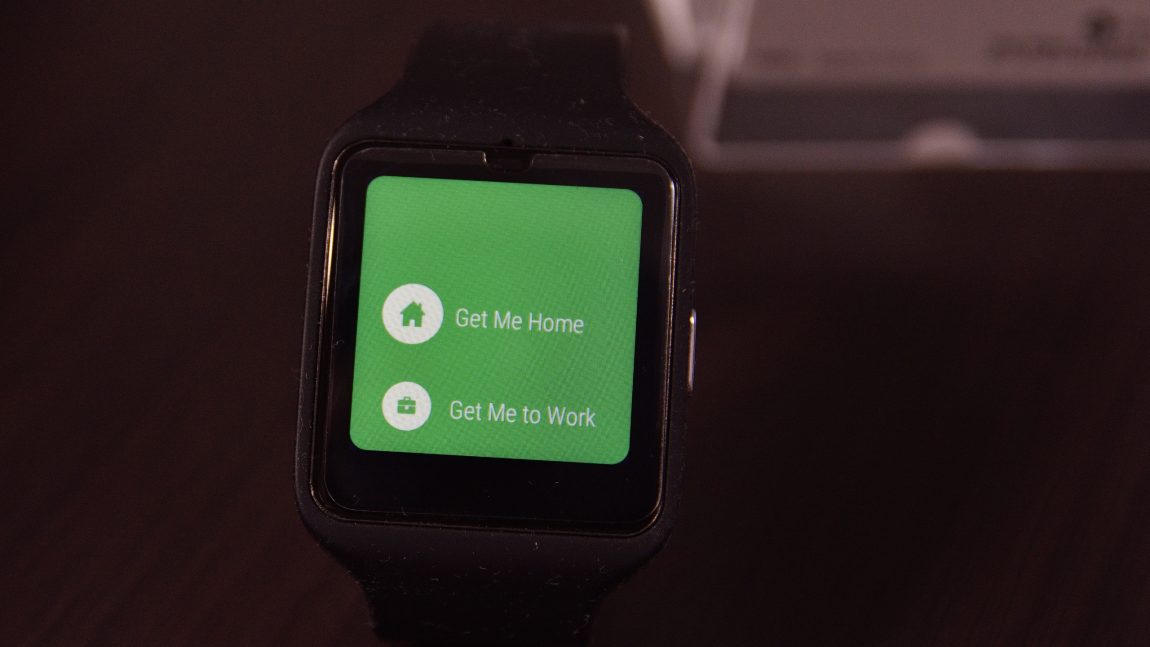 Overall, while the SW3 won't accomplish anything that I can't already do with my phone, it makes existing tasks more convenient. And that, I think, is the whole premise of a smartwatch. Not a phone replacement, but a phone complement.
Screen Quality
The SW3 comes with a 360×360 square LCD screen. It's not the brightest or clearest screen by any means, but it chugs along just fine.
Where the SW3's screen stands out is in the sun. It uses a transflective display, which basically allows it to reflect light from the sun. You may recall from older phones (such as the Sony Ericsson K700i) from the past decade having an always-on clock display that you could see legibly even in direct sunlight. That's the same technology being applied here.
Under direct sunlight, the display appears slightly washed out, but perfectly legible. The screen also functions well without a backlight. After a few seconds of inactivity, the watch goes into what is called an "ambient mode". In this mode, the backlight goes off and the screen turns black and light. It remains perfectly visible under the bright sunlight, though.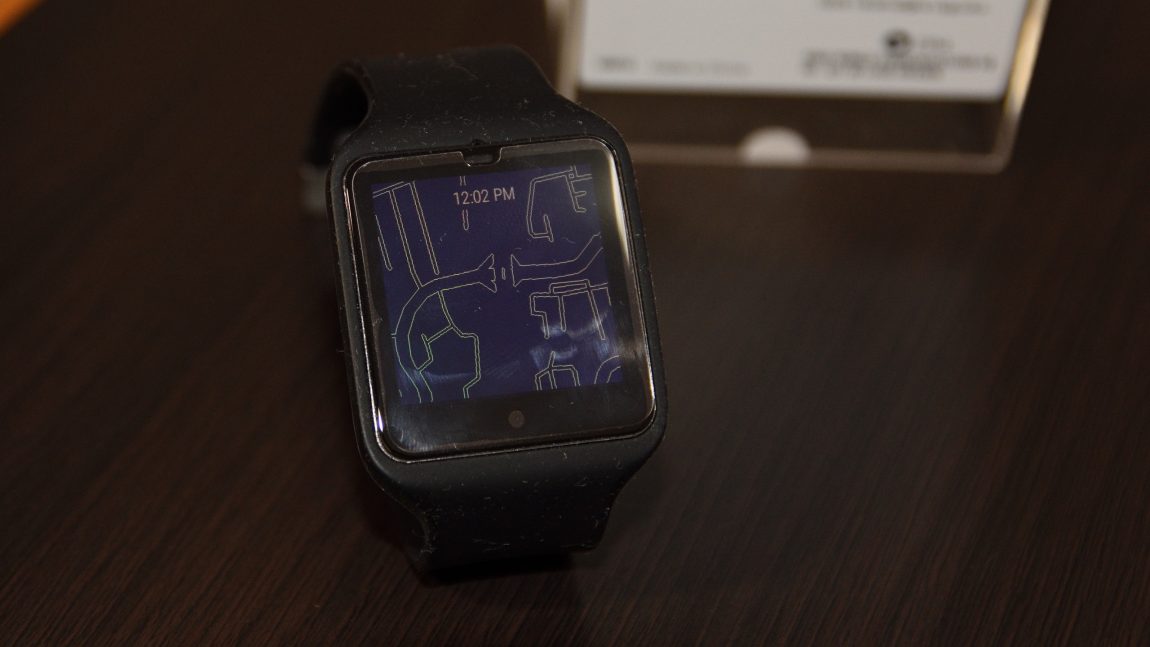 Many apps are able to take advantage of this ambient mode feature. The above shows Google Maps running in ambient mode. Nifty, huh?
Battery Life and Charging
Battery life is excellent on the SW3. Initially, I had some battery drain issues where the battery would drain about 6% per hour, but I traced it to a rogue app and managed to get the app developers to resolve the issue.
Without any rogue apps running, I could squeeze out about 2 days of battery life on average, even with the screen on at all times (in ambient mode). If you live it sitting on the table at night, it sips less than 1% of battery an hour. Under typical use, however, you're looking at about a 2-3% battery drain per hour on average. Most of the time, I recharge it every 36 to 40 hours with about 25% of battery life remaining.
While this is far from the Pebble Time's famed 7-day battery life, it is long enough for me not to worry about having to charge it. That's something you can't say with certain other smartwatches, like the Apple Watch.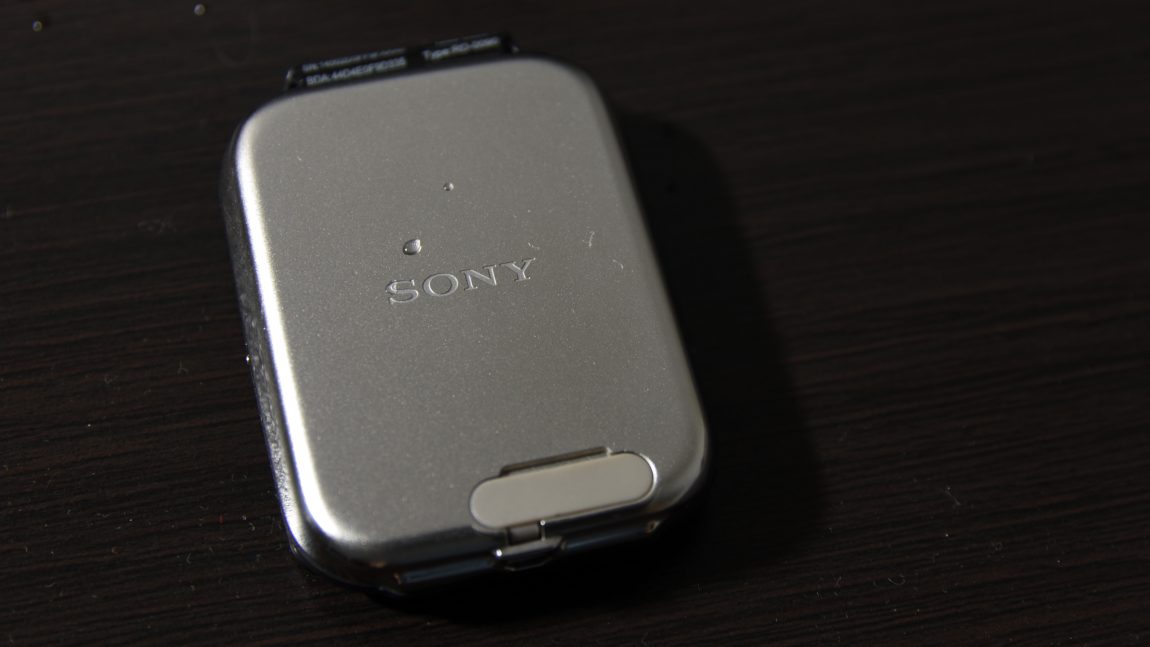 Charging is done via microUSB. There is a rubber flap at the back of the watch which you flip open to plug in the cable. While it would no doubt be easier to charge the watch using a cradle and pogo pins, microUSB is advantageous in that it is ubiquitous (until USB Type-C takes over the world, that is). This would come in really useful when travelling–no extra cradle or cable to bring along.
Water Resistance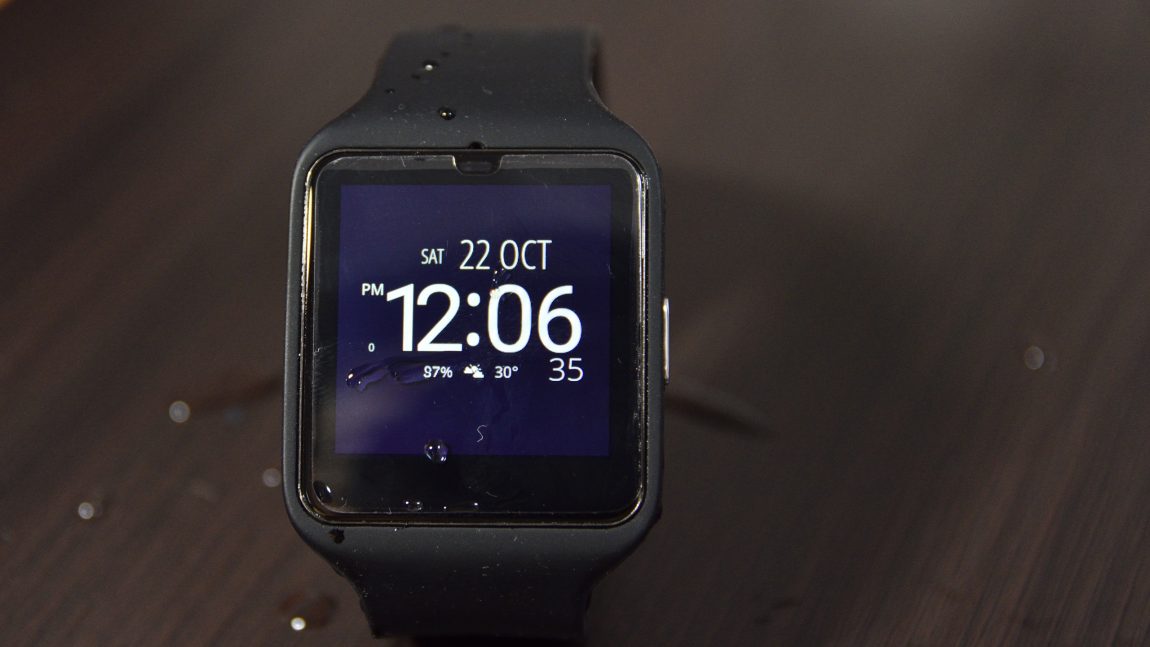 The SW3 has a IP68 rating, which makes it water resistant for depths of 10 metres up to 30 minutes. Be warned though, Consumer Reports apparently did a test and the SW3 failed to live up to its rating, so taking it for a swim may not be the best idea.
Under general use, the SW3 fared well when rinsing it under the tap. While the rubber flap for the microUSB port prevents water from entering the port, the port itself is actually sealed. I ran the watch under tap water with the flap open with no disastrous consequence. Though, you must make sure the port is completely dry before charging it!
Conclusion
I've owned the watch for two weeks now, and so far I've been really happy with it. It works well, lasts long, and is also compatible with the National Steps Challenge. One con is the lack of accessories–I had to buy my screen protector from Taobao, and third-party replacement straps are close to non-existent. If you're on the market looking for an affordable smartwatch that does a lot, the SW3 is definitely worth considering; even if it may never ever get Android Wear 2.0, at the present moment, it already does everything I expect it to do.