Update 11 March 2017: TribeCar has formed a partnership with Grab allowing freelance drivers to drive on an hourly basis under the Grab PowerHour scheme. Check out my thoughts below.
I first knew of TribeCar a few months back, when a promoter gave me a flyer somewhere along the City Hall area. Initially, I didn't think much of it.
Then, it was time to make some Valentine's Day plans this year and I toyed with the idea of renting a car for an entire Saturday. After some research, I found this was harder than I anticipated. Most car rental companies operate on a traditional model where you have to make a trip down to their offices to collect the car. On weekends, this poses a problem since their offices are not open. Weekend rentals for these companies would then mean you have to rent the car from Friday to Monday and incur the extra costs that come with it, including overnight parking.
Contenders
After excluding these companies from the list, we're left with four main contenders–WhizzCar, CarClub, Smove and TribeCar.
Both WhizzCar and CarClub require you to pay a recurring membership fee in addition to an initial deposit. If you need to rent a car only occasionally, this will become very expensive over time.
Smove, meanwhile, is a very attractive contender–no deposit is required at all and I managed to get my account activated within 24 hours. Their entire fleet is also brand new, with car plates in the SKx and SLx range. To top it off, it's rather versatile–you can pick up your car at one location and return it at another location.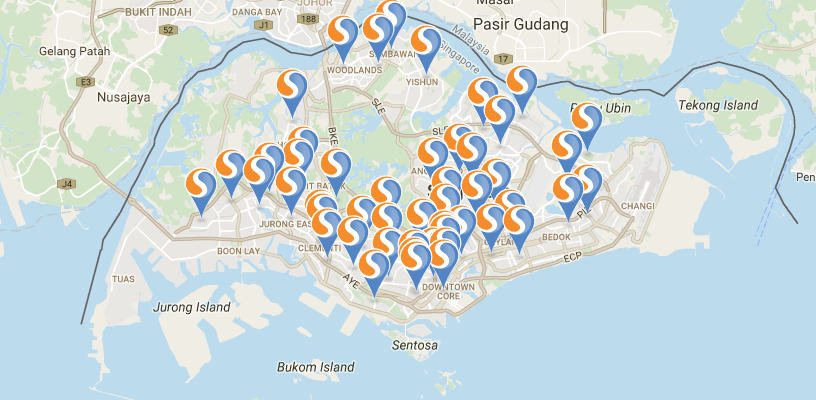 Fortunately or unfortunately, Smove cars are rather difficult to book given that they have a current partnership with Uber offering really attractive prices and incentives to part-time drivers. I was able to book a Smove twice as a part-time Uber driver (just for fun; it's a write-up for another time), but only for less popular four-hour blocks. The booking experience was rather seamless bar for some teething problems that Smove managed to sort out within the next working day (psst… if you're interested in Smove, sign up using my link here and get free $20 credits, and let me know by commenting below if you need an Uber referral to get an additional $100), but booking a car for a whole day on a weekend proved nearly impossible.
Update 11 March 2017: TribeCar has joined in the fray through a partnership with Grab, allowing freelance private car drivers to earn income on an hourly basis. Check out my thoughts about this scheme (termed Grab PowerHour) below.
Smove is also more suited to medium-term rental as the minimum cost per booking is $50 for 3 hours, increasing incrementally for each additional hour. A 24-hour booking costs $150, which makes it rather prohibitive for some. Insurance excess is capped at $2,000 for third-party and own damage each, which is rather reasonable.
Now with Smove out of the way, let's move right ahead to the main topic at hand–TribeCar.
Signing Up
Unlike WhizzCar or CarClub, TribeCar doesn't charge any annual membership fee. You do need to place a $100 deposit with them, though, which is refundable in the event you wish to close your account.
To sign up, simply fill up the form here and choose to attend one of their briefing sessions, which is held every Monday and Thursday. The briefing session is technically compulsory and will cover the basics of car booking with TribeCar. As I needed a car urgently, I emailed TribeCar support and they were able to waive the briefing requirement. Instead, I had to complete an online questionnaire, watch their instructional videos, make the $100 deposit payment online and scan my driving licence, NRIC and proof of residence to them, and I was approved within 2 days.
To join TribeCar, you need to be between 22 and 65 years old and possess a Singapore driving licence with at least 2 years of local driving experience.
Hourly Rentals — Better than taxis?
The main draw of TribeCar is its hourly rental scheme. From just $2/hour to $6.5/hour, it's the perfect option if you need to run a short errand (for example, going to IKEA and lugging some heavy furniture home) and it's potentially cheaper than a taxi. Unlike Smove, there is no minimum rate. Rates are also capped at $60/weekday or $90/weekend.
There are three types of cars available–Economy Sedan, Standard Sedan and MPV. Economy sedans are older Corolla Altis and Lancer vehicles like the one you see above. Standard sedans are newer Corolla Altis vehicles and MPVs are older Toyota Wish vehicles.
Insurance coverage is comparable with Smove at $2,000 each. There is a Collision Damage Waiver (CDW) that reduces the excess to $1,000 each. Though, there is a clause that states that you will be liable to reimburse TribeCar for rental during the car's downtime period.
Locations
Unlike Smove, you cannot pick up a car and return it at separate locations. This wasn't a problem for me, as there was a TribeCar collection point at the multi-storey carpark opposite my house. So I could just return the car at the end of the day and walk back home.
TribeCar's current policy is to place a car at a location where there are 10 or more users. So, if there's no car near your location, you can lobby for it and they will place one there once there's sufficient demand.
My Booking and Driving Experience
After getting my account approved, I had to top up my TribeCar e-wallet. After topping up the wallet with $100, I proceeded to make a 24 hour booking on a Saturday. After adding in CDW, the total cost came up to about $95.
On the actual day itself, I made my way to the MSCP and found the car without much difficulties. The car will have a TribeCar decal at the top of the windshield and at the back of the car. This makes it easy to spot, though on the flipside you'd be announcing to the whole world that you're driving a rental car.
Once at the car, you have to go to the TribeCar website on your phone. At the booking time, the "Start Trip" button will appear on the website. Pressing it will send a signal to the car (presumably via cellular) and the car will unlock itself.
Once unlocked, you can find the car keys in the glove compartment. You have to use the car keys to lock/unlock the car thereafter. Only at the end of your trip do you press the "End Trip" button, which will lock the car for you and deny you further access to it.
The car that I used was a nine-year old Toyota Corolla Altis S. The car's facade was unfortunately not very well maintained, with numerous scratches on the windscreen which were very distracting at first, and with the colour on the leather seats fading off. The wipers tended to leave a smudge on the windscreen as well.
Thankfully, the car drove just fine and I covered over 100 kilometres with no issue. There are options on the website to select in the event of a breakdown or accident, but thankfully I had no need for them.
Returning the car was equally simple. Simply park the car back at one of the designated lots, and press the "End Trip" button. If you can't find an empty lot in the designated series, you can apparently park somewhere else within the same carpark, as there is an option for you to enter the actual deck/lot number where you returned the car.
TribeCar + Grab PowerHour
To counter Smove's partnership with Uber and perhaps in a bid to improve car utilisation, TribeCar has recently partnered up with Grab to offer freelance drivers a "PowerHour" scheme, allowing drivers to drive on an hourly basis.
Compared to Smove, TribeCar + Grab PowerHour is less stressful as there are ostensibly no minimum KPIs to meet. For Smove, you have to complete at least one trip per hour in order to qualify for the (cheaper) Uber rates; otherwise, the normal rental rates (which is far pricier) would apply.
In contrast, the TribeCar rates are more or less the same as if you were to rent it for personal use. Thus, you could perhaps rent a TribeCar for personal use for most of the day, and decide to complete a ride or two only if you have any free time. You also pay for your own petrol, unlike Smove, which charges you per kilometre (when you drive with Uber) much like driving a taxi. There's no incentive to drive in a way to conserve fuel when with Smove (a pity, since Smove cars are very new and are very fuel efficient).
Best of all, you don't need to go down physically if you sign up with TribeCar + Grab PowerHour. Simply fill up your details over at the website which takes about five to ten minutes assuming you already have the necessary documents on hand. Of course, we are  making hay while the sun shines over here as all private hire drivers will be required to possess vocational licence starting from July 2017, which will increase the barriers to entry for such drivers and negate the convenience of a fuss-free sign up process.
Prima facie, TribeCar + Grab PowerHour seems to be a better option than Smove + Uber. However, based on my driving experience (above) with TribeCar, I'm not sure if the cars are worthy of ferrying paying passengers. As mentioned above, the facade of the rental car I obtained was pretty run down and almost up for COE renewal. Based on comments on the TribeCar Facebook page, this seems to be a common theme with some of their cars. With many new private hire cars roaming the roads these days, you're likely to get a bad rating just for car condition alone. Moreover, these older cars are likely to be gas guzzlers, reducing your profit margin (as an aside, your fuel expenses are currently non tax-deductible when declaring taxes in future, so double whammy). The large TribeCar decals on the front and back of the car doesn't help either.
Let me know in the comments if you have any questions and I'll be glad to answer them.
Sign up for TribeCar here and get free $15 credits using my referral link upon your first top-up of $50.
P.S. This is not a sponsored post. In fact, TribeCar probably isn't even aware that this article exists!