Truth be told, even as someone who lives in the north eastern region of Singapore, I've never set foot outside Punggol MRT before. The closest I've ever been to there was when I cycled to Punggol Waterways once back in 2013. Back then, all I could see around me were construction sites. Perhaps one of them would turn out to become Waterway Point.
There was never a reason to go there. As a resident of Serangoon North, I had a couple of malls to frequent–Hougang Mall, Hougang 1, NEX and Compass Point. But now with Compass Point undergoing renovations and with Waterway Point having opened recently, I thought I should make a journey there and see how Punggol looks like today.
Oh, the crowds…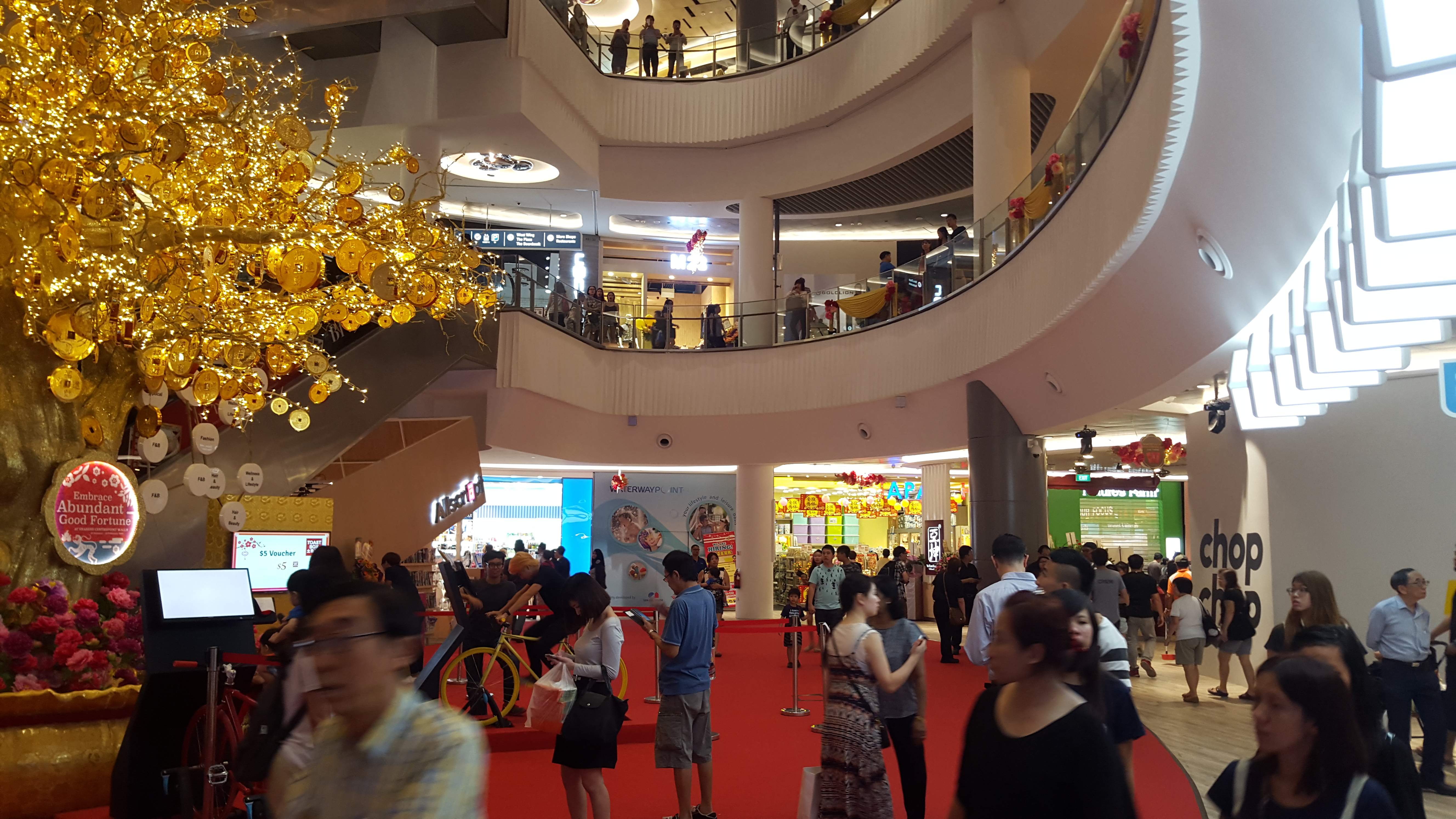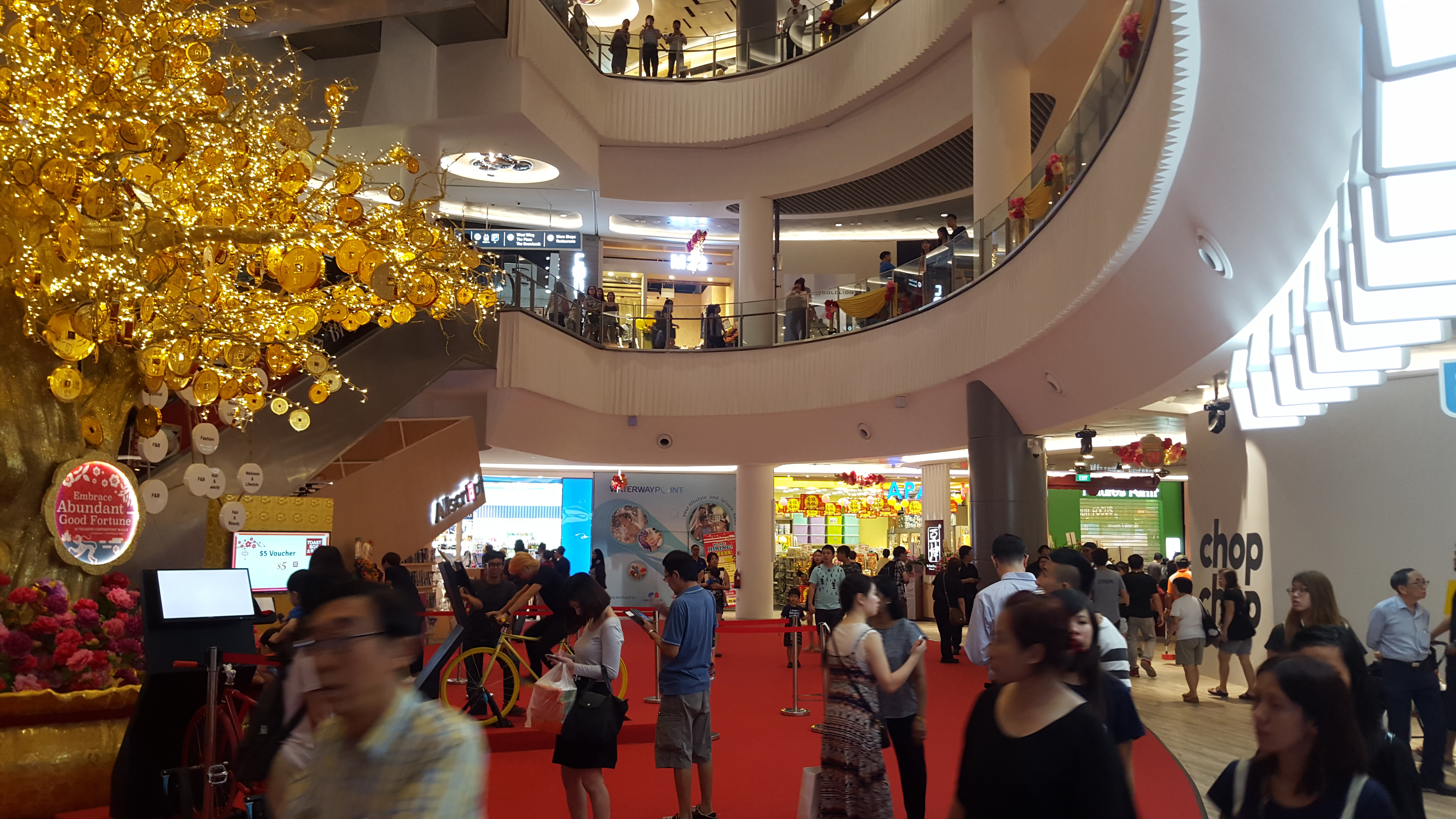 Once I made my way out of Punggol MRT, I squeezed my way through just to get to Waterway Point. It was really crowded. I originally intended to have a meal at one of the fast food restaurants there, but after seeing the long queues, I thought otherwise. Mind you, this was on a weekday night at around 7.30pm. I can't imagine how the situation will be like on weekends.
The mall design doesn't help, either. There are only a few escalators and you often have to walk one big round just to get to the next floor.
All these reminds me of Serangoon NEX, especially when it first opened, and even today. NEX was very crowded during its inception–I could hardly get from point A to B without saying 'excuse me' several times. Even now, the crowd hasn't dissipated. The locations of the escalators are similarly frustrating. While developers probably do this intentionally to maximise pedestrian traffic across all shops, I think one or two more escalators, or even express escalators, wouldn't hurt.
Where do I go?
Waterway Point is divided into two wings–the East Wing and West Wing. I was really hungry when I got to Waterway Point, and wanted to head straight to the food court. But… where in the world is it? East or West, I had no idea. The signages at the entrance of each wing offered little help. In the end, I found it at an area titled "Market Square" or something. I've no idea what a market square is, and I wish people would stop coming up with these names. Something like "F&B" would be far more helpful…
To compound the issue, I had no idea where the customer service desk was. I also had to search for quite a bit just to locate the interactive mall directory.
Good retail mix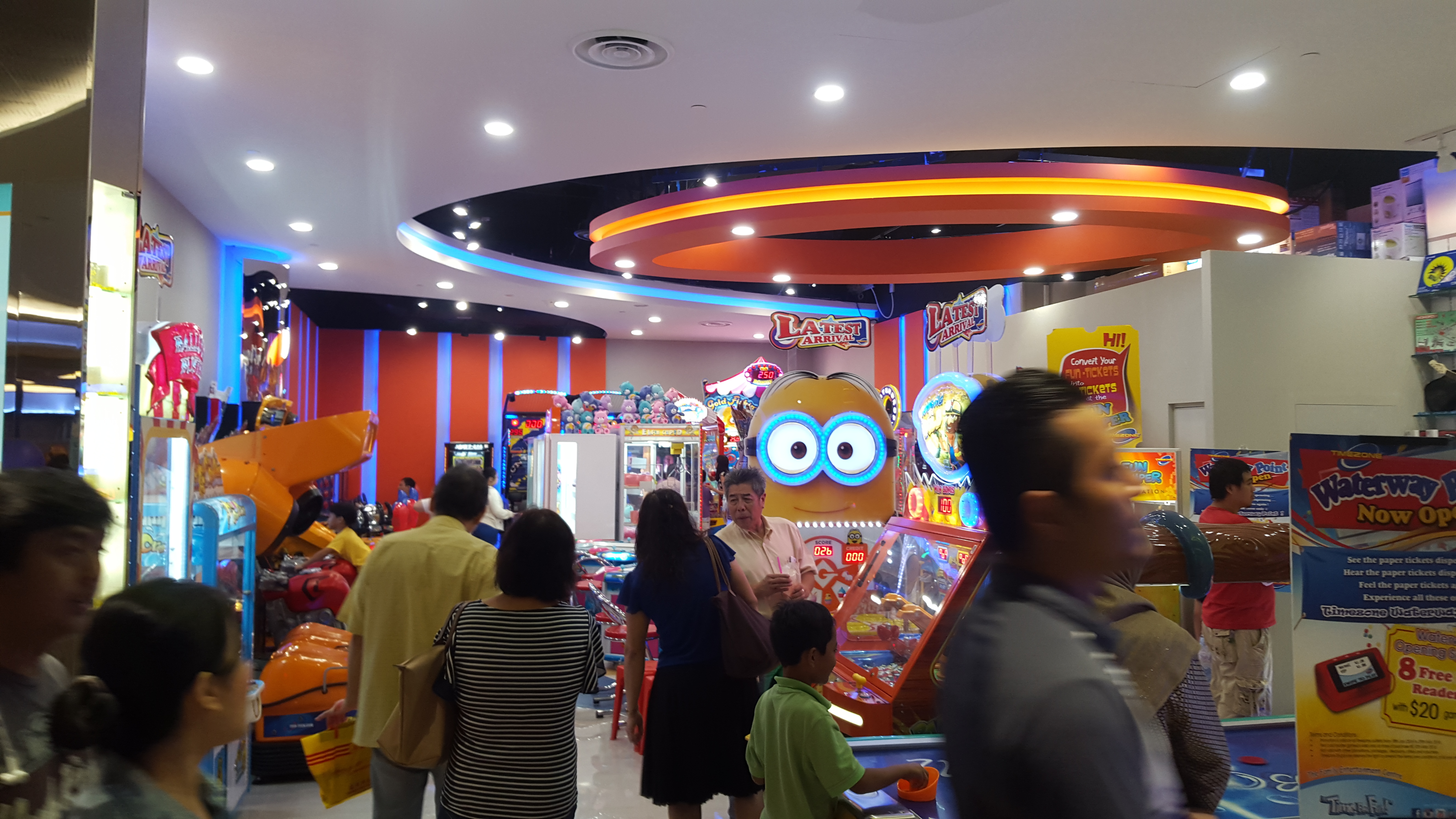 If you're able to brave the crowds, you'll be happy to know that there's a fine retail mix there. There's a Daiso outlet, which from the outside looks like the size of a FairPrice Xtra supermarket. I'm not kidding.
There's also a small Timezone arcade (pictured above), which I was (pleasantly) surprised to find. I used to frequent arcades, but unfortunately they generally seem to be going the way of the dodo.
Some of the shops aren't yet open (including H&M), but once they are, you'll find H&M, Uniqlo, Factorie, Yishion, Best Denki, Challenger, Daessiksin Korean BBQ, and many more. It's not as comprehensive as, say, VivoCity, but is certainly on par, and probably even better than NEX.
At the basement you'll also find a Shaw IMAX theatre with ten halls. Yes, there's finally a cinema for those living in Seng Kang or Punggol.
Outdoors
My favourite part of the mall (at least in the evening) are the outdoor areas. In between the East and West wings lie The Cove, a place where you can sit around the steps and chill. There aren't many malls remaining that allow you to do this, so it's a really nice touch.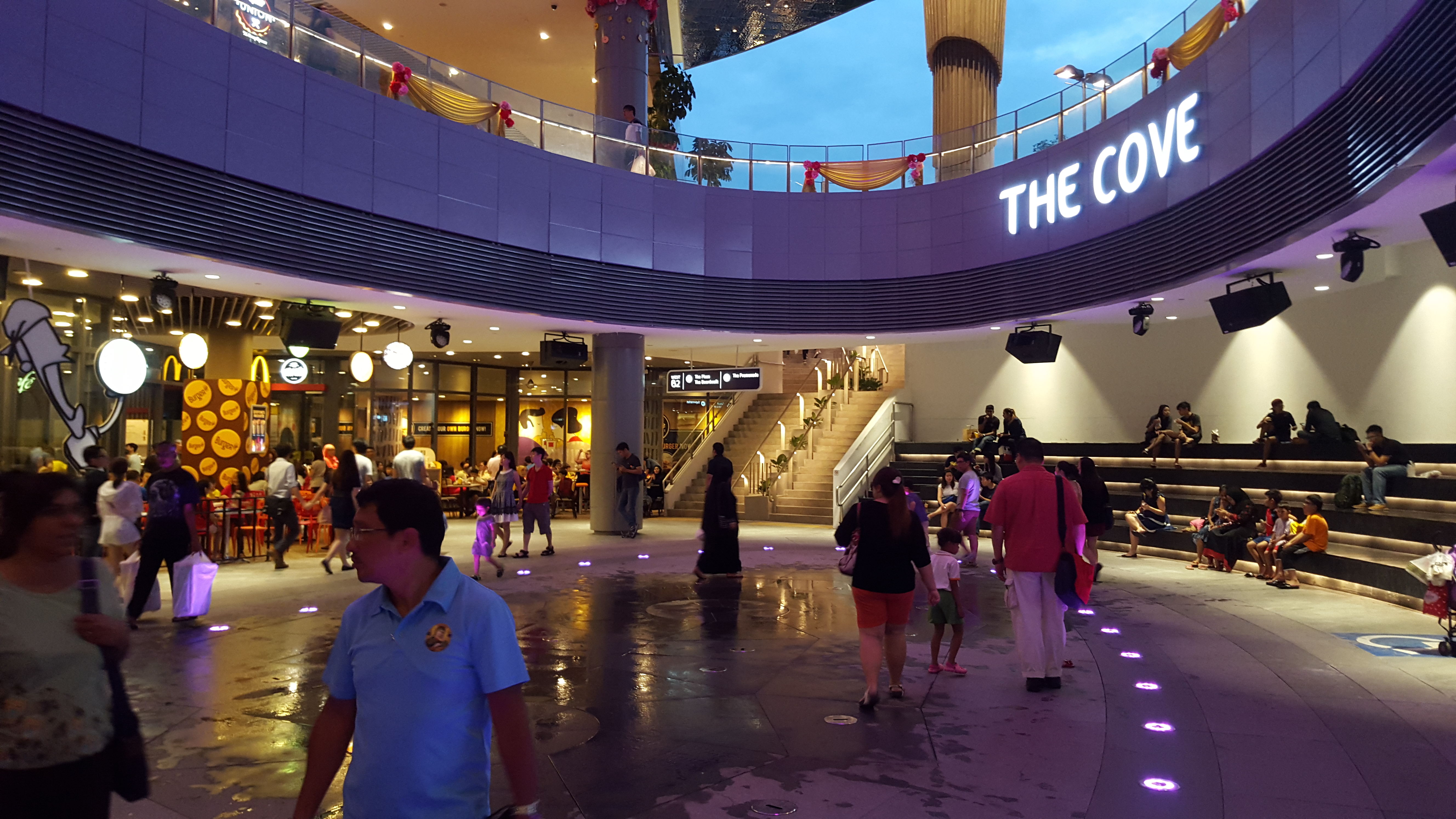 Part of the mall is also 'al-fresco' a la Star Vista. This isn't much of an issue this time of year, but when the haze comes…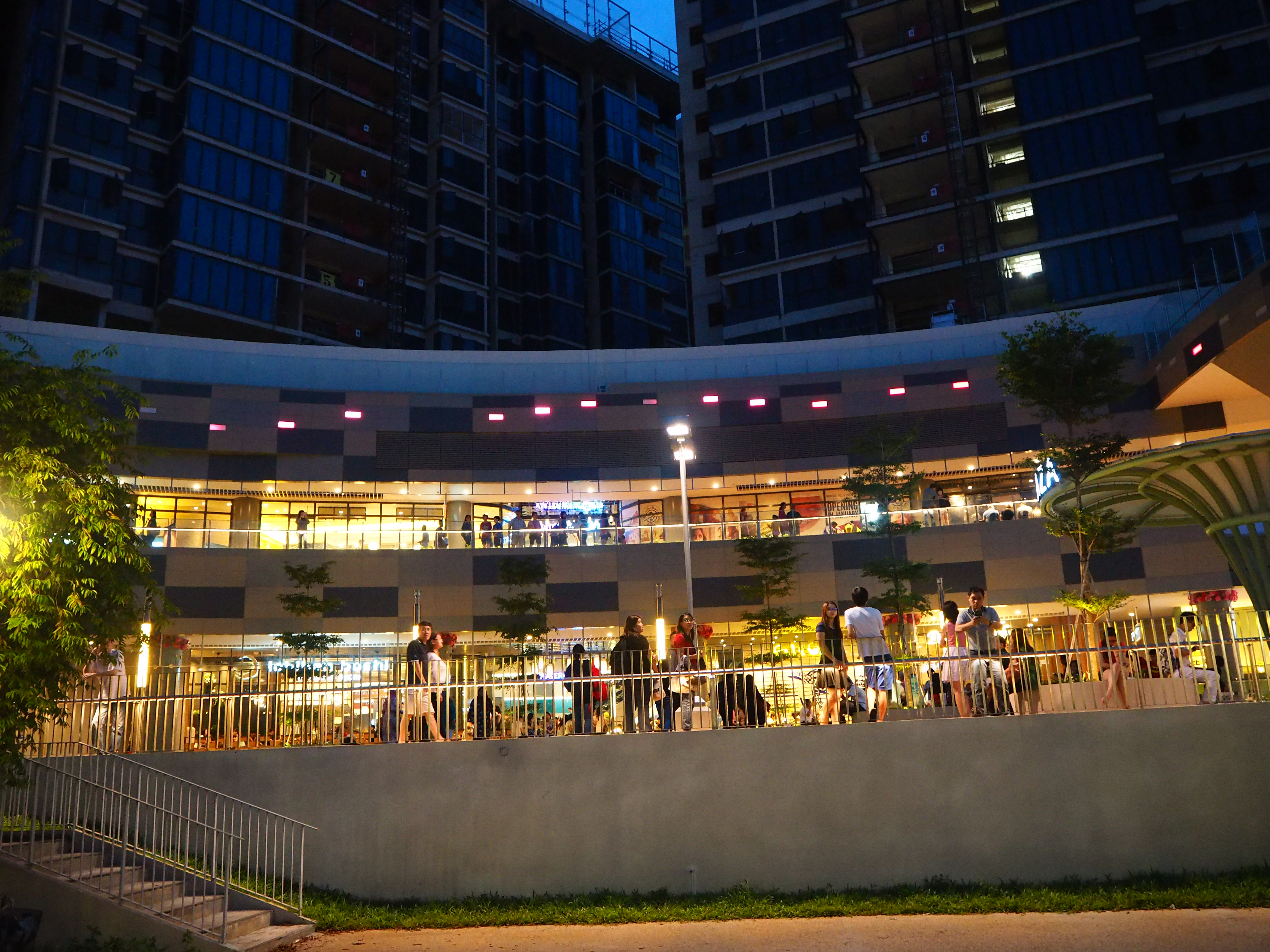 Conclusion
Overall, it's still early days for the mall, but with a healthy and growing population size within the region, Waterway Point is almost guaranteed not to fail.
Unfortunately, as with most other malls in Singapore, everything is 'same same, but different'. You won't find anything in this mall that you can't find in Bugis or along Orchard Road (maybe except the arcade?). If you live outside of the north east region, there's no point in visiting Waterway Point unless you've just come from or are on the way to Punggol Waterways or Coney Island.
How to get there?
Just take the North East Line to Punggol MRT. When I alighted at Punggol MRT, some helpful SBS Transit staff were around to guide us to the correct escalator to the mall. The mall is directly connected to the MRT station, as to be expected from any modern neighbourhood mall in Singapore today.