Performances
Back at Venice, on the second night, our original plan was to watch a Venetian opera at Musica a Palazzo, but our host recommended us to catch an orchestric performance instead. Venice's La Fenice opera house is also another renowned Venetian theatre you may want to check out.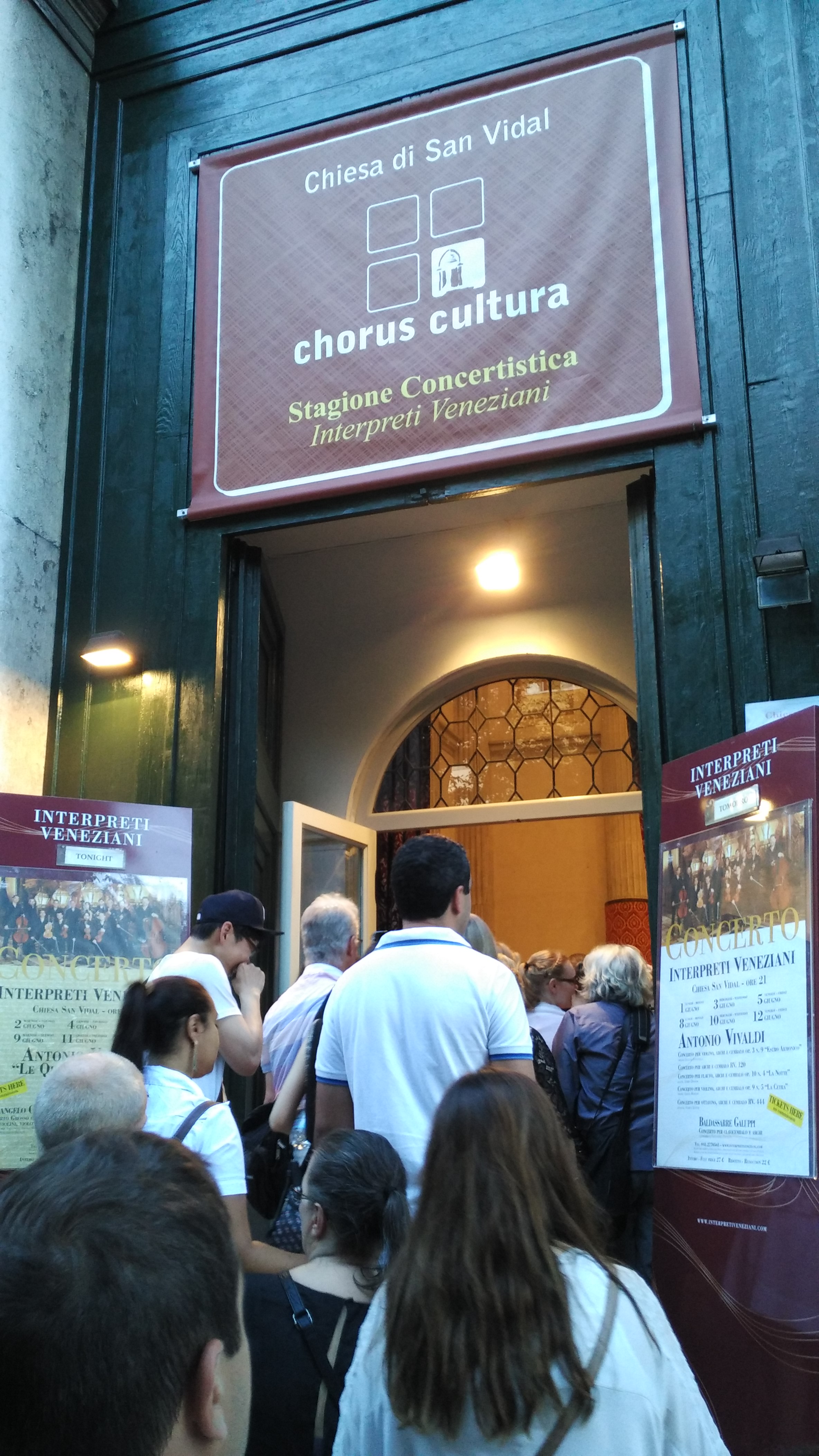 So on the second night, we queued up to buy tickets to an orchestra performance at Chiesa di San Vidal. The performance for the night were Vivaldi tunes. For the uninformed, San Vidal was formerly a church, and is now used as an "event and concert hall" according to Wikipedia.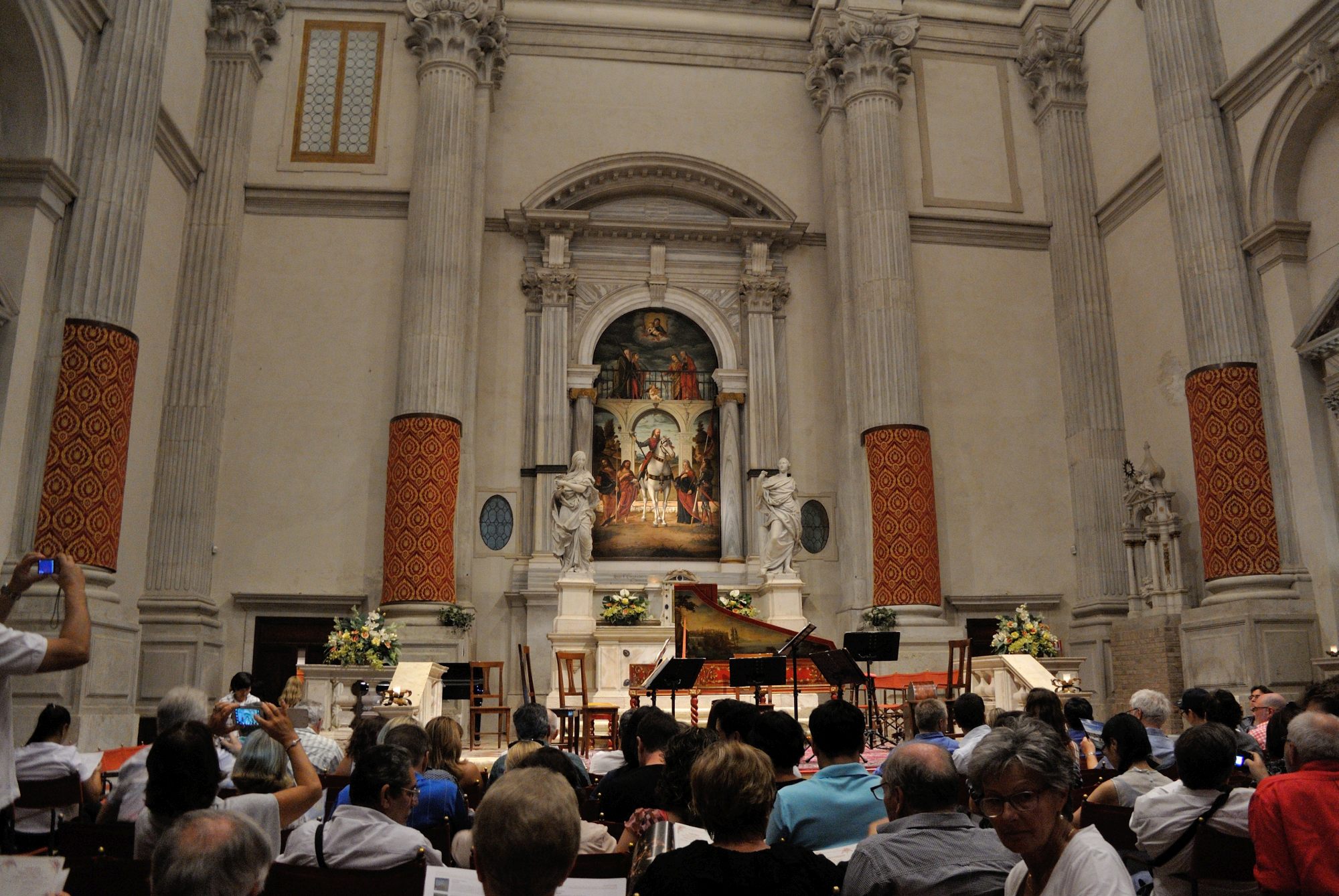 Perhaps we were thoroughly tired out by then, as I ended up dozing off a couple of times. The performance itself was good, it's just that I won't consider myself a classical music aficionado, and combined with the fatigue that set in from walking miles and miles over the past few days, I dozed off despite trying hard not to.
The entire performance was about two hours long and there was an intermission at the hour mark. Since we didn't want to embarass ourselves further or continue being disrespectful, we did the right thing and left.
If classical music is your thing, I believe you'll enjoy the performance. Seating is a little cramp, though, and the air-conditioning is only decent at best.
The funny thing is, as I was on the plane back to Singapore, I decided to tune in to some Vivaldi on the in-flight entertainment system, while closing my eyes and reminiscing Venice. Seems like despite dozing off, part of the performance rubbed off me after all 🙂
Rialto Market
On the last morning in Venice, we visited the Rialto Market, the place where locals (presumably, since I don't think tourists will cook) shop for sustenance.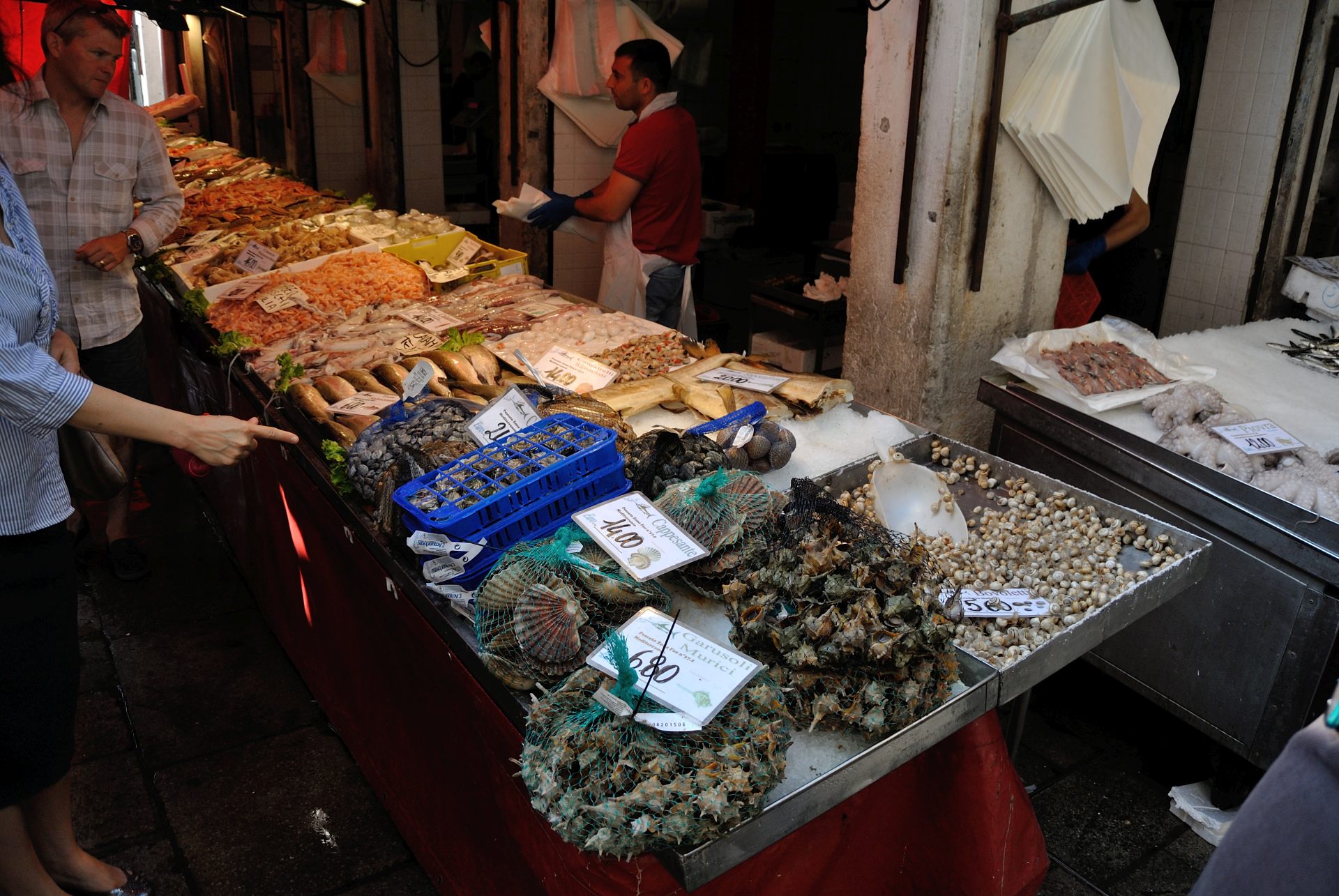 There's loads and loads of seafood, probably freshly caught off the shores of Venice.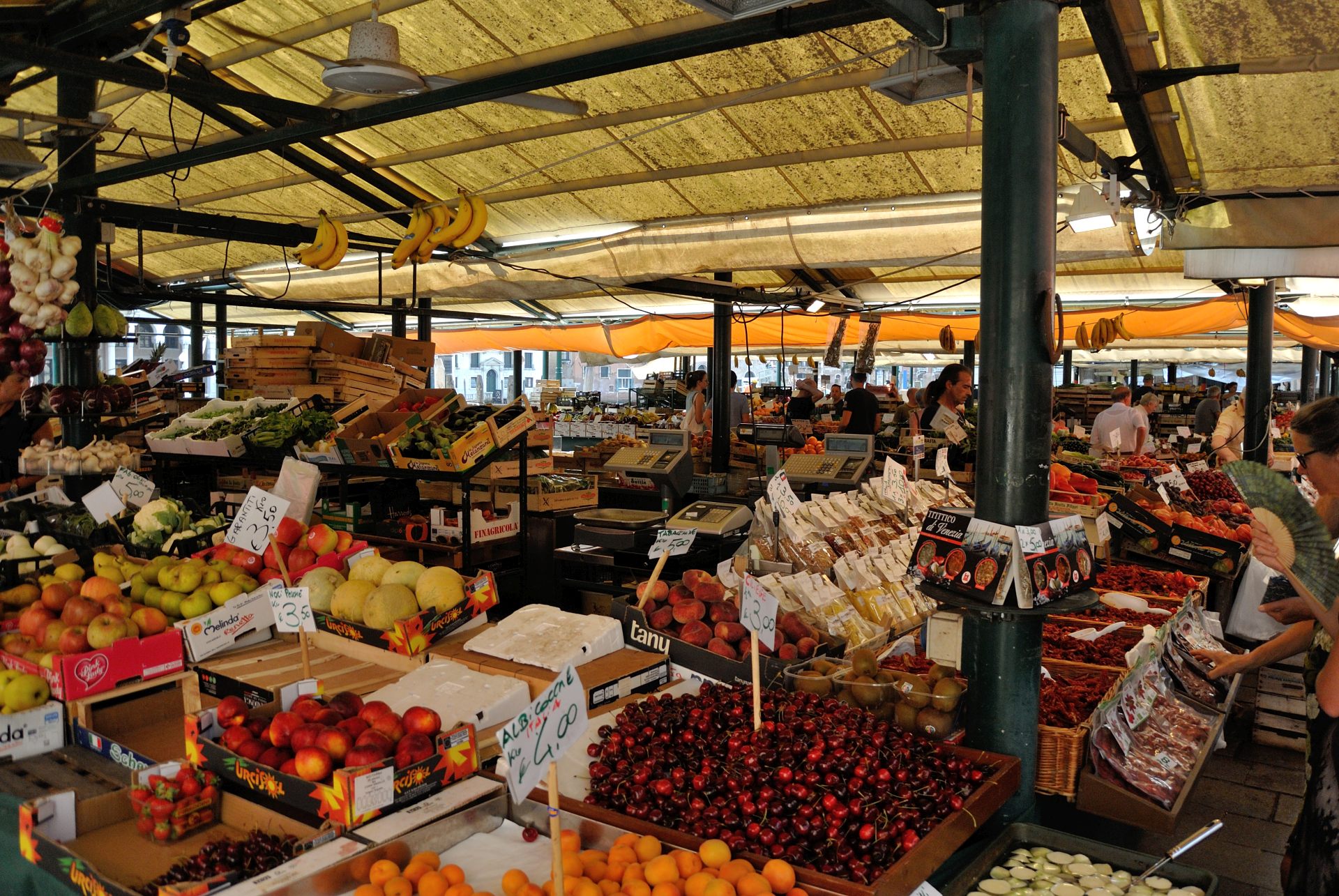 There's also a wide selection of fruits and veggies, and the market reminds me of the market in the cs_italy map…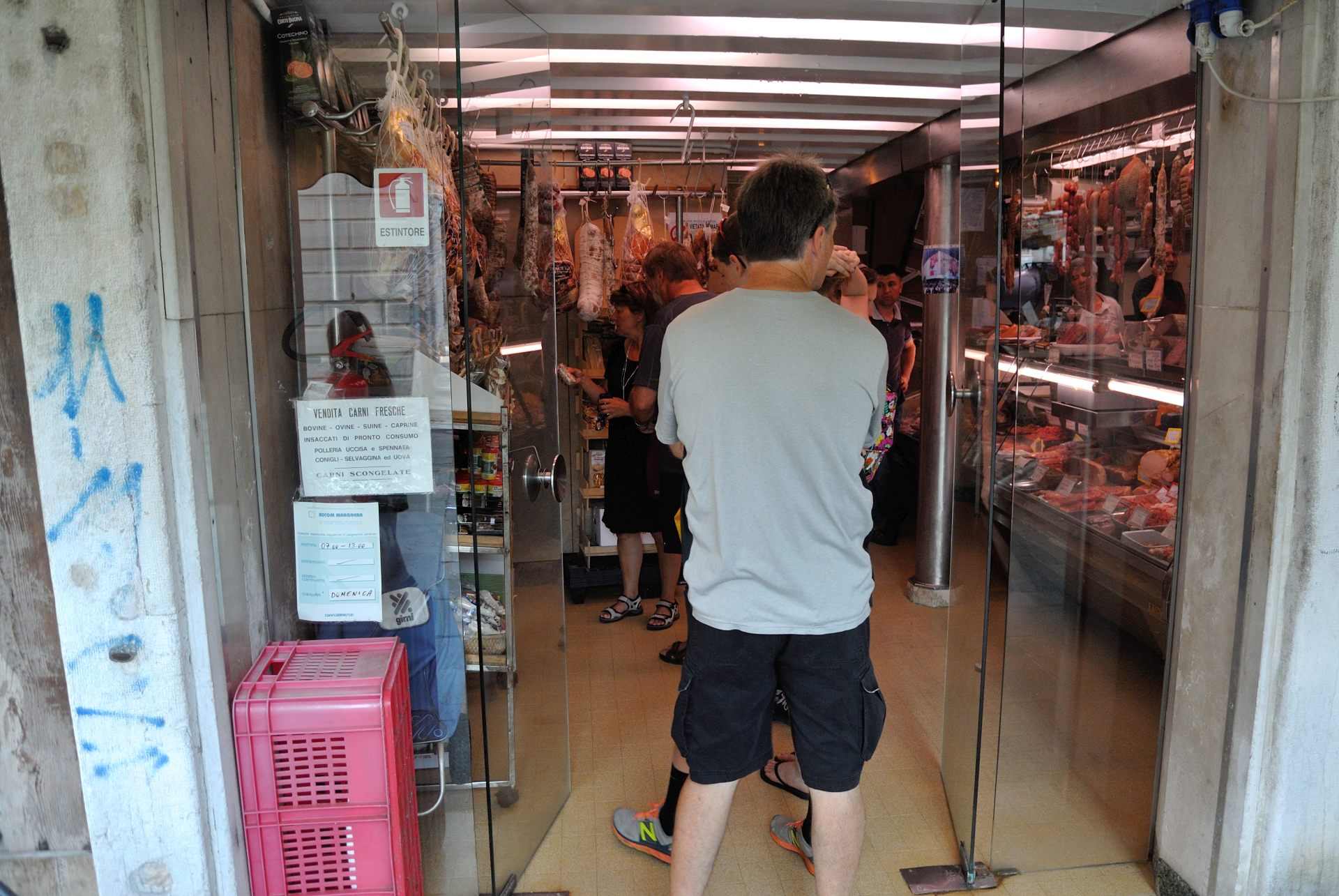 Surely one would be sick of eating seafood every single day… That's why the market has a butchery as well. We didn't go in, but it seemed rather popular with the locals.
Miscellaneous Things…
As with other parts of Italy, you need to pay to use the toilet in Venice. Since Venice is pretty much a tourist trap, public toilet fees are also more pricey, at about 2 Euros per visit. There are public toilets scattered around Venice, though they're pretty hard to find.
An alternative would be to go to a restaurant and use the toilets there. That's what we usually did, since the public ones are difficult to find. Restaurant toilets are generally very clean. In fact, even the public toilets are miles better than the ones you see in MRT stations in Singapore.
Venice also sells non-caffeinated Coke. I'm not sure if this is also sold elsewhere in Italy, but I first saw it in Venice and decided to try it since it piqued my interest. It tasted the same, by the way.
Venice has many shops selling masks, which is another thing Venice is famous for. You might want to buy one as souvenir.
There are also many leather shops selling accessories like wallets and handbags. Prices are acceptable when compared to Singapore, but if you're heading to Florence, Pisa, Rome or Naples after Venice, you'll find similarly priced (or even cheaper) leather goods, often with more variety. An interesting observation is that some of the shopkeepers there are Chinese, so you might be able to get a slight discount if you're Chinese as well.
There are also shops selling shoes (with average prices), and more interestingly, a Sephora store.
There are also the occassional gypsy, and people of unknown origin peddling fake leather bags, selfie sticks and miscellaneous items. The best way to deal with them is to turn a blind eye. Don't stop and talk to them, especially if they offer a flower to your bella, because nothing is free in this world. They are all around Italy, and I guess in some other parts of Europe as well. It is pitiful that they have to make a living by doing this, so it is best that you simply turn a blind eye if you don't wish to buy their items instead of entering into a confrontation.
Last but not least, it will be very helpful if you have a prepaid SIM card with data. We got our prepaid cards back in Milan, from TIM. Once you have data, remember to pin/ favourite/ whatever your Airbnb/ hotel's address. It is easy to get lost in Venice, since every alley looks just about the same. For example, on the second morning, we went to a shop and wanted to go back there in the evening. If not for a pin that I placed on Google Maps, we would never have found the shop again.
Knowing your base also enables you to explore Venice freely. Sometimes, it is in the little alleys where you find things that are more authentic. If you stick to the tried and tested, you'll more often than not end up at tourist traps.
Feel free to leave a comment if you need any advice!